I think that in life everyone will come to find that one thing they just can't help but smile while doing. It is different for different people, the same for others, may take years to find, but I believe or at least hope that everyone finds that thing.
I can't help but smile on the trail. The pure happiness that spending tiresome hours out there gives me is wild. Sometimes it doesn't even feel like work and the miles just pass by but it most definitely is work and some miles feel like an eternity. People have said that it's crazy that I want to spend so much time in the mountains, sun or snow… I wouldn't necessarily say crazy but I think that for people who love the mountains and love testing their physical and mental limits it doesn't always seem like work out there it's play. It keeps you guessing and pushes what you thought you were capable of both physical and mental.
It took some time for me to love the trails, the mountains, and even running. With that, I think my progression to trail running was super natural. I grew up in Minnesota running track in high school and on the treadmill occasionally but I didn't like either that much and honestly I wasn't very good at it either. I mean being from Minnesota the biggest mountain I was was the snow pile in our backyard during winter. Not actually of course but Minnesota is flat. And funny enough I came out to Colorado for college. When visiting school in Colorado I was drawn to the mountains and little did I know I would fall in love with the mountains. I would go directly from class to the nearby trails where I simply just started walking. Soon enough I would be in love and have the trail system mapped out in my head so I could connect routes given the distances I wanted to go. It became my way to decompress and get happy after class. Those walks turned into runs as I learned I could go further in the same amount of time if I picked my pace up. And it is on all those miles that I couldn't help but smile no matter how horrible my day had been or how I was feeling. A genuine happiness always filled me up on the trails and continues to fill me up.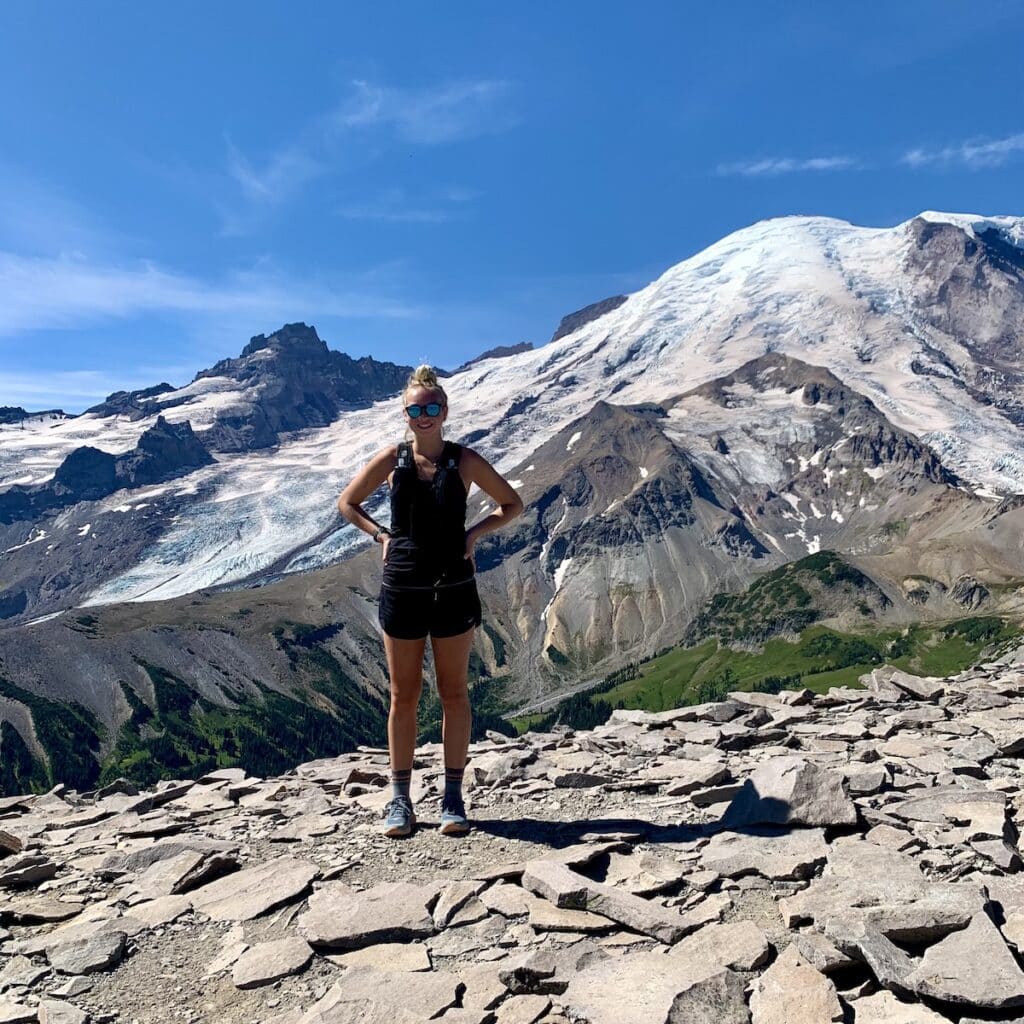 So maybe I am not in love with the trails but with the sense of happiness I feel out there even when it gets challenging. Or maybe I am in love with both, even better. The trails have taught me a lot about resilience, toughness, playfulness, but truth be told the greatest thing they have given me is something I love to do that just makes me constantly able to smile.
I really don't think there is anything that gives me more energy than being in nature on the trail… now I know that sounds counterintuitive because I am exerting so much energy out there but I feel so alive that it almost gives me a second wind of energy. The sun shining on me, the dirt beneath my feet, the fresh raw air, and a smile from cheek to cheek most of the time. I have found the outdoors to be the best playground. Forget the monkey bars and slides, I want the uphills and rocks that try to take my ankle out. So maybe along with everything trail running gives me, it heals my inner child just a little bit. It lets me relax and be free, every time on the trail is different than the one before, and I think that is what makes it so special… it is what it is.
I think trail running is a happy combination of breathtaking sweat, the mountains, good fuel, and the feeling of being so alive and small in this world that is pure satisfaction and happiness.
I will eat the BAR-U-EAT at the summit. I will get up when I trip over that rock, because I do. I will swim in that lake when I hike to it. I will never regret going on the trail and I promise to myself to always look up and around and smile. I will thank myself and my body for letting me do something so gnarly. I mean at the end of the day it really is just putting one foot in front of the other and seeing where it takes you.