How a move to Canada opened up the world of trail running, and helped me lead a life more passionate and curious about running in nature.
Trail running had never been on the agenda. If I'm honest, I'm not even sure what the definition of 'trail running' was! Sure, I'd done the odd off-road run over the years, never actively present to understand where I was running or the effect it may have on me. That is, until we upped sticks and moved halfway across the world to Ontario, Canada. In a desperate bid to not run alone through new neighbourhoods and streets, I started searching for local running groups in the area, and each time a trail running group would pop up on my social media feeds. So, I thought "I'll give it a go, I've got nothing to lose!" and with long distance warnings from family to "be careful", and "are you sure this is a good idea?" I headed off to the group's weekly meet point. And that's where I left the 'old me', and a trail runner was born.
After each run, I would head home, exhilarated and anxious to tell my husband about my latest trail running experience. As naïve as that may sound, for me it was a new adventure almost every time I was on the trails, whether that was because of someone new I had met and got chatting to, some wildlife I had spotted, or a different side trail we had taken that day. And the sheer love of the trails that reverberated throughout the group was something that held us all together; I was out with like-minded people whose goal was not to run fast, or just 'get it done'. It was to plod along the forest to the sounds of the river running beside you, to listen to the hum of conversation from the rest of the group, to grunt and pant as you each made your way up that steep, rooty hill to take in the views at the top, and then gallop or slide down the giant forest slopes, sometimes arms spread wide, as if ready to take flight at any moment.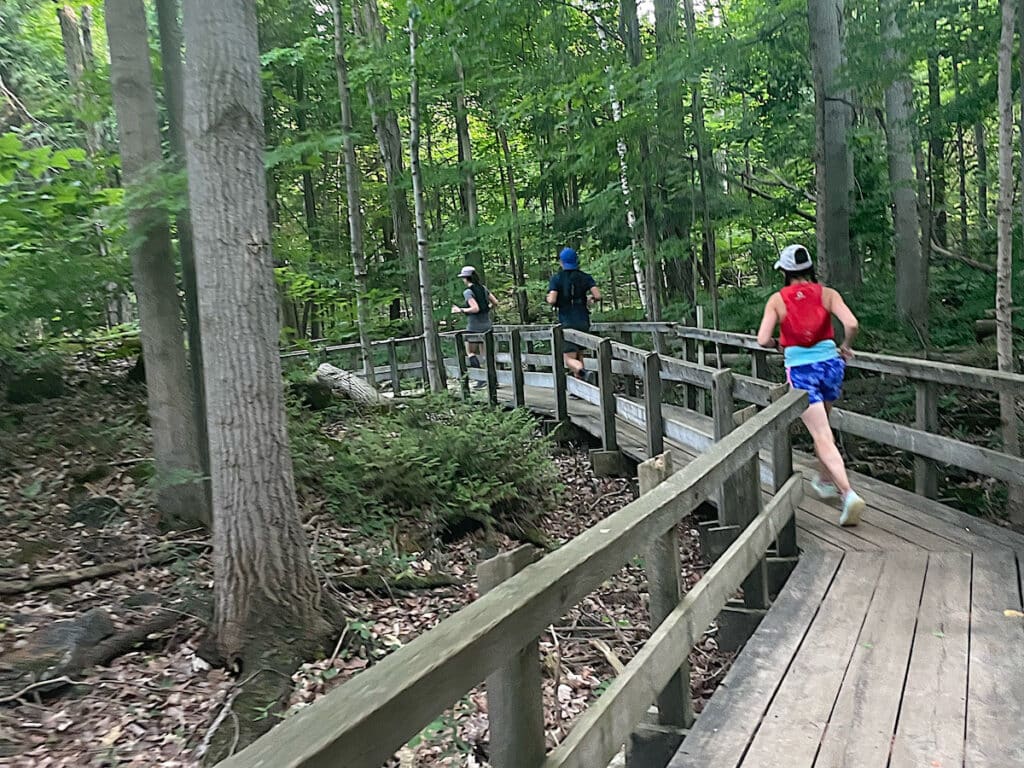 Trail running became more than just about actual running: it was a way to connect my body, and more importantly, my mind with nature. With each twice weekly trail run I became more curious about the locations I was running in and began to ask questions, like an inquisitive pre-schooler, my mind thirsting for more information. I wanted to know how to trail run better, what certain seasons and weather meant for the run, and how my fellow runners got into trail running themselves. Because of the nature (pun intended!) of these groups, everyone's goal aligned: get out into the forests and woodlands, away from the buzz of road traffic, unforgiving asphalt and city smells, to a place of tranquillity, fun, and freedom. Those who led the runs were only too happy to engage in deep conversation and impart some knowledge to this foreign, rookie trail runner who kept showing up for more. I gained advice on everything from my footwear, my headgear, and the Canadian winter layering process, to how to more efficiently run those technical trails, thinking about where I'm looking, picking up my feet a bit more, and understanding the shifts in your biomechanics to account for better proprioception.
I became more aware of the importance of trail conservation; of trying to stick to the main trail path to minimize erosion, and taking care not to disturb the wildlife too much. The wildlife, in all its great and small forms, was something else; the first time I encountered a deer galloping off through the forest was mesmerising. And for the multiple other times that these beautiful, majestic animals would emerge from the trees, I knew to slow down or stop and be calm, careful not to startle them on their territory. I became accustomed to the regular tapping of the woodpeckers up high, to the tree frogs' low and deep calls, and to the leaf rustling chipmunks. When I think about it really, the forests are only ever on loan to us from Mother Nature.
The most resounding thread that held the trail runs together though, was the community of people. An eclectic mix of ultra-runners, amateur runners, and hybrid road to trail runners; a diverse age range, from the university student to the septuagenarian, from the seasoned lifetime runner to the fair weather one. And each willing to share a story, to hear yours, without judgement or agenda. They were reliable and consistent. They were a true representation of what trail running should look like. And they taught me that it's crucial to step outside of your comfort zone, something that's possible and made easier with the help and guidance of others. The trails can be a great depiction of life sometimes; we venture onto unknown trails, sometimes challenging trails, there can be elements of fear, of excitement, of strength, and of pain or testing times. Your fellow trail runners are the ones who will lift you up and run alongside you, helping you navigate your path.
After a year spent with these incredible people on some unforgettable trails, I returned to Ireland, and began the search for my trail running journey there. My entire outlook on running has changed. Sure, I still hit the roads now and again. But the trails are always calling. Both physically and mentally, they are the reason to run. Almost as soon as I reach a trail head, I can feel my mind and body relax, and I'm excited to lose myself – sometimes literally! – in the forest.
And that's something I want to build and share with others, to encourage more people, more women, to become leaders on, and voices for the trails.