It is funny how I find that I have more clarity on my "why" in my 60's than ever before. In February, I ran a 100k, and in March I turned 61. Not once did I ask myself why I wanted to run a race of that length at this point in my life, but what I did ask was, what more could I learn about myself by running this race. While birthdays are a great reason for celebrating, they are also a wonderful time to reflect on the past and envision the future. Who am I now and who do I want to evolve into as a runner and human.
I was a late bloomer as a runner. Always active growing up, I played soccer, swam and played lacrosse through college. My parents were avid tennis players and golfers so I was gifted the opportunity to learn to be active. I ran to condition for other sports, but it wasn't until I had my 3rd child in my late 30's that I started running to race. Starting with 5k's, I quickly was bitten by the marathon bug, running my first one at 40, and qualifying for Boston. From there, my 40's were spent marathoning, completing 25, and a PR of 3:14, I was feeling great! I then added triathlon to my racing to do more cross training. At the same time, I became a personal trainer and fitness instructor, started my own business as a fitness, running and nutrition coach, but as I went through menopause in my mid 50's, the wheels started to fall off the bus.
Injuries became a regular occurrence, my nutrition was not in alignment with my goals, my sleep was a challenge, and yet I kept pushing through, determined to not let it derail me. I was constantly balancing the demands of training with family and work. It wasn't long before the crash and burn was inevitable. In 2017, I hired a coach to help me manage my training volume while I took an entire year to get my body back on track. I realized that if I DIDN'T start to evolve, I might not be able to continue doing what I love!
The previous year, I was encouraged by a doctor who had just treated me for another injury to start running trails and get off the road. I had hiked a lot but I was never a trail runner so the challenge of the technical aspects were intriguing, and living in New Hampshire I had an abundance of trails right out my door. Shortly after that I completed my first 50k, the Vermont 50.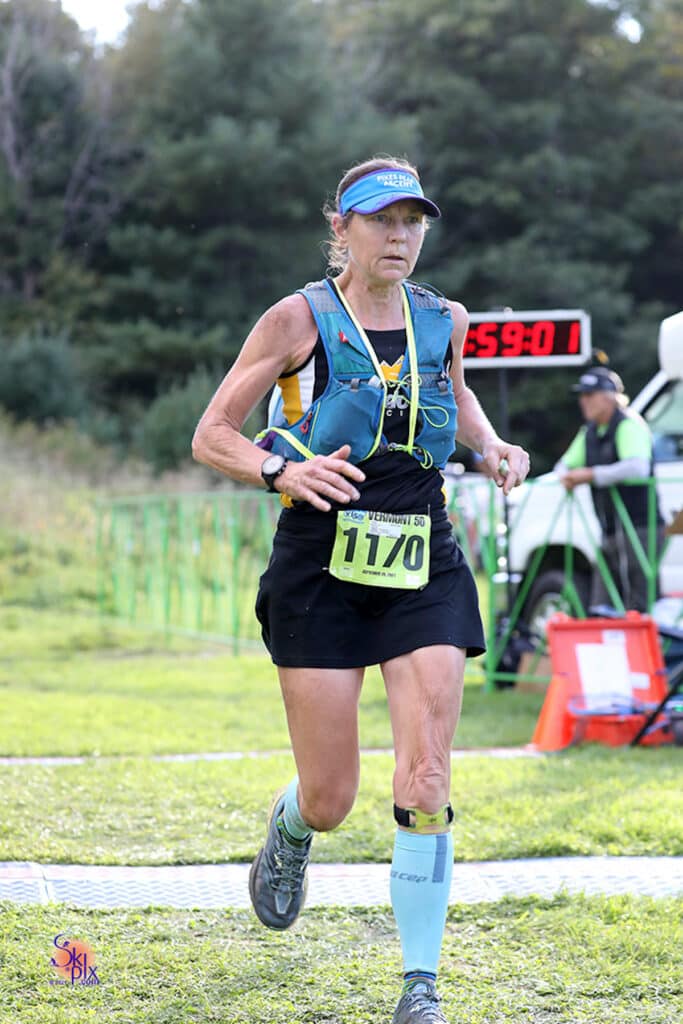 My late 50's were when my evolutionary years really started. I said goodbye to road racing as it was too hard on my body but I felt like I had lost a part of my identity. I started to envision a new identity – stronger, wiser and more determined than ever. What I recognized was that nothing would erase my past accomplishments, but it was more than the finisher medal that made me who I was. I grieved my identity as a competitive road runner but the person I wanted to become was so much more than that. In the last 5 years, my goals haven't gotten smaller, they have become different. I have become more strategic in my choices and each one brings a certain meaning and purpose. I have now completed varying distances leading up to my first 100k at Grandmaster Ultra in February, capturing top women.
My 30's, 40's and 50's were all about figuring out my identity…as a wife, mother, coach, athlete and friend. As I have embraced being an empty nester, my focus is on helping other women find that clarity in their pursuit to be active for many years to come. What happened in those decades have helped me find so much clarity in my 60's, especially as an athlete, and what I have discovered is that WE, AS WOMEN, CAN ABSOLUTELY EVOLVE AS ATHLETES THROUGH OUR 40'S, 50'S, 60'S AND BEYOND.
The values I live by now are a big part of my evolution and focus on my "why", filling my life with those people and experiences that are most important. I hope my "WHY" and "HOW" will resonate with many of you!
FORGET "SOMEDAY" We all have that one thing we keep saying we'll do "someday." What is that thing for YOU and start planning to do it NOW!
IDENTIFY YOUR NON NEGOTIABLE'S Mine are exercise outdoors, sit and connect, and prioritize sleep daily.
PRIORITIZE STRONG RELATIONSHIPS As important as taking care of our physical health, strong relationships will increase happiness and improve our mental and emotional health.
IDENTIFY YOUR MOST IMPORTANT PERSONAL VALUES Commit to every action aligning with them!  In other words, if it isn't a "heck yes" it is a "heck no"!
LEARN TO BE OK WITH RUNNING JUST ENOUGH TO REACH YOUR GOALS My training for the 100k consisted of 4 days of running, a lot of strength training. Gravel riding and walking weekly.
MAKE TIME TO LEARN SOMETHING NEW As I healed a knee tendinopathy injury last year There have been many highs and lows – physically, mentally, emotionally.
In my 61st year, I hope all of you "sisters" will come with me on this, at times, messy, chaotic, energetic, crazy, journey called life. We can be unstoppable if we are confident that nothing can hold us back, and provided we stay true to our values and take actions that are a reflection of that! It is never too early to start the evolution and certainly NEVER too late! Let the evolution revolution begin!