Navigating a state of panic when hiking and climbing at high elevations.

I recently completed a hike with a friend in which I embarrassingly showed my fear of heights despite my tough girl, I can hike anything type of attitude. I was really excited about hiking the Waterfall Canyon trail in Ogden, Utah after work to get some fresh air, exercise, and spend some time with my friend.
It was early spring and the snow in the valley had disappeared and there was still quite a bit of snow and ice up in the mountains with good amounts melting and flowing into the nearby creeks. Our hike started off on dry ground with a nice gradual climb and views of the surrounding Northern side of Salt Lake. The conversation was great and we were having fun. A switchback here which turned deeper into the mountain led us up and back. The temperature was changing and it was getting cooler, snow was starting to become visible on the hike and we heard the swooshing of the creek to our right side. We were climbing and wrapping around the mountain, soaking in the views. Selfies taken, no problem. We crossed the snow in our boots and it was quickly becoming slippery as we climbed. No problem, we stopped and put our spikes on and got the trekking poles out. Some areas the snow was up to my knees but we pressed on.

We knew we were getting closer to the waterfall as the sound was becoming louder. My friend was so much faster and ahead of me. She yelled out – come on, we're here! We had been hiking and climbing and my focus had been on my footing and staying up on the trail; I finally paused to see where we were and turned around. WOW – the views of the valley floor were stunning. And we were so high! And the waterfall was right ahead.

I looked up and extended my neck back to take in the full scenery of it all. It was just…. up there… The steepest part of the hike. The waterfall was flowing down into its own pool, but the area we needed to cross to get to it was frozen with layers of snow on top. Sections of the trail were soft from the snowmelt and others still frozen. Yikes. I had to climb straight up but I couldn't.

My friend was at the base of the waterfall and was taking pictures, telling me to come up. But, I couldn't move. At all. I was completely frozen with fear. It was happening – a panic attack. My mind was taking over and telling me – you are so high, you're going to fall, the snow is slippery and you could die. Every negative thought flooded my brain at once causing me to freeze up.

But, I wanted to move! I did. No matter my physical abilities I was stuck.

What was I going to do? How could this happen? My friend is going to laugh at me and tell everyone I am such a wimp. Look around, distraction! There were other hikers nearby that passed us on the hike and they were in tennis shoes! There they were laughing and able to get to the falls… Why me, why now? I had to do something.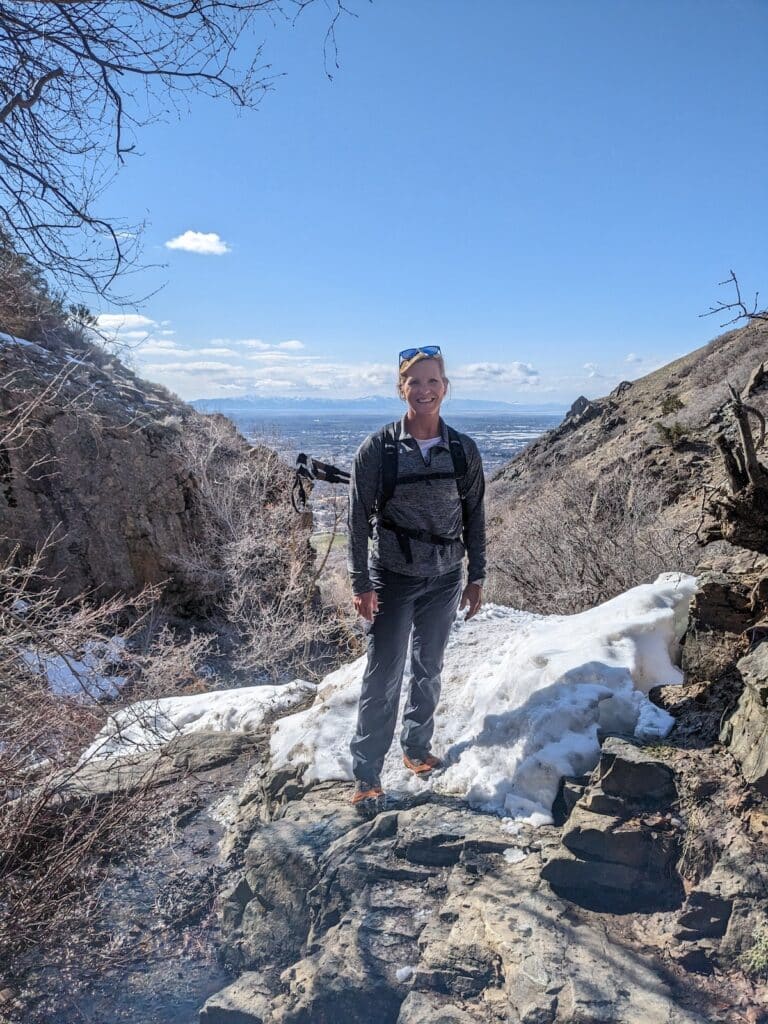 I shuffled up from my spot, found some nearby weak tree branches of a small tree to stabilize and make me feel grounded. Relax, you are safe. I worked on some slow deep breaths. Told myself to calm down, you can do this. Everyone else is up there. You are not going to fall. This is going to be ok. All the self talk… You want to do this, you love this. I also usually turn on downloaded music with my phone to push me out of this panic state. But, this time I didn't think because I wanted to just hurry up and move. I slowly let go of my position and took it step by step with deep breaths. I wanted to look back but didn't as I knew it would shake me up again. One foot in front of the other, push on. I was shaking and my legs were on fire from the climb. Slowly I worked up to the waterfall to join my friend. I made it!!

I was still shaky and nervous, but I was happy I pushed through! I took a moment to say thank you to myself and God, while appreciating the views. We took pictures together and it was worth it.

I knew the way down would be equally as hard and it was. It took a lot of encouraging words from my friend and patience with my slow hike down as it was slick and we couldn't walk straight down but had to inch our way down with side by side feet. I took frequent breaks down, but slowly completed the trail. The trail was not difficult by any means and definitely a popular one for the area. It was only difficult for me knowing my own internal fears and struggles with heights and self doubt at times in the mountains. It has been extremely difficult for me to unfreeze in frozen panic states at times and a work in progress. I have to face it head on to allow me to overcome fear and tackle all of the adventurous things I want to do! I would love to hear if you have ever had any frozen moments of fear or panic when hiking and how did you get out of it?? I know what has worked for me and it may not work for everyone, so would love to hear you share your stories!