"Today is hard". That was the text I sent my husband on Stage Two of the TransRockies Run. We had just climbed and descended Hope Pass. It was a short mileage day with only thirteen miles to cover, but with about five miles left, I was feeling discouraged. He texted back, "You can do it love" and I knew that I could, but my spirits were low, and I was hurting. Almost two hours later than I originally anticipated I finally crossed the finish line where my husband and two boys were cheering me on. I was not looking forward to four more days.
Summer of 2012, I met my future husband, Jeff. He was training for a marathon in Australia, and I hadn't run since I was so rudely forced to in high school gym class. But as a way to bond, I started running. I couldn't even run one mile and I secretly hated that this was his hobby. Fast-forward to fall of 2022, ten years later, here I was signing up for the 2023 TransRockies Run (TRR), a six-day stage race that comprises 120 miles and 20,000 feet of elevation gain across the Colorado Rockies. When I registered, I hadn't run further than 50k. I was training for my first 100k and had no idea how that would go, but as running became a new love over the last ten years I've found myself in the habit of signing up for new distances before even tackling the smaller ones. I completed the 100k in October 2022. The Mines of Spain 100 (MOS100) in Dubuque, IA was, at the time, the hardest thing I had ever done. The 100k is made up of three loops that are 20ish miles long and on my third loop I started to have pretty severe knee pain in both knees. My IT bands were so tight, and I ended up walking the entire third loop. With each painful step I told myself I was never going to do this again. But us runners experience this thing called runner's amnesia, and wouldn't know, I signed up to run MOS100 again this year.
Battling knee pain with every run after MOS100 was discouraging. I saw multiple physical therapists, tried dry needling, and started visiting the chiro. My TRR training started in March of this year, and I was determined to not let my knees derail my goals. Training was full of highs and lows- early mornings, time away from my family, back-to-back-to-back runs. But also, time with friends, peace on the trails, a sense of accomplishment. I battled the knee pain on and off all the way up to race week, which was disheartening, but at that point I told myself it is what it is, and I'll find a way through.
Monday, August 14. At 5am my alarm went off, it was go time. My heart was pounding so hard all morning in anticipation for the day, nerves and excitement. We had a half hour drive from our hotel to the start line, so I had plenty of time to stress about what was about to happen.
"What was I thinking?"
"I've never done a stage race before and I pick one with over 20,000 feet of vert!"
"I have no business being here."
"Dear Lord, please let last night's dinner agree with me."
These are the types of things going through my brain as I wait for the gun to go off. But once it did, all that faded away. I was running, which I love to do. I was running in Colorado, a place I'd never been before, and I was so wrapped up in the beauty of it all. I was running, and I was in my element. That first stage had its challenges. It was hot and we were exposed. I've got some gnarly tan lines to prove it. I was having trouble getting my heart rate under control, but I chalked it up to the heat and having to adapt to the altitude. I finished Stage One, a loop that started and ended in Buena Vista, faster than I anticipated, which had me pumped for Stage Two.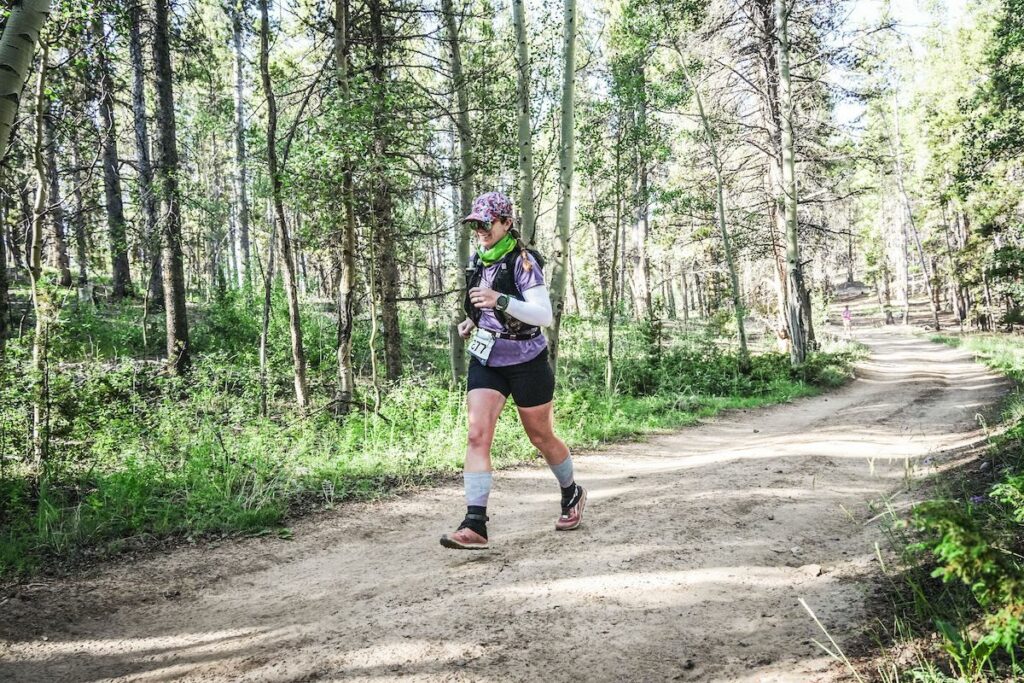 Tuesday, August 15. Another 5am alarm, but this time I was in a tent and already awake. One of the "perks" of TRR is that they set up a tent and move your bag for you from stage to stage. I spent the first night in the tent, but after a night of cramped quarters, a sleeping pad that wasn't holding air, and listening to zippers and snoring all night I decided to stay at the Air BnB with my family for the rest of the race. This was probably the best decision I made all week because I started Stage Two running on fumes, which I believe was a big factor in how I handled Hope Pass, both physically and mentally. I wish I could go back and do this day again with a full night of sleep. We started with about two miles on a dirt road, it was runnable, but I took it easy because I knew what was coming. The climb up Hope Pass was unlike anything I'd ever done. The trail is single track made up of dirt and an abundance of rocks, so you are at the mercy of whomever is leading the train. We were going slow, which almost made it harder, but there were few chances to pass and so I just stayed put. No one really talked, we were all just concentrating on the terrain under our feet. Some areas were so steep I could reach out and touch the trail in front of me. After a two- and half-mile climb, I finally reached the top and was overcome with tears. I'm not sure if they were tears of relief or accomplishment, but I was so happy to finally be at the top, greeted by Gandolf, and able to take a few minutes to reset and admire the views. The way down wasn't much easier, I thought for sure I'd roll an ankle, and by the time I crossed the finish line my confidence had drained, and I was feeling defeated, but I knew I would be sleeping in an actual bed that night and not the tent floor, so I had a glimmer of hope for the next stage. I just prayed my husband didn't snore all night.
Wednesday, August 16. What a difference a good night's sleep makes! My hips and glutes were sore from the previous day's climb, but overall, I felt pretty good. This stage started in Leadville, and we made our way to Nova Guides near Red Cliff. After running on the highway out of Leadville we had a massive climb, where all the power walking I did as part of my training really paid off. A runner even complimented me on my "nice hiking" and that was a real confidence boost. Once I got through the two big climbs I was in my happy place and almost giddy. The Colorado Trail portion of the Continental Divide is beautiful, well maintained, and very runnable. For about 5-6 miles I paced with Michael from Michigan and Ryan from Illinois, that is how you get to know people at TRR, name and state. Time flew by and I joked with Michael about all the rocks that were conspiring against him, jumping out of the trail and trying to trip him. Stage Three was my absolute favorite; it lifted my spirits just when I needed it. But it probably wouldn't have been such a bright spot in my week if it hadn't been for the hardships of the day before.
Thursday, August 17. A stage I was nervous about. Everything that I read prior to the race said there was a half mile trek down a creek and that the water could be from ankle to thigh deep. I don't know why this made me so nervous, but water crossings always do. After a steep climb and a hot day, I was looking forward to frolicking in the creek. We entered the rocky creek bed and although we had several water crossings there was no continuous trek in the water, it was dry. I found myself both relieved and disappointed. The run from the final checkpoint into Red Cliff for the finish was a mental challenge, nearly three miles of gravel road, but once I saw my family waiting at the finish line the trials from the day melted away.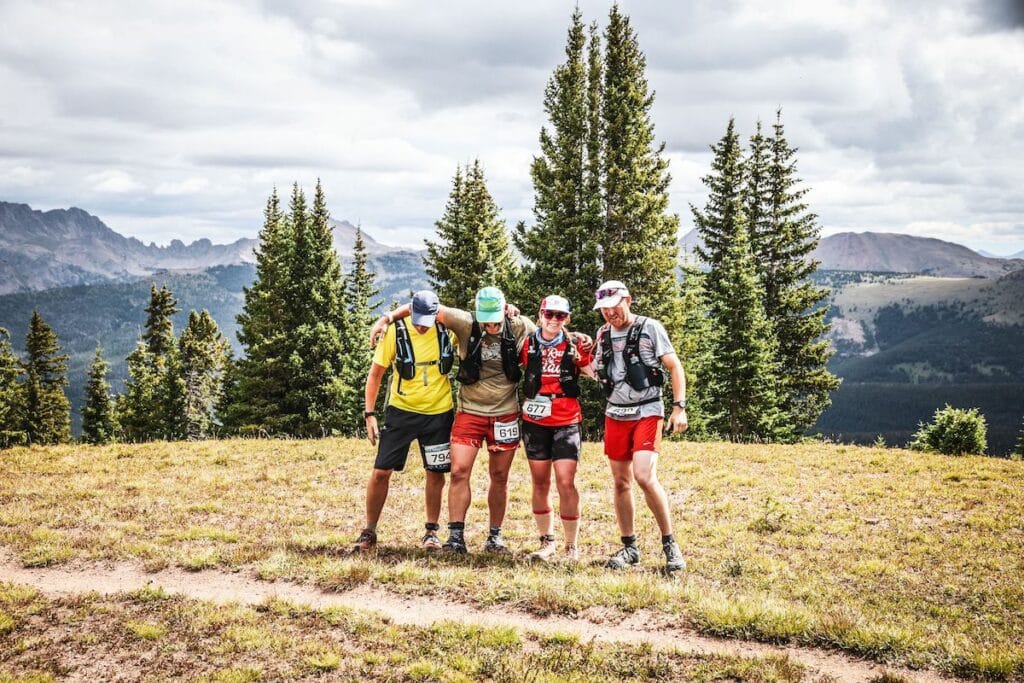 Friday, August 18. Started in Red Cliff, and it was hard to get going, my shins were on fire. But after a few miles things got warmed up and I was climbing, and climbing, and climbing. This day's climb up Vail ski mountain wasn't steep, but the switchbacks were never ending. Once I reached the top of the final climb of the day it was all downhill for about 7 miles, and it stormed the whole way. Cracks of thunder when you're on top of a mountain are quite scary! And being pelted by tiny ice balls didn't help matters. I have never run with such intention. I didn't hate that it was storming, it was an added challenge and kind of fun, but I didn't know how much worse it would get and I just wanted to see that finish line.
Saturday, August 19. An early start of 7am in Vail. It was the final day and the day with the most elevation gain. I took it easy and tried my best to enjoy the views and embrace everything my body could do. I joined a pace train for the first climb through the aspen trees and time flew by. I found myself alone for a few miles after stuffing my face with pb&j and watermelon at an aid station. I didn't mind being alone, I enjoyed the peace, but this was on single track through hip to shoulder height wildflowers and it was almost impossible to see the trail. I took my first spill during this stage, I must have caught a rock or a root with my foot, I'm not sure, but at least the wildflowers broke my fall! And there was no one around to witness my blunder. The tough part of this stage was the final climb at the end, I was so close to the finish, yet had to climb up and over to get down to Beaver Creek. My family met me at the end of the finish line chute so that my boys could run in with me, but as I grabbed my younger one's hand, my foot caught the timing cable and we both fell. There was an audible "Oooh!" in unison from the people around us. After consoling him for a few moments we walked the rest of the way through the chute. Not exactly the victorious finish I envisioned, but I finished nonetheless!
Six days of crazy adventure were suddenly over. I had mixed feelings about this. There was part of me that couldn't believe what I had just accomplished, the grit I displayed to even toe the line the first day and the grace I had to give myself over the next five days really taught me a lot about myself. I was relieved that I could sleep in the next day, but there was also an instant sadness that it was over, and that feeling hung on for the next few days. I will be back for another crack at TRR, a redemption climb of Hope Pass, and another chance to soak in all the beauty.
I'm amazed by how good I felt throughout each stage, apart from Stage Two, and the fact that I made it through 120 miles and 20,000+ feet of elevation gain without any knee pain! I credit my amazing coach and training for that. As the post-race depression set in, I began looking toward my next goal, a second go at MOS100 in October. I'm currently signed up for the 100k again, but I can't shake this feeling that I should go for the 100 miler. Who knows what the future holds, but I am ready to conquer it!