Editor's Note: This article speaks about eating disorders and may be triggering for some folks.
I still remember the sports bra I was wearing when a teammate approached me for the first time to brazenly comment on my body size. I was a freshman in high school, and cross country practice started in fifteen minutes. "Wow," she said as I pulled on a tank top. "You have big boobs for a runner." 
Unsure how to respond, I shrugged and let the air hang heavy between us. Was that a compliment? Why the heck am I so nauseous and uncomfortable right now? In the end, I think she just meandered away while I stood there, frozen. I didn't know why my body warranted such intimate remarks, but I soon learned that (somehow) it did. As the school year progressed, so did the commentary on my body. Every week or two, someone would other me–explaining how my body was different than expected. Whether it was a teammate, my mom, or a friend; I hated it. I hadn't paid much attention to my "massive" legs or "big boobs," why did everyone else?
The locker room comment had caught me by surprise—partly because I wasn't yet familiar with the blunt objectification of women's bodies; partly because, prior to high school, I'd existed in a very different culture. As a soccer player, my muscles were praised and my teammates had various body types. The running world, on the other hand, was less forgiving. I didn't look like a distance runner.
Before we go on, I want to acknowledge that no girl is immune to damaging body comments and body dysmorphia. I also recognize that as a middle-class white woman in a smaller body, my struggle cannot be compared to that of my peers–many of whom had it way worse. That being said, this is my experience and it is valid. The culture around female athletes' bodies all but detonated my precarious sense of self-worth and identity. That is why I'm sharing my story–in hopes of (1) suspending this toxic dialogue and (2) adding my story to the diverse pool of female athlete voices so that our definition of a "runner's body" shifts.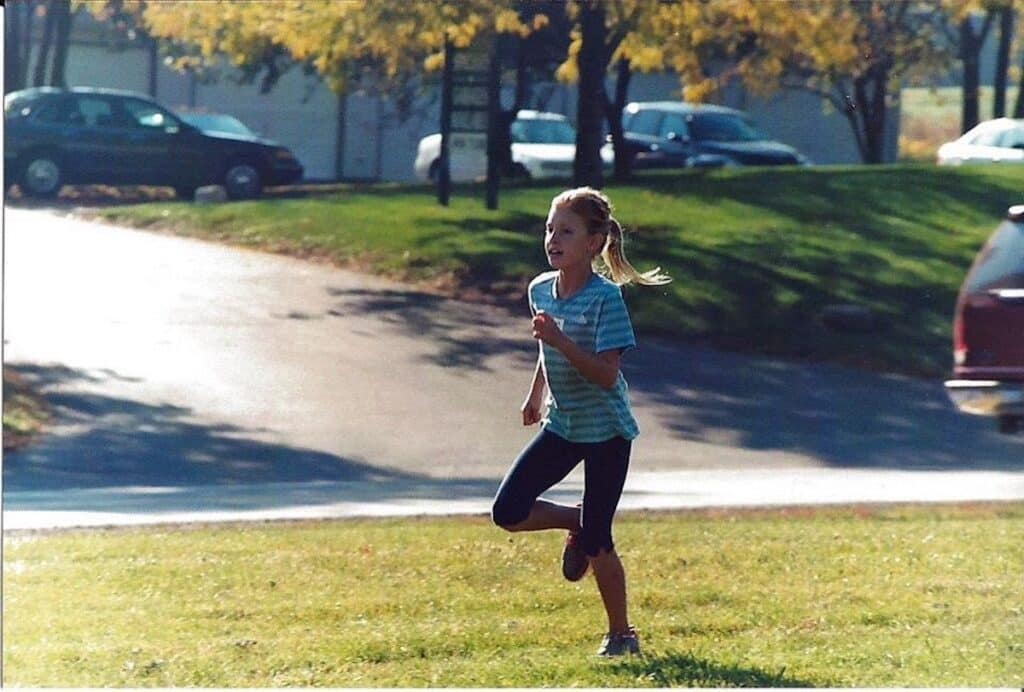 My smile sharpens as I consider how lost I felt that year. I had recently switched schools, and was navigating my new status as a "child of divorce." Using a tampon was scary and wearing a bra was weird. No one had told me what a uterus was and I had no clue why mine was "shedding."
In an era of change, running was my safe haven. On the trails, I was powerful and in charge. I was winning races and I loved it. At the same time, though, my brain was increasingly critical of my imperfections. My body, I reasoned, was jeopardizing everything.
I hated those teenage years. They sit in my brains as vignettes of scrutiny–glaring at my flesh in mom's floor-length mirror, sucking my stomach in for team pictures, Googling to find my "ideal race weight." Womanhood had assaulted me and I had no defense. What's worse, I had no one to talk to. I lived with my dad most of the time, and my relationship with my mom held layers of grief. While I'm grateful for the incredible women who mentored me during seasons of life, I lament how few of them there were. Most female runners I looked up to in my community spoke of diets and muffin tops. I was not privy to a healthy sports culture where a woman celebrated her body through sport rather than crucifying it. I simply didn't know that was an option. I felt scared and alone, and I pleaded with God to let me go back to childhood.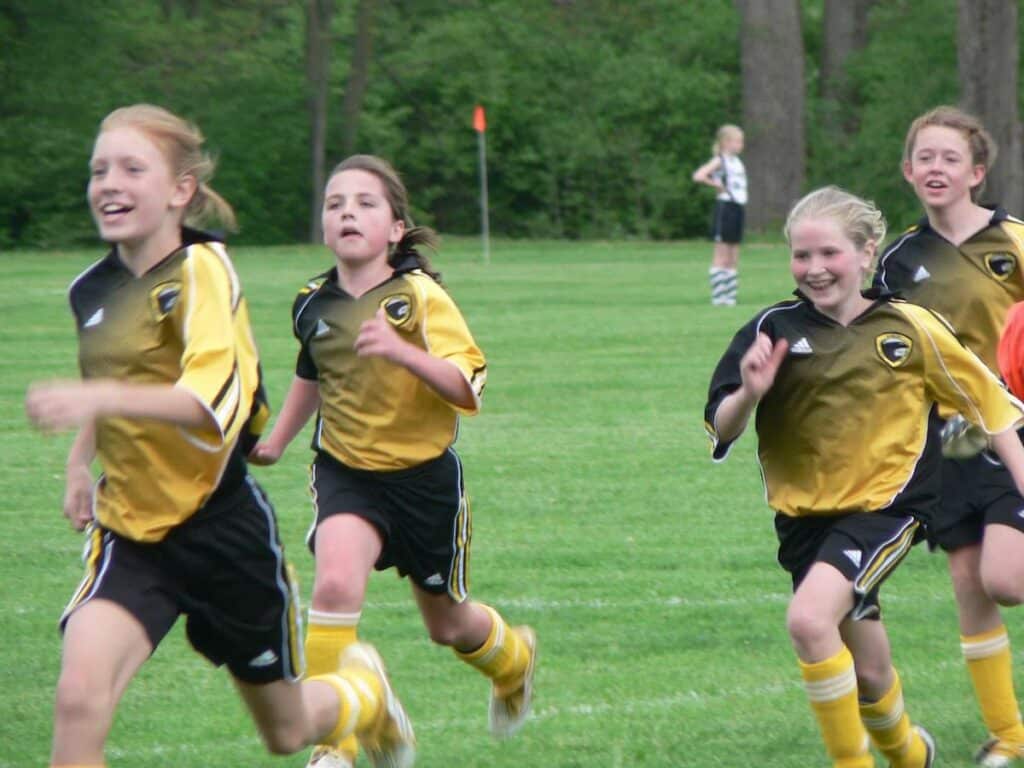 As a kid, I was lean but muscular. I eagerly tried everything, especially if it meant I could tag along with my athletic older brother. My dad said we were both excellent athletes and that we had the signature "Hartzell quads." I loved that I'd inherited my daddy's strong muscles. Those big, beastly legs allowed me to sprint down the soccer field and out-kick my competitors in races. But the appreciation for my body vanished as soon as I lined up on a starting line and glanced at my bony competitors. I doubted their quads ever kissed when they bolted from the starting line. I doubted they even needed a sports bra. Confused, I took to the internet. I obsessively scoured social media accounts and elite start lists–desperate to find a competitive runner who looked "normal." I longed to see a runner like me. But I didn't. 
Throughout that year, I continued fielding offhanded remarks about my body. In response, I learned to smile, shrug, and stuff away the feelings. In time, though, an eating disorder helped silence most of them. And while I didn't develop anorexia to become thinner or faster (something I want to make very clear), the disorder did offer a convenient side effect: as childhood wounds expressed themselves through restriction, my body changed. Even though I was oblivious to the eating disorder at the time, I did notice that my breasts weren't as big anymore–yes! Other than that, I didn't notice any changes.
For a brief while, it was quiet. I didn't hear as many comments about my body and I was climbing the ranks as a distance runner. By the end of my sophomore year, though, the climate around my body was one of hushed concern. I didn't understand why my parents and coaches were worried. What's more, I was aggravated that with everything going on inside my brain, it was my waist that people were whispering about.
Looking back, the warning signs are emblazoned in neon lights. It's all so obvious now. Back then, however, I viewed the self-imposed rules as a pursuit of discipline and belonging. Unknowingly, I was trying to fake my way into a culture that was rejecting me.
While I'm not proud to admit it, I still struggle with body comparison, and sometimes, I doubt that my body is good. Sometimes, I long to simply relinquish womanhood and return the "big boobs" and curves I never asked for. Yes, despite the strides (no pun intended) and progress I'm making, these battles are still hard. We ought to normalize those struggles. All the while, we can keep fighting. This is the body I've been given. It's value, my value, doesn't hinge on my surroundings or context. Slowly but surely, I am learning to believe the truth.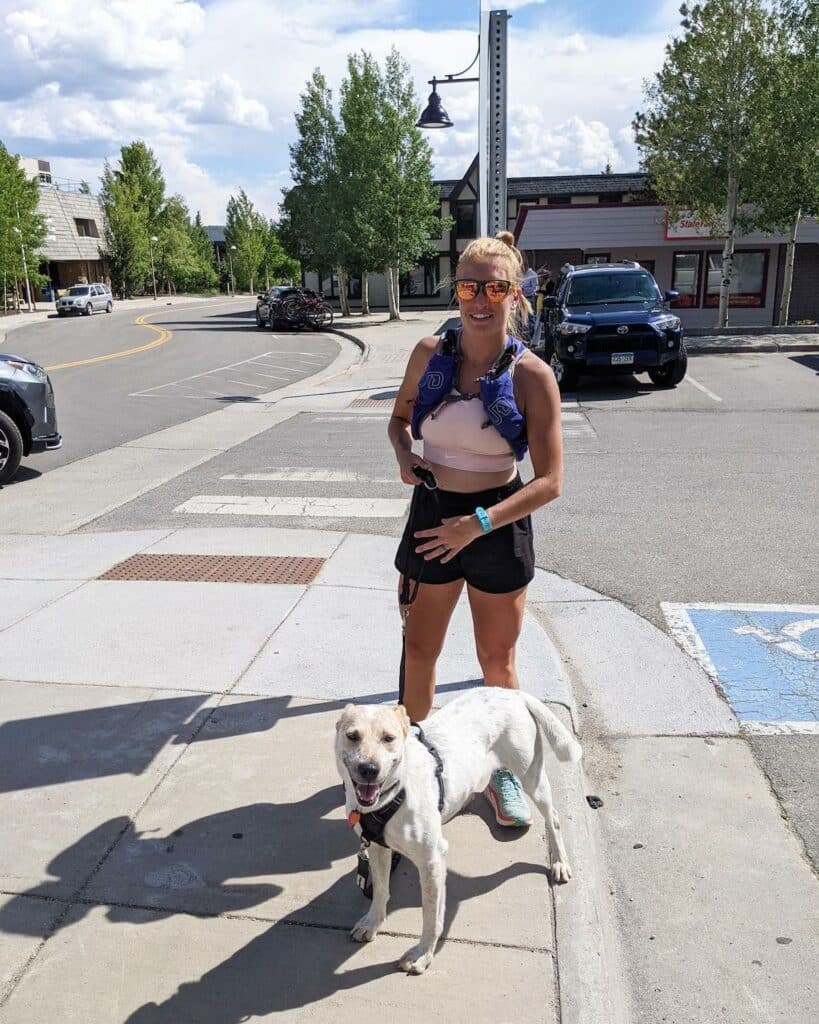 The truth is that whether you are leading the pack or running in dead last, your body is worthy of your love and care. The truth is that food is not a reward, period; that your body is more than a race car to fuel; that it will change over time; that you're at your best when your body is nourished. The truth is you are a runner because you decided to be, not because your body fits a mold. I never felt like my body would ever allow me to be a fast runner. I simply didn't "look the part." Now, I have the privilege of dispelling that myth for other young athletes. I get to tell them that they can be fast and they are much more than that. You have that authority as well, and my encouragement is that you use it. I really do believe that we can shift the climate for future female runners. They deserve it.
Eating disorders and body image distress impact runners of all ages and abilities. If you are struggling, please reach out. Find more resources and support at https://eatingdisorderfoundation.org/