Growing up in the Midwest, running in the mountains was far from anything I ever thought about doing. But my running progressed throughout my adult life and I entered the world of ultramarathons in my 30s. I was intrigued by my friends – also flat landers – who conquered the Tahoe 200 and Pikes Peak Marathon races. I wanted to experience running in the mountains and soon I found myself scouring the internet for exciting races out West. It took five years and several attempts, but this Midwest runner from Indiana finally finished a wild 100-mile mountain race in Wyoming.
Terre Haute, Indiana is just about as Midwest as it gets. We are dead smack in the middle of the country, hence Terre Haute's nickname — The Crossroads of America. You can almost hear John Mellencamp's "Small Town" playing in the background when you're driving the backroads of all the "small communities." The landscape is flat – cornfields by summer, hayfields by fall and if there are rolling hills you can almost always see to the other side. Terre Haute is where I live and where I train to run ultra marathons – and my favorite distance, 100 miles.
Ultramarathon training and racing is not for everyone. But if you discover it's for you, then you may already have a little practice at hard things. My first 100-mile completion was in 2016 in Indiana. That was the hardest thing (racing and otherwise) I'd experienced in my entire 38 years of living (including birthing two daughters!). It's a strange thing to say, but the reward is in how hard it is.
Seven years and 10 finisher buckles (100-mile race finishes) later, I'm here to tell you how this flatlander from Indiana started at Indiana Trail 100 (2016), made her way to finish Cruel Jewel 100 (2021) in the North Georgia mountains, and Big Horn 100 (2022) in the wild Rocky Mountains of Wyoming. But not without a few DNFs (Did Not Finish) first!
"It's me. Hi, I'm the problem, it's me."
My first two attempts at a mountain race were DNFs. It was back-to-back heartbreaking attempts at a distance I knew I was capable of. But the terrain and climate were unknown, and I was unprepared. My friends would all tell you that the latter is common for me. I'm the runner who shows up to a group run without my watch charged (if I even remember to bring it). But that's what I love so much about my sport. You only need a pair of running shoes and water, right!? But as individual as we all are in personalities (Enneagram 3 here), we are equally unique in how we leverage our strengths and weaknesses in racing. I say this all the time: Running is a metaphor for life. And you can approach both with mirrored principles.
It was a huge blow to my ego to return home to Indiana with a DNF…twice! After wallowing in self-pity for a few weeks, I grabbed my (charged) training watch, bottle of water and headed to the drawing board.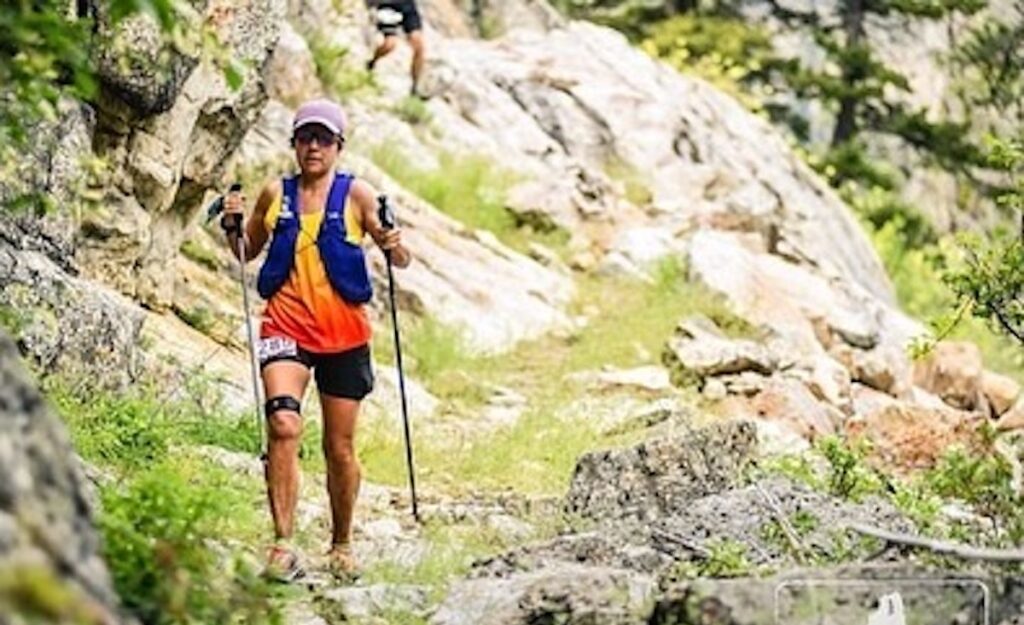 Run faster, train harder? Nope!
For me, I had to admit that I needed help. First, I hired a coach who lived in the foothills of the Teton Mountains. And second, I asked my friends for advice and help. As odd as this sounds, that may have been the hardest part for me. Until then, my running had always been about my individual goals. But this ultrarunning felt more and more about pulling from others' strengths. I had to really change my mindset around what I thought I knew about running, hiking, preparing, and most importantly, enduring.
I learned a lot about running in those five years than I would have cared to admit. If you're like me and try doing everything on your own, you may benefit from what I learned the hard way. Specifically, here are a few tips specific to training on flat terrain for a mountain race.
Walk fast/hike – Add speed walking into your training. Some people can walk faster than most people run. Not me, but I've seen it! This helps you cover miles with lower impact and heart rate. Learn how to hike uphill. There are literal techniques to this. I rarely run when going up steep inclines because I can hike just as quickly.
Weight training – Every runner's demise! This can be so much fun though. Find someone you enjoy watching on YouTube (I recommend Sally McRae). It doesn't take much to benefit from weights. Even if you only do bodyweight exercises you will increase your ability to hold up to the resistance of wearing a hydration pack and…gravity!
Practice the downhill – Speaking of gravity. This is so important! Find any kind of downhill to practice on. The longer the better. Mountains go up, up, up, but they also go doooowwwn. And if you don't have the strength in the right muscles needed for the downhill, it can be very dangerous, and at the very least, cost you your race. One of my DNFs was the result of plowing down a mountain and almost off the side of it.
Speed work and swimming – Want to simulate breathing in the mountains? Go to the mountains! Want to do the best you can at sea level? Run fast, swim and give your lungs some work. Lungs are a muscle, and you can strengthen them this way to prepare for lack of oxygen when you get to higher altitudes.
Mentality – Back to personality, this will be different for each one of us. My advice is to have a very powerful reason why you want to accomplish something that will take you to very uncomfortable and sometimes seemingly unbearable moments. It's truly remarkable to come out of something so incredibly hard and overcome the silent nuances of your weaknesses. For me, that was asking for and receiving help.
As I said earlier, running — and training for an ultramarathon — is a metaphor for life. Slow down and find the joy in the journey. Being strong means hard work and being strong enough means working hard. As Theodore Roosevelt said, "do what you can, with what you have, where you are." Get comfortable with being uncomfortable. And if it was easy, everyone would be doing it, and you wouldn't have the opportunity to find yourself in the gifts of ultra running.