As I approached my 51st birthday this year, I thought, "Wow, I am now in my 50s." While my 50th birthday last year was surreal, I still didn't feel like I was middle-aged or even as old as I imagined my parents were at this age. For some reason 51 hit me harder. Chances are I've already lived more than half of my life, run my fastest mile, and I have more wrinkles than smooth spots.
I'm finding middle age to be a time of reflection. Sure, there are things I would have done differently in my life in hindsight. But the one thing I would never change is becoming a runner.
I don't know exactly when I started running but I do remember running on the infamous Pre's Trail in Eugene the summer after I graduated from University of Oregon in 1994. I remember the soft squishy feel of the bark path under my feet. I preferred morning runs, as the cool air in my lungs woke me up and gave me energy for the rest of the day. I ran for fitness, but I also recognized how it gave me time to reflect on whatever was happening in my life at that time.
Fast forward through the years, and I lived for short periods of time in Idaho and Utah before landing in Seattle for 12 years. I mostly ran on roads and sidewalks out my front door, learning my way around neighborhoods and nodding as I recognized the regular morning runners with the same routine. I moved to West Seattle in 2007 and started running along Alki Beach before the sun rose over the Cascade Mountains to the East and created a pink alpenglow on the Olympic peaks to the West. I ran with my miniature Australian Shepherd, Alta, listening to the pitter patter of her claws on the paved beach path. Those runs became meditative and built a strong bond between me and my four-legged running partner. It was in Seattle that I discovered that marathons, half marathons, and sprint triathlons could be fun goals to keep me motivated and to feel a part of a community.
In 2012, my husband had a job opportunity in Jackson, WY, a place where we had often vacationed to ski. He grew up recreating there and had always wanted to live in the Tetons. So we packed up and became mountain people. In Jackson Hole (the valley where the town of Jackson is located), the number of trails around our house outnumbered the streets and sidewalks. I naturally took up trail running. In the spring, I ran through mud as the snow melted and wildflowers strained to pop up through the frozen ground. In the summer, it was impossible to keep my heart rate consistent as I stopped to take pictures of the blanket of arrowleaf balsamroot, lupine, and Indian paintbrush. In the fall, the aspens glowed yellow and smothered the trail like rays of sun. And in the winter, I threw on excessive layers of clothing from head to toe and strapped micro spikes on my feet to brave the freezing winds and pavement-like ice.
A few years into living in Jackson, a friend asked if I wanted to sign up for an ultramarathon, a 55k on the Continental Divide trail on the border of Montana and Idaho, to be specific. I thought it was impossible, but I wanted to see what my body could do. After a long journey moving my body through the breathtaking landscape, I caught the ultra-bug and completed two more ultramarathons in Wyoming in the following years.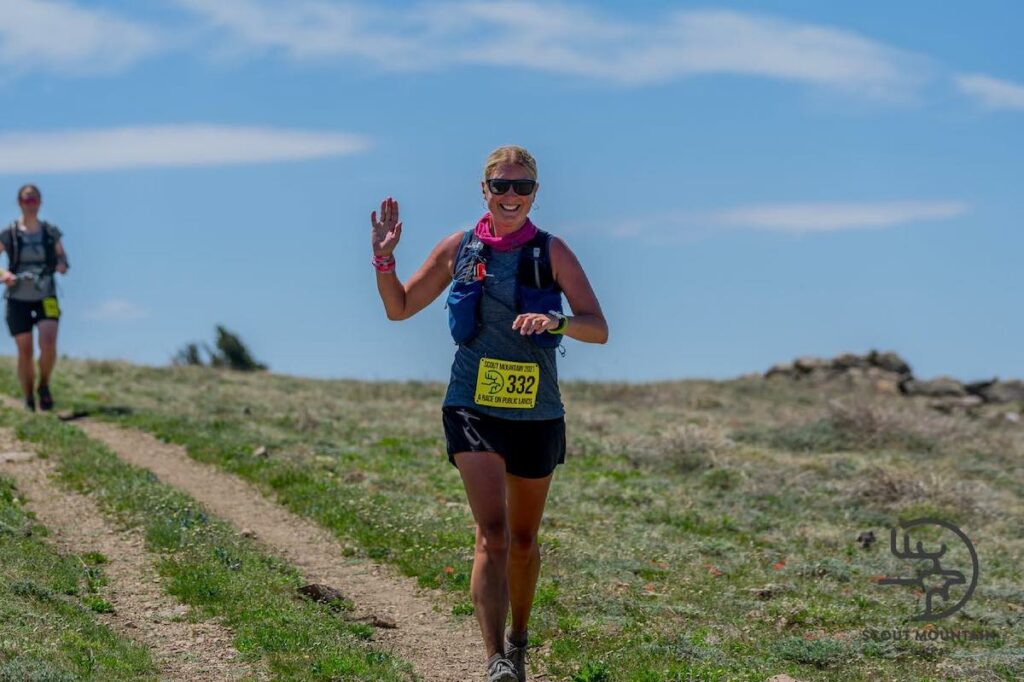 When the COVID-19 pandemic shuttered the world in 2020, I kept running the trails. I wore a buff that I would pull over my face when passing people, giving them a wide berth, and trying to smile with my eyes. My ultramarathon race was canceled that year, but I was determined to keep running because people were literally running out of oxygen in hospital beds and dying. I needed to feel the air in my lungs to process all of it.
My husband worked in the small hospital in Jackson during the pandemic. He was deeply involved in the early days of vaccine distribution and came home some days with glossy eyes and went straight to bed. The brutality of the Teton winters, combined with the inability to travel for my work or pleasure took its toll. In 2021, we decided a change was in order too, help us mentally and physically cope with the scars of the previous years. We took a leap and moved to Bend, Oregon, a town with mountains, trails and a little less isolation and winter longevity.
Bend is where I celebrated my 51st birthday. To mark the occasion, I threw myself a party, inviting a group of women – most of whom I barely knew – to hike to the top of South Sister peak with me. Despite an incredibly dry and warm summer, that day in August was cloudy, with a thickness to the air we hadn't felt in months. We wouldn't get any views and as we reached the summit, the winds whipped at us and left our legs goose bumped. We crouched behind a stack of boulders by the peak's geological marker and passed around a flask of whiskey I had hauled up in my pack. The whiskey temporarily warmed our bellies as I marveled that these women spent their rare weekend day with me.
Thirty years is a long time to maintain a hobby – especially if it's a sport that can take a toll on your tendons, joints, and bones. It is also the one thing that has remained constant in my life through all of the relocation, ups and downs of jobs, marriage, celebration and loss.
This morning I did a run with my 16-month-old Golden Retriever puppy, Yeti, through the paths and bark trails in our neighborhood. I processed all of the ups and downs of this current moment in my life. I felt the squishy bark under my feet. I remained constant.