Sometimes we need time to see things more clearly. When we are in the thick of the story, of the hard bits of life, it feels like we might be stuck there forever. A long run is my go-to for perspective. Some say long distance runners are running from their problems. I rather believe I am running towards answers.
"There are not many issues in life that a long run cannot solve. Sometimes the run needs to be a bit longer."
Right now my sister is living with me. This is the first time in our adult lives that we have spent consistent time together. Shared space is challenging, dealing with this overflowing bucket we've created tore me wide open two weeks ago.
3 hours on the trail would not suffice. I scheduled a long run as training for my upcoming 100k race in California, I needed a confidence builder to know my legs could cover the distance. At this point, 16 years in, I know my head can push me through long distances, but would it be physically detrimental? I needed miles on my legs.
The 50k route from Blanchard back to my front door was planned and key for me being physically and mentally ready for Quicksilver. But as it turned out, the time on my feet in the safe natural setting of my backyard hills proved to be more of an opportunity to work through my piece of the emotional puzzle that I was going through with my sister.
The first 12 miles took me 3 hours. 4 miles an hour through tears, talking to the trees, and finally sitting on a rock to regroup. 4 miles an hour! I was going to be out here all day! This internal struggle was not letting me go, I was so consumed by my thoughts I could barely move forward.
Fortunately, I choose a route that includes a section that I'm not very familiar with. Connecting Blanchard to the Chuckanuts includes some key turns on logging roads. I had run the connection once before during part a group run. Thankfully the faint chalk arrows were still visible, but I needed to be alert and looking for them in order to not end up in Sudden Valley.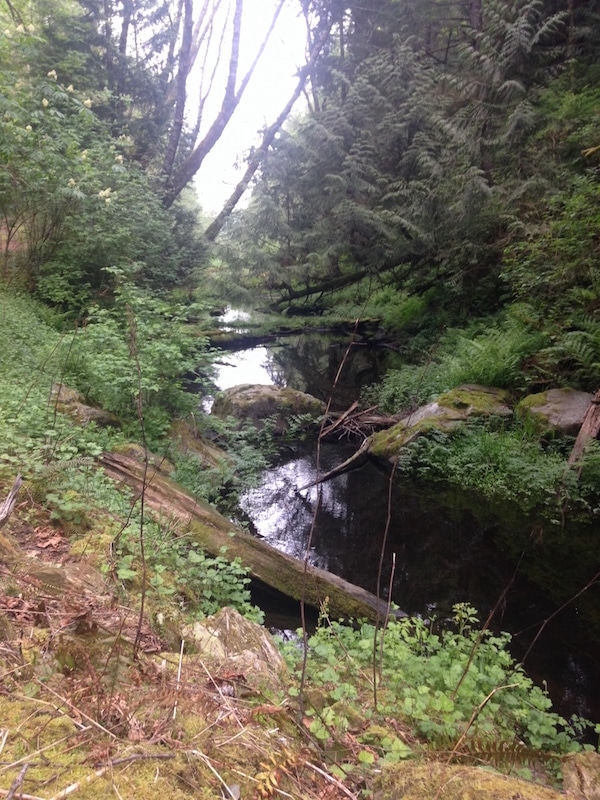 This forced me out of my head. Taking in the views, paying attention to my surroundings, stopping to capture a few photos, this all pulled me out of the heavy headspace and allowed me to process from an external perspective. The movement, the breathing, and the focus, all allowed my thoughts to flow. It permitted me to observe the thoughts rather than enabling the thoughts to rule me. I felt present and in the moment, which allowed my mind the freedom to process. Some call this the "zone" or moving meditation.
By the time I reached the top of Cleator Road, back into familiar territory, I had adjusted my mental state. My legs were moving under me with familiar ease causing my emotional processing to flow and help with my understanding. I continued the run in this zone bouncing along Chuckanut Ridge and making my way down along the Interurban trail to my doorstep.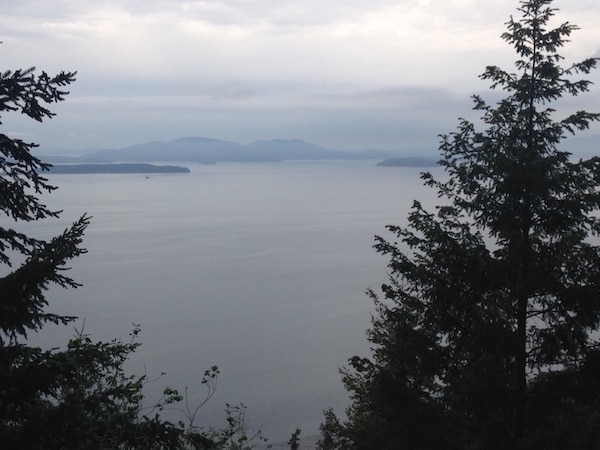 Awareness of the process: Working through issues on a long run as I've stated in my quote, were key to helping me gain perspective and understanding the issue. I have to remember that the conclusions I come to are my own, and if said conclusion involves someone else, I have to remember that they were not on the run that led me to such clarity.
Transferring the lessons and understandings found on the run into current life seems to be the key part of not running from one's problems. I can depend on running to help me work through issues, figure out my answers, ground myself in understanding, and to find peace.  Transferring my run experience to those that are involved in what I'm processing, in this case my sister, is the work. It's the part that connects what I do on the trail, to my life. I don't run from problems, I run towards answers. Sharing that work is what makes my running so instrumental in my life rather than pulling me away or distracting me from life.
Call for comments:
-How does running help you? Escape? Grounding?
-Can you achieve a similar grounding through other activities?