It's cold and the wind is whipping outside, but you have a training run on your schedule…what do you do? You could postpone, or you could pull on one of these pairs of toasty winter running tights and hit the trails with vengeance. We have done the latter for you with each pair of the tights listed below to help you decide which is best for your winter running.

We'll talk about a few things when it comes to running tights with a focus on the warmth while running, special features, and the overall fit of the tights. Since we don't always get the chance to try all of our gear on before purchasing it we'll go into detail on the overall fit and the potential for "droop" that we all dread. As for the warmth — these tights were used in conditions that are essentially the definition of winter. From the snowy mountains of Colorado to the polar vortex of Wisconsin, they've seen it all.

---
If you're looking for a pair of tights that make you feel warm and fuzzy, these are it! They have two panels of material that offer a quick-drying exterior with a fleece lining on the inner leg. This offers up extra warmth on your thighs and tush, two places that a quick to chill. As soon as I slipped into these tights my legs were in love with the fleece, it was like being hugged and these colorful beauties have become a go-to, even if I'm not headed out for a run.

What We Loved: The fleece lining and all of its coziness — cannot love on it enough!
When it comes to actual cold-weather running functionality the TNF Winter Warm Tights are solid. They carry their comfort with them out onto the trails where they will keep your legs from freezing in the wind and cold without much slouching or drooping. The higher "mid-rise" waist rests comfortably across your stomach and you can stash gels or snacks in the outer thigh "kangaroo" pockets (plus one zipped pocket!) to keep them warm enough to eat on the go. The extra weight and subsequent warmth makes these TNF tights a great option for multiple adventures on the trails, including running, snowshoeing, and cross-country skiing.
Best For: Someone who wants a layer that works well while partaking in a variety of activities in variable cold weather conditions.
Fit + Feel: The fleece lining is amazing and has held up to a handful of washes and the tights do not chronically droop when you're on the move.
What We Would Change: A little more length in the leg for my 35" inseam — no one wants cold ankles!
---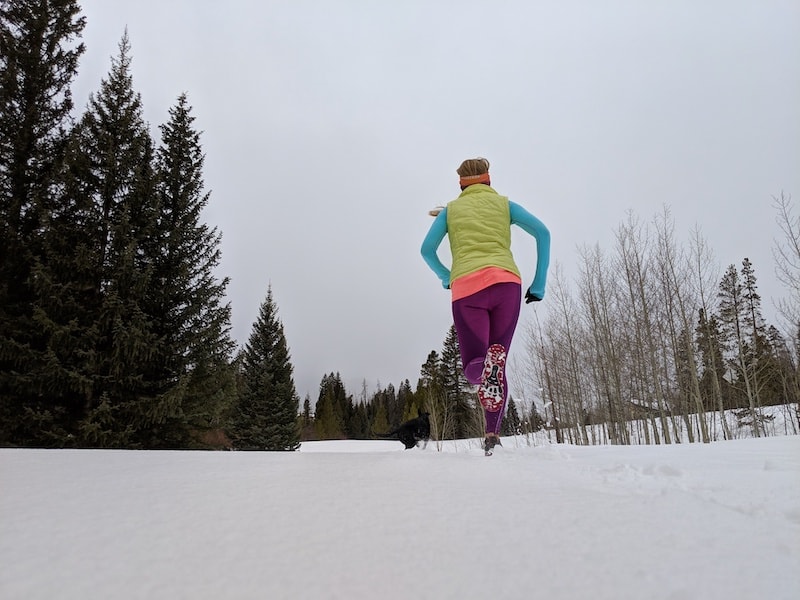 Don't let the name fool you, Skirt Sports goes beyond just the skirts! They also make a variety of tights that fit under their skirts…or work great on their own. In an effort to find the warmest tights out there we opted to try out the Toasty Tights which boast a wind blocking layer protecting your thighs and tush. Other brands offer similar designs but Skirt Sports takes it to the next level. The wind blocking layer is thick and warm, feeling a bit like the offspring of a pair of tights and a pair of snow pants! It is great for keeping yourself warm, especially if you're headed out on a not-so-strenuous activity such as cross-country skiing or hiking. When you're not producing much of your own heat the Toasty Tights do a great job of conserving every iota of heat you do have.

What We Loved: The wind blocking layer on the cold days and the side-thigh pockets!
That said, if you are headed out on an intense trail run (or fat biking uphill…) you may find that the Toasty Tights are too good at conserving that heat. On adventures that took place in "mild winter weather" and required me to put forth some real effort turned out less than ideal for these tights — they were just too warm. It feels weird to say something is "too warm" as I write this, bundled up in layers in my own home, so I need to point out — the Toasty Tights are amazing for extreme temperatures, which many of us are experiencing this winter. I was definitely glad to have these babies on hand for the frigid, windy days.

Best For: Very cold weather adventures or low-key adventures where you need to conserve all body heat you have.
Fit + Feel: The overall fit of the Toasty Tights was pretty spot on with the side panels allowing for flexibility even with the thicker layer of material in the middle.
What We Would Change: A bit more breathability would make these tights more versatile to variable weather conditions.
---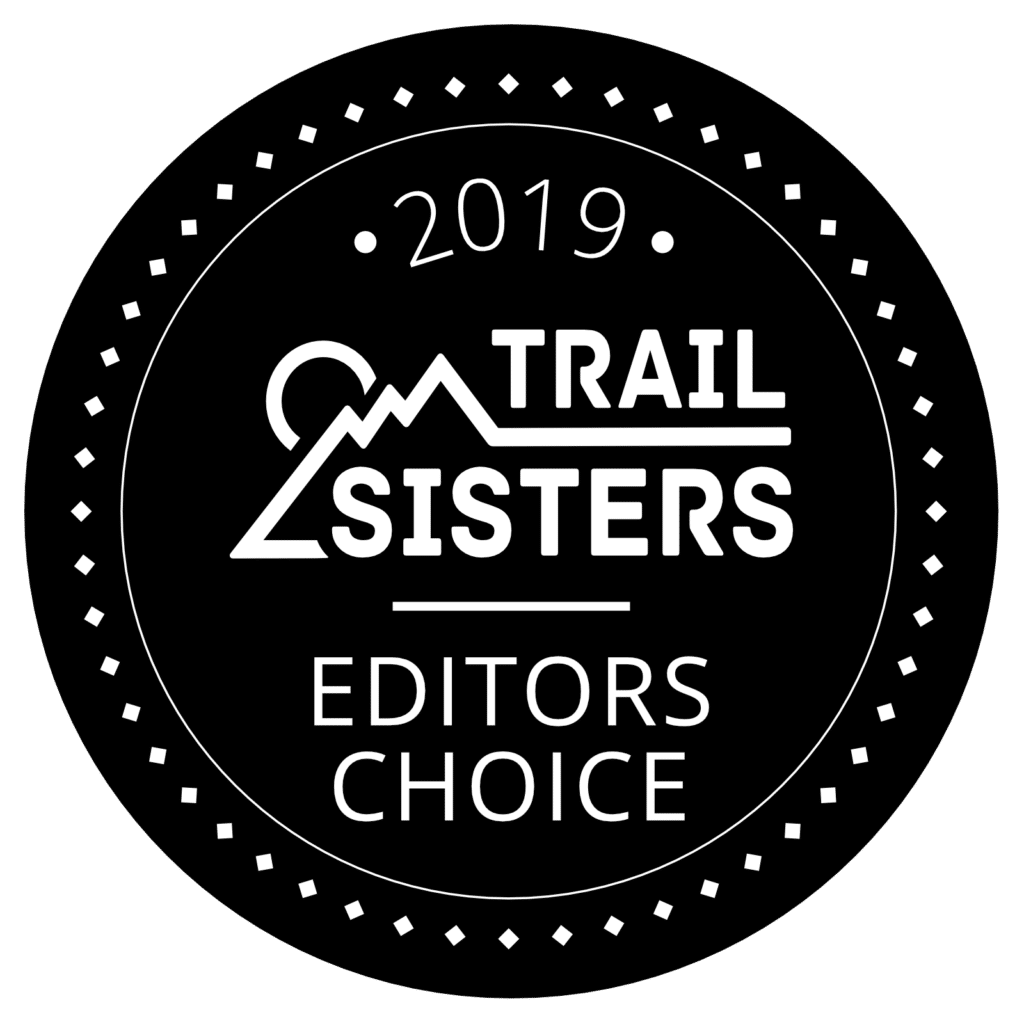 This is pair of leggings designed specifically for aggressive winter temperature by adding protection to the part of the body that gets cold first — the thighs! Icebreaker's Tech Trainer Hybrid Tight addresses the thigh-chill by adding "permeable pertext™ quantum air nylon panels" to the front of the legs. In layman's terms, this is a protective layer that covers the front of your thigh from knee to waist, protecting you from cold air, generated by Mother Nature or your own speedy runs. This layer is not stretchy, but the layer under it is as is the rest of the material. This stretchy, merino-based layer is thicker than expected and offers cozy warmth while still letting you keep your flexibility.
What We Loved: The extra warmth provided by the wind blocking layer and the overall fit.
At first it feels a bit excessive…then you go for a run and you're madly in love. But don't limit yourself to just running in them — they're also great for dog walks, hiking, or cross country skiing. Trust me, I know! As for the general fit of the Tech Trainer Hybrid Tights, I'm a fan. They are long enough for my gangly legs, the waistband lays flat comfortably, and the pocket tucked in the waist has a zipper to keep your keys and cash safe (but not your phone, unless you have a tiny one). These tights are easy to love, for all the right reasons.

Best For: Cold weather running in variable conditions including whipping winds or dropping temperatures.
Fit + Feel: A sleek, comfortable feel with variable layers that blend together with functionality and a bit of adventurous style.
What We Would Change: It would be nice to have a phone-sized pocket and the extra layers seem to cause just enough weight to pull the tights into a tiny droop when you're moving.
---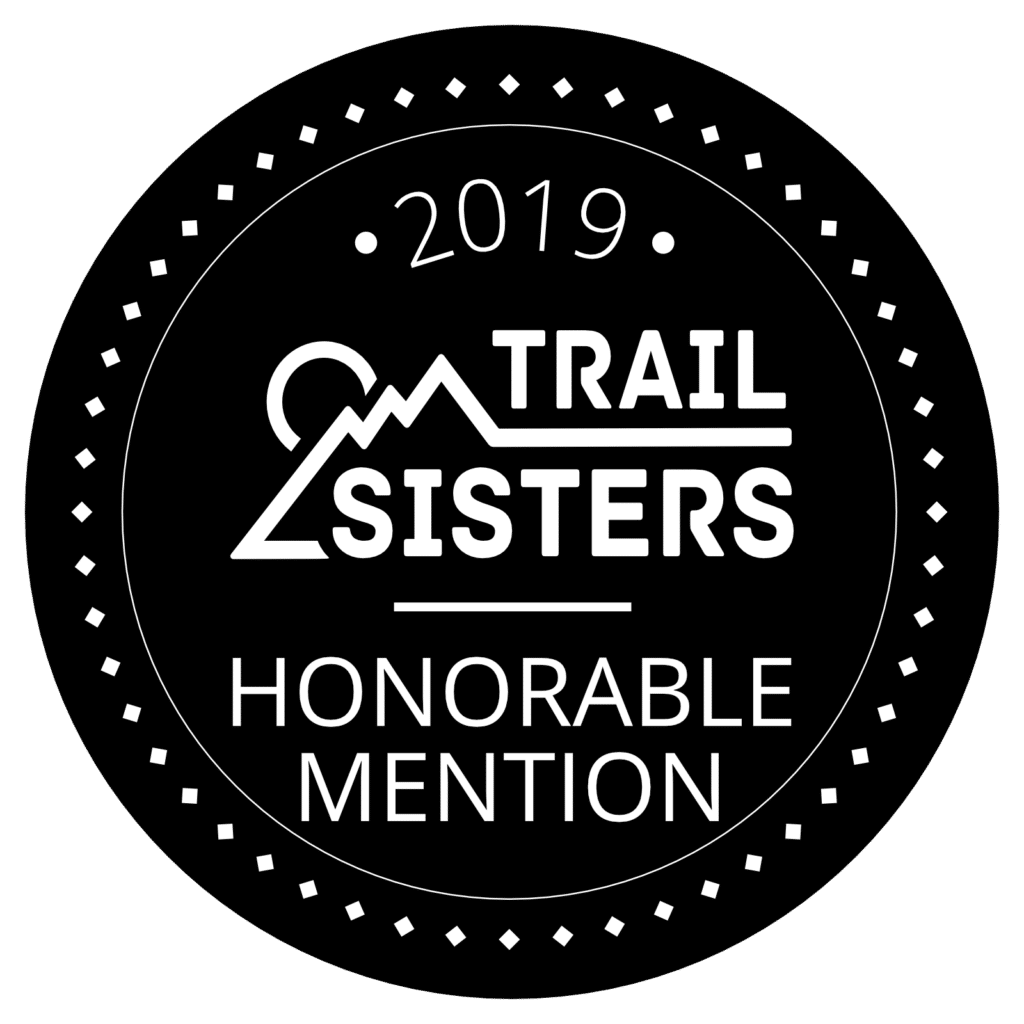 As soon as I picked up the ColdGear Reactor tights I knew they were different. They were made for cold weather but they were light and thin. Hm. Yea, I was a bit skeptical at first. A few snowy trail-ventures later I was sold…unless it was a windy day. The lightweight material that fit like a second skin is actually "intelligent insulation that adapts to your activity level for the right breathability & warmth for what you're doing". The sales pitch is not wrong — if the wind kept itself in check I could comfortably run in temperatures that dropped into the teens.
What We Loved: The long inseam and lightweight fit is great, along with the reactive material that helps regulate your temperature as you go.

Not only did the UA ColdGear Reactor tights manage to keep my legs warm they have a sleek design that fit very well and I liked the strip of mesh for its aesthetics as well as venting. Of all the tights tested this pair has the longest inseam in "regular", which my knobby ankles greatly appreciated. The only real "I wish…" moment I had with the design of these tights was the hidden side zip pocket. It is at a weird angle in the seam which proved to make it less useful than I'd hoped. It also bunched up when you pulled the tights up. Beyond that, these tights were an easy choice for trail-ventures!

Best For: Someone who warms up quickly once you start moving and wants a layer that adjusts with your body temperature.
Fit + Feel: The "second-skin" compression material of the ColdGear Reactor tights make you feel sleek and speedy even before you leave the house.
What We Would Change: There are a few pockets in the seams and waistband that seem well intended but aren't as functional as they could be.
---
The Patagonia Peak Mission Tights are made with recycled material and contain the Patagonia Polygiene® permanent odor control. The design of the tights is has various seams throughout to give you plenty of flexibility and range of motion. Overall, the tights fit liked a "second-skin" and a comfortable to wear on runs, hikes or even under a pair of snow pants when headed to a ski resort. They were a bit short for me and the waistband, though it look wide, has a much narrower band of elastic running through it which was not my favorite feature.

What We Loved: The ease of wear and flexibility of the tights as well as sleek comfort.
When it came to running in the cold, the tights held up against colder temperatures but are not designed to provide protection against the whipping winds we can experience in Colorado. In all honesty, these tights became my go-to for wearing when I was going snowboarding — they are incredibly comfortable and the perfect layer of warmth to use under a pair of shell snow pants. This also meant I didn't need to change layers between a short morning run and hitting the slopes. It wasn't my original intention or what I expected from the Peak Mission Tights, but I am pleasantly surprised!

Best For: Anyone headed out into snowy or cold weather without extreme conditions.
Fit + Feel: The Peak Mission Tights are a bit short, but there is not droop with wear.
What We Would Change: A little more length (or a "long" option) with less of a seam at the ankle so you can tuck your leggings into crew length socks and a thigh pocket.
---
The Arc'teryx Sunara Tights are not designed specifically for cold, but they do a great job of protecting you against the chill of a sunny winter day and I don't mean that as an oxymoron. If you're looking for a pair of tights to ward off the chill while still offering up a breathability check out the Sunara Tights. You'll find a few pockets on these tights, including a thigh pocket with a media port and extra material to "close" the pocket.

What We Loved: The little things, like the waistband, the variable length, and the pocket "closure".
They have a very sleek, comfortable fit with a "7/8 length" inseam that felt natural. There are two parts of the general Sunara fit that I loved — the 7/8 length and the waistband. I've been avoiding the 7/8 length tights that have become popular because I feel like a lot of full-length tights become that length on my long legs…I may have been wrong. The 7/8 length is great and Arc'teryx has thought about all the leg lengths of the "average" woman because they offer a fold-up option. Well done. As for the waistband, it falls into the "mid-rise" category which can be a real hit or miss in my experience. Once again, Arc'teryx knows their stuff and the waistband is great — it gets wider in the back, lays flat, and doesn't add an extra waist with excessive elastic.

Best For: Adventures on snowy trails when you know you won't be post-holing when you're not in need of protection against wind or extreme temperatures.
Fit + Feel: They offer a very sleek fit where the term "second-skin" become more than just a spiffy way to describe clothing and they variable 7/8 length considers everyone.
What We Would Change: There is a "key pocket" in the back of the waistband which works great if you have keys you need to stash but gets in the way if you're not using it.
---
The ioMerino Compression Tights are a lighter pair of leggings made of merino wool. This means they feel light, flexible, and comfortable while only enlisting the warming properties of wool when you need it. When you're not seeking protection from they cold the simply act as a light layer. As a compression tight they are not as restricting as others I have tried and they fit like a comfortable "contact fit" layer. The wide waistband is forgiving and comfortable without any tags (yay!).

What We Loved: The wide waistband and breathability of the tights, from hip to toe!
With the merino wool you'll also get long term odor control (for those stage races or backpacking trips where you keep re-wearing your warm layers!) and breathability (for the spring adventures when you aren't quite ready to commit to shorts!). The overall fit of the ioMerino Compression Tights is generally quite comfortable although I would love to see a longer inseam option — a common request from me, thanks to my tall-girl-complex.

Best For: Runs or adventures in variable conditions or over multiple days where you need warmth, breathability, recovery, and odor control abilities in your tights!
Fit + Feel: The wool makes the first wear of these tights a bit itchy, or "present", but that feeling dissipates quickly after a good washing. As you're moving the tights do droop a bit.
What We Would Change: A little more length on the inseam and a more secure fit around the hips to avoid the droop that has us pulling our tights back up.
---
The Dynafit Winter Running Tights are so much more than I expected with a thick but very flexible material that molds to your body. This keeps you warm while you're moving without restricting any of those impulsive movements needed to keep you upright on snowy trails. The regular length is just long enough to keep my ankles happy at the end of long legs and the Dynafit tights offer a zipper up the calf of each leg. I wasn't sure how this would come in handy at first, but when I headed out with my cross country skis this feature was perfect to secure my tights *over* my cross country ski boots, keeping all the snow out.

What We Loved: The second skin fit with functional pockets that didn't get in the way while still holding essentials!
Coming from a brand known for ski and skimo gear you'll definitely find warmth and breathability in these Dynafit Winter Running tights as well as a few fun features. Along the back, just below the waistband, you'll find three pouch-like pockets and one zipper pocket which are perfect for your keys, basic snacks and possibly your phone. The seams are smooth with no hidden pockets to get in the way and there are small grippy dots spread across each thigh, a feature I like to think is designed for those steep hands-on-thighs climbs. Overall, these tights are great for multi-sport outdoor adventures in the frigid snow!

Best For: Someone looking for a warm layer that doesn't impeded mobility with the perk of features that you'll love on the trails running, hiking, or cross country skiing.
Fit + Feel: A very cozy feel with a general comfortable fit, a respectable "regular" length, and no droop.
What We Would Change: It would be great to have a slightly wider waistband that blended into the pouch pockets as this would give a more polished fit and feel.
---
As you can see, when it comes to winter running tights you have a few options and you can tweak your choices toward the weather conditions you most commonly find on your own trails. Whether you're looking for tights to protect you from windy snow days or tights to offer up a layer against the chill, you have options! Happy winter running!