As trail running continues to grow in popularity as both an invigorating and healthy transport from our everyday lives of routine and predictability into adventure and exploration, so do the many positive side effects of participating in this great sport. Collaboration, community and connection are a few of the attributes that we as Trail Sisters find to be highlights of pushing boundaries together in the great outdoors. Alongside these positives of growing numbers of women in our sport also comes a responsibility to share a collaborative and community effort in Trail Stewardship for the mountains, deserts and valleys that we cherish so greatly.
We've all been there in those early morning or early evening hours as we set out on a run only to find little plastic bags left along the path, perhaps a wrapper from a previous runner or hiker that slipped out of a pocket, or a soft mud trail that has us questioning if it's okay to just run on or around it this one time. It's pretty easy to think in an isolated manner that perhaps this doesn't happen often or one time won't hurt. However, when we stop to think that maybe dozens more people will pass by these same trails on the same day or same weekend thinking the same thing, it's a cause for a pause. We can realize in that moment that if each of us act as if this land we are running on is our own, we would want to take full responsibility for it and care for it with full intention.
To give an example of growth statistics on trails, The Colorado Fourteener Initiative did a study in 2017 that "estimated 334,000 people hiked Colorado's 14ers in 2017" which was a "use increase annually at 7% since 2015." When we think about our area trails that are easily accessible to us to run, we can imagine that those numbers are equally high or higher and will increase dramatically yearly.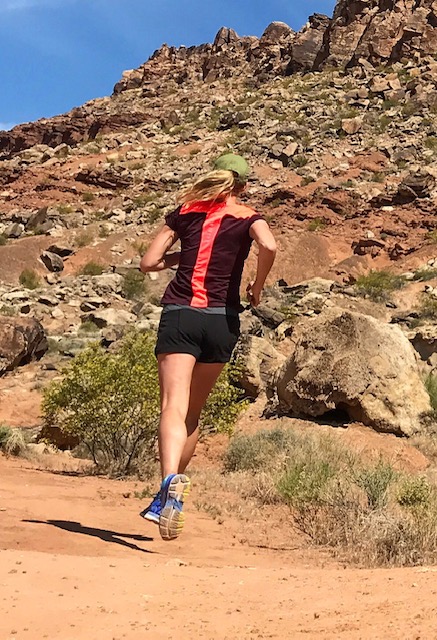 Collectively we should be giving ourselves a high five for appreciating, enjoying and growing this amazing sport! We as women should also realize we are true, living ambassadors of our beloved National and State Parks and Trails. This is so empowering, because we know that each of us as individuals can help preserve our lands and trails if we do our part each time we head out the door. So what can we do to be more pro-active?
If we pack it in; we pack it out. This goes for other trash we see on the trails, even if it's not our own. Bring a couple gallon size ziplocs that can contain the smelly stuff. Recycle everything possible.
Join a Facebook group or create one for other runners in your area; opening a dialogue is key! Trail Sisters has local team leaders that do just that. This is a place to go to share trail conditions regularly. If it's a muddy day; be sure to tell your social groups to avoid those trails until they are dry.
Become educated about and follow pages regarding the open spaces and parks in your area. Communicate via email to the specific parks if you see a trail that is in need of repair or any other concerns. This is wanted information and a very specific way we can help maintain trails directly.
Know the rules. Trail etiquette is important and knowing the rules means we will also set a good example to others.
Get involved. We are all passionate about the outdoors. We can use that passion for volunteerism and do some trail work in our areas. In doing so, we physically make a difference and set an example to those around us. We also just feel really good when we are of service and will naturally feel more ownership towards the land we enjoy.
Think about future generations. Perhaps the most important piece in stewardship is seeing the big picture. Teach, guide and serve for those following in our footsteps.
We are all in a powerful position. The choices and decisions we make now by not only setting a good example as strong and capable athletes but acting equally as ambassadors of the outdoors can greatly impact the future. We can show our communities and our families that being pro-active about conserving our trails matters greatly. We can lead by example in more ways than we know, and we can do it because we are building an amazing community of strong women who are capable and caring.