Last year, my friend Josh Sun told me he was rolling out a brand-spankin' new 100 mile race in the beautiful trails of Mines of Spain, located in Dubuque, Iowa, right along the Mississippi River. The race is called Mines of Spain 100 and if you think Iowa is all flat, this race will prove you wrong.  And if it sounds familiar, the race was featured on the most recent cover of Ultrarunning Magazine!

Whether he asked me or I offered, I found myself as a newly crowned aid station captain. We all know that volunteers make the magic happen at ultras and I was excited to give back to a community that had supported me in so many endeavors. With Gina's approval, we partnered with Trail Sisters to officially become the "Trail Sisters Aid Station." I knew I could count on my trail sisters to support the runners at Mines of Spain and of course, knew they'd be great company!

Since this was a brand new race, we were figuring everything out for the first time. And while I've volunteered at races, I've never been the one in charge. I learned a lot and thought it would be helpful to share what I learned for future aid station captains.
Recruit volunteers early!

This is a really easy and obvious one but get the race on potential volunteers' radars as early as you can. We all know weekends book up so get first dibs on that date! Which reminds me, are you available the weekend of October 18-19 and do you want to help at the Trail Sisters Aid Station? 😉

That weird aid station food idea? Go with it!

Of course we had the standards, but we loved how much people were into the weird random food which included little smokies, pumpkin pie (with Rumchata for the fearless), pancakes, candy corn, and KFC. The second morning, we actually rolled the KFC chicken in pancakes and runners loved it. Our biggest mistake was not getting enough pie.

Make the aid station yours.

Make your aid station yours and a place people want to be (and this goes for both runners and volunteers). Mines of Spain 100 was a looped course, so we saw the 100k runners three times and the 100 mile runners five times. Runners look forward to aid stations and we wanted to make sure they really looked forward to ours and left with a smile on their face feeling supported and happy. Or at least happier than when they came in. We had tons of Christmas lights (definitely need more though), music, and cut outs of "trail sisters" which included Marilyn Monroe, Elvira, and Tonya Harding (with her bat) decked out in hydration packs and Trail Sisters gear. Runners loved it and many stopped to take photos with Tonya, Elvira, and Marilyn.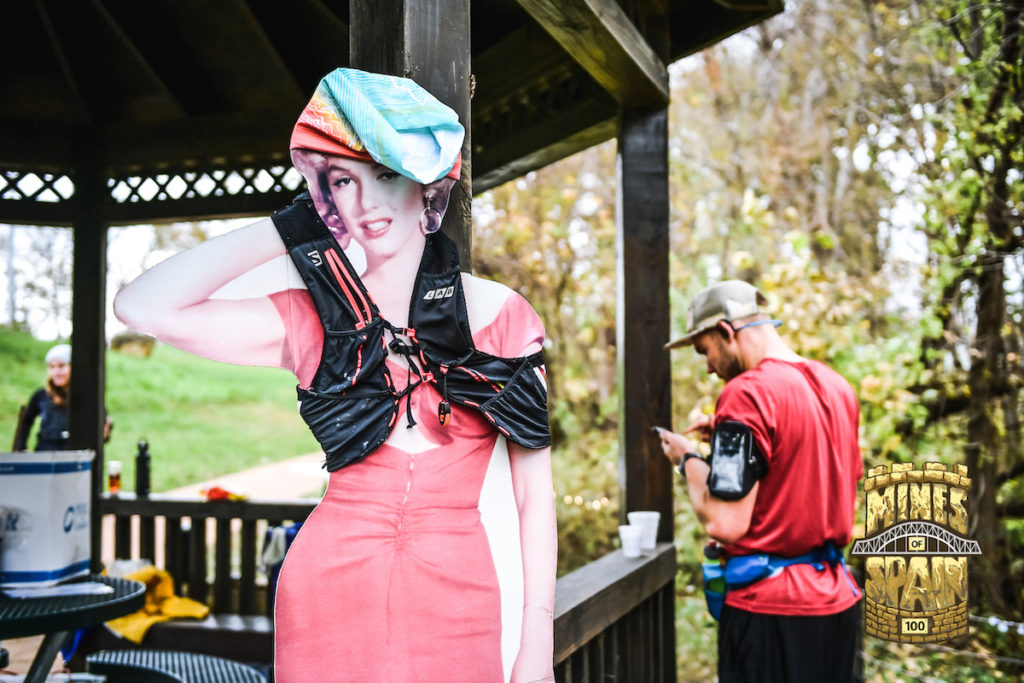 Get yourself a co-captain!

Having a right-hand (wo)man made a HUGE difference. Thank you to my friend Romy for dealing with my short attention span at Costco (and talking me out of the $50 life-size talking Dracula), being there the entire time (also might be due to the fact her wife was running the 100 miles race), brainstorming, organizing and generally being awesome.

Have a plan but don't panic if things don't go to plan.

Since this was all new, aid station set-up was a little wonky. We kept changing our minds about where tables should go, how to organize food, etc. I was getting a pretty flustered (the rain didn't help!) but guess what? We figured it out and everything went fine. And I guarantee no runners knew we really didn't know what we were doing at first.

I also recommend having a list of volunteer shifts/names and volunteer tasks printed out for reference (and one copy laminated or in plastic sleeves). Delegate tasks out when volunteers arrive so everyone is clear what they are supposed to do and know the expectations of being a volunteer, especially if they are not familiar with ultras.

HAVE MUSIC.

I'll never understand why aid stations don't have music. In my opinion, it is a game changer. Music helps runners know they're getting close to the aid station and helps to put them in a festive mood, or at least helps boost their spirits a bit. We actually did something that turned out pretty cool: In a pre-race email, Josh asked runners to submit their three favorite pump-up songs via a Google form. He then put those names, along with their bib numbers, in a spreadsheet with the three songs linked to Spotify. So, when a runner came through, we quickly checked their bib number, looked in the spreadsheet, and clicked on the song. It was pretty slick and fun to see runners start bobbing their head to the music or say things like "this is my favorite song!" Kudos to Josh for turning my harebrained idea into reality!

Maybe don't pace 20 miles in the middle of the night.

I'm going to preface this by saying I would not miss pacing one of my best friends for the world. That being said, volunteering at an aid station for 20ish  hours (with no sleep) and then pacing my friend for six hours was a little rough. My feet started to hurt three miles into pacing and realized I had been on my feet for nearly 20 hours prior. Oops. So, I guess my tip is: don't overcommit. p.s. Julie had a stellar race and I was so happy to pace for her final loop.

Don't forget the Fireball. People WILL drink it, including Ann Trason.

True story. And if you're lucky, hikers might help you finish up the bottle the next day. (Also a true story).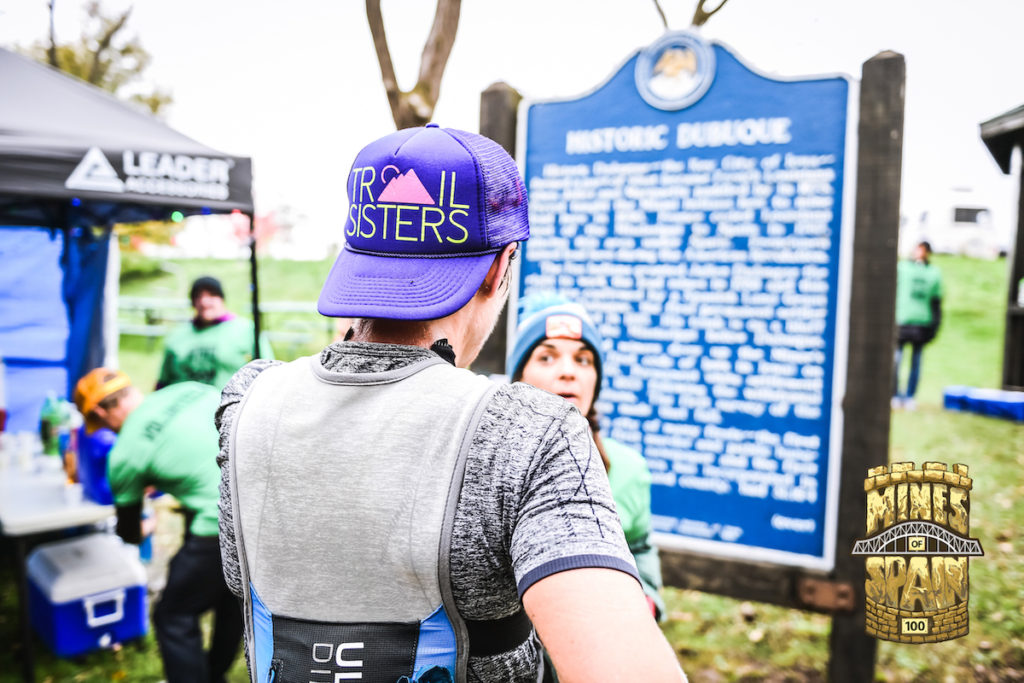 And those are my big takeaways from a first-time aid station captain! Overall, it was an incredible experience to be on the other side. It was especially neat because we saw runners several times and it was such a treat to support, cheer, and encourage our fellow runners throughout the 36 hours. Not to mention, I got to hang out with tons of volunteers aka awesome people who are giving up their time and energy to help others. I'm grateful for the experience and can't wait to do it again.