A few weeks ago I received an Ask The Trail Sisters submission regarding: How do I correctly fit my hydration vest?
This is a very good question, but one that is hard to answer. As I began to construct a response back, it occurred to me that I should create an informative and educational resource for everyone and anyone looking for help on successfully fitting their hydration vest.
First thing's first. Not all brands fit alike, and to make things even more complicated, vests may fit differently depending on how much (or how little) weight is added to the them, and where!
To produce a helpful guide on "how to fit your hydration vest" we reached out to the leading hydration brands for their input, and instruction. After all, who can explain "fit" better than they can! The information provided below is each brands direct response to our inquiries.
Note: This article was originally published November 17 2017 and has recently been updated for 2019.
---
NATHAN
Our women's specific vests… Fit similar to the unisex ones, however there are a few key differences to point out. They're cut shorter in the front and sides, plus they're narrower in the shoulders. The end result is a snug, apparel-like fit, designed specifically to fit the female form.
Our product methodology…Simply put we serve the needs of our runners. The goal is always: how do we help any runner go further and train harder, whether its for a 5k or an ultramarathon. Then, how do we build a product that feels like a second skin, doesn't bounce or chafe, and has just enough storage that it doesn't impede your stride or your focus.
To size your vest…Start by measuring both the circumference of your bust, and your sternum under your bust, then check the size chart tag to see which size you should start with.
NATHAN VaporHowe – Front.

NATHAN VaporHowe – Back.
Fitting the Vest:
Loosen all straps on the product.
Put vest on…
Tighten sternum strap to be 4-6 inches apart.
If the pack has side-straps then tighten them down.
If the pack is a vest and you notice there is still room at your sides, size down with the pack.
The pack should be snug, but not too tight. But most importantly, it shouldn't be too loose either.
The vest should fit securely around your shoulders, chest, lower back, and below your armpits.
Test it out on a short run. The vest shouldn't bounce, shift, or swing. It should hug your body like a second layer of technical apparel.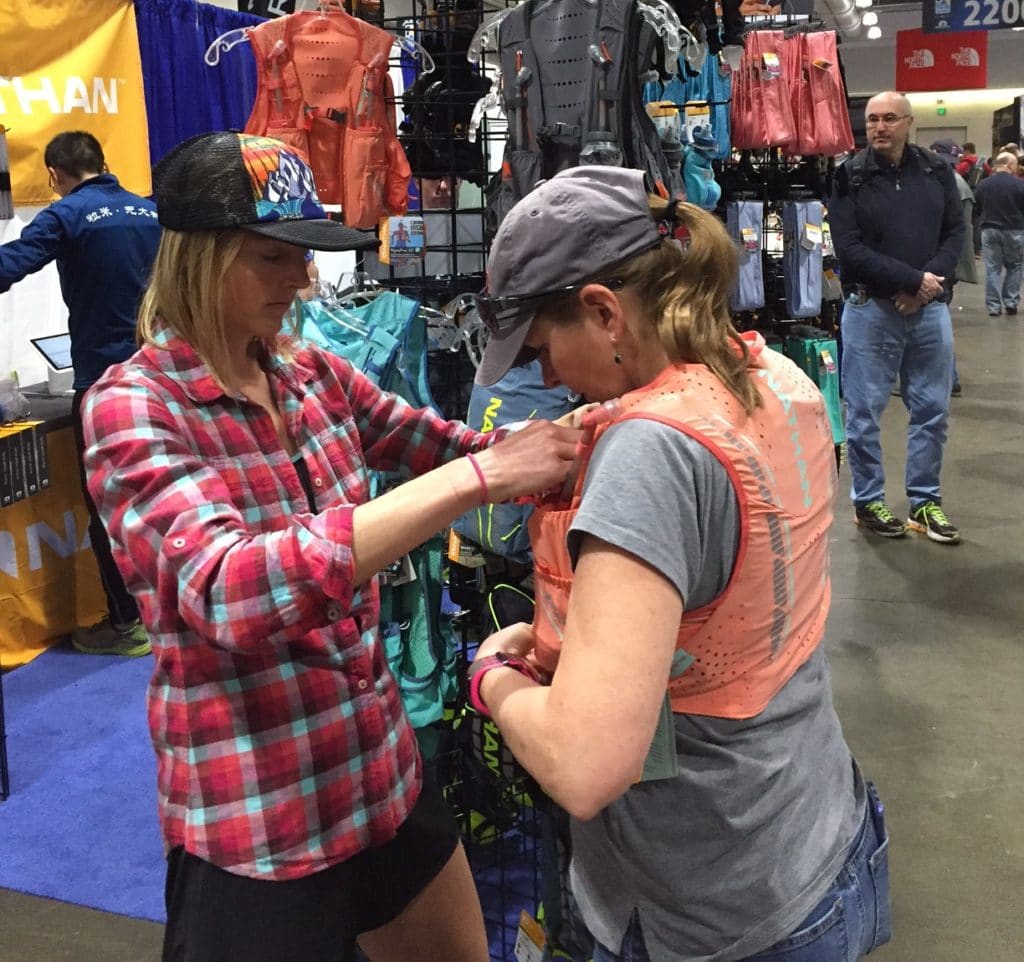 My favorite highlight of the VaporHowe is how well the vest fits many female body types. It's designed to fit a woman's body, especially with the ability to move the straps up and down, and tighten the pack down so it doesn't bounce, rub, or chafe. Females are not smaller males, and a pack should not be made to reflect that. I love that NATHAN started from scratch to create a product that was ideal for running hours without issue. Everything from the material, to the straps, to the bladder is designed to fit and be comfortable as well as functional. The Vapor series is the first product with many sizes available – from XXS-XL. 6 sizes to choose from. This is CRUCIAL because each person is different. No two women are alike, and that's what makes it beautiful.

Stephanie Howe
---
Ultimate Direction
Ultimate Direction has recently launched their new Halo Vestas which are available in three sizes. The update fit information focuses on these new vests but works for their Ultra and Adventure Vestas as well.
Halo Vesta has Three Sizes
For the new Halo Vesta we have modified our fit profile by adding another size, we now have Small/Medium/Large so the fit and fit-range are dramatically improved. Our smallest vest fits a torso as small as 53cm and our largest vest fits up to 108cm.
Next is functionality, within the fit profile it is important that the bottles are accessible and work with the body rather than against it. Ensuring bottles, nutrition, and extra gear ride comfortably was key for the functionality. We modified the harness shape a bit to ensure these elements tied together and allowed the user to feel unencumbered by them.
How to Fit
The best way to fit the Women's Halo Vesta is to measure the circumference of your body at the bottom of your ribcage. Once you have this measurement it will advise what size Vesta to pick. This can mean that taller people that are really skinny may feel more comfortable in a Small or Medium instead of a Large and visa-versa.
The next step is subjective – you can decide whether you prefer the shoulder straps to be close together over your chest or wider across your chest; this could define whether you would like to size-up for more ability to bring your shoulder straps together in the front or stick to a smaller size that really hugs you and the shoulder straps lay more towards the outside of your chest.
Lastly, the final ways to adjust the fit can be done on the fly – the Comfort Cinch 2.0 at the center back that is adjusted by pulling on the cables that are routed to either side of the vest, the sternum straps in the front that adjust both horizontally and vertically, and determined by how much gear is actually stuffed inside.
---
CamelBak Products
When purchasing a hydration vest, the number one thing we hear complaints on is improper fit. There is nothing worse than feeling the discomfort of an extra layer; that in reality should have that barely there feel. Today hydration vests are more than ever just like a sized piece of apparel, but with the added benefit of aiding in proper hydration and fueling so you can perform your best.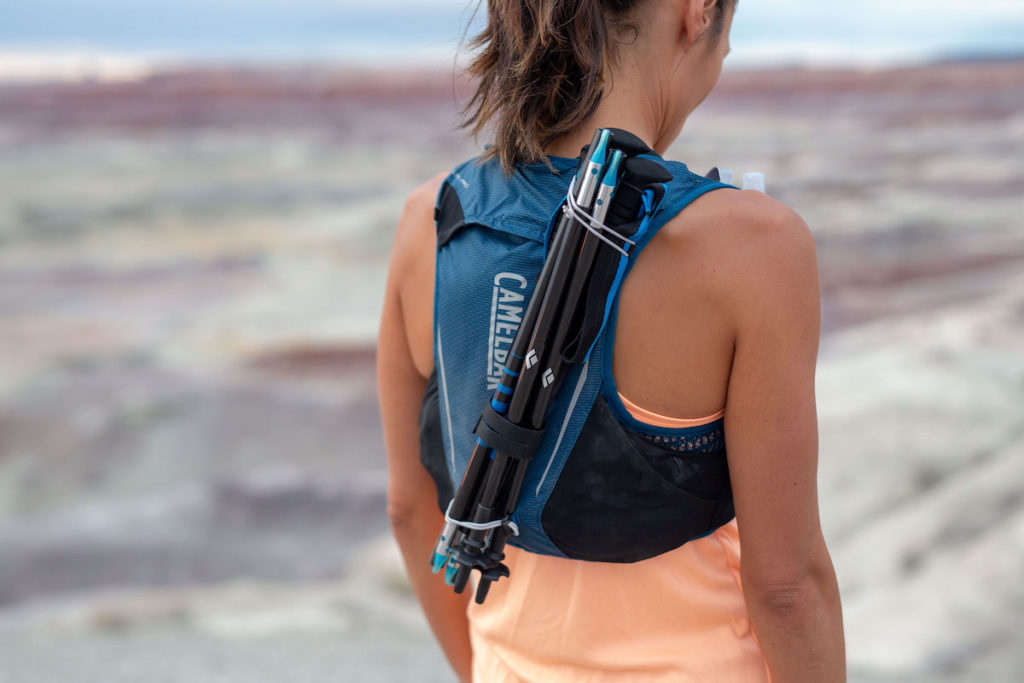 First step in how to properly fit is understanding size: At Camelbak, we offer women's specific or "one size fits all." Both have adjustment points to get you a more precise fit.
Once you know how the product you are purchasing is sized, the next step is to have a general idea of your own measurements. Our fit specialist at CamelBak suggests measuring two critical spots – Chest circumference and Natural waist circumference. Often times these measurements will help guide you to the best size range and fit that all brands typically list on their products. A quick search on google will give you the proper how-to for measuring. Most run shops will also be more than happy to assist in this step.
Now comes the fun part! Trying on the product. My number one recommendation here is to understand where your points of adjustment are. With vests that have side adjustments like our Ultra Pro and Circuit vests, you can get a more dialed fit by cinching down the vest at the sides. This also helps with varying cargo loads and water; you can adjust on the go. All of our vests also have dual sternum strap adjustments that can be moved laterally up and down. Pro Tip: Move these around and don't expect that the off -the-shelf placement will be best for you. All body shapes are different and the location of these straps make a huge impact on ensuring a snug fit and minimal movement. If available, use a mirror so you can see where you are positioning these. Once set, you likely do not have to move them around again
The next important part to proper fit is trying on the vest with your filled hydration and cargo inside. This will not only change the way the product feels on, but you get a more realistic expectation of the weight and placement on where your items will be. On our Ultra Pro Vest and Nano Vest, these come with up front access Quick Stow Flasks. Fill these up and get a sense of how they slide into the pockets and feel against your body. An empty vest is not going to fit the same way a packed out one will feel.
Last, take a test run or even do a quick jog in the vest. This always feels a bit silly if you are in the store or at home, but at least you will get an idea of any immediate concerns. In a store, try on the next size up or down. Ensuring you find a vest that is not too large or too small is critical to making the gear something you do not have to think about on your run. There is nothing worse than a vest that moves around, too tight or causes chafing.

"Many folks often wonder how to pack your essentials for a long run ahead. All of the pockets on the Ultra Pro vest make it easy to get to your snacks, extra clothing and there is a perfect pocket for your iPod to keep you bumping for many miles. I love to have storage and accessibility and the Ultra Pro offers both. Here is a sample of where I slip in my favorite treats, clothes and flasks to go miles upon miles.

For fit, I love my packs to be super snug on me. When running long miles, you do not want your pack to be shifting around on your body. The great thing is that the CamelBak vest has the option to move the two front clips around to make sure the vest fits snug on your chest. As I eat off my supplies for a long run, it is easy to tighten the straps on my chest to keep the vest snug. The ultra-light vest has a cut that fits snug, but does not chafe. It is super light and the flask pockets are easy to slip your flasks in and out of and to tighten down as your drink your fluids."

Jax Mariash
Jax Mariash

Jax Mariash
---
Salomon
Salmon has recently introduced the Salomon Advanced Skin 8 W. Their first truly specific design for women, Advanced Skin 8 Set W has a unique shape that eliminates pressure on the breasts when it is synched down. The integrated soft flasks also have a unique shape with straws, offering complete comfort and balancing your gear evenly while you run.
How to fit a Salomon Hydration Vest
Think about your training goals. How long are your longest training runs and races? How much gear do you take with you (jacket, trekking poles, headlamp, snacks, gloves, phone, sunglasses, sunscreen, water, etc.)? This is important when selecting a pack because you will want to have sufficient capacity to carry your standard gear during the length of your run.
Reference the size chart. Have a friend measure your torso diameter (just below your bust, top of your rib cage. If you are between sizes, purchase the smaller size. Our packs use such lightweight elastic and 4-way stretch material, you want to be sure after it's loaded up with water and gear you still have room to adjust/tighten the sternum straps.
Try the pack on empty with what you would typically wear while running.
Pull the tab across your chest and attach sternum straps (twin links). You do not want the right and left sides of the vest to touch in the center of your chest. The sternum straps are adjustable. Adjust to what's comfortable for you. Most of our female athletes prefer the top sternum strap at or just above the bust and the lower strap in line with the lower rib cage. With the empty pack on, there should be no rubbing or shifting.
Stuff your pack with gear that you would commonly use on the trail.
Again, adjust the straps to a comfortable position and then move around. I recommend doing things that runners need to be able to do without feeling restricted or irritated by their pack. Make sure you can breathe comfortably, swing your arms, and jump around with no issue. Our hydration systems should fit like a vest and not a backpack. The weight will be distributed throughout your body and not just on your shoulders.
Put on your favorite Salomon running shoes and have fun!!
Anytime you buy gear online, we suggest you leave the tags on until you are satisfied with the fit.
---
UltrAspire
Overview of Vest product/methodology
Your vest should feel natural on your body, not as if you are forcing something to sit there that is out of place. The body also isn't straight, there are curves and the vest should also reflect that in its design. If you know your upcoming training and race goals, you have to first decide if you are choosing a fitted or universal fit vest?
The human body shape is complex with intricate detail and function. The same attention to detail is present in the design of our packs to enable precise movement, contact, and weight distribution which ensures that there is never any inhibition to the biomechanics of the human body.
HerFit Harness™: The HerFit ™Harness is a securing strap system designed specifically to fit women. The straps allow for the chest, heart, and lungs to be free with no restriction to the open air. Designed for a no-chafe no-hindrance fit, the HerFit™ Harness provides long term comfort and allows for the ability to perform at the highest levels while having your essentials directly at your fingertips when you need them.
How to fit new women's specific packs?
If you decide that a fitted vest is the way you want to go, here is our method for making sure you get the perfect fit:
Get dressed similarly to how you will during your typical runs/races.
Load your pack with contents close to the capacity of what you will be carrying during your runs; this is important because a vest will feel different at full capacity versus how it would feel empty. You want to be sure you are testing all fit options.
When you put the vest on, you'll notice our shoulder straps contour to the body and avoid any areas that would cause hindrance to the natural running motion. Your choice is where you want your pockets to sit. With the enclosure system you can have the pockets closer together, or further away. This is your preference.
Our Max02™ Sternum keeps the pack from bouncing. Tighten that to your liking and remember not to go too tight. The shock cord attachment will allow you to breathe as deeply as needed without feeling any constriction across the chest.
For a universal fit (one size fits most) you will repeat a similar process, but there are a few things you will want to do before getting out on the trail.
Get dressed similarly to how you will during your typical runs/races.
Load your pack with contents close to the capacity of what you will be carrying.
This is where the process will differ slightly; loosen the side straps and the Max02™ sternum.
Similarly to the fitted vests, you want to pick your pocket placement that you most prefer, closer together or further apart and you can achieve this by tightening the side straps and Max02™ to your liking.
Making sure you have a natural and comfortable fit is important especially during the long haul. Access to your essentials on the go without having to think is also important for those fatigued times after many hours on the trail.
---
Orange Mud
We design packs to fit unisex, but this doesn't mean that we're not factoring all shapes and curves. The side anchoring of our packs ensures that the front of your shoulders stabilizes the pack on your body, then the front chest strap adjustments are broad in movement and elasticity to conform to your curves.
Finding a pack that fits ladies curves can be a bit tricky. That's why we designed the Endurance Pack for ladies first, ensuring maximum adjustability in the front and sides. When first putting on the pack, cinch the sides up decently snug, this sets the side fit. Then adjust the front chest straps as you see fit. They do not have to be tight at all, something common across all of our packs, as we want you to be able to breathe while running and feel no restriction.

The chest harness is where it's all at, so the first step is to dive into this area. Out of the package the pack has two adjustment straps, one high on your chest and one lower. These have a unique clip with various segments in the front chest harness that can be moved up and down to find the optimum placement. If you're a petite runner, there is a good chance that it will fit great straight out of the box which is by having the top segment in the #1 segment, and bottom strap in the #3 segment. If you're more curvy up front, you'll likely move the bottom strap down to the #4 segment area which will yield an optimum fit. For those with DD and larger chest, it may help to move the bottom strap to the #2 segment or you could get rid of it all together. Our fit video below explains how to adjust this as well. Keep in mind we're always here to help too, just shoot us an email or call us from our contact page and we'll get right back to you!
The frame of the pack uses a material that doesn't give. This is very important to stabilize your fluids and gear whether the pack is full, all the way to empty. The only elastic that we use is on the pockets and rear cargo which compresses the load from full to empty. On top of a great fit for you, your gear will ride super stable too, whether it be two miles or 200 miles!
Chest and shoulder pockets
These are one of the most awesome parts of the pack. Some prefer to use 600ml soft flasks in these, some use them for backup gear and nutrition. That is totally up to you. We don't suggest bottles up front as hard bottles aren't too friendly for ladies curves, not to mention that they slosh a lot. Our general focus is arm warmers, sunglasses, nutrition, and sunglasses in these pockets. The top shoulder pockets are used for things like electrolyte, chapstick, sunblock, and generally we put them in a ziplock bag for this area.
The hose tube is likely longer than you prefer. We suggest wearing the pack a few times, then cutting it 4" below the elastic in front of the shoulder pockets. This video shows this quite well.
---
RaidLight
2019 marks RaidLight's 20th year in business as a specialty trail running brand. The evolution of hydration packs in that time has been nothing short of astounding. RaidLight's newest line of Women's Responsiv vests are designed to meet the needs of dedicated trail runners on a daily basis while still being ready for the toughest race challenges. Their fit features allow for the vests to fit a large verity of body shapes while still being a technique and trail focused hydration vest.
The all new Responsiv Women's vests have several fit features that allow you to dial in to the right fit for you. To find the right size use a cloth tape measure to measure around the largest part of your chest.
Once you have the vest start with the side micro adjust system and the chest straps 100% extended and put the vest on. With the vest still loose adjust the shoulder straps so the front pockets are in the position you want. Some women like them wider to the outside of the chest and others like them narrow covering the chest. The position is up to you and what you find the most comfortable.
From there begin to dial in the side micro adjusts so the vest begins to get snug. As the vest becomes snugger gauge the vertical position of the chest straps. The new design allows you to change the vertical position of the chest straps to allow more fit options depending on your desired fit and where they are most comfortable on you.
Once you have the chest straps in the right positions, the front of the vest spaced how you like it, and the side micro adjusts dialed in you are ready to go and hit the trails. As you adventure the side micro adjust dials allow you to quickly and easily adjust the snugness as you tackle different terrain. Loosening the vest can be useful to allow for deeper breaths on the uphill while a few clicks tightening the vest down can help you tackle the most technical and dynamic terrain.
---
Black Diamond
Built for the fast and light mountain adventurer, the Distance pack transcends barriers with its hybrid design that includes vest-inspired suspension for running, and a unique feature set that allows you to carry the appropriate gear while navigating intricate mountain terrain.
Step by step how to fit new packs Distance 8 and Distance 15 fit details:
Loosen adjustable elastic cording along side
Loosen sternum straps
Try pack on, first clipping sternum straps and securing snugly
Then tightening adjustable elastic cording along each side
From this preliminary test, you should get a feel for which size works best: S, M, or L
Then fill pack with typical trail running gear and fill soft flasks with water
Try pack on again and adjust to prevent and jostling or bouncing
Note, if the pack feels too small without gear, consider sizing up as the added gear fills out the pack and reduces the size