When Trail Sisters re-published "Running Your Best After Menopause" a few weeks ago, the positive responses were heartening and affirming. Women are taking to the trails in large numbers and later in life, so it makes sense that we want practical information on how to stay injury-free, how to balance training with a full-time job and/or raising kids, and to hear from other women who are successfully navigating these challenges.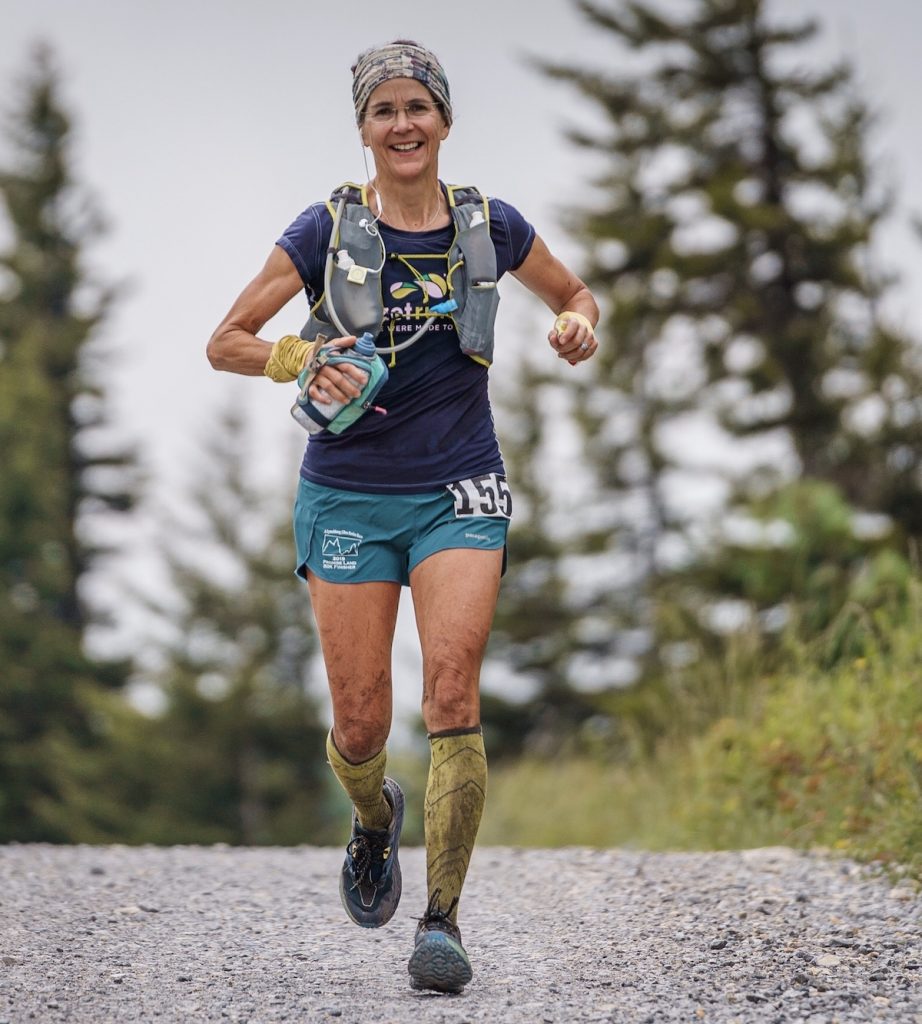 In 2016, I wrote about adjusting to life as a 50-something in This Is 53, and then in 2018 about taking on hard and scary things as I approached my mid-fifties. Both are reflections on embracing the changes that come with our bodies aging, our parents dying, and our children growing up (and away). But these changes don't mean we have to stop going for time goals or tackling challenging adventures. At this moment in time, my husband and I are at a "sweet spot" regarding our family — no one is planning a wedding or having children (yet) — so we are taking advantage of our free time and healthy bodies by saying "yes" to as many projects and adventures that come our way.
Projects
Projects can be anything: repeats of that mountain in your backyard, an all-day/all-night challenge with friends, a personal FKT, or going for the age group records at your favorite race…whatever inspires you!
When I turned 55, I created a birthday challenge: run to the top of the five "mountains" around our town before dark, finishing in time to meet friends to celebrate with pizza and birthday cake. The day started at 0600 and ended up being about 50K with over 5K of climbing, and a ton of fun — friends responded to my call for companionship on each climb, and I got to spend the entire day on the trails with different friends at different points. Plus birthday cake at the end!
For turning 56, I took on the project of building up to and completing five repeats of a mountain trail near my house that is 1.5 mile up, 1.5 mile down, a 30% grade in places, and 1500 feet per loop. I started with one repeat for January and worked up to five for May. Each repeat took about an hour, and it was not only really great training for summer mountain ultras, it was perfect mental training: climbing and descending alone, I had to ward off the negative chatter and practice grinding it out when the weather turned nasty. And to get close to 8K of vertical in five hours only minutes from home was a huge bonus.
Setting The Bar High: Age Group Records
Another fun project is to go after age group records at favorite races. It's a blast to "race within a race" and can be incredibly motivating when training gets stale. Promise Land 50K and Highlands Sky 40 are two fantastic east coast events that, thankfully, keep and publish age group records: in 2018, I was thrilled to run 6:43 to break Rebekah Trittipoe's stout 50-59 record at Promise Land (6:45, set in 2010) and this year I lowered that time by two minutes; last weekend, I worked my butt off to lower the 50-59 record (9:07 set by Cynthia Sanchas in 2007) at Highland Sky by nine minutes.
It took all the focus I could muster on a cool, cloudy day with incredibly technical and muddier-than-usual trail, a trail that tests me like no other with its long rolling gravel road stretches, deep, dark bogs, and boulder fields. I had to work harder in the last four miles than I ever did at last year's Old Dominion 100! What I love most is that these trail sisters — Rebekah, Cynthia, Vicki Kendall, Janice Heltibridle, among others — have set the bar very high for us. Even though we aren't racing head-to-head, their legacy motivates me to bring my very best and use all the skills gleaned over the years of trial and error, and as result, I continue to evolve and grow as a runner and person. I am eternally grateful for their inspiration!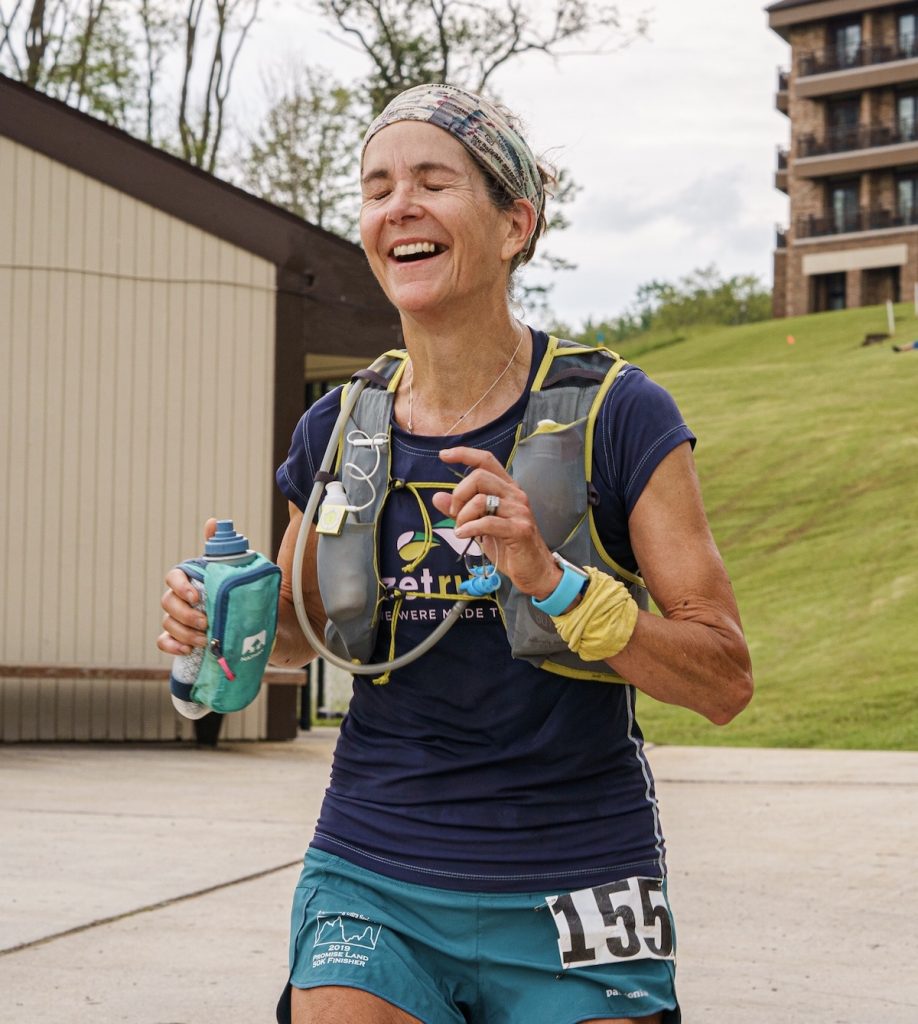 Adventures With Trail Sisters and Dirty Mothers
Races aren't for everyone. Adventures with like-minded friends can be, though. Later this year, I will join a mix of millennials and moms as we explore the 30-mile Art Loeb Trail in North Carolina (long on my bucket list) and on other sections of the Appalachian Trail in western NC that we have been eyeing for years. We chose a long weekend, found a very reputable hiking guide outfitter (owned and operated by a fellow Trail Sister) to shuttle us to and from the trail, and voila! Instant, easy adventure that will suit everyone's fitness level and desire for time on feet. The proximity to cool towns (Hot Springs and Asheville), with great food, hot showers, and tasty margaritas, complete the itinerary. We paid a reasonable fee for the guides, but nothing more than a race would cost…and time together on the trail, solving all the problems, will no doubt be priceless.
What I Know For Certain
My days as a competitive age group runner are numbered, that is clear. I want to milk my fitness and good health (and luck) for all its worth while I can, while at the same time making smart choices and decisions. At no time do I take for granted my ability to run long distances, as I have plenty of friends who are aging out, chronically injured, or in life circumstances that keep them from the trails. And if you spend time at the finish line of any ultra, you are guaranteed to see every emotion on display. Cheers of relief from proud parents, spouses, and crews; tears of joy and satisfaction from tired, mud-caked runners. Sometimes there is a sprint to the finish because of a focused time goal, and all we see is determination and resolve; at other times we see dancing, jumping, hooting, and hollering at safely completing a personal challenge. There are hugs, always hugs: gestures of gratitude, congratulations, relief, love.
As I approached the Highland Sky 40 finish line this year, hearing the cheers of dear old friends who were aware that I was taking aim at that age group record made me weep. The race directors, Dan Lehmann and Adam Cassady, were the first people I fell into upon crashing through the finish, along with my husband Rusty. About an hour later, after a recovery drink, a long sit, and catching up with the women who finished ahead of me, I was able to pay it forward as Laura Richardson, a young ultrarunner from my hometown who is just getting started on her ultra journey, danced with effusive joy at her fourth ultra finish. Embracing Laura at the finish, I clearly remembered my early years in the sport and the thrill I felt at accomplishing a huge goal. Helping the next generation of Trail Sisters work toward and achieve their dreams soothes the sting of time marching on, and inspires me to keep reaching.