"I wish I could run in just a sports bra."
I've heard this statement or some variation countless times from women, and if you've ever thought this, I have some great news for you – YOU CAN! Don't worry, I'm not going to tell you to just take your shirt off and go for it. But I am going to tell you why I think you should, and hopefully give you a little bit of confidence to do what you want without caring what anyone else thinks.
I used to be that woman. I didn't think I "deserved" to run in a sports bra. That was only reserved for lean, thin women, right? When I started running back in 2010, I was very self-conscious; I even did most of my running on an indoor track because I didn't want anyone to see me.
A few years later, I started becoming more confident in myself. Not only as a runner, but as a person. I stopped wondering if people thought I was fat. My value was becoming less and less based on my body, or my weight, or how toned my arms were. But I still wouldn't run in a sports bra.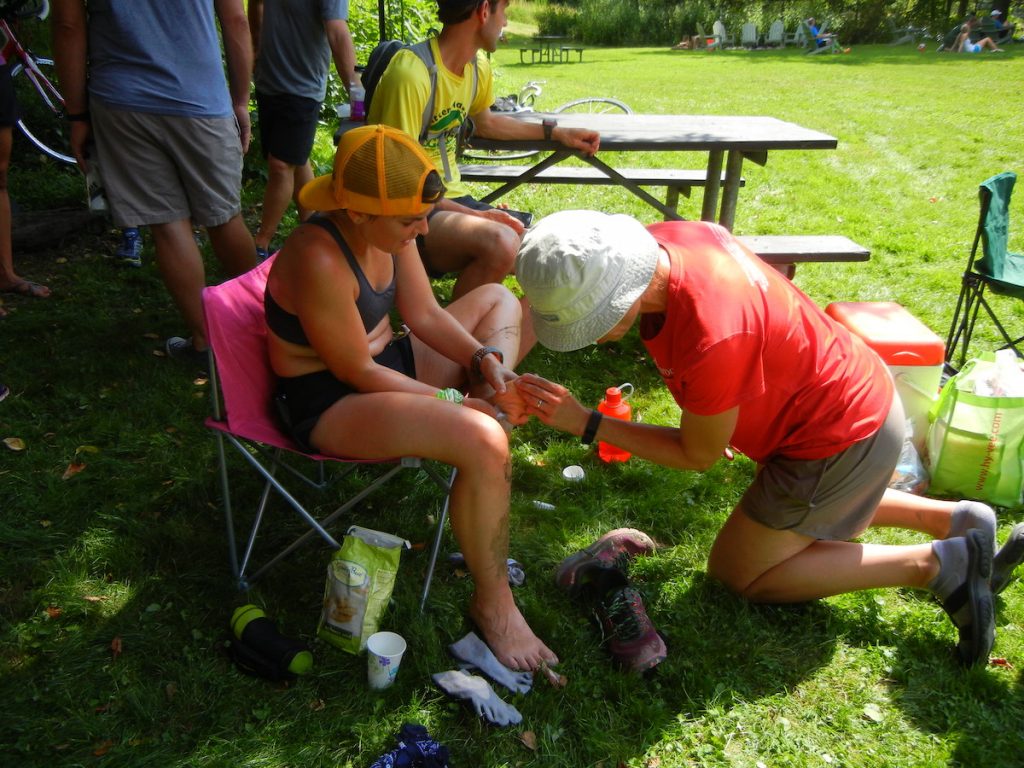 One day, I was running trails and it was toasty. I wanted to take my shirt off but I was hesitant. Even though there couldn't have been more than a few people in the park, I still wondered what they'd think of me if they saw me running by them. Would they think, "She should NOT be wearing that" or wonder if I was so cocky that I thought I looked good enough to run without a shirt. But I took my shirt off and felt the air on my skin and it was magical. It still took some time, but eventually I took my shirt off while I was running around town. It was a busy intersection and it was a moment of truth for me. What would win? My desire to be more comfortable? Or my anxiety that people would think my body didn't deserve to run in a sports bra?
I took off my shirt. While this small act may seem pretty uneventful for most, it was a liberating moment for me. It was a transformative moment that represented a shift in how I viewed myself and my body; my body was not for anyone else but me. I did not care what anyone thought of my stomach, my legs, my arms. I didn't care if they were tight and toned. All I cared was about my comfort. And holy cow, that felt good. Now, I've become so comfy running in a sports bra that I rarely have a shirt on over 70 degrees.
The women who have expressed hesitation to me about wearing a sports bra are women who've accomplished remarkable physical feats: 5ks, marathons, triathlons, ultramarathons, and birthing kids for Christ sake. Women's bodies are strong and what they look like shouldn't be a factor in deciding if you get to wear a sports bra or not. Strong bodies come in all shapes and sizes and these bodies deserve to exist without judgment.
So, back to you. You have stretch marks? Loose skin? A squishy belly? Thick thighs? Or maybe you are a pretty lean lady and you still feel self-conscious about rocking a sports bra. Or maybe you think people will think you're looking for attention. No matter the category, I urge you to head out on your next hot run in a sports bra (maybe with a trail sister for support!). Because no one owns your body but you. You do not owe anyone anything. As women, we've been told/shown that we should only show skin if we fit a certain body type. Why do we "deserve" to show skin unless we fit into some arbitrary societal norms? I want women to wear what they want – and I want women to see OTHER women wearing what they want to plant a seed. A seed that says, "If she can rock a sports bra, maybe I can too." I want body types of all sizes and elasticity taking over trails and bike paths so seeing women's bodies becomes normal, and not to mention less sexualized (that's a whole 'nother post!). As we enter the thick of summer (currently 90+ degrees and 90% humidity where I live), let's shed our shirts (if we want!), wave a middle finger to societal pressures and norms, and run however the hell we want.