We're in the midst of full blown summer…which means many of us have pulled our summery sundresses to the front of our wardrobe. Even if you're not a dress person, you know when "sundress weather" arrives simply because it makes you smile as you frolic along the trails. Your sundress may not be the best trail run attire option, so we're here to review the next best option — running skirts!
Those of us who love running skirts are forever trying to convince other people to try them. Personally, I dig running skirts because they allow me to wear compression shorts with a little extra coverage. Not the mention the fact they're just fun to run in.
Not everyone shares this glee for running in skirts, but if you do…this review is for you! Below you'll find information on seven running skirts that I have taken out on the trails of the Colorado Rockies. Each one will be reviewed for overall function, accuracy of sizing, comfort on the move and other perks.
---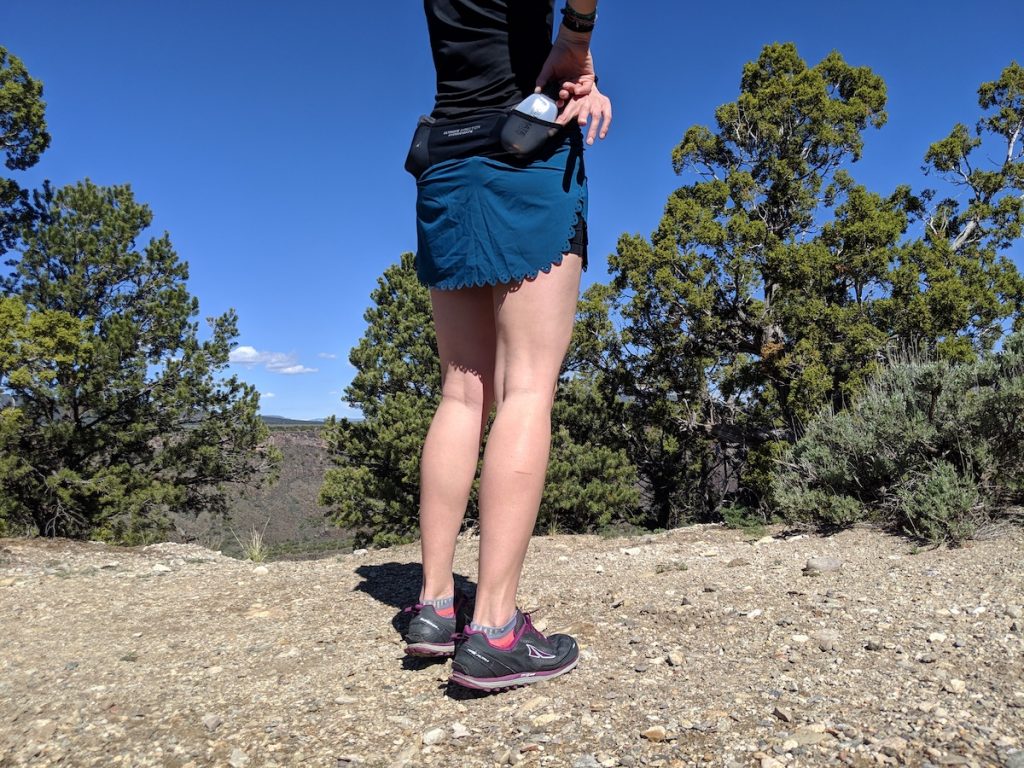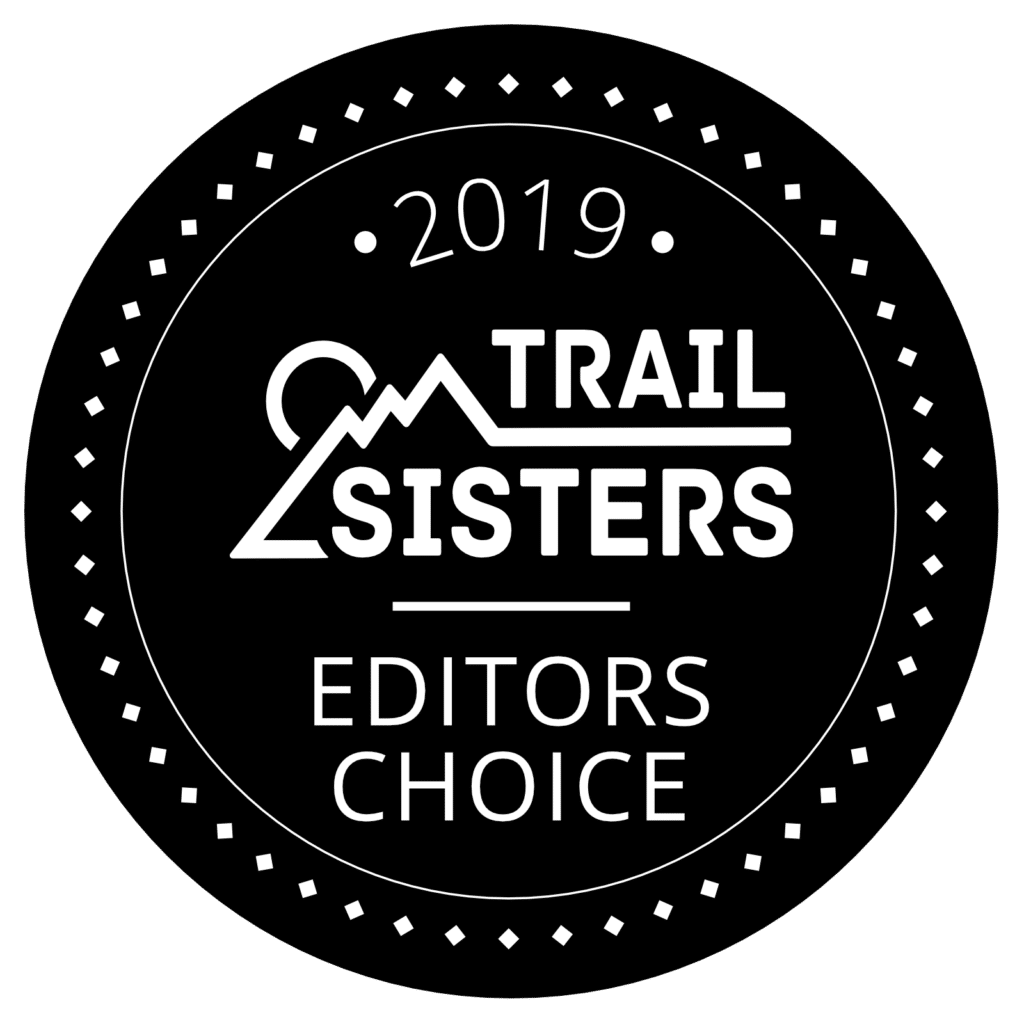 At first glance the Ultimate Direction Hydrolight Skirt draws you in with hydration pockets and a cute eyelet hem. Function and fashion all in one! The skirt comes with three mesh pockets across the back of the waistband. The outer two pockets are designed to carry 300ml water bottles (included with the skirt) with a fold-over closure, but works great for gloves, compact rain jackets or nutrition as well. The center pocket has a velcro closure and is large enough to fit a few snacks and/or a "standard size" cellphone (I have a Pixel 3 which is 5.5" and fits at the top of the pocket).
The skirt has a snug 5" inner short that will settle into place during your warm up and stay put throughout your run. Built into the wide waistband is a hidden, rigid drawstring. This is an essential feature to keep the skirt from moving or bouncing when the pockets are full. However, this rigid drawstring does impact the sizing — definitely size up, even if you do not measure between sizes. The skirt is designed to keep bouncing a bay, which seems to have resulted in a "fits small" sizing situation.
What We Loved: The concept of having hydration/nutrition pockets right on the skirt's waistband is genius. The eyelet hem is also much appreciated as it makes the skirt (and subsequently YOU) feel light and fun when you're wearing it.
Best For: A runner looking to hit the trails without carrying along a pack or handheld.
Fit and Feel: When you size up the skirt fits well, stays in place and is comfortable to run or adventure in. I sized into a small, but immediately knew I needed to size up to a medium, and could probably comfortable fit into a large if I didn't pack the pockets too full.
What We Would Change: The sizing is an issue, especially when online shopping. An adjustment to the size of this skirt would make it a definite go-to.
Similar Items: UD Hydro Short, UD Hydro Skin Short

---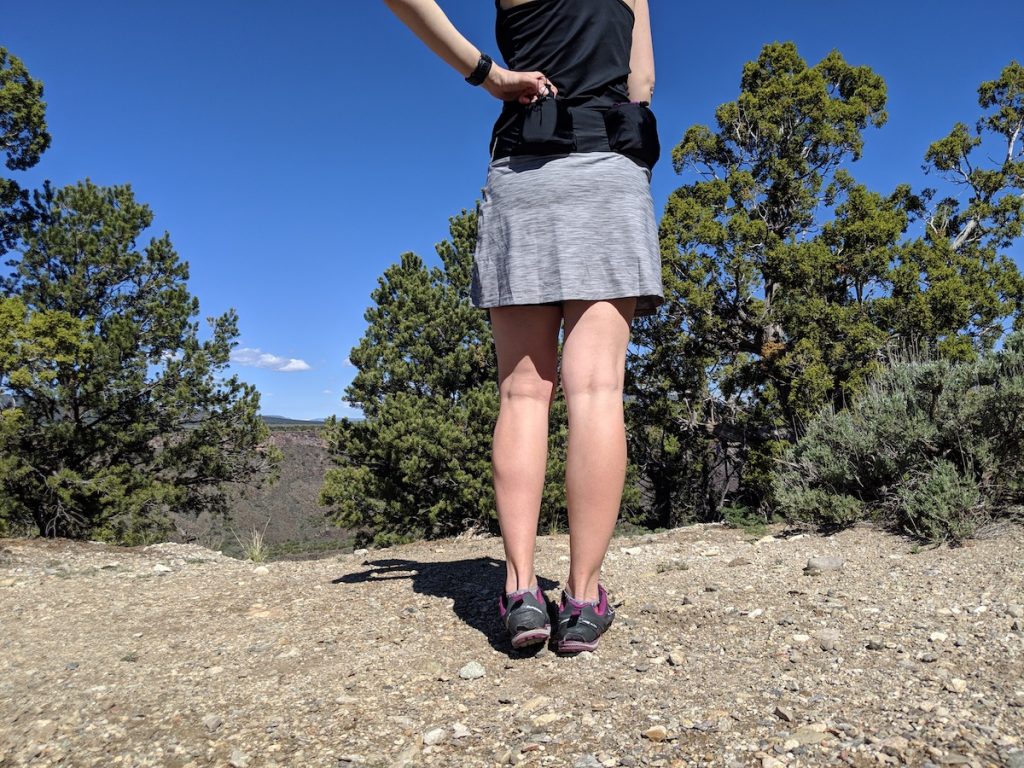 It is safe to say Skirt Sports has one of the most diverse selections of running skirts, which made choosing one for this review a challenge. Skirt Sports offers skirts various built-in options (nothing, briefs, shorties, capris and leggings) as well as a wide range of lengths, designs and prints. For this review we opted for the one we think has the most added perks — the Skirt Sports Long Haul Compression Skirt.
The Long Haul skirt offers up seven pockets with two designed specifically for hydration. The two hydration pockets are located on the back of the waistband and have elastic drawstrings to secure water bottles. Around the larger hydration pockets there are three smaller pockets to stash your nutrition. The final two pockets can be found on the outside of each thigh and offer plenty of room for your phone or even gloves/nutrition. These built-in compression shorts measure a 6" inseam, which makes this a "mid-length" skirt and a great option for anyone who wants a bit more chafe protection. A wide waistband and firm, elastic drawstring makes for a comfortable fit around the hips while also keeping the skirt in place when the pockets are full.
What We Loved: So. Much. Storage! It was easy to pack along the necessities for a backyard run or a quick weekday outing. I often used one of the hydration pockets for the long sleeve I left the house with and quickly peeled off.
Best For: Someone looking for a lot of pocket storage in a skirt that provides a bit more coverage and chafe protection.
Fit and Feel: The skirt fits quite true to size, but don't be afraid to round down if you're measuring between sizes. When you're on the move the inner compression short does move a bit, especially if you are using the thigh pockets.
What We Would Change: When the hydration pockets are not in use they stick out quite far. This isn't really an issue when you're on the trail, but if you want to wear this skirt as you transition to/from the trail you may find the pockets to be in the way and awkward.
Similar Items: Lioness Skirt, Go Longer Skirt

---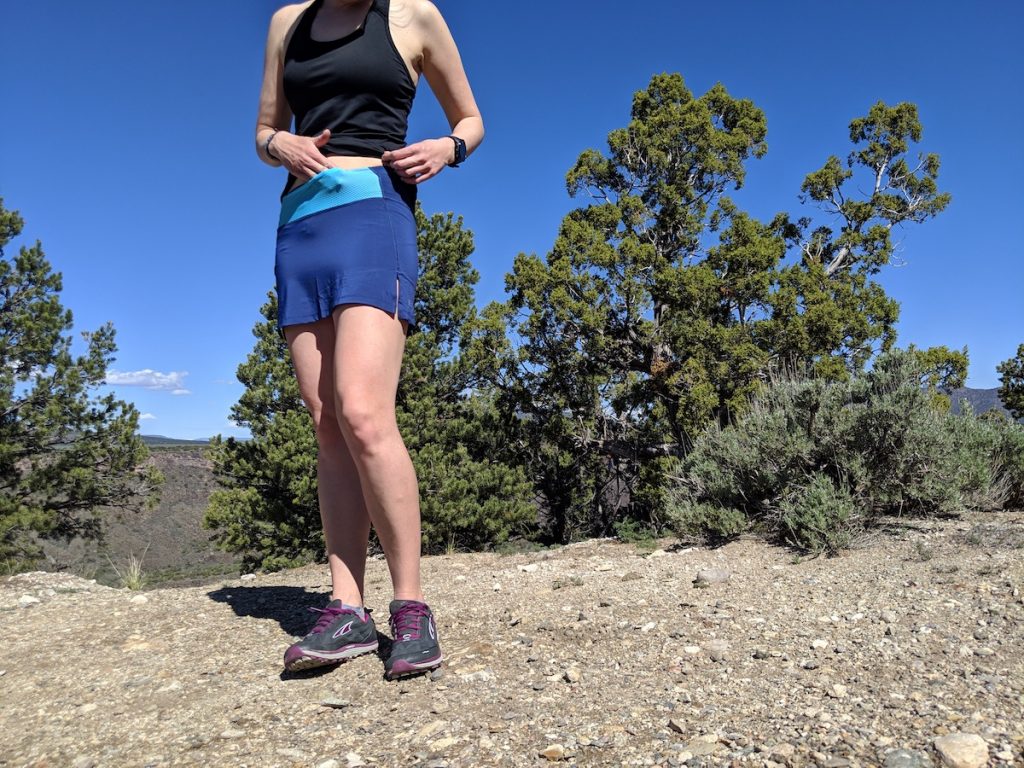 The Raidlight Trail Raider skort checks all the boxes I've selfishly created for running skirt necessities — lots of pocket styles, compression shorts that stay put, a wide waistband and a lightweight outer skirt. The inner shorts measure at a 5" inseam and I will admit I wasn't so sure about them at first. The material of the shorts isn't quite as pliable and soft as I'm accustomed to. However, the inner shorts are comfortable and stay in place when out on the trail.
In the wide waistband of the Trail Raider skort there are three pockets — one zipper pocket at the back and two pouch pockets at the front that can combine into one. Each outer thigh of the inner shorts has a pocket with a fold-over top. The thigh pockets are large enough to fit a few small snacks or a "standard sized" cell phone (my Pixel 3 at 5.5" fits) but would struggle to fit a larger phone unless you don't use the fold-over top (still feasible, as your phone won't move much when you're upright and running).
What We Loved: The waist pockets are great. They're hidden well so you won't notice them when you're not using them and when you do fill them up they don't bounce around.
Best For: A runner who wants a skirt they can take onto the trails and into town after.
Fit and Feel: The skirt sizes a bit small — I measured into the middle of a small, but should have sized up to a medium to really be comfortable in the skirt for long stretches of time. The overall feel and function is solid.
What We Would Change: I can't deny that I run with my phone…not for music, but because I'm a serial "ooh, look at that view" photo taker, so I'd love to see a bit more space in the pockets on the inner shorts. Also, a slight adjustment to the sizing would be helpful (although, it is a European brand which always makes sizing tricky).

---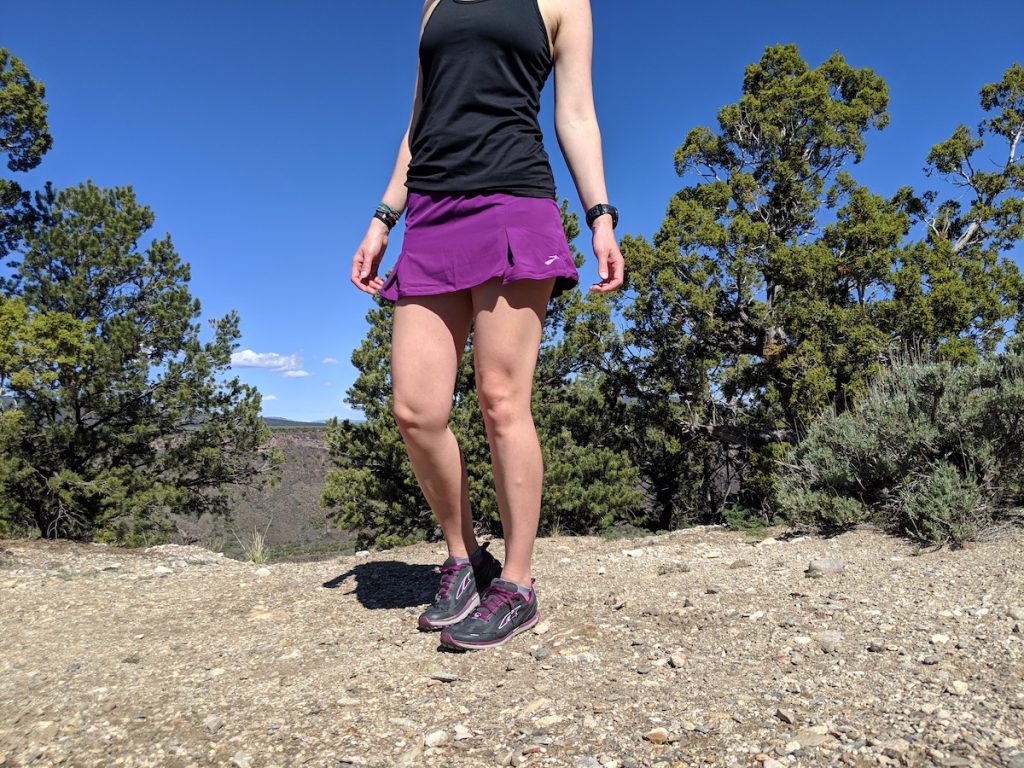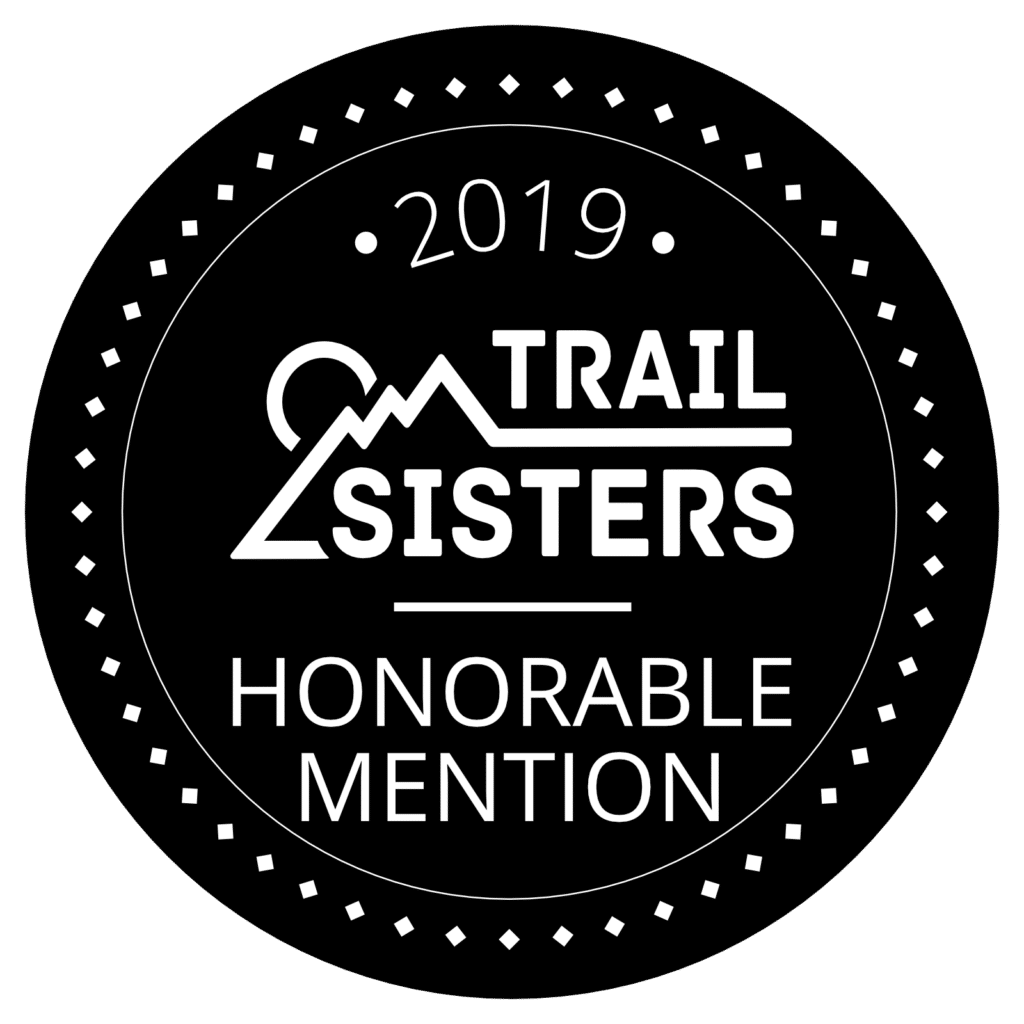 The Brooks Chaser Skort has a design that makes is easy to feel comfortable in both on and off the trail. With a wide waistband, pleated skirt and snug inner short it stays in place when you move around while offering up a flattering fit. The Chaser skort has two pockets — a pouch in the waistband and a cell-phone-sized pocket on the right thigh of the inner shorts. This gives you space to stash a quick snack, keys and/or your cell-phone.
The entire skirt is made of the Brooks DriLayer material which wicks away sweat for a quick dry experience when you're on the move. The inner shorts have a 3" inseam, making this one of the shorter options reviewed. That said, the shorts are very comfortable and do stay in place once you start moving.
What We Loved: The lightweight feel and "wear anywhere" design of the skirt is awesome, which is made possible by the hidden pockets.
Best For: Anyone who wants a straight-forward running skirt. Great for longer adventures where you'll have a pack so you don't need storage space in your apparel.
Fit and Feel: The Chaser skirt fits true to size throughout; however the skirt does tend to bunch a bit in the back if you have trail booty.
What We Would Change: It would be great to have another pocket on the left thigh — the skirt would stay lightweight and the left-hand runners would have easy access to their phones/ID/snacks as well.
Similar Items: Chaser Running Short 5 inch

---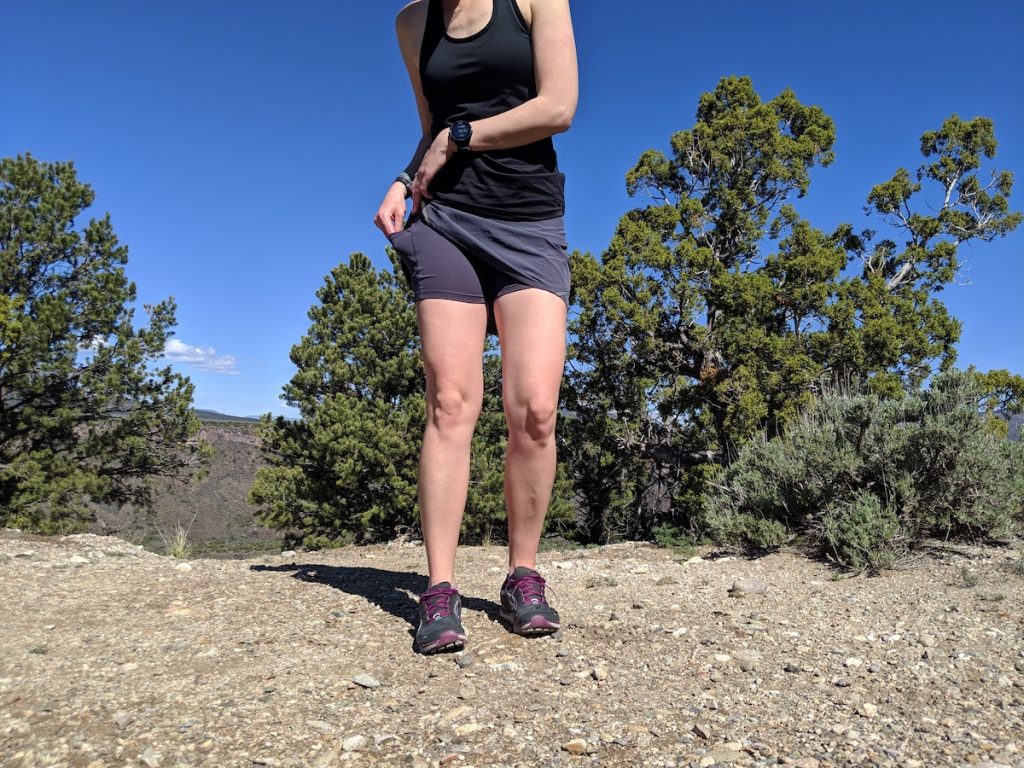 The Title Nine Hollaback skirt is a solid option for trail adventures as well as daily life. It is designed with women in mind and I'm not saying that because it has a ruffle! I'm saying that because the ruffle is truly functional — it allows the skirt to be longer in the back while still keeping the skirt fitted across the booty we tend to earn while running trails. The Hollaback skirt measures two inches longer in the back, a feature you didn't know you wanted until you had it.
There are two pockets in the Hollaback skirt — one zipper pocket in the back of the wide waistband and one pouch on the thighs of the inner short. The inner short has a 4" inseam and is made of a lighter mesh material while the outer skirt is created with a thicker spandex material. This skirt is not designed to be ultra lightweight, which is noticeable, but it makes up for that with overall comfort.
What We Loved: The overall design is meant to be flattering and that is exactly what it does…for days on end (it was my go-to skirt for a long weekend of camping and adventuring!).
Best For: Anyone looking for a fun, functional skirt to wear on the trails or while running errands on the way to/from the trails.
Fit and Feel: You may want to size down, especially if you plan to use the pocket on the inner shorts regularly. I measured right in the middle of the small range and would probably have a better fit by sizing down. The inner shorts do slouch a bit when I am using the thigh pocket.
What We Would Change: I'd love to see a thigh pocket on both sides as well as an inner short that fits a bit snugger to keep everything in place when the pockets are in use.
Similar Items: Big B Skort, Otto Skort

---
Columbia Sportswear Titan Ultra Skort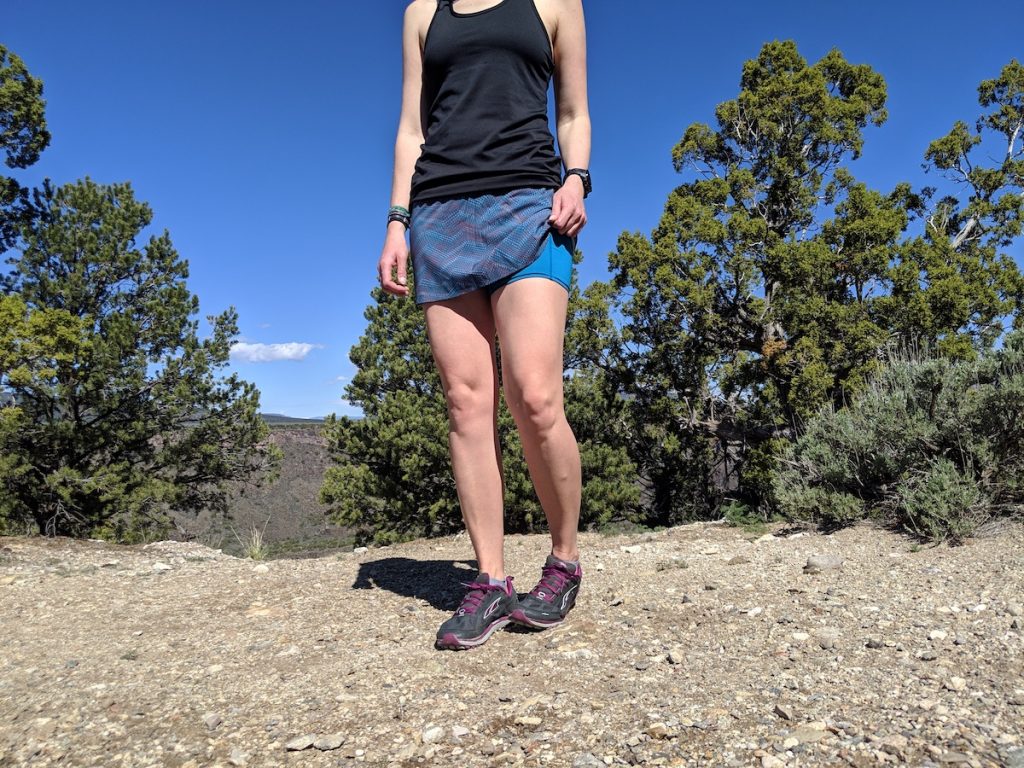 The Titan Ultra Skort brings together many of Columbia Sportswear's fabric features including Omni-Freeze, Omni-Wick and Omni-Shade. This means the skirt is packed with technical features. The inner short and waistband are designed with a quick-dry wicking material while the outer skirt offers UVA and UVB blocking features.
A wide, elastic waistband provides a comfortable fit. Just below this waistband is a secure zipper pocket with just enough room for keys and a snack for your trail-venture. The inner shorts fit "next to skin" without being too snug. They definitely inch up while you're on the move, but once they settle into place you're good to go for the rest of your adventure. The skirt offers a loose cover that gives you room to move; however, it does bunch a bit in the back if you have a trail booty it needs to work with.
What We Loved: The wide waistband is very comfortable and the skirt is very lightweight which allows it to give you a lot of room to move about.
Best For: Anyone in search of a comfortable skirt that you can take to the trail or to town.
Fit and Feel: The Titan Ultra skirt fits true to size, although the inner shorts do move quite a bit — if you're on the edge of sizing I'd recommend sizing down.
What We Would Change: It would be great to have a few pockets added to the inner shorts or along the waistband. A snugger fit for the inner shorts would also improve this running skirt.
Similar Items: Sandy Trail Skort, Anytime Casual Skort

---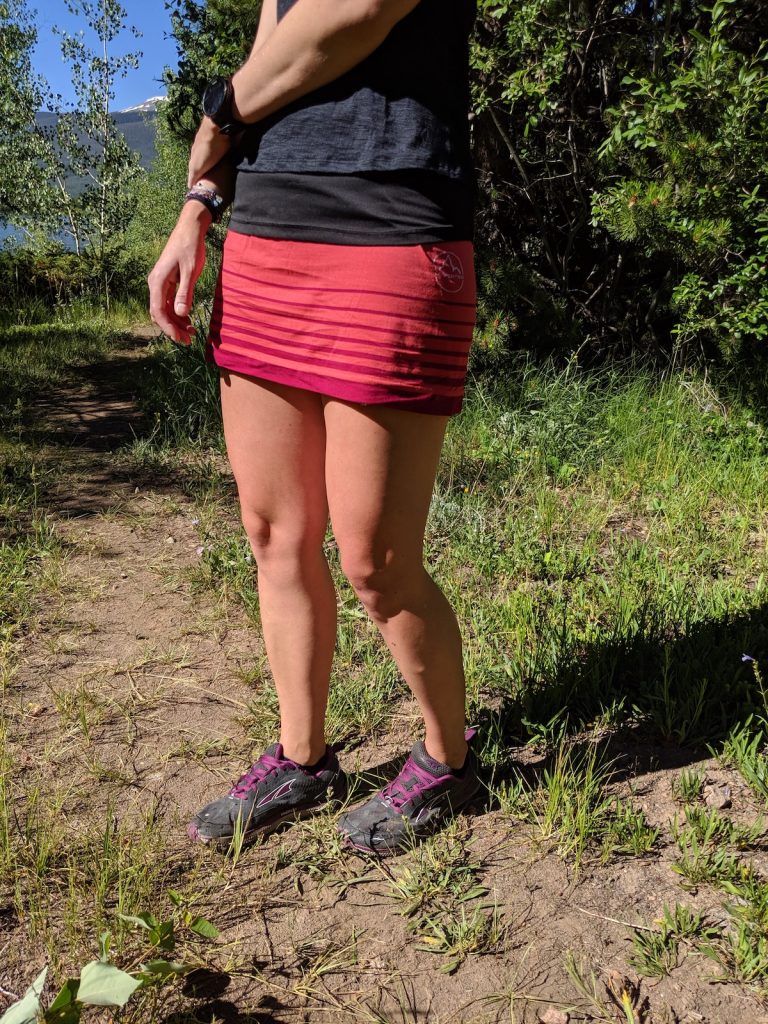 The La Sportiva Xplosive Skirt is made entirely of a nylon material which offers a consistent fit throughout. This material provides a different look and feel from the other spandex-focused skirts. Overall it is a breathable and functional running skirt as La Sportiva has integrated their body-mapping venting system. The wide waistband offers a comfortable and flattering fit with a zipper pocket in the back.
The inner short has a 2" inseam, but is nearly as long as the 14" skirt. This means the inner short either fits very loosely or bunches into the crotch. Since it is made with a very lightweight nylon I honestly wasn't bothered by this while out on the trail…but I did notice it when I stopped moving and sat down to stretch. Even so, this has become a go-to skirt for daily wear (I'm not very lady-like when it comes to wear skirts, so I *love* having skorts in my regular wardrobe rotation).
What We Loved: The overall versatility of this skirt was great — trail or town, it works! It's also very breathable, which is a necessity when the inner short gets up in your sweaty business!
Best For: Someone looking for a comfy skirt they can wear on short runs and into town before/after hitting the trail.
Fit and Feel: The sizing is accurate, but the inner short length and inseam aren't quite proportionate to the overall length of the skirt.
What We Would Change: Adjusting the proportions of the short-to-skirt would make a huge difference in the fit and function of this skirt.
Similar Items: Comet Skirt
---