Warning: This article contains pictures of my toes post nail removal. While not terribly graphic, they may not be for the faint of heart.
I remember the first time I read about ultra runners, about the Badwater race, and people having their toenails surgically removed. I thought it was batshit crazy. Wasn't nail removal a torture method? Who would WILLINGLY do that?
Fast forward several years, and here I was looking at my battered feet after the Whiskey Basin 88k, weighing the benefits of removal. I couldn't remember an ultra where I hadn't had nail issues, often with blisters pushing the nail through my skin, leaving me in pain for days, and often requiring me to self-remove nails. I had lost each of the eight smaller ones multiple times over, and with each loss it seemed like the nails got worse, as did my issues.
I am well aware that there are less drastic ways to remedy nail problems, and have tried them all:
Bigger shoes with more room in the toebox
Smaller shoes so my feet don't slide
Different types, drops and shapes of shoes
An array of socks
No socks
Taping
Lubricant
Powder
Etc. Etc. Etc.
I was at wit's end, but still felt like toenail removal was extreme and a little crazy. Sitting soaking my feet I Googled "Permanent Toenail Removal Runners" and found an article by Pam Smith about her toenail removal. I had met Pam briefly at a race she was crewing, and reading about her experience gave me extra confidence.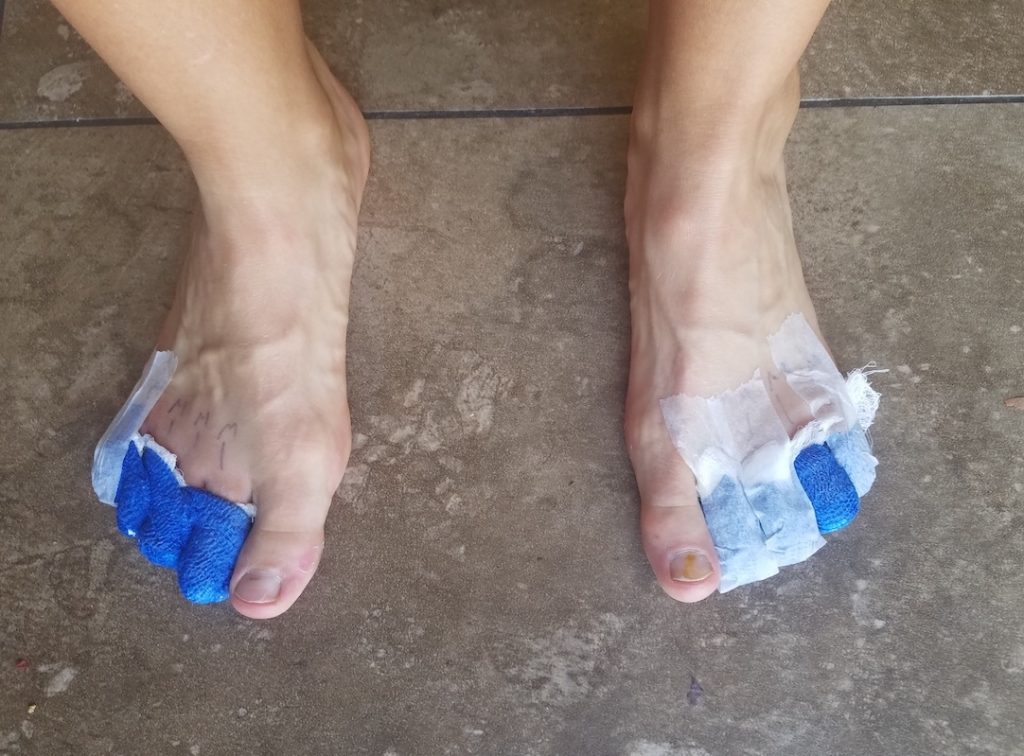 Now that I'm on the other side of my procedure, I wanted to share my experience with other Trail Sisters who may be considering similar measures to hopefully provide some reassurance.
Consult and Procedure Day
I sent pictures of my post-race toes to my PCP (lucky her), and she sent me a referral. I found a local podiatrist who specializes in sports medicine and scheduled a consult visit. He was willing to do the removal that same day, but I needed to mentally prepare myself for the inevitable time off running. We scheduled the procedure for the following week.
The day of the procedure the doctor and I debated the pros and cons of doing a few nails, allowing them to heal and then doing a few more vs. doing them all and having one, longer healing period. I was 100% for getting everything done at once, and managed to convince him to do all eight nails.
My toes were cleaned and prepped, and then came the worst part…the injections. Even with the topical anesthetic this hurt. Once my toes were numbed he began removing the nails and I honestly felt nothing. He put the chemical on to kill the nail bed, let it sit and washed it off. I got wrapped up in bandages that made my feet look like Grover monster and was sent on my way with instructions for care and a return appointment.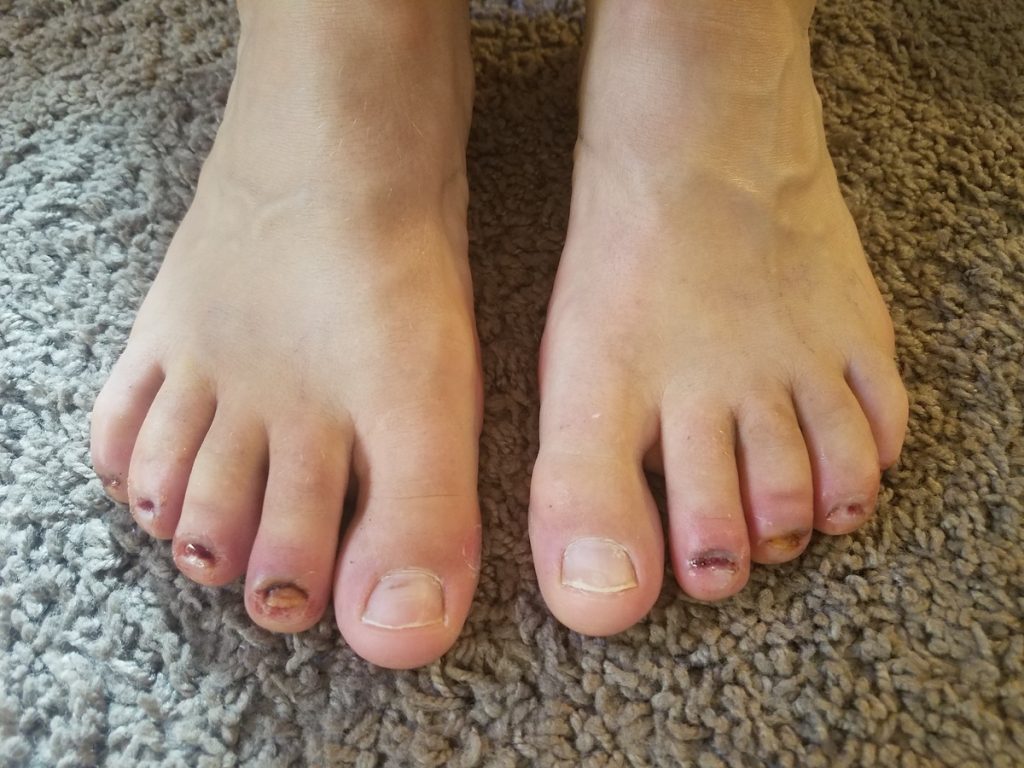 Going into the procedure I had planned on working from home afterwards, which seemed reasonable until the local anesthetic wore off. My toes were throbbing, burning and itching, and the swelling from the anesthetic made it even worse. I let my boss know I was taking PTO, took some Advil (which I seriously never do) and a four hour nap. After the nap I was able to run some errands, but I was in pain again after an hour on my feet. It was nice to remove the bandages that night to relieve some of the pressure, and also to see that my feet didn't look as bad as I expected.
First Week(ish) Post Surgery
Overall my toes felt pretty good even the first day after the procedure. I did try to prop them up as much as possible, and when I was on them for too long I could tell at the end of the day. I continued to soak and rebandage them as prescribed, and while there was a lot of clear liquid and a little bit of bleeding, it was nothing too scary. By the end of day three my toes were still sore. I started to get just a little nervous about how long it would be until I could actually run again.
Day four it was like a switch flipped. I had almost no pain, even after two short bike rides, so I decided to run on day five. I chose my shoes with the most forgiving toe box, and did short loops so I was always close to the car. I made it for a full hour before my swollen pinky toes began to rub and become irritated. I was able to run the next day as well, and by the following weekend (about 11 days post-procedure) was up to two hours each day. After that I pretty much resumed my normal running schedule. I continued to pay close attention to the care of my toes and tried to elevate them when I wasn't running.
Healing Beyond the First Week
After an initial few days, the only time my toes hurt was if I kicked a rock during a run, which would elicit some four letter words and a short walk break. I distinctly remember a run about three weeks post-procedure when I kicked a rock and had no pain…it was a great moment.
I had a three week follow-up and the podiatrist said he had never seen someone heal so quickly. Granted his patients were typically elderly and diabetic, but it still made me feel good. I think that my previous experience dealing with my post-ultra feet helped as I wasn't afraid to vigorously scrub the affected areas, removing build up of "gunk" and allowing for a better healing process. The podiatrist said that a common problem is that people are too gentle with their toes and it's actually counterproductive.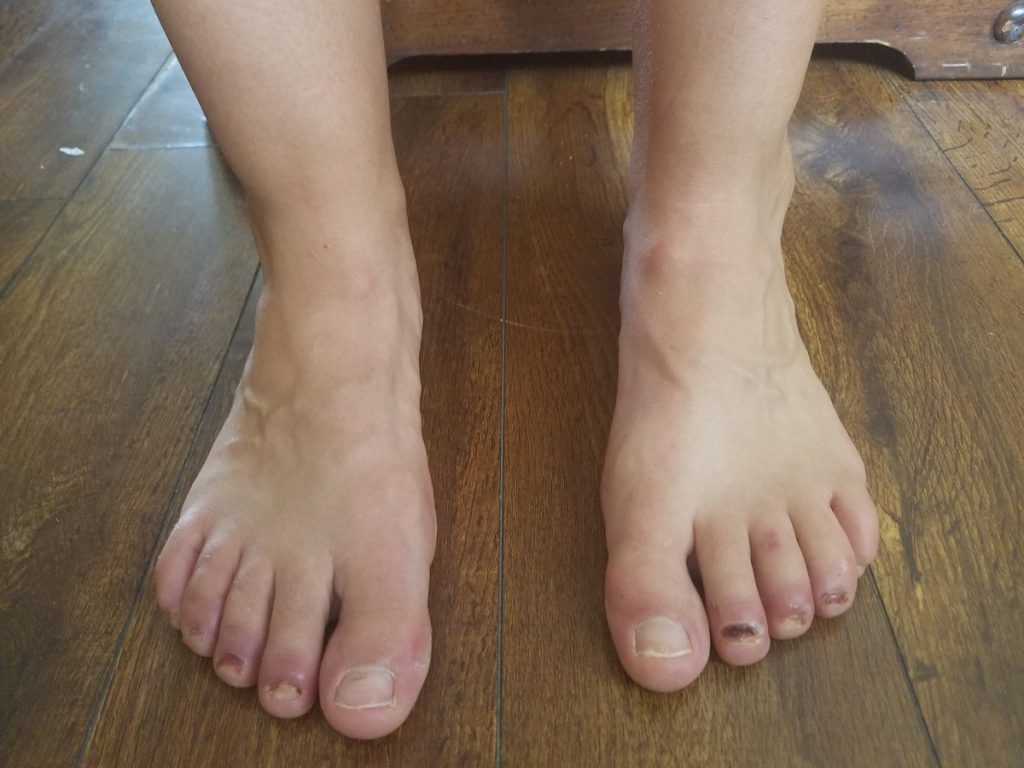 After my follow-up I was able to stop putting bandaids on my toes. There was still some active healing, and I made sure to keep up with normal care. I had two of the eight nails grow back, which I knew was a possibility from my consult. I'll continue to monitor them, and have the option of going back for a second attempt at removal.
I had a conversation with Pam as well, and she said that while she still does have some nail issues, they are less problematic than before. Her nails had been lost during a race and started to grow back slightly before her procedure, and she feels that having a fresh removal may have helped prevent re-growth.
Given my experience with the process, I thought I'd provide a list of suggestions/tips for anyone considering the procedure:
Definitely try less invasive options first, but trust yourself to make the right decision about removal.
Find a podiatrist you like and make sure you're on the same page.
Be prepared to not return to normal human activity your first day.
Stay on top of care. Do soaks, replace bandages, remove the gunk.
Make sure you have shoes with a wide toebox for your return to running. (I've also heard of people cutting out the toe area of shoes or running in sandals, but it seems like this could make kicking a rock even more disastrous).
Return to running when you feel you're ready. Don't rush it but don't be afraid either.
Overall, I'm pleased with my choice, even though I know it might not be for everyone. If you're considering getting toenails removed feel free to message me on social media (I most frequently use Instagram) with questions.