We tend to focus on trail running here at Trail Sisters, but let's be honest…not all of our time spent on the trails involves actively running. Even during races there is hiking. Whether it's into the aid station, up the hills or through a rough patch, we all have experience hiking even when we are out on a run. This unique mix of running and hiking opens up a whole new world of adventure on the trails: fast-packing. Fast-packing is essentially fast backpacking or ultra-light backpacking. How you interpret that is entirely up to you, but to get us all on the same page before jumping into this review, let me explain my take on fast-packing.

There are millions of miles of beautiful trails to explore on this planet. If I can explore more of these trails by running the downhill/mellow stretches, awesome! If I can also explore continuous stretches of these trails by sleeping outside at night, amazing! Fast-packing allows me to do this. With a compact, light-weight backpack filled with just the overnight essentials, I can cover more ground, sleep trail-side, and continue on for multiple days.

Personally, I discovered fast-packs before I discovered fast-packing. When on the hunt for a great day-pack I came upon a fast-pack and my interpretation of adventure changed. In reality, a fast-pack is very similar to a day-pack. The biggest difference is that a fast-pack is lower profile and lower-capacity. This allows you to run without too much bounce while forcing your gear to be ultra-light or essential.

For this review of fast-packs we are going to delve into the packs that allow you to carry along everything needed for an intentional night in the wilderness. This includes a sleeping bag and shelter/tent among other things. Below is an image of all the essential gear that fits into the fast-packs we're reviewing.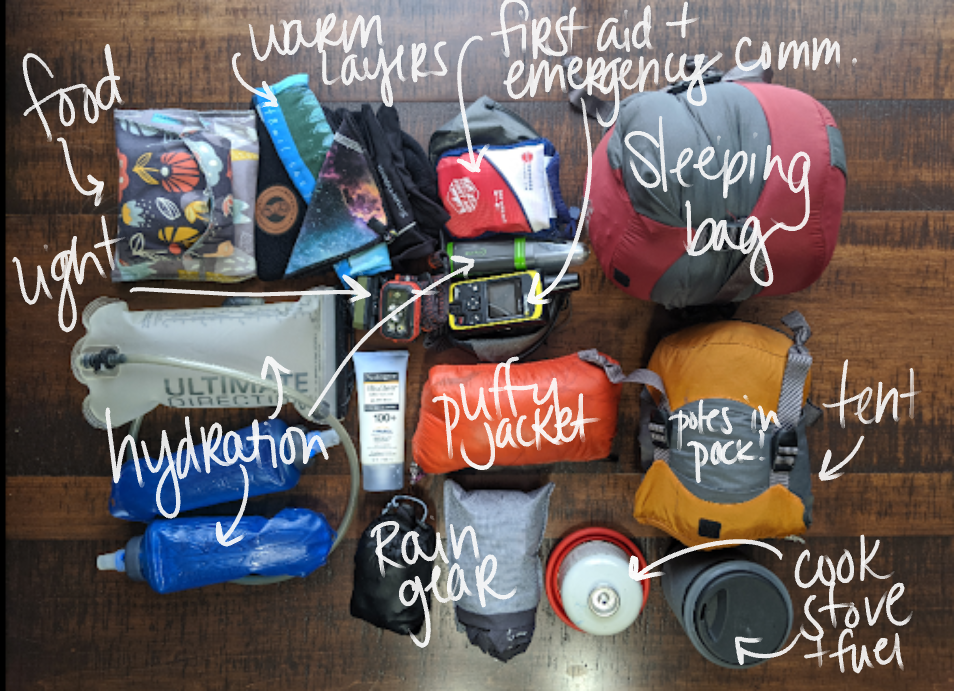 **Gear Note: There are a few items not pictured that were already stashed in a pack, so snuggly I forgot to pull them out for the photo. These items include the tent poles, inflatable sleeping pad, chapstick, and a mini-flashlight. I also often take trekking poles with me, but didn't include them in this image.**

So, let's jump into the reviews of fast-packs…which may also open up a whole new world of adventure for you!

---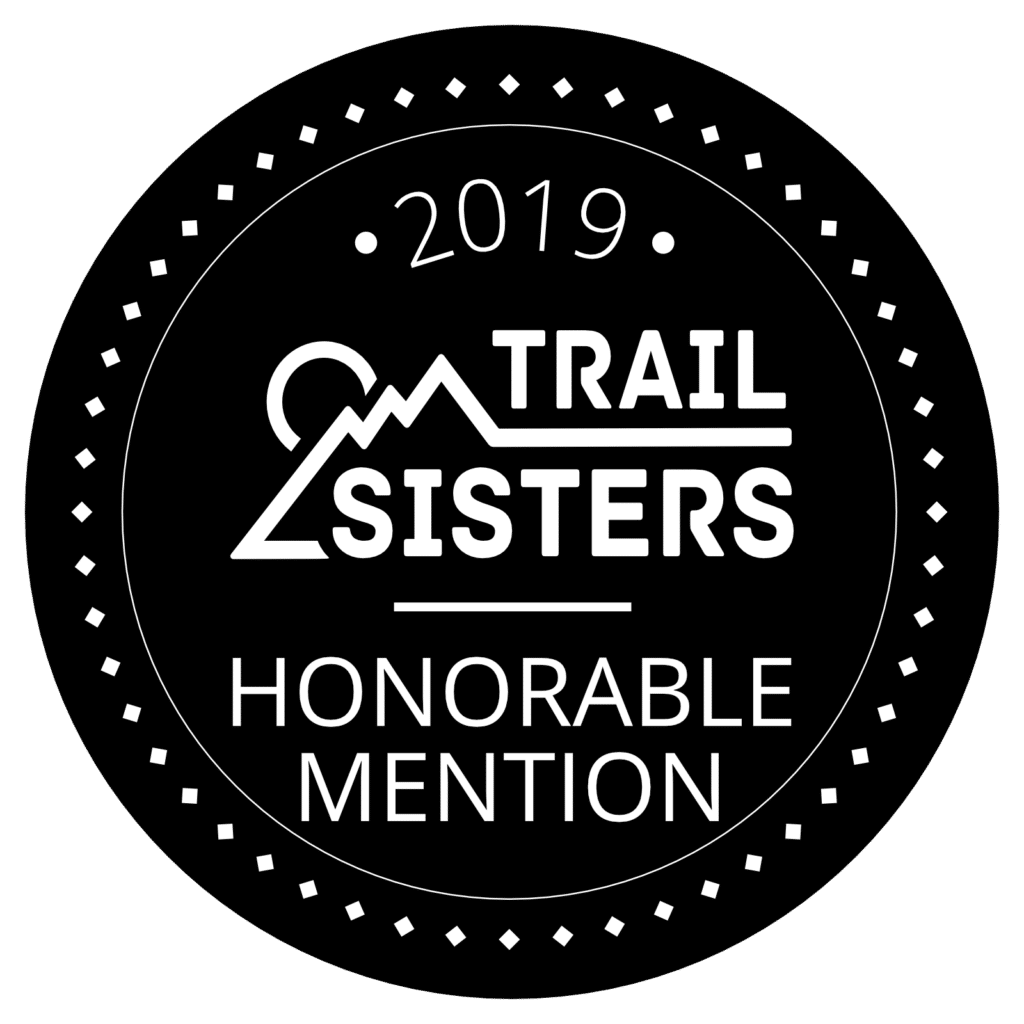 The Patagonia W's Nine Trail backpack is designed for the woman's body with features that include a shorter and narrower torso, tapered shoulder straps and narrower harness. It boasts a variety of storage options, included side pouch pockets, two hidden zipper pockets, and a hydration sleeve.

There were a few things that I immediately chalked up as "major pros" when I started reviewing this pack. For starters, the zipper opening is large enough to easily access everything at the top, middle and bottom of the pack. This allows you to access all of your gear, regardless of where you decided to pack it. The material of the pack also feels very durable while still being a bit stretchy so you can confidently stuff the pack full. It is also water repellent so you can trust it to keep your gear dry in misty, foggy conditions [but get a pack cover for legit rainy weather!]. Finally, there are two stash pockets with zippers on this pack. To me, stash pockets are essential as fast-packs are often used as a primary pack while traveling to/from an adventure and it's important to have a place to securely store wallets, IDs, etc.

The W's Nine Trails does not have any pockets on the chest straps, meaning you will depend upon a hydration bladder or handheld bottles stashed in the back of the pack. This is less than ideal, especially if you also like to tuck snacks in your strap pockets. There is a padded hip strap with two zippered pockets; however, the torso of the S/M only measures to 18" which is a bit short for my longer torso. This allows the hip straps to somewhat secure the lower portion of the pack to avoid bouncing but doesn't do anything for taking the weight of the pack off my shoulders.

What We Loved: The large opening with a side zipper and the hidden pockets are great. There are also three big stretchy pouches on the back — one one each side, one on the back — that make it easy to stash layers on the go.
Fit, Feel + Adjustability: The pack fits across the shoulders and chest; however, if you have a longer torso [raises hand!] pay close attention to the length of this pack on the size chart. The shoulders/chest can be adjusted a lot, but the hip strap is static — you may want to size up to get a good hip strap fit. Overall, the pack feels secure and generally stays in place when on the move.
Hydration Options: There is a sleeve for a hydration bladder with a hose hole but the pack does not come with a bladder. There are no designated places to carry handhelds or soft flasks; however, there are large pouches on the outside of the pack.
Pole Storage: Yes, in the side pouches.
What We Would Change: Adding two simple pouches to the shoulder straps would be a game-changer and make the W's Nine Trail pack a go-to for trail runners in search of a fast-pack.

---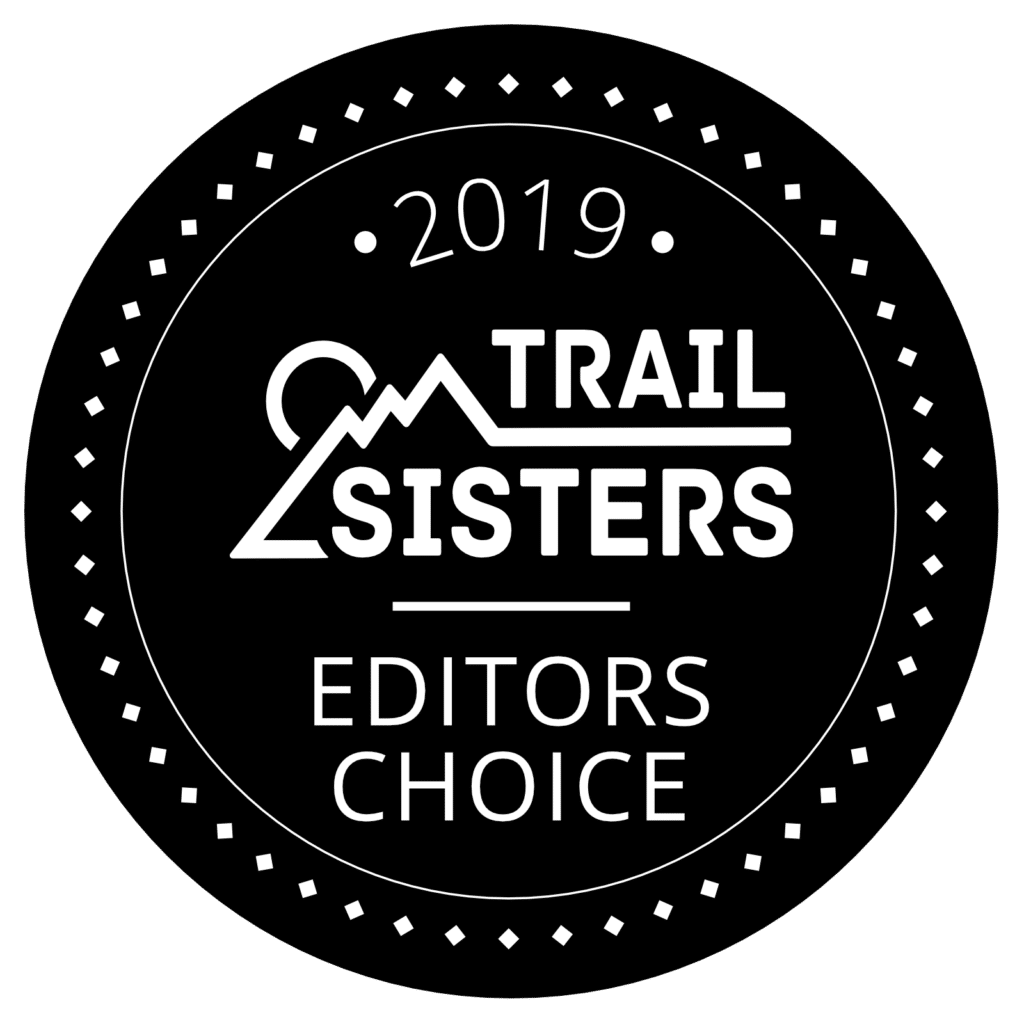 The Ultimate Direction FastpackHer 20L is the women-specific version of the Ultimate Direction fastpack line. Features include pockets on the chest straps, pouches on the sides/back and a roll-top closure with a side zipper for multiple points of access to your gear.

Some of my favorite parts of this pack include the side zipper along the main pocket which allows for easy access to all of your gear, the roll-top with variable closure options, and the pockets on the chest straps. I have used the unisex/male version of the UD Fastpack and can say that the three features mentioned above are improvements from the original pack and have made this version a more versatile option. When using this pack you will notice that, when packed correctly [heavy items at the bottom and near your back] it will stay in place on your back. You may also notice that you need to re-tighten the shoulder straps from time to time as they do tend to slip as you're running.

The Ultimate Direction FastpackHer has room for all the essential overnight gear, without using any outer pouches. This leaves the outer pouch pockets available to stash layers and snacks close by. Multiple pockets on the chest straps allow you to keep other necessities close at hand, like gloves, sunglasses and handheld water bottles.

What We Loved: The roll-top closure that secures to the cinch system allows you to adjust the space within the pack to fit your current needs — if you need less gear simply roll and cinch the pack tighter, if you need more gear loosen everything up and stuff it full. The side zipper is also great for getting access to gear near the bottom of the pack [although it is hard to re-zip if you have aggressively stuffed your pack!].
Fit, Feel + Adjustability: Overall, the fit is comfortable and the pack rides high enough on your shoulders to negate the need for a hip strap [although a single pocket-less strap may help keep the pack secure when you're moving faster]. With long miles/hours the straps do start to cut into your shoulders a bit. When this happens it does help to readjust the entire pack, something that is easy to do with the shoulder and chest straps.
Hydration Options: There is a hydration sleeve in the main pocket with a hose hole — however, once you pack all your gear the bladder is essentially inaccessible. The shoulder straps have one designated hydration pocket for a handheld with a secondary pocket that could be used if needed.
Pole Storage: Yes, on the chest straps.
What We Would Change: The pockets on the shoulder straps are almost too specialized. The pocket on the left strap is designed to zip in a smartphone…which limits how many handhelds you can carry. It would be nice to see less specialized pockets here so each user has some flexibility in how they use the pockets.

---
The Salomon Out Day 20+4 W pack is a backpack designed with women in mind by combining the flex-sensifit technology from running packs with the features of a daypack. This makes the pack comfortable to wear as it does move with your body while fitting snugly over your shoulders and across your chest. It offers a variety of pockets to allow you to organize your gear so you can get to essentials while on the move [rather than completely re-packing your pack!].

A few noteworthy features include the hip strap with pockets, the variety of pockets on the back, and the overall fit of the pack. The hip strap is comfortably padded and has two zipper pockets that are stretchy enough to hold snacks or trash [right is snacks, left is trash in my world]. On the main pocket of the pack you'll find a variety of pockets — pouches on each side, a stretchy pocket that zippers shut, a small pocket in the "lid" of the pack, and a small internal zipper pocket. It takes a bit of time and use to figure out which zipper does what, but once you figure it out you realize there is a lot of space for the organization of your gear. There is also a long zipper that opens the main compartment to give you access to all your gear. When packed full and strapped on, the pack does fit comfortably — although I will admit it took a few tries to get the shoulder straps and hip strap adjusted to compliment each other.

I was able to fit all the overnight gear into this Salomon Out Day pack, although the top "lid" did struggle to cover cinched opening. It was also awkward to strap the "lid" down with the narrow cords as they kept getting twisted up. Once the main pocket was strapped down and the pack was snugly on my back, it was still easy to access to hip strap pockets and the shoulder strap pouches, giving access to essentials when you're on the move.

What We Loved: The variety of pockets and the stretchy material is great as it really allows you to do a lot of things with this pack, most notably get to your gear without repacking every time. This includes the zipper along the main pocket that gives you access to the gear packed near the bottom of the bag.
Fit, Feel + Adjustability: It takes a bit of work to get the shoulder straps and hip strap adjusted to compliment each other, but once this is done it does fit well. Unfortunately, this delicate dance of straps will need to be repeated each time you make big gear adjustments [ie: changing layers at dusk]. Once adjusted, the pack fits comfortably and snugly without moving while you're hiking and only wiggling a bit when you're running.
Hydration Options: There is a sleeve for a bladder and two pouch pockets on the shoulder straps for handhelds.
Pole Storage: Yes, on the back.
What We Would Change: The shoulder straps are contoured to the curves of a woman's chest, which makes them a comfortable fit…until you add water and snacks to the pockets on the shoulder straps. The position of the pockets is awkward and takes away from the comfortable, functional fit of the shoulder straps.

---
The Arc'teryx Alpha AR 20 pack is a unisex pack designed for alpinism and climbing, but don't let that deter you from the valuable features this pack offers. With the intended use being more aggressive than trail running, the pack is made with a very durable fabric that is weather-resistant and zippers/straps that are meant to hold up to regular contact with rocks and other elements. Beyond the materials, this pack also offers a comfortable fit with a lot of storage space.

A few perks of taking a climbing pack and using it for trail running include the comfort of the fit, the variety of gear packing options and the durability of the material. When I first filled this pack with gear I was a little hesitant to take it out onto the trails. The shoulder straps don't look like anything special…but they are comfortable! They are well padded and even with the unisex design, they fit my shoulders well. The chest straps were a bit annoying to adjust at first, but once in place, you don't need to move them again. There is also a very simple hip strap. Again, I was hesitant to put much confidence in it, but its simplicity gives it versatility. You can either strap it around your waist [it rides high and is meant to secure the pack to your back rather than remove weight from your shoulders] or you can tie the straps onto the pack if you don't want to use them. There are a few pockets [not an excessive amount, but still a lot of space] and everything is made of the same durable, weather-resistant material.

While there is a lot to love about this pack, there is one thing that made me arch a questioning eyebrow. The top of the main pocket cinches shut with a top flap. This top flap is meant to secure everything together with a hook and cord system which is not very user-friendly — it is hard to line up and difficult to attach/release. It is not intuitive, which can lead to some real frustration out on the trail. Beyond that one odd feature, it is easy to see how this alpine/climbing pack can become a go-to for fast-packing, especially if you're going into aggressive terrain or variable weather conditions.

What We Loved: The shoulder straps are far more comfortable than expected and even though the material feels rough, it does offer some give and a lot of durability. If the trail takes you through stabby willows or thick underbrush you will not be worried about your pack — it can definitely take it all!
Fit, Feel + Adjustability: Considering this pack was designed for adventures outside the realm of trail running, the pack is very comfortable and fits well. There are a few adjustment options and it doesn't take much effort to get the pack snug against your back for hiking or running.
Hydration Options: There is a hydration sleeve in the main compartment of the pack with a hose hole and attachments along the shoulder straps.
Pole Storage: Yes, along the back.
What We Would Change: The back of the main compartment [what comes into contact with your back] is made of a soft, pliable material. A slightly sturdier material here would keep the pack from rounding against your back when you have it stuffed full of all your overnight essentials.

---
The Raidlight Women's Responsiv 24L vest is designed to help you get all your gear outside on an adventure. With a large zippered pocket in the back and a variety of pockets on the exterior of the main compartment, there are a lot of storage and organization options. You will find room to stash all your overnight essentials…or cinch down the basics for an extra long adventure on the trails.


One of the first things you'll notice with this pack is the fit. The shoulder straps easily conform to the shape of your body and the chest straps are easy to move up or down for a better fit. Along your ribs there are two micro-adjust dials you can spin to adjust the overall fit of the pack. Whether you're packing a lot or a little you'll be able to adjust and cinch this pack to fit comfortably on your back. The shoulder straps are also equipped with a variety of pockets for either hydration, snacks, basic gear or a phone. It is quite easy to fit a lot of gear within arms reach. The main compartment in the back does have space for a hydration bladder and a zippered pocket to hide away your keys/wallet/ID. There is also a zipper pocket at the bottom of the main compartment, accessible while the pack is in your back. This pocket is great for stashing away traction [like the microspikes shown] or anything else you'd like to protect from the elements…or protect your other gear from. This pack is compatible with the Front Pack, which adds about two liters of easy access storage. 

With all of the storage options it is possible to fit all the overnight essentials into the pack. However, when it is full the pack does bounce a bit. I believe this is because it stretches away from your back as you fill it. There is a bungee cord to help cinch down the gear and move the weight of the pack closer to your center of gravity, which helps a bit. 

What We Loved: There are a lot of stashing options [pouches and bungee cord] on the outside of this pack which allows you to tuck away a layer or two without opening the entire pack. There is also a small, zippered stash pocket at the bottom of the pack which is perfect for winter traction as it keeps the spikes and any moisture away from your other gear.
Fit, Feel + Adjustability: Overall the Responsiv 24L fits true to size with a lot of adjustability. The shoulder straps on this pack easily conform to your body and it is incredibly easy to adjust with a dial to micro-adjust the fit around your ribs. The pack sits high on your shoulders, but it does stick out quite far when it is full of gear. There is an elastic bungee cord you can use to attach gear to the outside…or to squish your gear closer to your body.
Hydration Options: The pack comes with two 600ml soft flasks that fit into the shoulder straps. There is also a sleeve in the back for a hydration bladder.
Pole Storage: Yes, across the front.
What We Would Change: When stuffed full the pack does stick out from your back/center of gravity, which makes it bounce a bit more when you're running. A slightly wider "frame" against your back to help spread out the weight may help with this. It would also be nice to have a better option to store poles on the back since you have to remove them to get the pack on with the current set up.

---
Now that you have a solid break-down of the fast-packs currently available to you, let's all pack up, lace up and head out!