Trail running may not always seem like a walk in the park (or the woods). For folks who are new to it, getting into trail running can be incredibly intimidating – from the distances some trail runners love to the remote places where trails can lead us, it can even seem scary. So how do you make the jump over the river and through the woods?
Making the Jump
If you run roads, great! You can be a trail runner! If you are a hiker, fab! Hiking is an integral part of trail running! The first step is finding a place to run. Google maps can be a good place to start for finding local parks and wilderness areas around you, and it is also helpful for planning transportation to trails (including finding public transportation). Other online resources include Trail Run Project through REI, AllTrails (free to sign up), and the Explore tab on Strava. Trail Run Project and AllTrails classify routes as easy, moderate, and hard, and ratings are based on length as well as elevation and terrain. Local running or outfitting stores will often have folks knowledgeable about local trail systems and can help with suggestions of places to start. Pick whatever trail strikes your fancy! Some folks like to start short, with distances they know they can cover. Others may choose based on vistas or climbs – whatever your choice, start with something you can feel comfortable with, knowing that walking and turning around are always options.
When you're planning your first run, you'll probably think about company. It can be helpful to have someone along who knows the trails or has some experience; just make sure that you can clearly set expectations that the run is for you as a beginner, not for crushing miles or vert or crazy speeds. Maybe you want to go with a group – Trail Sisters may have a local group in your area, or other running specialty stores often have intro trail runs. If you have another friend new to trail running who's willing to take the first steps with you, that's also awesome! Solo can also be a great way to experience trails (just make sure to let someone know where you're going and when you'll be back).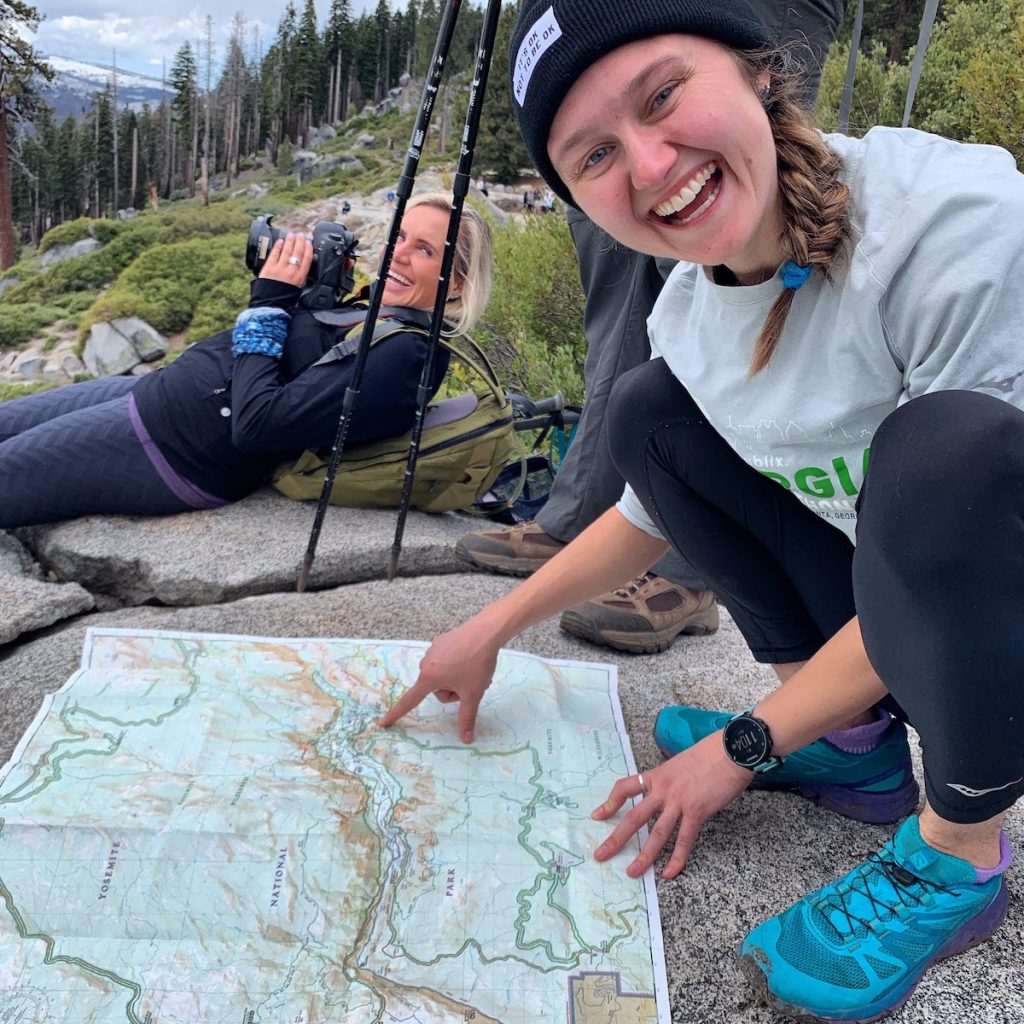 Now that you have your route and trail buddies (humans, fuzzy domesticated animals, or thoughts in your head), you can plan how to get there. In some areas, trails are close enough to be accessible by foot or bike. Other locations take more planning. Parks, designated forests, and wilderness areas often offer helpful information on getting there, including directions and public transportation options. If you have access to a car, save some gas and ozone by carpooling, and be aware of parking and access fees. Depending on how far out of town you're headed, rideshares can also often get you there (though sometimes for a steeper price).
Safety
Safety comes in many shapes and sizes on the trails. As trail runners, we often deal with others' fears of us running alone in the woods – what if we come upon wildlife or other people?? While these fears can seem overwhelming, they are not unwarranted. However, knowing how to be prepared for encountering scary situations can help keep us safe.
First, let's talk about wildlife. Lions! Tigers! Bears! Oh, my! Wildlife encounters can vary from chill AF (snails, colorful birds) to scary AF (snakes, bears, squirrels running out into the trail in front of you). Wildlife safety will vary based on region – if you're running in Florida, you probably don't have to worry about running into a moose. A quick google search or a phone call to a local nature center will help you identify what you might have to look out for. In general, though, staying calm is a good first step. Don't touch snakes, feed animals, or get between a momma bear and her cubs. For more details on how to handle specific wildlife in your area, reach out to your local nature center or forest service.
Another unfortunate reality that women in particular have to deal with is encountering other humans on the trails. Trail Sisters have written about this particular issue in the past (Assaulted on the Run, She's Asking For It). Krissy Moehl wrote a great article about keeping in tune with your Spidey Sense x 2 and provided great tips for running safely on the trails, including to let someone know what your itinerary is and to listen to music on just one headphone if that's your jam. Carry a phone on you, learn about the area before you go, and make sure you're visible when running at night. Most importantly, keep talking about safety and respect on the trails with all of our runner and non-runner friends (so that we can effectively smash the [ciswhitehetero] patriarchy).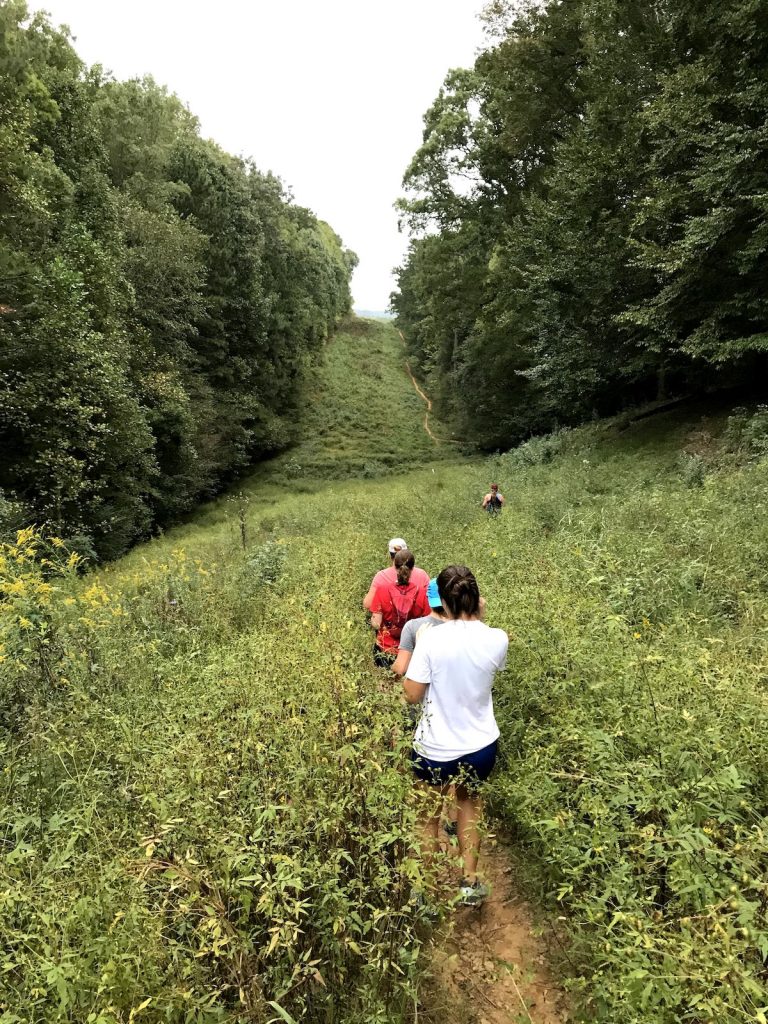 Finally, make sure you're prepared for things like weather and getting lost. In a future article, we'll talk about gear and nutrition, but if you're heading out for a longer run (especially if there are no places to stock up on extra food or hydration), make sure you're bringing extra snacks in case things don't go as planned. Know your limits, and if you're starting to feel wonky, it's always better to err on the side of a shorter adventure; plus, then you get to have waffles a little earlier than planned.
Ok, but what about actually running?
You've found your trail and running buddies, and you've prepped to have a great, safe time – now it's time to take it all out there! The two most important pieces about getting into trail running are slowing down and having patience with yourself. Even Olympic Marathoner Kara Goucher had to slow down when she got on trails for the first time. Trail running activates small muscles that aren't necessarily used frequently in road running – it can be exhausting to run even short distances! Trail miles are inherently slower than road miles at first, so allow yourself to take it easy; that way, you'll be able to navigate new terrain safely. A good rule of thumb is to walk the uphills and run what you can. Hiking is a huge part of trail running, so don't feel like you have to push yourself to the extreme at every part of your run.
Because running in the woods or on a mountain can be treacherous, it's a good idea to take smaller steps. Taking small steps allows you to correct yourself more easily if you have a misstep, which might mean stepping on a root or rock at an awkward angle, trying to jump over big rocks, or taking a downhill too quickly at first. Pay attention to picking your feet up – they have to make it over obstacles, no matter how small, that you don't encounter on the road. Keep your eyes about six feet in front of you so that you can anticipate what is coming on the trail in a few steps.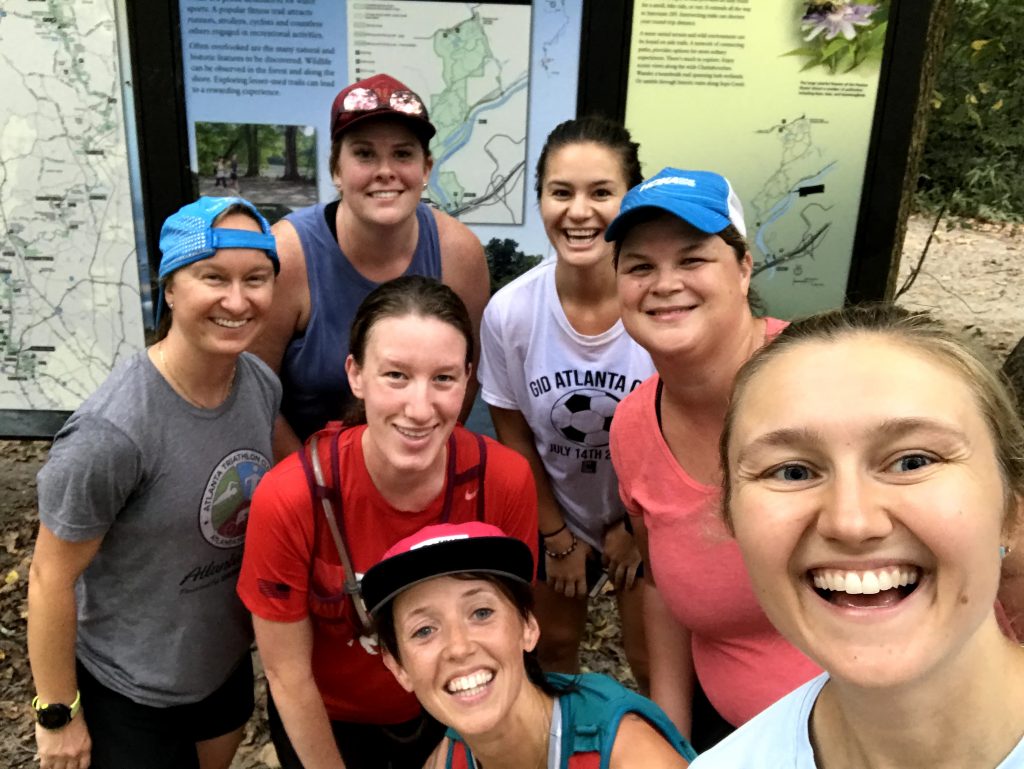 On the occasion that you don't look where you're going and you find yourself flying through the air towards the ground, don't panic! Falling is a common experience in trail running, but it doesn't have to be scary (and I'm saying this as a person whose biggest fear is falling). As much as you can, try to relax into your fall and avoid sticking your hands out in front of you. Cuts and bruises are fine, broken wrists are not. If you're able to, you can break some of your fall by rolling. One time I tripped over some roots and took a few really big steps to try and break my fall. If I had the use of my arms I probably could have balanced and righted myself, but I was holding some Oreos I was desperate to protect, so I did a body slide instead. Clearly I have my priorities (intact Oreos). #winning. If you are to fall, just take a moment to have a seat and catch your breath. Have some water and maybe a snack – let your adrenaline rush calm down for a moment. Don't be afraid to take a walk break until you have your legs under you again.
Most importantly, try to approach this new adventure with joy and a smile! Trail running is kinda awkward sometimes, and it's totally ok. Have fun with the process, and along the way, you'll get to enjoy new places and new faces. Up Next: gear and nutrition