Ireland – home of endless green fields, herds of sheep, pints of Guinness and Saint Patrick (not Patty!). Unknown to many, The Emerald Isle also boasts some beautiful mountain ranges and trails which are well-worth exploring. It doesn't ALWAYS rain in Ireland, but it does rain quite frequently, so April through September are the recommended months to visit in order to have the best chance of getting good weather. Ireland's climate can be unpredictable, so even in the summer months be prepared for random rain showers and fog – a light rain jacket should always be an essential part of your kit!
So where should you explore?
Wicklow
The Wicklow Way is one of Ireland's most infamous trails. The journey begins in Marlay Park in Dublin and traverses 79 miles with 10,500ft of ascent on varied trails across some stunning mountain ranges and finishes in Clonegal, Co. Carlow. The route passes through several quaint, Irish villages, so it's possible to run the entire route over a couple of days, stopping in as little or as many villages as you wish, depending on how much Guinness you want to have! See here for more info.
For shorter runs, I recommend branching slightly off the Wicklow Way for some looped routes. Crone car park is a good place to start for a 10.5 mile, 3,000ft trail run that summits Maulin and Djouce. This marked route gives you everything – technical trails, steep climbs, runnable tracks, and some typical Irish boggy spots! The views from both summits are spectacular, particularly on clear days where you can see nothing but mountains for miles in one direction and the Irish Sea in the other.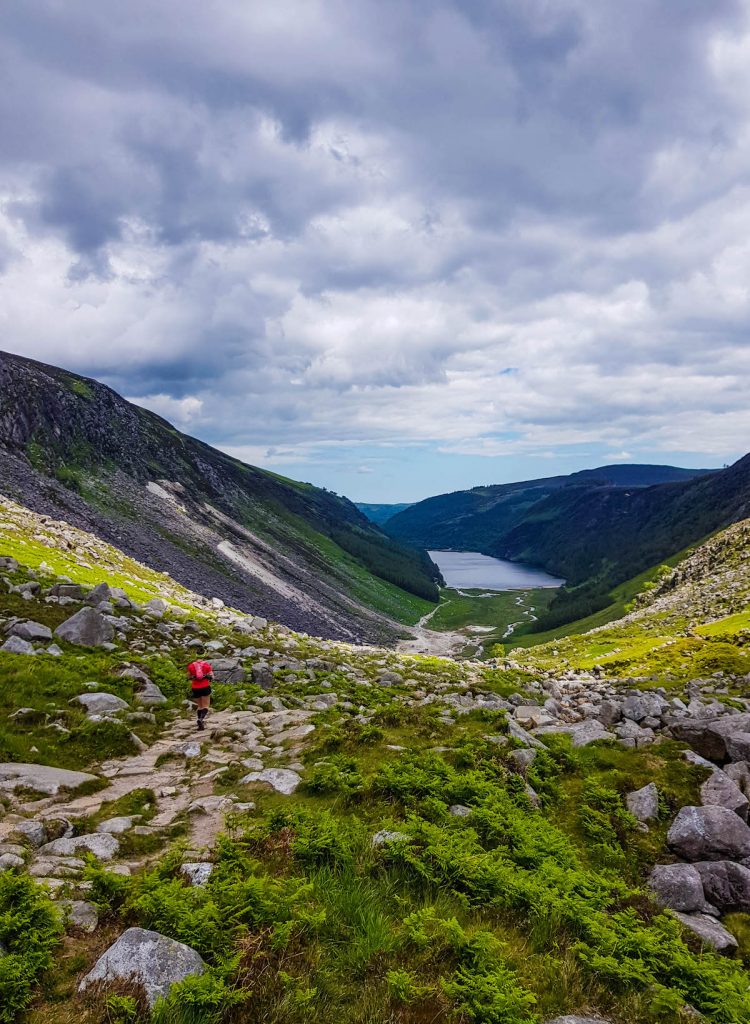 For post-run chats & snacks, check out the Avoca Café in Avoca village for some fresh homemade scones, sandwiches, salads and sweet treats.
The Spink loop is another fun run to explore as it takes in stunning views of Glendalough's famous upper and lower lakes. Starting and finishing at the Glendalough Visitors Centre, the route is about 8 miles but can be extended by joining up to parts of the Wicklow Way. Runners can expect steps, boardwalks, bridge crossings and a technical descent down St. Kevin's Way, with several viewpoints dotted along the way to get your perfect Instagram shot!
Glendalough is a historical monastic site so a post-run stroll around the church ruins and tower is recommended, before having a hearty meal in the Glendalough hotel.
The Mourne Mountains
Nestled in the north-east of Ireland, the Mourne Mountains offer a different experience to running in Wicklow. Steep climbs, granite peaks, off-trail descents and spectacular panoramic views are just some of the highlights these mountains boast. There are six peaks that stand over 2,300ft, with the highest being Slieve Donard at 2,785ft. The Mourne Wall is another iconic feature of this mountain range.
Crossing 15 mountains, the wall is 22 miles long, 1.5m high and 0.8m thick and is constructed entirely of granite from quarries around the Mourne Mountains using classic dry stone wall techniques. It encloses 9,000 acres of mountainous terrain and was constructed between 1904 and 1922 to keep farm animals away from the reservoirs and rivers that flow into them. There are numerous trails and peaks to be explored in the Mournes, so it's best to do a bit of route planning first to decide what area you want to explore. See here for full info. I recommend starting in Donard Park and climbing up Slieve Donard – you will not be disappointed with the views!
Niki's Kitchen Café is a cozy spot on the promenade for tasty lunches and even better coffee and cakes!
The Cliffs of Moher
The Cliffs of Moher are part of the "The Cliff Coast" section of the 1,550 mile Wild Atlantic Way route which stretches along the west coast of Ireland. Start your run from the village of Doolin and follow the path along the Cliffs to Liscannor. The route is about 12.5 miles and doesn't have a huge amount of elevation, but you will get to soak in the beauty and dramatic effect of the Cliffs which makes it a special trail running experience.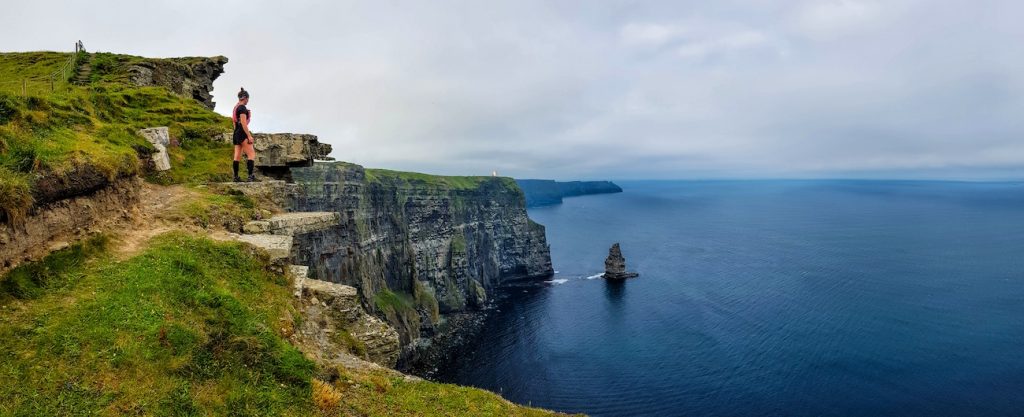 On a clear day the Aran Islands, Galway Bay, the Twelve Pins and the Maum Turk mountains in Connemara as well as the Dingle Peninsula and Blasket Islands in Kerry, are all in view. The Cliffs of Moher are one of Ireland's most popular tourist attractions, so I recommend to start your run early to avoid crowds on the trails. We started running from Doolin at 6 am and didn't meet a single soul along the way; bliss!
The nearby beach town of Lahinch has an abundance of restaurants and cafés. Grab a take away and enjoy your food on the beach!
Ireland is full of lush green countryside, narrow grassy roads and charming villages, so no matter where you go, you'll never be far from nature and idyllic running routes. One thing is for sure – it's definitely worth exploring, so stick it on your Running Bucket List!