I'd slept in the backcountry before. Exactly three weeks prior.
This night was different for several reasons. The first being that I was completely alone. Even though I was camped in a designated spot in a very popular National Park, there was no one else there. The second was that I'd nearly succumbed to heatstroke just hours before.
If you've read my book, Thirst: 2600 Miles to Home, you've read about this situation. You've read the abbreviated story of me lying on the Tonto Platform deep in the Grand Canyon staring at the rising moon with the sun still blazing behind me. You've read about how I lay there in the searing triple-digit heat, completely out of water and certain it was time to die.
But the story I'm here to tell is my first night alone in the backcountry. The story of what happened after that brutal sunset. After I stumbled the mile to Hermit Creek Camp and flopped into the creek supine, allowing the untreated water to roll over my body and into my mouth for an undetermined amount of time. After I finally dragged myself out of the water and apprised myself of my hard-earned home for a night.
As I stood there in the rapidly cooling air with the canyon shadow growing long all around me, I studied the clearing. There were no other tents, no people clustered around camp stoves in the cooking area. It was completely different than my first night in the backcountry—surrounded by the hubbub of Phantom Ranch. This night I was going to sleep alone.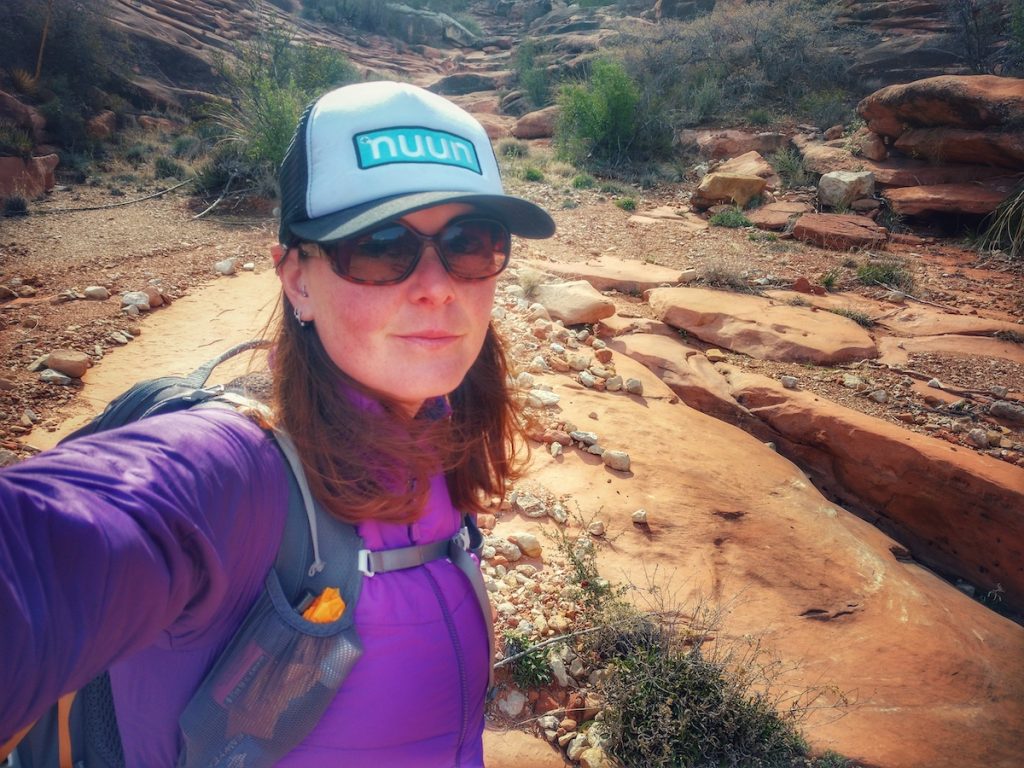 I glanced up the trail the way I'd descended, hoping to see other people making their way in my direction. The trail was empty. Anxious, I turned back to my selected campsite—located essentially where I'd reached the water and pitched myself in bodily some time before. My pack still lay where I'd dropped it, tilted awkwardly to the side that held the seven-pound borrowed tent. I glanced around, shivering as the evening breezes whisked the water off of my body and clothes. The rock walls of the sub-canyon were honeycombed with crevices and caves. My neck prickled as my eyes flitted from one to the next, expecting to find a panther watching me.
It was getting dark fast and I began rummaging through my gear—all the while keeping furtive watch over my shoulder for pouncing felines. The tent was huge requiring several poles and many stakes. My first night with it—at Bright Angel Campground—I'd wrestled with it for almost an hour. Tonight, I worked fast, amped on adrenaline. My memory served me well, even though my mind still swam in a fog of heat exhaustion. I had the tent erected within 15 minutes and with one more glance at the honeycombed red walls, I dove inside.
I dragged my backpack in after me, brushing it off and double-checking that scorpions had not hitched a ride. I zipped the tent shut and sat there panting a little. It was as if everything was still shrouded in a veil of shimmering heat—the kind that rises off of the highway on a hot day. I was bone-tired, yet it was barely 8pm.
I rolled out the borrowed mat and my heavy cotton sleeping bag. I pulled my food bag out of my pack and looked inside. Despite the grueling hike down after a full day of work, I was not hungry in the least. The package of Oreos and the Ziploc full of GORP were unappetizing. I closed the bag and shoved it to the side. I vaguely remembered the ranger telling me that I needed to put it in something to keep rodents away. But that heatwave in my mind was keeping me from remembering exactly what I was supposed to do. I kicked it to the exact middle of the tent, a full three feet from any side, and thought, "good enough."
I looked at the water filter I'd borrowed. It was the only thing left in my pack now. It was clunky and had two or three tubes wound around it. I tried to remember what my roommate had told me about using it. Then I looked at the water bottle and the canteen I'd found on the trail that afternoon. They were currently both full of Hermit Creek water—and so was my belly. None of it was filtered. And only God knew where the water that had been in the canteen when I'd found it had come from. Not that I'd cared. Dying of thirst had seemed far more concerning than drinking sun-hot unknown water. I shrugged and laid on the backpack, still holding the water filter, over top of the rejected food bag.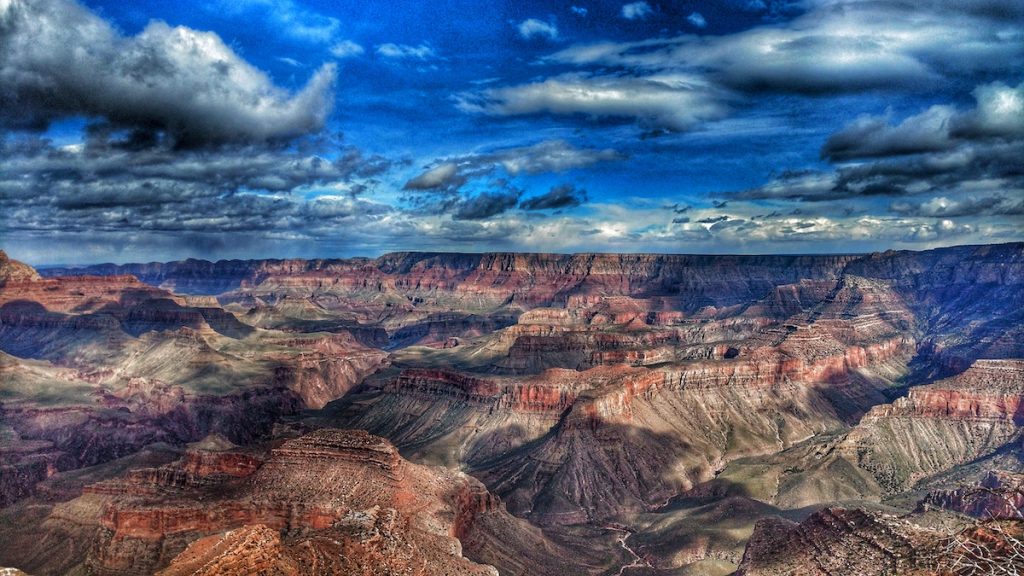 I sank down onto the sleeping bag, listening carefully for noises outside. There were crickets and some sort of chirping. No growls or meows. I desperately wished for another human to be near me. I wondered if I might still die in my sleep from complications of the heat. My skin was hot to the touch and dry even though I'd drank probably close to a gallon of water since I'd arrived. Resigned to my fate, alone in the Grand Canyon, I pulled my water bottle close to my side and closed my eyes.
Lessons Learned
Despite a lot of mistakes, I survived my first night alone in the backcountry…and I learned a lot from the experience. I've learned even more in the 19 years (and 45,000 miles) since! Here are a few of the most important takeaways for your first night out:
Choose a Realistic Itinerary: I started an overnight hike into the Grand Canyon after a full day of work. This put me hiking in during the hottest part of the day on a predominately west-facing route. Lugging myself back up the next day was pretty difficult after the previous day's effort. Structure your itinerary to give yourself ample leeway when you're first starting out. It's better to reach camp early, rather than find yourself hiking in the dark (or too tired to reach it all together!).
Be Prepared for Conditions: I simply didn't carry enough water. I also underestimated how hot it was going to be in that part of the Canyon at that time of day. These mistakes could very well have killed me. Research your route ahead of time to determine how much food and water to carry. Without going overboard, it's always better to have a little extra than not enough. Check the weather and current trail conditions (if available) and pack accordingly.
Know How to Use Your Gear: It's laughable now when I think back to my borrowed set-up. I had no idea how to set up a tent, pack a backpack, or use a water filter. I just took the things people gave me and took off down the trail. Before heading out for your first overnight, practice with your gear in the backyard! Make sure you've read the instructions/watched the video and successfully set up your tent without having to refer back. If you get caught in a torrential downpour or gale, you'll be glad you can set up a bomber shelter in minutes.
Learn About the Wildlife: I was deathly afraid of mountain lions because people at the Canyon kept telling me that they were dangerous to women. They aren't. Read up on the wildlife that live in the area you'll be visiting. Bring a guidebook if you want. The animals that call the wilderness home are part of the excitement of being out in nature. Once you learn about who lives there and what their habits are, you'll find most of them are not really anything to be afraid of. And, maybe someday I'll tell you about my second night out alone…and the band of demons that made a ruckus outside my tent all night long! ????