I knew we could turn around, but it had become much greater than a hike by then.
Last spring my partner and I set out to hike the 100-mile Annapurna Circuit in Nepal. We had done our research and packed for months to make sure we had all the right gear for three weeks on the trail in wildly different climates ranging from jungle to high alpine. We checked and rechecked our packing lists, referred to blogs and friends, and felt pretty good about all our choices. The problem came in Kathmandu where we prepared for the hike. Arriving from the airport, we opened our checked bag to find a slip of paper notifying us that they had searched our bag and only a single Chaco sandal of the pair I had packed. Not only had I had these Chacos for almost ten years, but they were also what I had planned to hike in. We tried to call the airlines and the airport in China where our bag was searched, but it became very clear that I wasn't getting my lost shoe back. In a desperate attempt to find another option we spent the next two days going through every store in Thamel, the backpacker's area of Kathmandu, and couldn't find anything that compared. Luckily, I had also brought a pair of waterproof Salomon running shoes to wear at high altitude so I did have something for my feet.
We took off as planned, taking an eight-hour bus ride to the start of the trek in Besisahar. My Salomon shoes became my everyday hiking shoes and although my feet missed the breeziness of hiking sandals, the first six days went surprisingly well. We hiked by monkeys, lizards, fieldworkers, cows, raging rivers, suspension bridges, baby goats, small towns, big mountains, guest houses, apple orchards, pine forests, and other trekkers from all over the world. To give my feet a break in the evenings, I bought a $3 pair of flip flops to wear around the guest houses. Although $3 was more than we had paid for a night's stay, I felt pretty good about the lofty investment.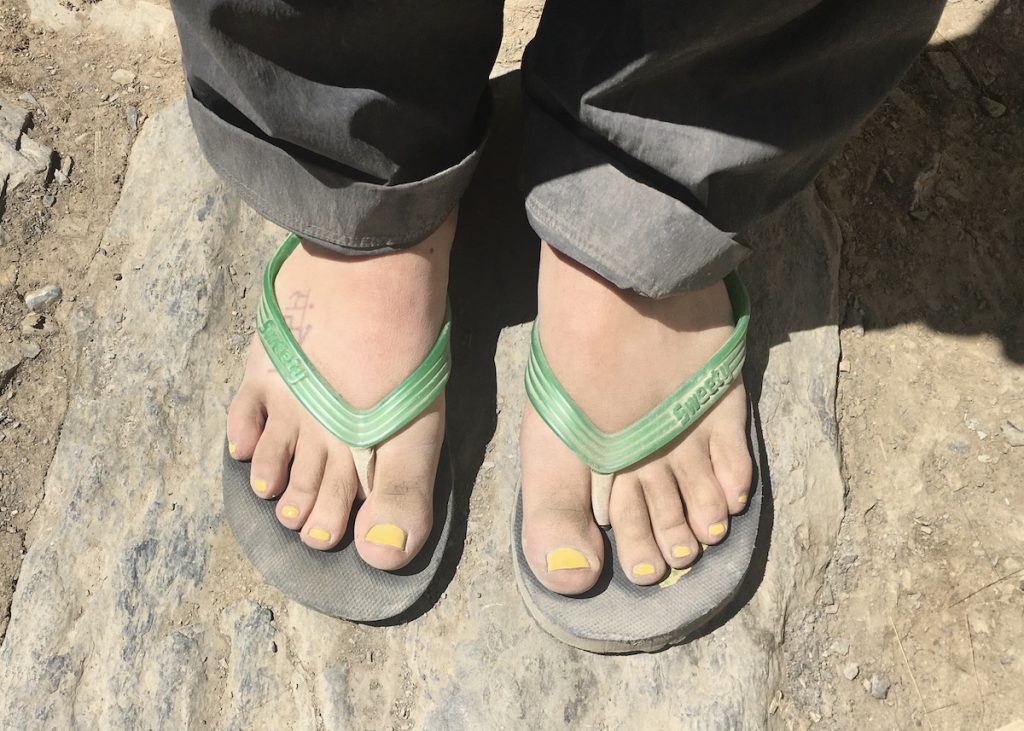 Somewhere around day eight, however, it was no surprise that my running shoes, which I had worn way past their mileage, started to cause blisters. I started by taping the blisters and taking rest days, but outside a small town called Khangsar I had had enough. I had so much pain in my heels that I couldn't hike any further. We had three more miles of steep and dusty terrain to go. Our next town, Shree Kharka, at 13,386 feet (4080 meters) was the next place with lodging where I could take a rest. I saw no other option. I clipped my Salomon shoes to the outside of my pack, slipped flip flops on my feet, put in my earbuds, played the pump-up music I had been saving for a time like this, and I started hiking.
It was a rough couple of miles, but we made it to Shree Kharka and were rewarded by beautiful mountain views and a sun patio to rest. I was happy with what I thought would be a temporary solution. After a full rest day and more discussions, it became pretty clear that my running shoes weren't going to be much of an option anymore. We had a big decision to make. Much of what we had hiked up until this point was paralleled by a road. If we wanted to turn around we could hike one more town back and get a Jeep ride back to the trailhead where we had started ten days earlier and from there return to Kathmandu. The decision became one that was less about my blisters and more about what this trip represented. The peak of the trek was getting to the summit of Thorung La Pass at 17,769 feet (5,416 meters). This pass became less of a goal and more of a symbol of self-empowerment.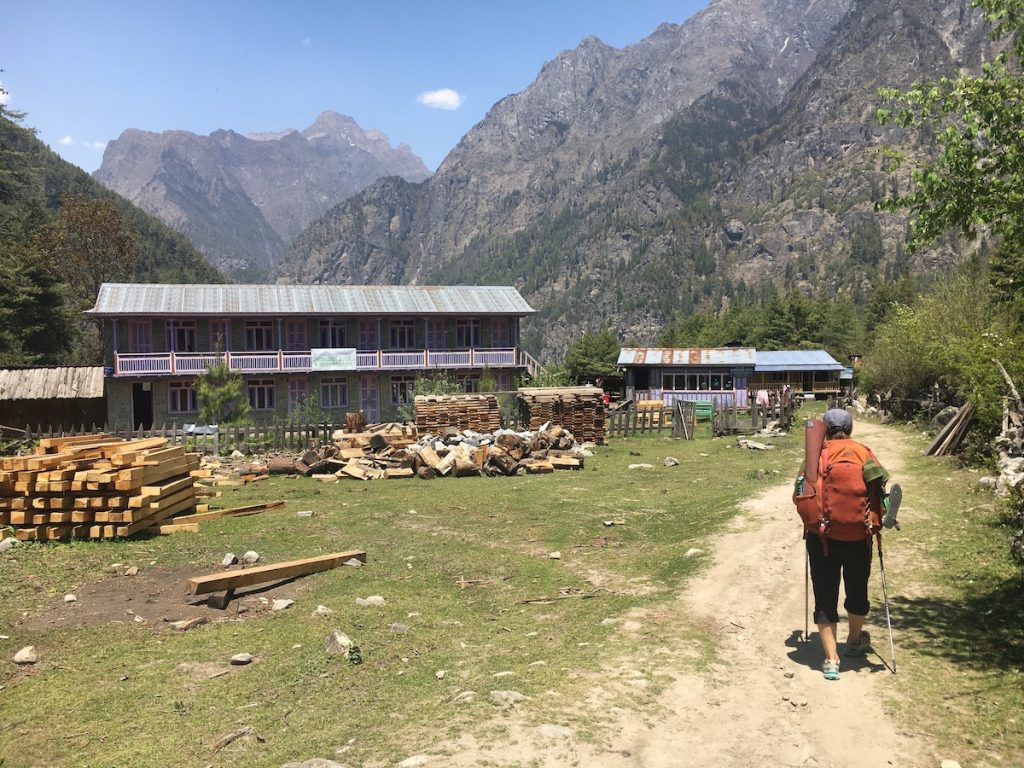 I had beaten so many odds to get here already. My chiropractor said to not take long hikes because of my scoliosis, my rheumatologist told me to not go to cold places with Raynaud's syndrome, and my mind had told me so many times this would be such an easy bailout. Getting to the high point of this trek became my finish line. I wanted to prove to myself that the limitations in my body and mind didn't need to hold me back from the goals and experiences I want to have in this lifetime. So, with that in mind, the next four days were spent hiking above 13,000 feet in bright green, flower printed flip flops, trading out the first-aid tape every few hours to prevent more rubbing from the plastic in between my toes.
On the night before pass day, anticipating the summit of the circuit, we hiked up to high camp at 16,010 feet (4,880 meters). We ate dinner in a small dining hall with everyone else at camp that night. We met new friends and told stories of where we came from and what brought us to Nepal. We told stories of hiking and how tired we were. When I came around to telling the story of my shoes, I was met by familiar smiles and the phrase, "Oh! You're the girl in flip flops!" It was a moment of hilarity and pride.
The next morning we started hiking at sunrise through the ice and snow and I realized flip flops weren't going to cut it that day. So I taped up my feet and put on my trusted running shoes. Luckily, hiking in flip flops had allowed my blisters to heal just enough to make the day run smoothly. Although a bit light-headed and tired, we summited Thorung La Pass on Day 14 of the trek. I'd like to say it was a moment of extreme joy, but honestly, I felt exhausted and hazy at the time. The satisfaction and delight came a few days later when I was resting by a lake joined by friends (who brought me a new pair of Chacos from the U.S.) and could recount what I, and my feet, had been through to hike to the highest point in my life…so far.