Merrell started out as a hiking boot company in the 1980's. They focused on creating an affordable option for technical hiking boots where they created four goals for each pair of hiking boots — comfort, design, durability, and versatility. As the company grew they expanded their line of footwear to include hiking shoes, running shoes, trail running shoes, and more. But they stuck to the four pillars of their foundation. This review will cover the details and personal opinions surrounding three trail running shoes and one hiking boot.
There are a few technologies you'll find across the line of Merrell trail running shoes and hiking boots. Let's touch on how these advances in material technologies affect the functionality of the footwear before we jump into the individual reviews.
The TrailProtect rock plate is placed in the midsole of the shoe directly under the ball of your foot. The purpose of this rock plate is to protect the tender ball of your foot from the sharp edges of rocks while you're running. In some cases, this protection is provided with extra cushion, but with the Agility Synthesis Flex, Trail Glove 5 and Antora, all have a rock plate.
When it comes to the sole of your trail running shoe or hiking boot your main concern tends to focus on one thing — grip. You need the outer sole of any trail shoe to be there to help keep you upright. Merrell uses two different technologies for this. The Agility Synthesis Flex utilizes M Select GRIP, a rubber outsole created by Merrell to keep you from slipping on the mixed terrain or wet or dry ground. The Trail Glove 5, Antora, and Moab 2 Mid all feature the Vibram TC5+ outsole which provides flexible grip and durability.
Each pair of shoes reviewed, including the hiking boots, got about 20-30 miles of consistent wear over the course of about 60 days. The miles on the trail running shoes were a mix of pavement and gravel with some single track [full disclosure, most of our local single track still had snow or a river of mud during this review, and without the ability to travel to dry trails during the pandemic we made do with a bit more pavement than usual]. The hiking boots were tested on snow-packed trails and somewhat muddy trails with some pavement on the way to/from the trails.
The two main features of the Merrell Agility Synthesis Flex are in its name — flex and agility. This shoe is designed to allow your foot to flex as you cover a variety of terrain on the trail. The added flex of the shoe, in turn, gives you more agility as you move over trail obstacles. There is a rock plate in the sole of the Agility Synthesis Flex, which helps protect your feet from rugged terrain…but, just as importantly, does not make the shoe feel clunky when you're on buttery trail or pavement. The upper material is a tightly woven jacquard material that allows your toes to wiggle in the slightly wider toe box while providing great breathability. The Agility Synthesis Flex utilizes the FLEX Connect material in the midsole for added agility and M Select GRIP on the outsole for all-terrain traction.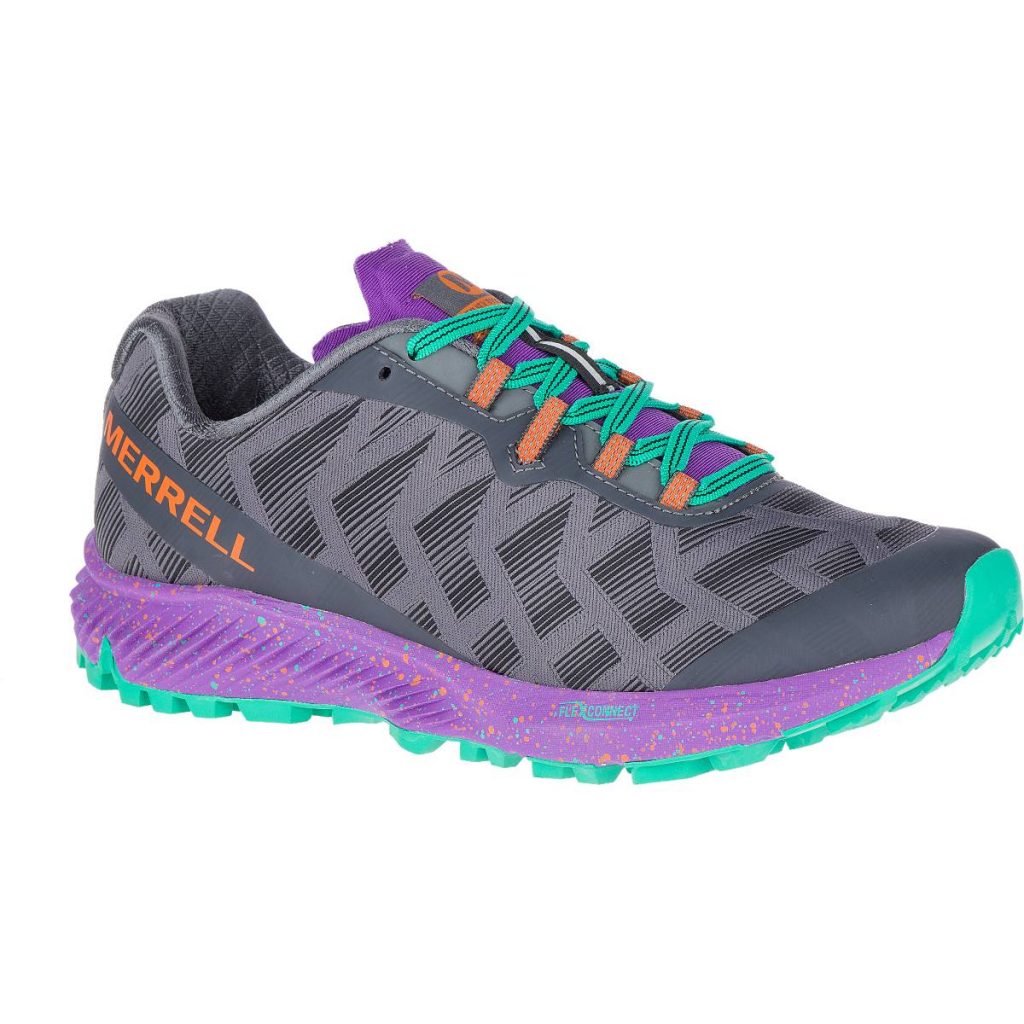 Heel-to-Toe Drop: 6 mm
Heel Stack Height: 25 mm
Type of Support: neutral
Shoe Weight: 1lb 7oz per shoe
First Impressions: The first thing I noticed when pulling on the Agility Synthesis Flex was the wiggle room in the toes. I don't have wide feet but my toes really appreciate having room to move. The woven upper helped to give a little extra space to move. The shoe is a bit heavy, but if you're headed out for a long day where you want protection you'll find the added weight worth it.
What We Loved: The minimal width added into the toe box offers comfort without taking away any of your control over your feet. The rest of the shoe still fits snuggly, including across the arch and through the heel. The rock plate is there when you need it and not at all noticeable when you don't.
What We Would Change: The tongue of the shoe is made with neoprene, which is designed to provide comfort for many miles…however, it got bothersome if my socks weren't tall enough to keep it off my skin. It was easy enough to mitigate by choosing the right socks [I usually wear very low/no-show socks].
Fit & Feel: This is a solid shoe from Merrell and despite its heavier weight it has become a go-to when heading outdoors, especially when I know my runs will be a mash-up of pavement, gravel, and trail. It fits true to size and while the toe box is a bit wider it doesn't take away from the snug fit throughout the rest of the shoe.
Final Thoughts: Of the three Merrell trail shoes reviewed here this pair quickly became my preferred option. They are comfortable on my feet, they support my higher arches and they give my toes space to breath [literally, our snow is finally melting!]. I also noticed that the Agility Synthesis Flex are versatile enough to feel great on both pavement and trail.
Similar to Merrell Agility Synthesis Flex: Agility Synthesis X Dogfish
The Merrell Trail Glove 5 is designed as a "barefoot shoe" meaning it offers minimal support and material between you and the ground you're running on. Emphasis on the "minimal" because it still provides arch support, a rock plate and a durable upper. You'll be protected from the rocks from all angles, you simply won't have as much cush to keep your feet feeling fresh. This gives you a chance to allow your body to strengthen its own ability to support your movements. The sole is made up of Vibram TC5+, a grippy rubber that is designed to give you traction on all levels of surface in all weather conditions, as well as a TrailProtect rock plate. This is a "zero drop" shoe so if you're used to running in shoes with more drop and cushion you'll want to slowly transition into this shoe by taking it out on shorter and less intense runs in the beginning.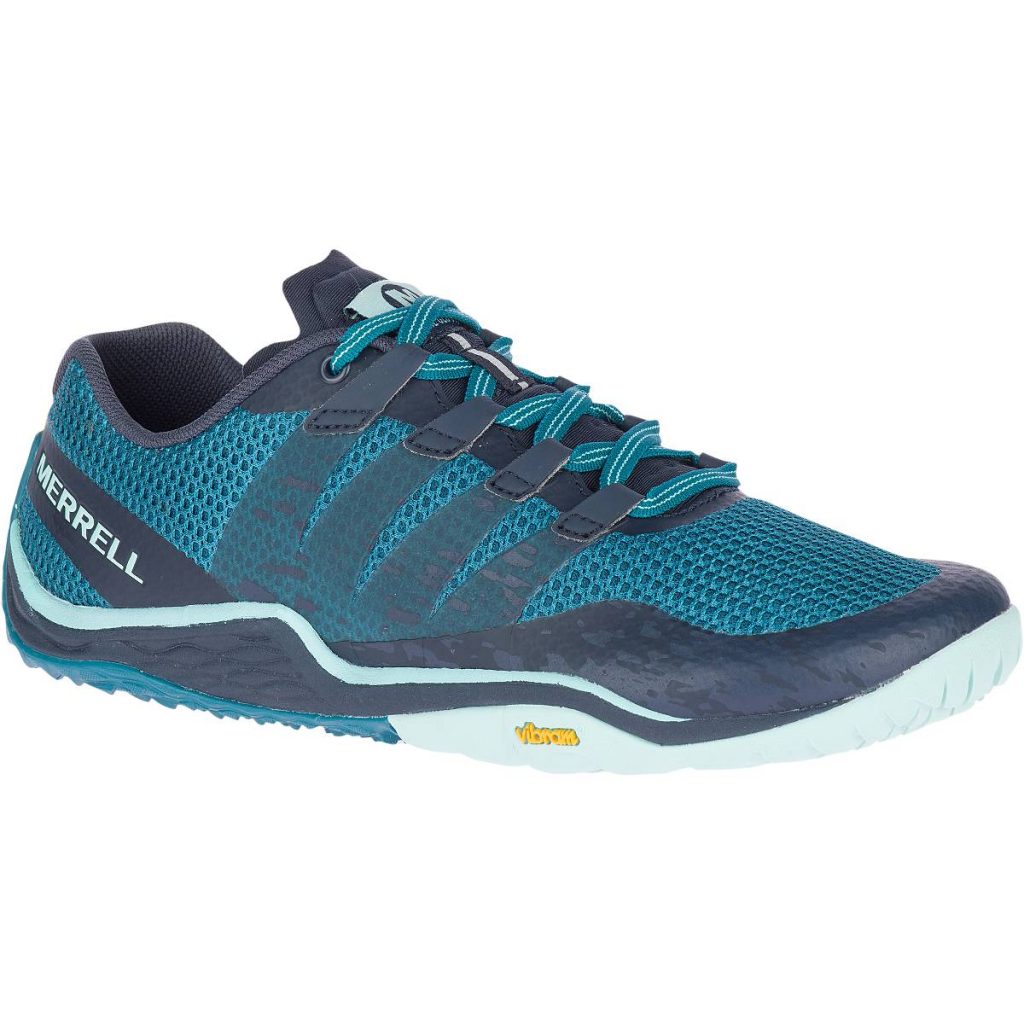 Heel-to-Toe Drop: 0 mm
Heel Stack Height: 11.5 mm
Type of Support: neutral
Shoe Weight: 6oz per shoe
First Impressions: Let me preface this by saying I have a history with Merrell's Trail Glove and it's a love story made for the Hallmark channel. It's been a few years since I've been in a pair of Trail Gloves and my feet were toes-over-heels when they wriggled into the Trail Glove 5. It offers an almost sock feel [if socks came with rubber soles…] and the arch support is phenomenal.
What We Loved: As someone with higher arches I've had to be very careful about what type of minimalist or barefoot shoes I run in as my feet tend to fall inward — the sturdy arch support of the Trail Glove prevents this from happening without adding any bulk. 
What We Would Change: My heel slid around a bit, most noticeably on technical terrain. The heel does have the HyperLock TPU film feature to help keep your heel in place but it is a wider heel area in general.
Fit & Feel: Putting on the Trail Glove 5 is like putting on a sturdy, durable sock…otherwise known as a well designed minimalist trail running shoe. It runs a bit large and I did size down a half size at Merrell's recommendation. The half size smaller fit well.
Final Thoughts: Merrell has continued to improve on the Trail Glove over the years and even with a hiatus between pairs it is easy to tell where they have improved. The sole is a very minimal, hard surface that does take a bit of time to get used to but the arch support is far too sturdy to be compressed over time. Overall, a solid minimal choice that will take you over variable terrain [just give your feet some time to adjust!].
Similar to Merrell Trail Glove 5: Trail Glove 5 Eco
The Merrell Antora is a trail running shoe designed to provide stability and grip on all variations of trail. It was designed around the female runner and utilizes a women-specific dual-density midsole to help counteract pronation. There is also added cushion in both the heel and forefoot. This makes for a very comfortable shoe with a lot of extra protection against the terrain, including a rock plate. The upper material is a woven jacquard material with an integrated tongue that helps hug your foot when the shoe is laced up.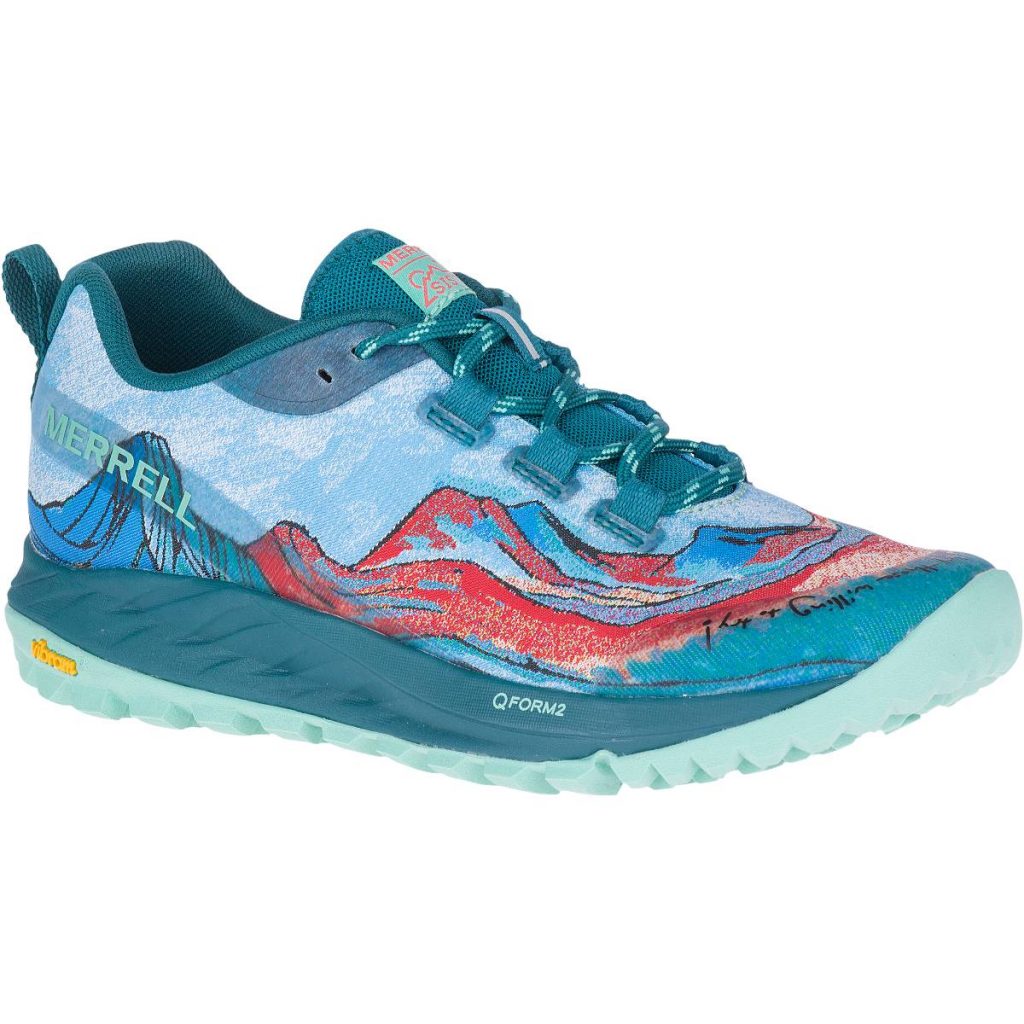 Heel-to-Toe Drop: 8 mm
Heel Stack Height: 28.5 mm
Type of Support: stability
Shoe Weight: 8oz per shoe
First Impressions: This is a lightweight shoe, but there is still a lot of shoe there when you pull it onto your foot. The higher heel stack height is noticeable, as is the added cushion across both sides of the arch of the foot. It was quickly decided that this would be the shoe to pick up on the days you're looking for a little extra cushion.
What We Loved: When you need extra cushion for aggressive terrain or as a little extra love for your feet these shoes will be there for you — there is a lot of added squish and your feet will thank you for it.
What We Would Change: This may be petty…but the round laces really like coming out to party, as in they do not like staying all knotted up. This is an easy fix with a quick lace swap, but one extra step. Also, the woven upper feels more restrictive in the Antora than it does in Agility Synthesis Flex.
Fit & Feel: The Merrell Antora provides a comfortable, soft fit that hugs your foot from heel to toe. It fits true to the sizing of Merrell's trail running shoes.
Final Thoughts: The Antora offers up a lot of protection against the elements, both under and around your feet [there is a Gore-Tex version if you're looking for a waterproof option!]. The Vibram TC5+ sole helps to keep you upright as promised; however, it definitely takes a bit of time to get used to the extra stack height in the heel and cushion throughout the sole.
Similar to Merrell Antora: Antora Gore-Tex
Merrell Moab 2 Mid Waterproof
The Merrell Moab 2 Mid Waterproof hiking boot is one of Merrell's best sellers and it is easy to see why. It is a lightweight, flexible, and durable hiking boot that provides structure through the sole and up to your ankles without being uncomfortably stiff. The heel of the hiking boot has an air cushion built in to help absorb the impact of your steps and to reduce fatigue in your body. The supportive structure of this boot is subtle and includes a stability band that wraps around the heel of the boot and along the sides of your feet. This hiking boot will feel like that happy medium between a sturdy trail running shoe and a stiff hiking boot. The Moab 2 Mid is comfortable on your foot right out of the box and does not require a lot of "break-in time" to be ready for adventure.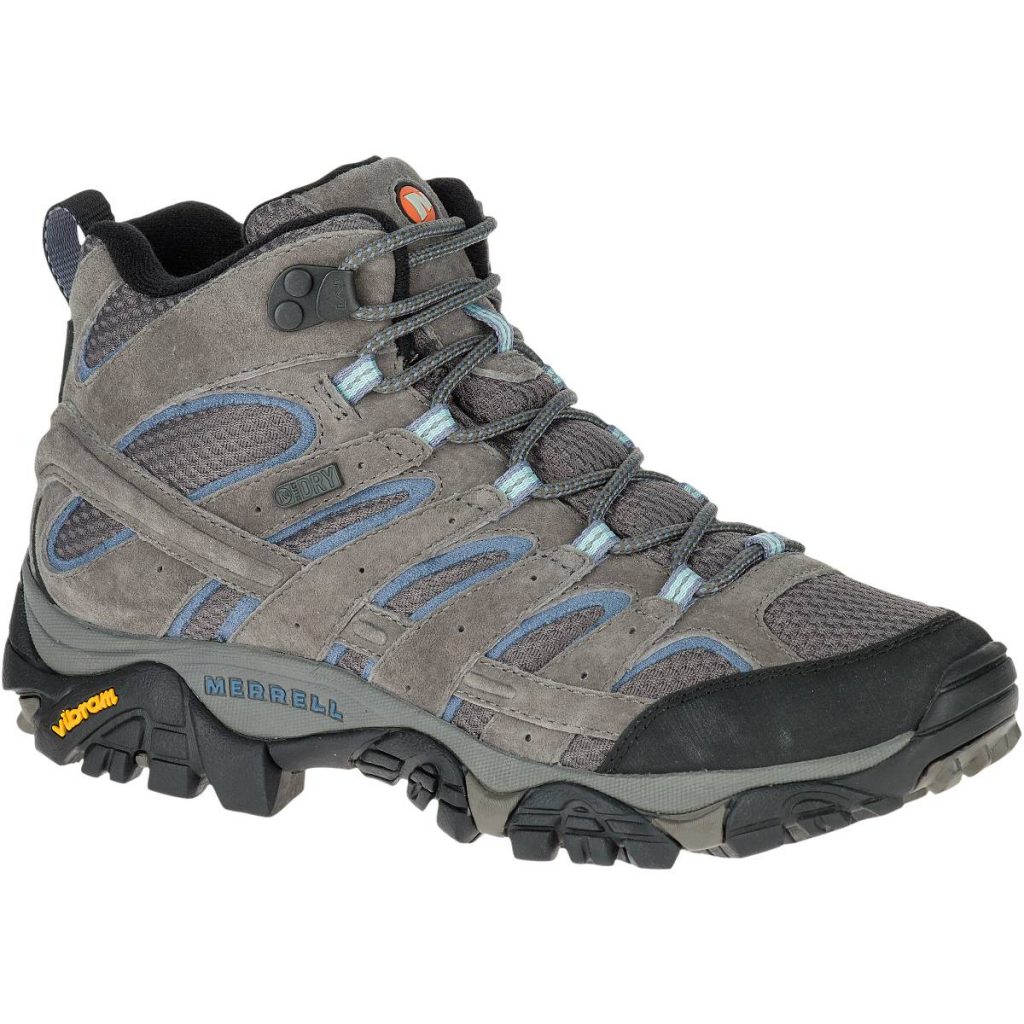 Boot Height: Over-the-ankle
Waterproof: Yes
Shoe Weight: 2lb per shoe
First Impressions: I usually balk at the idea of wearing hiking boots simply because I don't like having anything around my ankles; however, the Moab 2 Mid surprised me. It does fit over my ankles but the neck of the boot is cushioned and flexible enough that my ankle did not feel claustrophobic or otherwise restricted. My foot was comfortable throughout the boot and I immediately noticed the added arch support within the boot.
What We Loved: The general feel of this hiking boot was huge for me. My foot felt supported but not restricted and the arch support was in exactly the right place within the boot. If you're someone who hikes in trail running shoes but would like to try out hiking boots I would recommend the Moab 2 Mid for that transition.
What We Would Change: While I did not have any personal problems with the waterproofing of the Moab 2 Mid I did read a lot of reviews that mentioned their feet still getting wet. I did not stand in a bathtub with the boots on, but I did hike on snowy trails and along muddy trails as the snow finally started to melt. In that general usage, the waterproof feature held up as I needed it to.
Fit & Feel: The Moab 2 Mid definitely has the added stiffness and support expected from a hiking boot, but you can confidently size the boot based upon your favorite trail running shoe. It fits true to size and was comfortable out of the box.
Final Thoughts: I may be a hiking boot convert…all because of the Merrell Moab 2 Mid. With each adventure onto the snow-packed [yea, still snow!] and sometimes muddy trails I found new reasons to like these hiking boots. They definitely provide more support than a trail running shoe but they manage to do this without becoming so stiff they are restricting my movement or feeling of control.
Similar to Merrell Moab 2 Mid: Moab 2 Mid Ventilator, Zion Mid Waterproof, Altalight Knit Mid
Heidi's Shoe Thoughts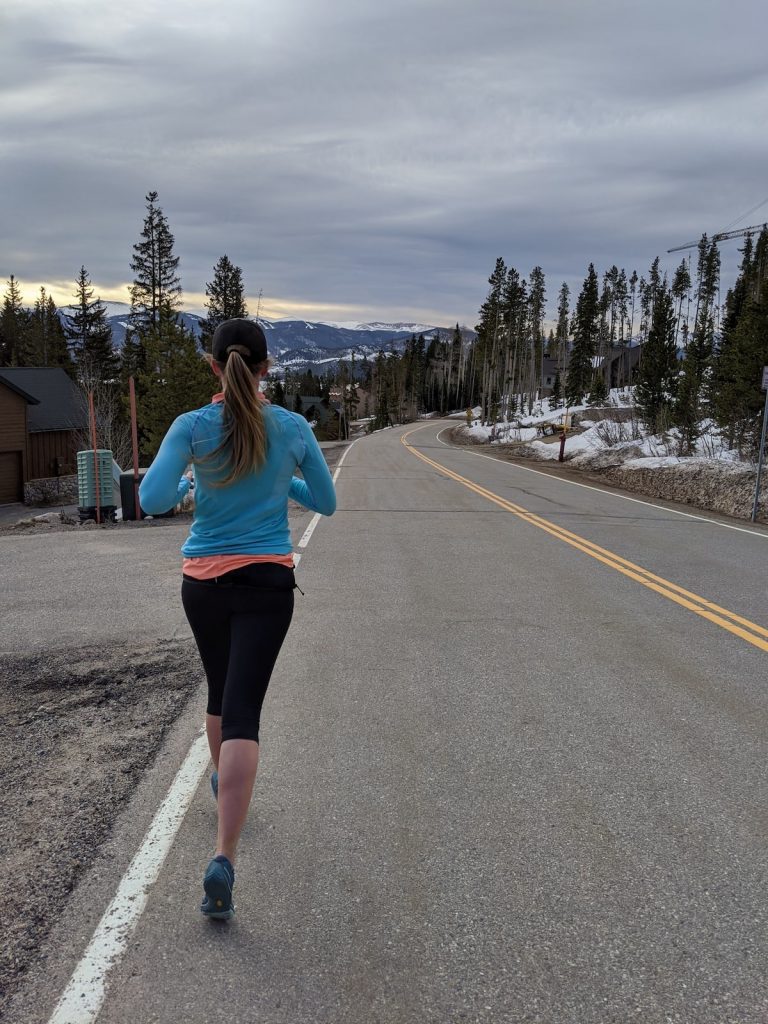 I like my shoes loose and comfy with wiggle room. More often than not I tie my trail shoes once [when I take them out of the box] and never again…as in my trail shoes are usually slid on/slid off loose. This makes for some fun in the shoe sucking mud of some trail races, but my feet are happy. I also really like wide toe boxes. If I can slip on a pair of shoes and immediately forget I'm wearing shoes I'm a happy runner. As for heel-to-toe drop, I regularly run in anything from 10mm to 0mm, a decision made mostly by which pair of shoes calls to me that day. I am not prone to any injuries in my feet [knock on wood!] but my Achilles tendon is often quite cranky due to tight calf muscles. This has not been linked to a certain style or fit of shoe, so I think it's just how my body functions.