Let's chat about Brooks Running! There is no denying I'm madly in love with the Brooks Chaser shorts and tank top, so why not rave about their shoes? My first experience with Brooks was as a road runner and as I started to get into trail running I ventured away from Brooks. This was likely due to great marketing toward trail runners of other brands at the time. Eventually, I ran my way back into Brooks Cascadia, a shoe in my rotation and my husband's go-to. The Cascadia has definitely gone through a few renditions in recent years and I'll admit I've enjoyed previous versions better than the Cascadia 14 we're reviewing here.
Luckily Brooks Running's line of trail shoes has expanded well beyond the Cascadia. We're going to chat about the brand new Catamount, the trusty Cascadia 14, the versatile Divide, the minimal PureGrit 8 and the cushioned Caldera 4. Before we jump into the specific shoe reviews let's go into detail on some of the technologies Brooks uses in many of their trail running shoes.
TrailTack Rubber is the sticky rubber that is used in many Brooks trail running shoes. It is designed to provide a firm grip on both uphill and downhill terrain in all variations of trail conditions. It works well on wet or dry rocks where there is enough surface to get a decent amount of purchase. However, the TrailTack Rubber seems to lack a bit of grip when you're navigating areas with less surface area. This may have less to do with the abilities of the rubber and more to do with the smaller lugs found on all of the Brooks trail running shoes.
BioMoGo DNA is the type of foam that Brooks uses in the midsole of most of its trail running shoes. It is designed to provide a responsive cushion for the runner while also being more environmentally friendly. The environmentally friendly bit comes into play with a nontoxic additive that encourages decomposition when the shoe eventually ends up in a landfill. The cushion provided is noticeable, especially in the shoes with higher cushion ratings.
The Ballistic Rock Shield is an important component of nearly every trail shoe created by Brooks. It is a slim piece of thermoplastic EVA material that is built into the midsole. The purpose of this rock shield is to…well, shield your feet from rocks. You'll be stepping on sharp rock edges with force and this shield is in place to help distribute that impact across the surface of your forefoot rather than straight up stabbing you.
Now, without further ado, let's jump into the ins and outs of specific shoes in the Brooks trail running line up!
The Brooks Catamount trail shoe is the latest trail shoe released by Brooks and it isn't just a reinvention of previous trail shoes by the brand. This is the first speed focused trail shoe that Brooks has brought to the table and with that comes new technology. The DNA FLASH, a nitrogen infused foam that provides a quick response and protective cushion [similar to the technology used in the Hyperion road shoes]. The Catamount also utilizes the tried and true TrailTack sole and Ballistic Rock Shield. It's exciting to see the brand that brought the Cascadia to the trails level up with a more speed focused shoe.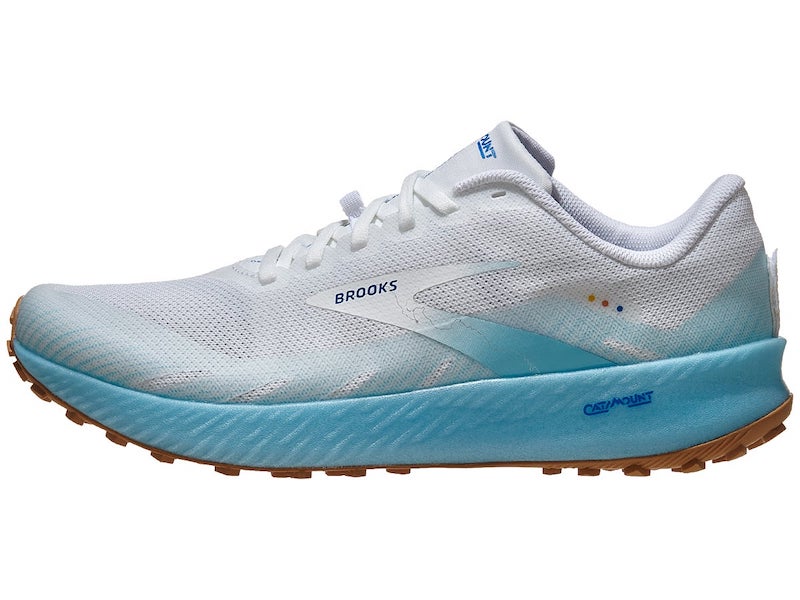 Heel-to-Toe Drop: 6mm
Heel Stack Height: 25mm
Type of Support: Moderate Cushion
Shoe Weight: 8.3 oz per shoe
First Impressions: The moment you slip this shoe on you notice how roomy the toe box feels. It isn't exactly wider than any other Brooks trail shoe but the upper material feels more airy and more flexible than even the PureGrit [which promotes its pliable upper].
What We Loved: The shoe actually feels fast? Maybe this is part of the placebo effect of a white shoe with midsole technology with the name "flash" in it, but they truly feel quick. The DNA FLASH responsiveness and the breathable upper are likely responsible for the tangible feeling of speed.
What We Would Change: This feels petty even as I write it…but why a white trail shoe? Trendy or not, it will become a muddy brown shoe in just a few miles [even if isn't not wet, dust is dirty too!]. Also, the heel provides an attachment point for the velcro of a gaiter but the only option for the toe attachment is into the laces rather than a metal loop.
Fit & Feel: The Catamount is a comfortable shoe and while the arch support is subtle it is still there and appropriately placed along the midfoot. It fits true to the sizing of the Brooks trail running shoes.
The Brooks Cascadia 14 is an updated version of one of their most popular trail running shoes. It falls into the category of cushion and has a moderate heel-to-toe drop. The Pivot Post system provides additional stability on the trail with four corners of contact with varied terrain. The sole makes use of the TrailTack Rubber which is designed to find traction on wet trails, dry trails, and everything in between. There is also a Ballistic Rock Shield in the sole to provide added protection against the rocks and roots on the trails.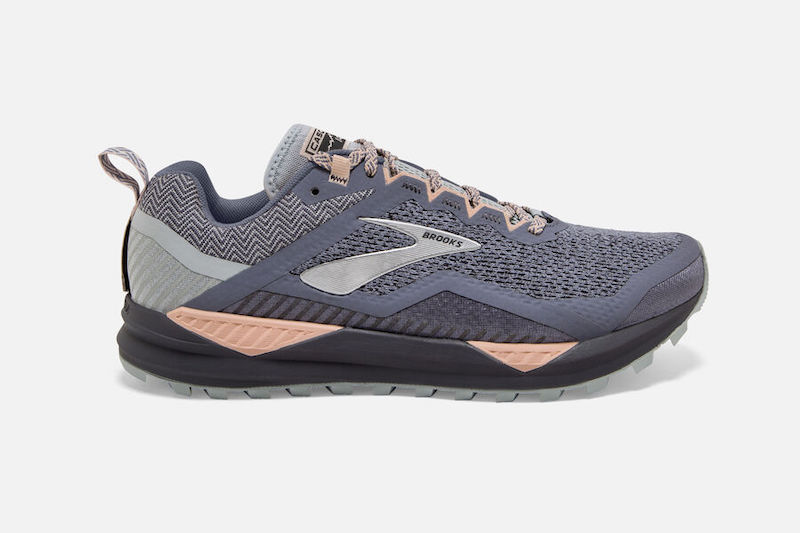 Heel-to-Toe Drop: 8 mm
Heel Stack Height: 26 mm
Type of Support: Cushion
Shoe Weight: 9.5oz per shoe
First Impressions: The Cascadia 14 feels very light and comfortable when you first put it on. I did feel the support across my arch right away, something I look for as I do have high arches. The heel did feel loose, as if the upper material wasn't supporting as much as it should. I tried different lacing techniques but it still felt loose. This was fine on a smooth trail or pavement but bothersome when my feet were moving around more.
What We Loved: This is the lightest weight shoe in a long line of Cascadia shoes which you do notice right away. It is also rated as a cushion shoe and that is accurate, making it a very comfortable shoe all around. There is also a built in attachment system for gaiters including a metal loop at the base of the laces and a velcro strip hidden at the back of the heel.
What We Would Change: The tongue is made of a stiffer neoprene-like material that was constantly rubbing against my lower leg. The only time this wasn't bothersome was if I wore tall compression socks. I also found the loose heel to be problematic on nearly every run that required balance and technique on technical trails.
Fit & Feel: The Brooks Cascadia 14 is a comfortable shoe that is both lightweight and cushioned. Aside from a rather wide heel base it provides a secure fit. It fits true to the sizing of the Brooks trail running shoes.
Final Thoughts: While I don't see this as a go-to for technical trails it has moved into my regular rotation as the shoe I use for shorter runs or hiking jaunts. It has maintained the arch support as I've put miles on the shoe and it is a very comfortable shoe overall.
The Brooks Divide is one of the newer shoes in the Brooks trail shoe line up. It is a sturdy shoe that provides protection against the terrain with a lightweight rock shield and the BioMoGo DNA cushion technology. The is made of the Brooks TrailTack rubber and the heel has a horse-shoe shaped groove, both features are added to provide additional traction and responsiveness on all varieties of terrain. This shoe is designed to take on rugged terrain while also providing cushioned support for any pavement you need to tackle.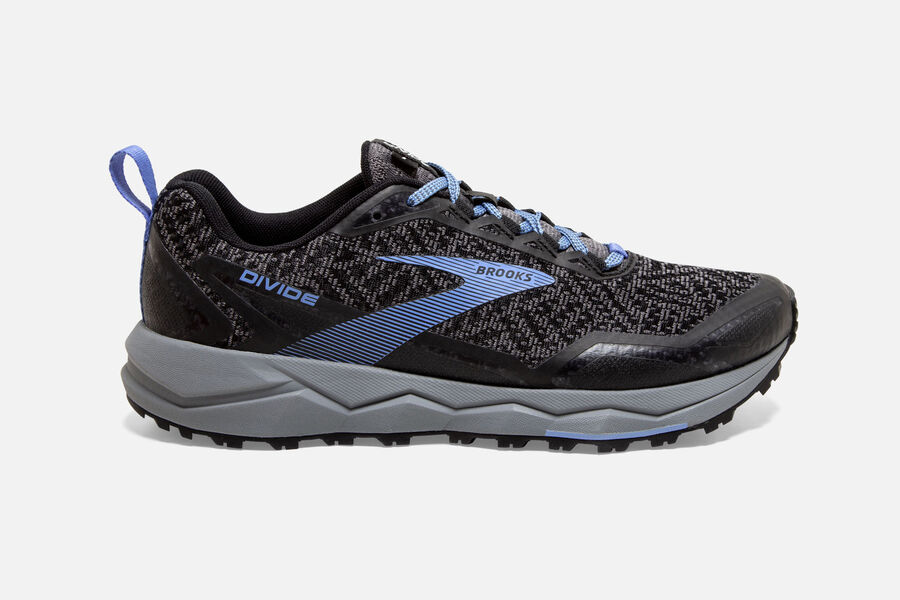 Heel-to-Toe Drop: 8mm
Heel Stack Height: 25mm
Type of Support: Moderate Cushion
Shoe Weight: 8.2 oz per shoe
First Impressions: My first impression of this shoe needs to be prefaced with the fact that I have high arches. The Brooks Divide shoe does not have the same level of arch support as the Cascadia 14, Caldera 4 or PureGrit 8. There is support but it is more subtle across the entire sole, which is more rigid than the other Brooks shoes listed above. This is not so much a criticism as something worth noting if you're comparing the trail shoes offered by Brooks. Beyond the lower arch support the shoes are quite comfortable and my narrow heel feels very secure.
What We Loved: The shoe felt secure and sturdy when taking on more aggressive, rocky terrain. When I needed the shoe to support me on uneven rock scrambles it did just that. It also took the wear and tear of kicking rocks and rubbing up against the terrain like a champ.
What We Would Change: Not to harp on a singular feature, but as a shoe that falls into the same "medium to high" arch support of other Brooks shoes the Divide simply does not measure up. It may be ideal for people with lower arches but it should be categorized as such online to avoid any confusion or disappointment.
Fit & Feel: Beyond the repeated mentions of the arch support this shoe is very sturdy and will protect you against the terrain. It fits true to the sizing of the Brooks trail running shoes.
Final Thoughts: These are rugged shoes! They're designed to take on more aggressive terrain. The more rigid sole, added protection across the toe box and specific design to secure your foot has paid off when it comes to technical trails. My feet were still well aware of the lower arch support but in the review process I did not put enough miles on these does to create any problems.
The new Brooks Caldera 4 is taking it to the next level with the responsiveness of a cushioned shoe. It is officially classified as an "energize" shoe due to the bounce and support of the cushioned midsole. It also utilizes the TrailTack sole for added traction on all terrain. It is an easy go-to choice when you're about to take on an adventure that will definitely fatigue your feet. The Caldera 4 will work to protect your feet from the constant pounding of a long day on the trails to get you geared up a successful adventure.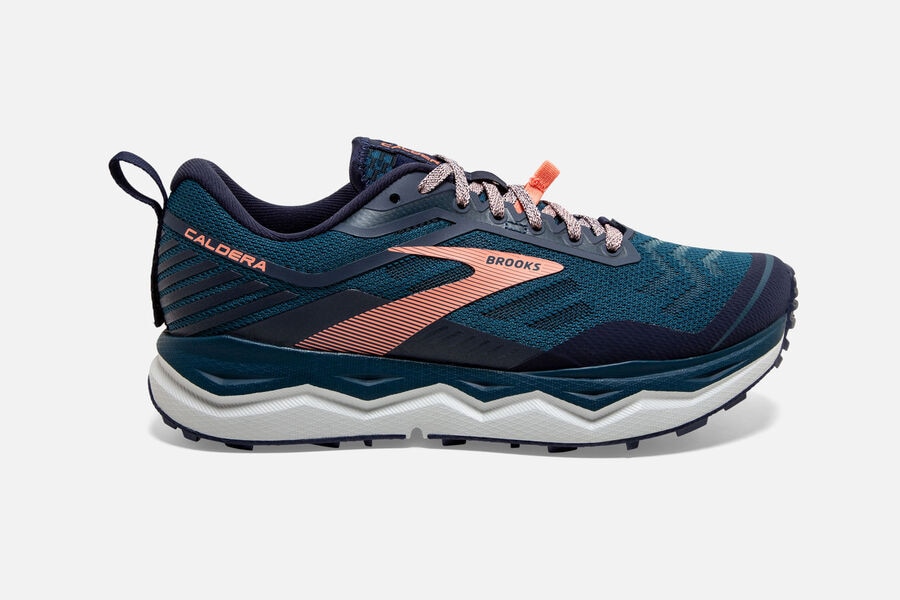 Heel-to-Toe Drop: 4mm
Heel Stack Height: 33mm
Type of Support: Moderate Cushion
Shoe Weight: 8.9 oz per shoe
First Impressions: Oooh, the squish! This is a very cushioned and comfortable shoe yet it provides a fair bit of arch support. It took about five minutes on my feet to get the arch support to settle into the right spot, but once it was there it stayed put. The upper material is also very soft and pliable.
What We Loved: The general cushion of the Caldera 4 is comforting…and comfortable. The cushion combined with the support of the Caldera 4 midsole was far better than I expected it to be. Also, the upper is very flexible and breathable while not letting in a noticeable amount of dust/dirt.
What We Would Change: My biggest concern with this shoe was the higher heel stack. I didn't consider this to be an issue until I got onto technical terrain. I did try different lacing techniques to keep my foot stable on the midsole but my ankles still rolled to the point that my partner noticed when he was running behind me.
Fit & Feel: The Caldera 4 is very comfortable, both in the cushion of the sole and the material of the upper. It fits true to the sizing of the Brooks trail running shoes.
Final Thoughts: Overall, my feet really enjoyed their time in the Caldera 4 shoes. They were comfortable when running on single track and on short jaunts of pavement. However, when I was on technical terrain I noticed the higher heel stack tipping my ankles inward. This likely has more to do with my pronation but it was significant enough that it needs to be mentioned. I generally run in shoes with a relatively low heel stack, so the 33 millimeters in the Caldera 4 was taller than my body is used to.
The Brooks PureGrit 8 is one of the more minimalist shoes created by Brooks. It is lightweight and very flexible while still providing protection with the Ballistic Rock Shield and "sticky rubber" traction. The upper has been redesigned to provide a more flexible, sock-like fit. The entire shoe is designed to get you close to the earth while drying quickly when the elements get up close and personal.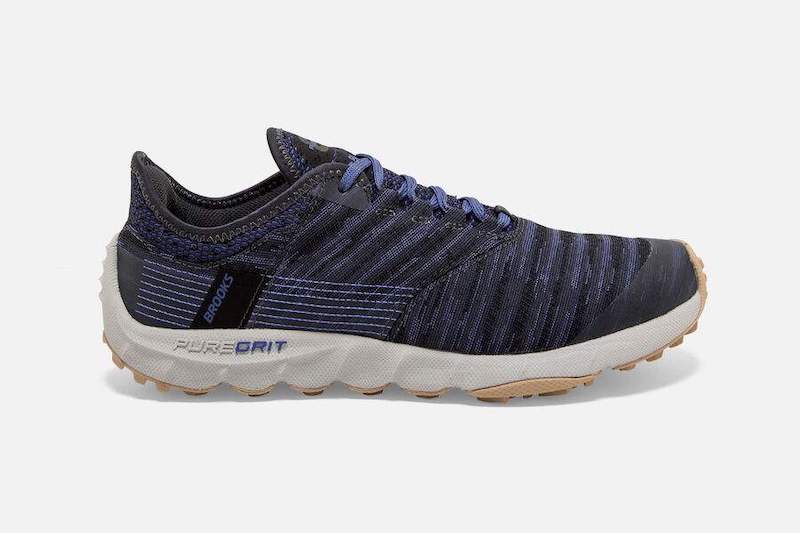 Heel-to-Toe Drop: 4mm
Heel Stack Height: 25mm
Type of Support: Minimal Cushion
Shoe Weight: 9.2 oz per shoe
First Impressions: This is a minimalist shoe and it does a fairly good job of feeling that way. The redesigned upper material is comfortable and the PureGrit 8 is much closer to the ground than the other Brooks shoes being reviewed. However, if you're used to having more minimalist shoes you'll notice the height of the 25mm heel stack.
What We Loved: The upper material is soft and pliable giving your toes room to wiggle. I did have the opportunity to plunge through a stream with these shoes on but a wet morning run and they did seem to dry out quickly. 
What We Would Change: The extra room in the heel is a bit problematic for anyone who is already prone to wiggly heels due to a more narrow foot. This wasn't an issue on smooth or even mildly rocky trails but it was noticeable when taking on technical terrain.
Fit & Feel: The overall feel of the PureGrit 8 is very comfortable for general daily wear but the extra space in the heel would be a valid deterrent if you're looking for a shoe to take on a wide range of terrain. The PureGrit 8 fits a bit large, likely due to the thinner material used in the upper, so you may want to size down a half size.
Final Thoughts: When you get this shoe out on the dirt you get a better feel for the minimal aspects of the shoe. You do feel more in touch with the trail, and the soft upper and tongue material stays comfortable while also keeping your foot in place. The heel does feel quite loose and the material that wraps around your ankle feels quite low. I did some measuring and it is about the same height as the other Brooks shoes being reviewed; however, the opening at the top of the shoe is about a half-inch wider than the other shoes reviewed. This is not a criticism so much as a notable difference in the shoe's overall "feel".
Heidi's Shoe Thoughts
I like my shoes loose and comfy with wiggle room. More often than not I tie my trail shoes once [when I take them out of the box] and never again…as in my trail shoes are usually slid on/slid off loose. This makes for some fun in the shoe sucking mud of some trail races, but my feet are happy. I also really like wide toe boxes. If I can slip on a pair of shoes and immediately forget I'm wearing shoes I'm a happy runner. As for heel-to-toe drop, I regularly run in anything from 10mm to 0mm, a decision made mostly by which pair of shoes calls to me that day. I am not prone to any injuries in my feet [knock on wood!] but my Achilles tendon is often quite cranky due to tight calf muscles. This has not been linked to a certain style or fit of shoe, so I think it's just how my body functions.