Want maximal cushioning? Think Hoka One One. This brand staked out the maximal cushioning corner of the running shoe market from day one, which for Hoka was in 2009 in France. A decade of innovation has yielded a massive lineup of shoes and much improved (though still, shall we say, attention-grabbing) aesthetics. Though rooted in its max cushion past, the brand's current lineup includes shoes that span the spectrum from responsive to plush. Hoka often pairs its midsoles, which it touts for their impressive weight-to-cushion ratio (i.e., lightweight relative to the amount of cushion they provide) with a slightly flared midsole that's wider at the base for stability. The brand's goal is shoes that are lightweight, well-cushioned, and stable enough to go fast and far over any terrain.
In addition to its cushioned midsoles, many Hoka One One shoes feature Meta-Rocker technology, which Hoka calls "wheels for your feet." This rockered design means the bottom of the shoe, rather than being flat, has a slight upward curve under the forefoot. The upward curve is meant to "support a runner's natural running gait" and facilitate "a smooth roll from impact to toe-off." Hoka offers both early stage and late stage Meta-Rocker technology, depending on how far forward on the outsole the upward curve originates. In this review, the Stinson ATR 6 and EVO Mafate 2 feature Meta-Rocker technology.
The shoes in this review feature a couple of interesting proprietary technologies in the uppers (the fabric that surrounds the foot). Two shoes feature Hoka's Unifi REPREVE® yarn, which is derived from post-consumer plastic waste. One shoe, the EVO Mafate 2, features patented "lightweight, secure and durable MATRYX fabric," which we loved for its secure and comfortable fit.
For this review, each running shoe underwent a minimum of 40 test miles, and one pair saw over 85 miles. Reviewing the Toa GTX, a hiking shoe, involved 85 miles of hiking, including an eight-day mostly off-trail backpacking trip in Wyoming's Wind River Range. The Stinson saw an even mix of pavement and trail miles. The other three trail running shoe models saw trail and occasional dirt road miles; trail surface ranged from non-technical but uneven cinders to rocky single track in Flagstaff's San Francisco Peaks.
Sizing Note: I've worn a size 9 in all Hoka shoes I've owned, and a 9 worked well for me in all the shoes in this review. In other words, Hoka shoes seem consistently sized relative to each other. But I typically wear a 9.5-10 in other brands, so they seem to be sized a bit larger than other brands.
The legacy shoe in this review, the Stinson ATR 6 offers a super high volume midsole and the highest stack height in the entire Hoka lineup. This is the shoe for runners who initially migrated to the brand 10 years ago for that signature Hoka cushion. Hoka calls this shoe a "hovercraft" and touts this version as lighter weight and more stable than the previous version. The Stinson ATR 6 upper uses Unifi REPREVE® yarn derived from recycled materials. As with all Hoka shoes with the ATR designation, this "all-terrain" shoe is meant for use on both trails and roads.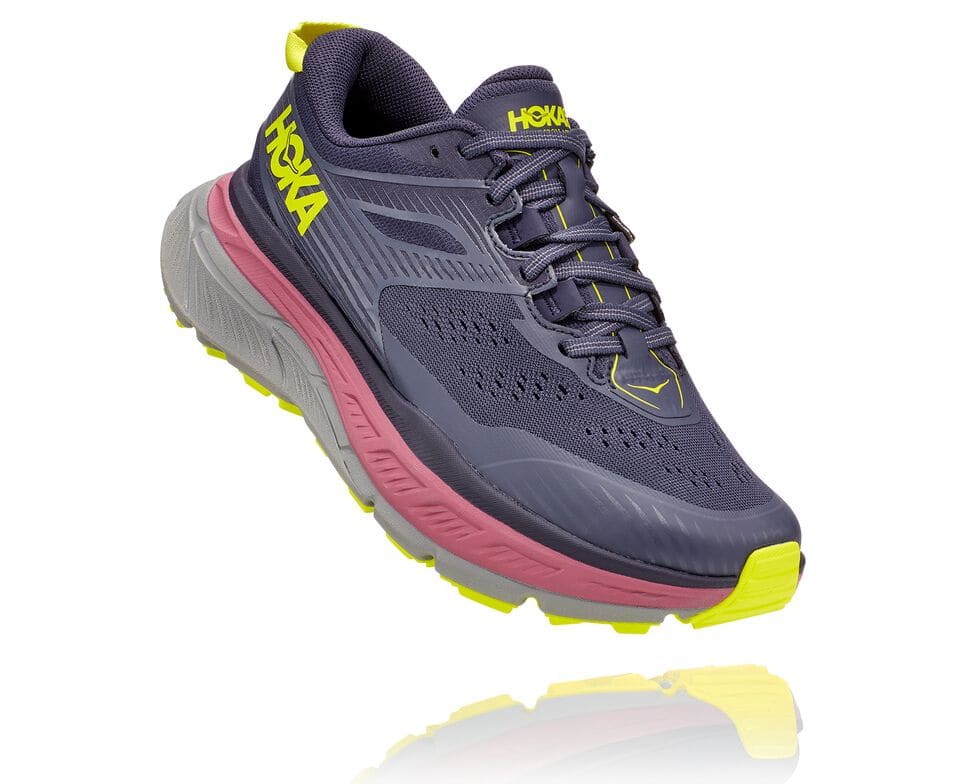 Heel-to-Toe Drop: 5mm
Heel Stack Height: 34mm
Type of Support: neutral
Shoe Weight: 9.8 oz. per shoe according to the website for size 7, 10.8 oz. measured on my scale for size 9
First Impressions: On day one in the Stinson, the shoe felt too maximal even for a longtime Hoka wearer. I felt a distinct running-in-high-heels feeling. I'll admit a preexisting bias against this shoe; though I've run in other Hoka models for years, I've purposely avoided its maximal models after disliking how they felt when trying them on in-store. The beefy midsole left me feeling imprecise on uneven terrain.
Final Thoughts: I take it all back! After 40 miles, I find myself choosing this shoe over others for easy miles. On recovery days, it feels great to have a little more cushion underfoot to mitigate some of running's wear and tear. I got over the initial teetering feeling that the massive stack height causes. I don't even mind wearing the Stinson for a few strides or hill repeats at the end of an easy run, though I doubt I'll choose this shoe when I want to go fast and feel sharp for a workout. One more thing I loved: an amply wide forefoot, which seems difficult to come by in Hokas. I wouldn't choose this shoe for a one-shoe quiver, but I love using it for easy runs knowing I have other options for workouts.
What We Loved: The Stinson's wide forefoot is a welcome departure from other Hoka models. The shoe provides tons of cushioning for days when you want to do your body good and don't care so much about precision.
What We Would Change: The shoelaces are way too long.
Fit & Feel: Compared to other Hoka models of the same size, the Stinson is a little roomy, particularly in the toe box as mentioned above. Its fit matches the overall character of the shoe as more comfy than precise, which I liked.
The Torrent is Hoka's stripped-down racer, the Stinson's antithesis. This shoe features the shortest stack height and lightest weight of all shoes in the review. Hoka calls it "streamlined" and "a nimble trail racer." Hoka being Hoka, the shoe is not without sufficient cushion, however; Hoka's proprietary PROFLY™ midsole provides lightweight cushioning. The Torrent, like the Stinson, uses Unifi REPREVE® yarn in the upper. Though lightweight, the shoe doesn't sacrifice traction; the marbled, sticky rubber outsole looks cool and features fairly aggressive multi-directional lugs.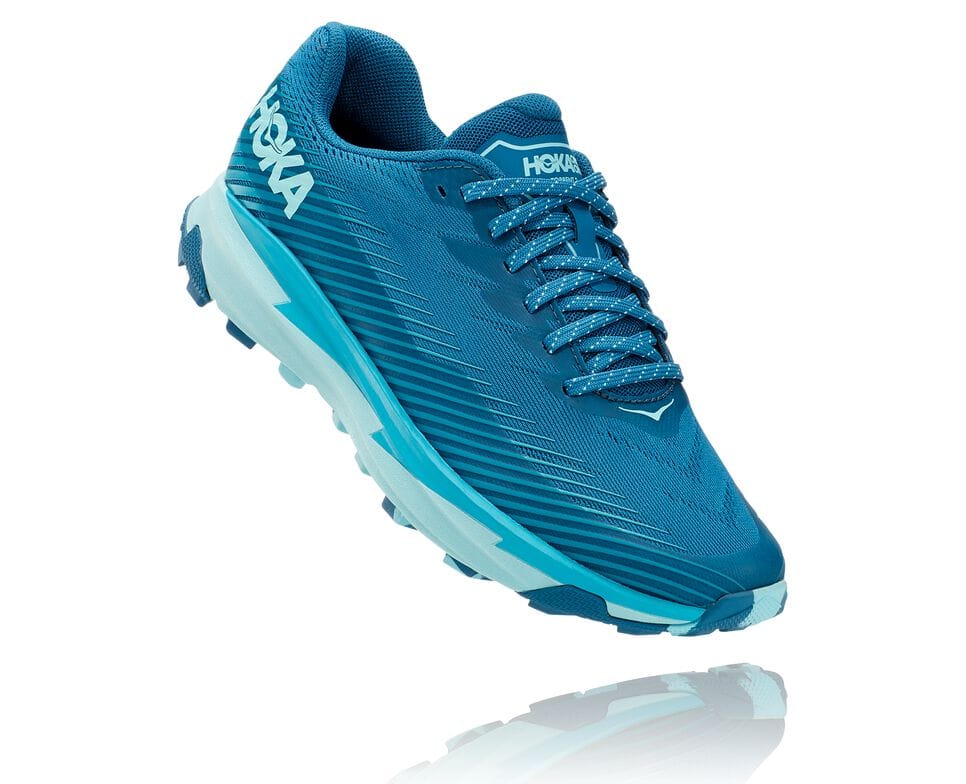 Heel-to-Toe Drop: 5mm
Heel Stack Height: 21mm
Type of Support: neutral
Shoe Weight: 7.6 oz. per shoe according to the website for size 7, 8.4 oz. measured on my scale for size 9
First Impressions: The Torrent certainly feels minimal relative to other Hoka models, though it's not necessarily minimal relative to other brands. I felt quick and light in the Torrent, though the shoe's outsole and tread are certainly trail worthy. The tradeoff for this lightweight shoe is feet that feel a little more beat up than in other more cushioned Hoka shoes after a medium-distance rocky run.
Final Thoughts: I really like the Torrent for certain applications. It's a fun shoe to wear for a workout. The fit is precise, and the sticky rubber works, even when a mid-workout rainstorm makes the trails slippery. I'd love to do a shorter race in these, like a half marathon, but I suspect my feet will want something beefier for marathon and ultra distances. If you want Hoka design and proprietary cushioning without the bulk of other models, this is the shoe for you.
What We Loved: The Torrent is light and precise. It's a short distance racing and workout shoe with aggressive tread, a fun shoe to add to the quiver.
What We Would Change: The shoelaces are weirdly long, even after using the bunny ear tying method. The toe box is too snug; it's fine for an hour or two, but longer runs, especially on hotter days, would likely spell blisters for this reviewer.
Fit & Feel: The Torrent's fit is consistent with other Hoka models, which for me means one half size smaller than most other brands. The Torrent ties with the Speedgoat for the snuggest fitting shoe in this review.
The fourth edition of this popular shoe designed in collaboration with "Speedgoat" Karl Meltzer remains true to previous versions; whatever your feelings about the Speedgoat, they're unlikely to change upon trying out version four. This shoe is designed for a technical trail and provides plenty of signature Hoka midsole cushioning. Hoka touts both a new "breathable yet rugged mesh" and "more accommodating" toe box for this edition, though the jury is out on whether the toe box is actually wider. The aggressive 5mm lugs and Vibram® Megagrip outsole make this shoe shine; its confidence-inspiring grip makes it a go-to for technical terrain.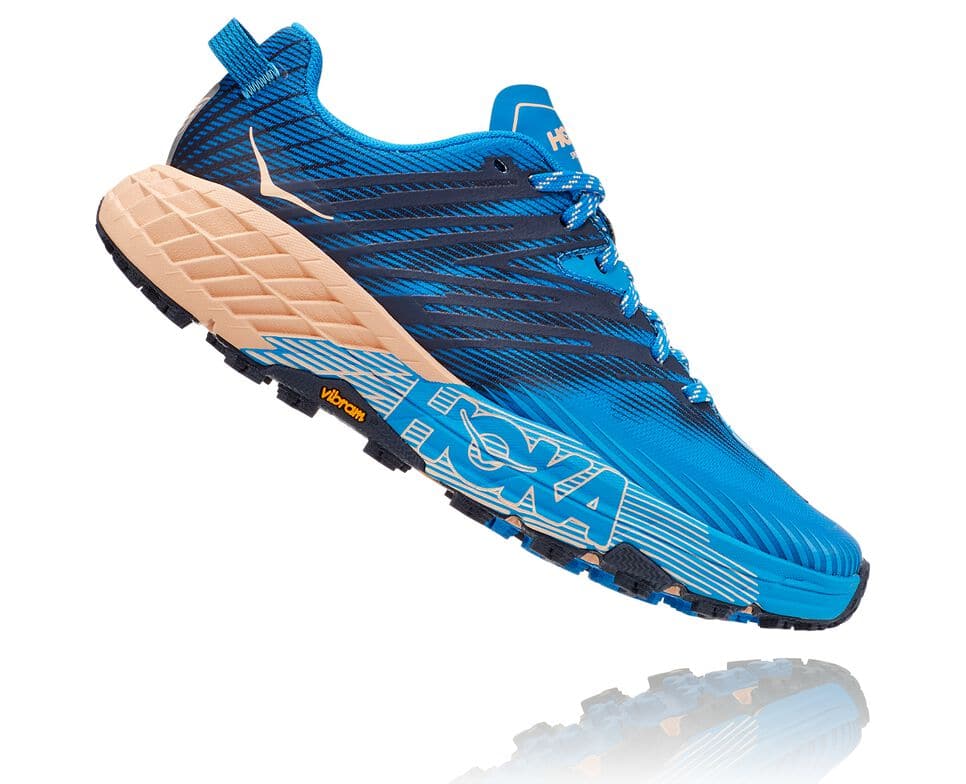 Heel-to-Toe Drop: 5mm
Heel Stack Height: 30mm
Type of Support: neutral
Shoe Weight: 9.2 oz. per shoe according to the website for size 7, 10.1 oz. measured on my scale for size 9
First Impressions: This pair of Speedgoats is at least my fourth, though my first pair of this edition. Upon first donning them, I loved and disliked the Speedgoat 4s for the same reasons I've loved and disliked previous versions. Specifically, I love the grip. In addition to pounding 500 running miles out of my previous pairs, I've worn them for gnarly off-trail backpacking due to the super sticky Vibram® Megagrip outsoles. When I'm climbing a questionable ledge in a remote part of the Grand Canyon, at least I don't have to worry about my feet slipping in the Speedgoat. But in the past, I've looked elsewhere for a true soulmate of a shoe for the same reason I'm not enamored with the 4s—that inconceivably narrow toe box. Though much about this shoe makes it ideal for mountain ultras, the blisters that form on my toes in this shoe means I must look elsewhere. Hoka claims it has widened the forefoot for this version, but I learned of this upgrade only after reading the product description on the website; my first impressions in the shoe said otherwise.
Final Thoughts: The reliable Speedgoat remains so after 40 test miles—love the grip, but not a fan of the narrow toe box. This shoe is a great blend of so many things that make for a superior mountain running shoe: fantastic grip, plenty of cushioning for extra-long outings, and a design that somehow makes the shoe feel precise and inspire confidence despite its notable stack height. It's likely an ideal match for the narrow-footed, but narrow footed I am not.
What We Loved: Though redundant, I'll say it again: the Vibram® Megagrip outsole rocks. I've blown out the uppers in previous versions of this shoe; the fabric durability didn't match the rugged terrain and lateral motion for which the shoe is designed. The new mesh in the 4s feels more durable, though a bit less flexible and snug, than the previous mesh, and we'll love the new mesh if it does indeed hold up over time.
What We Would Change: Toe box, toe box, toe box. Also, though the new mesh may be more durable, it feels almost baggy and less like flexible fabric than like some kind of industrial material. I'd love it if the shoe is more durable, especially given the price, but it feels like Hoka sacrificed some comfort and precision in the fit with the mesh swap.
Fit & Feel: The fit is comparable to the Torrent: consistent with other Hoka models, a half size bigger than most other brands (size down), and fairly snug.
"Run far and wide in comfort" reads the EVO Mafate 2 product page. Hoka designed this Cadillac of its lineup with input from its elite trail athletes. The EVO Mafate 2's big differentiator is the upper's MATRYX® fabric. This unique textile hugs the foot and provides an exceptionally secure yet comfortable feel. Hoka calls this patented fabric "lightweight, secure and durable." The outsole is ready for the most technical terrain thanks to Vibram® Megagrip rubber and very aggressive lugs. This shoe rolls the best of Hoka into one package: its best upper yet, the beefy midsole Hoka enthusiasts love, and superior grip, all in a fairly lightweight and nimble package.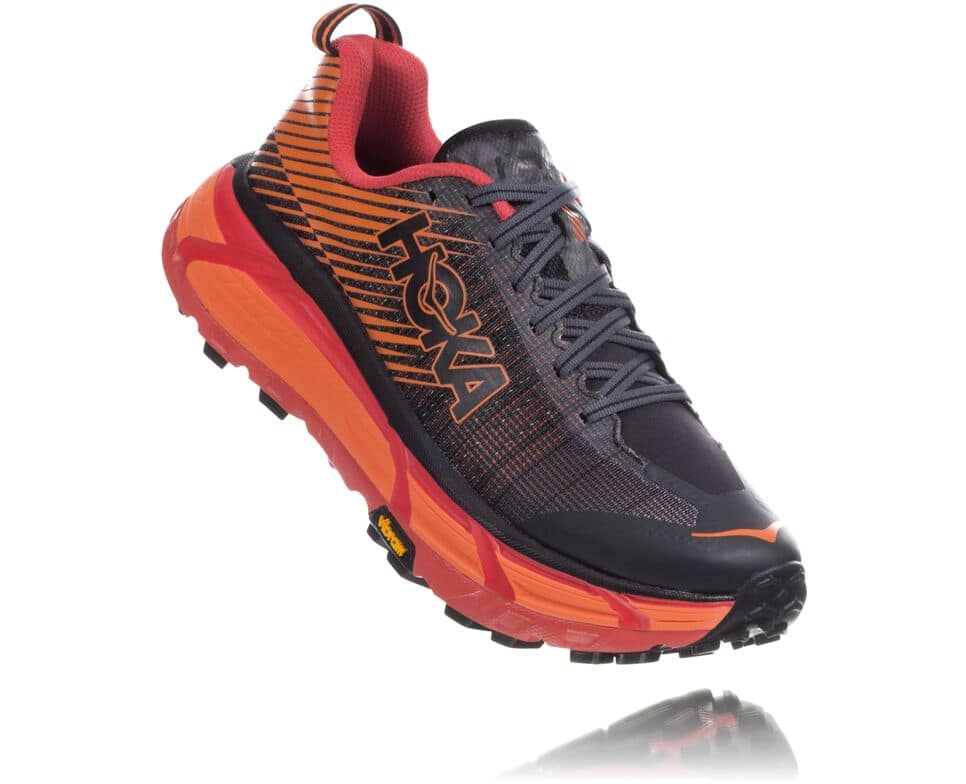 Heel-to-Toe Drop: 4mm
Heel Stack Height: 31mm
Type of Support: neutral
Shoe Weight: 8.9 oz. per shoe according to the website for size 7, 9.7 oz. measured on my scale for size 9
First Impressions: LOVE it. At first the shoe seemed too snug. But after a mile or so, I stopped to tighten the laces. I soon learned that the MATRYX® fabric is stretchy and lends itself to snug lacing because it gives to accommodate my foot. Because of this flexible, almost self-customizing fabric, it feels like the toe box cannot be too narrow; the upper simply stretches to the ideal width for my foot. Due to this stretchiness, on technical terrain where my foot moved laterally with each step, it sometimes felt like my foot was sliding off the midsole a little. But the sliding around was a tiny issue, and the heel counter seemed to hold my heel in place nicely.
Final Thoughts: After 85 miles, I still love it. The EVO Mafate has been my go-to shoe for every long run and plenty of weekday runs, too. It has all the features of the Speedgoat I love while solving all the problems I have with the Speedgoat. The MATRYX® fabric is extremely comfortable. On my weekly long run, often in 90-degree temps, I have yet to get a blister in these shoes. Its blend of cushioning, light weight, great grip, and comfort thanks to MATRYX® make it an ideal mountain running shoe.
What We Loved: We loved the MATRYX® fabric, aggressive lugs, Vibram® rubber, and lots of cushy Hoka midsole to prevent sore feet even after long, rocky mountain trail adventures.
What We Would Change: The price! I loved this shoe and quickly accumulated over twice the miles in it than any other shoe in the review, and I recognize the superiority of the MATRYX® fabric. But the $170 price tag makes it an unrealistic purchase for many in our sport.
Fit & Feel: Yep, this model too is consistently sized relative to other Hokas and a bit bigger than other brands. It fits more comfortably than the Speedgoat or Torrent but is more snug than the Stinson in the same size.
Hoka describes the Toa GTX as a "speed hiker." It is lighter and less cushioned than other ankle-height hiking shoes Hoka offers. Hoka added a Gore-Tex bootie to make the Toa waterproof (more on its waterproofness below) and Vibram® Megagrip outsole lugs for traction.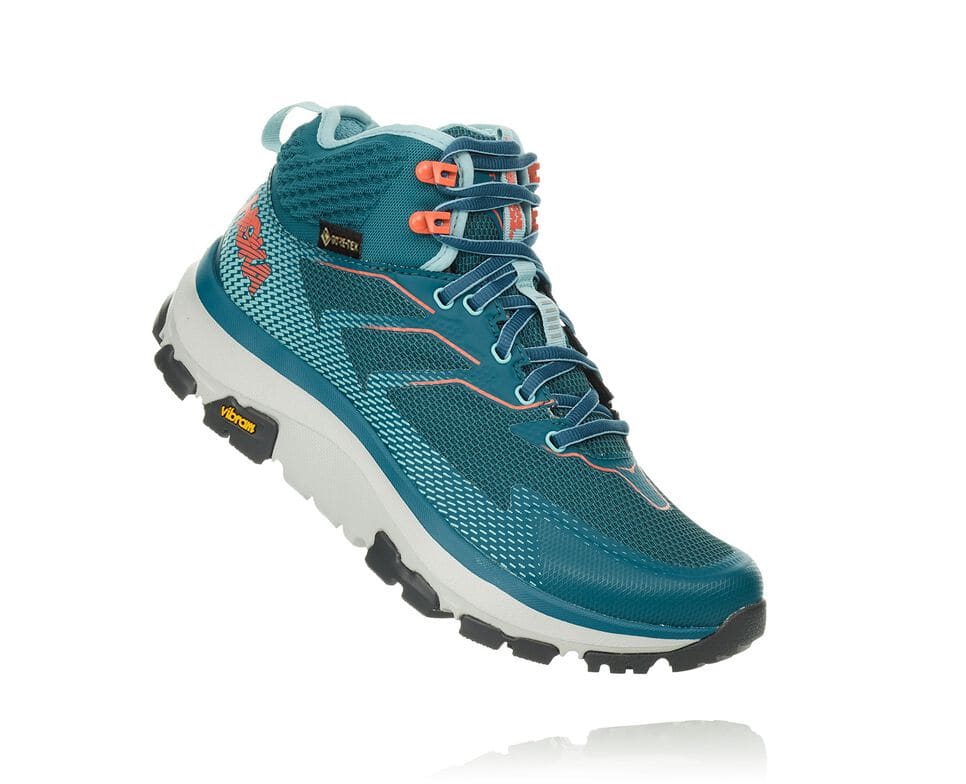 Boot Height: mid
Waterproof:yes* (according to Hoka)
Shoe Weight: 12.6 oz. per shoe according to the website for size 7, 13.6 oz. measured on my scale for size 9
First Impressions: Upon opening the box, it was difficult for anything to impress me more than the unique visual design of this shoe. It's worth noting, however, that the shoe also comes in two nice-looking shades of blue. After a couple of day hikes totaling 15 miles, I found the shoe surprisingly comfortable and enjoyably lightweight with plenty of room in the toe box. I have not confirmed this with Hoka, but this hiking shoe feels like it is built on a different last than Hoka running shoes due to its wide, comfortable forefoot. Though I prefer to hike in trail running shoes and generally do not like ankle-high boots, I found I did not at all mind the high ankle on this shoe.
Final Thoughts: Over eight days of mostly off-trail miles in Wyoming's Wind River Range, I'm still pleased overall with this shoe, with a couple of massive caveats. One: I got a quarter-sized blister on the inside of my heel, a place I don't recall ever blistering before. It made for painful walking at times and is a sign that maybe this shoe and my foot simply don't agree. Perhaps these Hoka hiking shoes needed more than 15 day hiking miles to break in prior to backpacking, a precautionary step I'm not in the habit of taking when backpacking in trail running shoes. Two: after just 25 miles, a plastic piece of the upper began peeling away from the mesh, and the peeling worsened throughout the trip. The fact that the shoe began coming apart after just 25 miles means I would likely return it if I had bought it, especially given that the shoe retails for $170.
Looking beyond those two major caveats, I actually really liked the shoe. I love the grip; it provided secure travel across miles of off-trail granite slab walking and boulder hopping. Except for the blister, the shoe was comfortable, notably more comfortable than backpacking in the Speedgoat. For me, the added width in the forefoot and toe box is unbeatable. I didn't mind the high ankle and at times actually enjoyed having a bit more ankle support. And though Hoka markets the shoe as a "speed hiker" due to its relatively minimal cushioning compared to other Hoka hiking shoes, its cushioning proved comfortable even with a heavy pack.
And as for the allegedly waterproof Gore-Tex lining, consistently waterproof it is not. At one point in the trip, my feet stayed dry in several inches of mud and water while my hiking companions' feet did not. But on a separate occasion, after about half an hour of hiking through less than an inch of accumulating snow, the boot became saturated and my feet got wet. Ultimately, the Gore-Tex provides some protection from moisture, but the Toa is not a truly waterproof boot.
What We Loved: The grip of the Vibram® Megagrip outsole is fantastic, as is the roomy forefoot and toe box! This shoe feels lightweight relative to other ankle-high boots.
What We Would Change: Can we get some earth tone colorways? The solid black is HOT. Perhaps it would make a great color for winter hiking, but the ineffective Gore-Tex lining means it would not be a good shoe for hiking in snow. The shoe laces are exceedingly long. And we'd love to see improved durability in the shoe's construction.
Fit & Feel: Again, this shoe fit true to size relative to other Hoka models. The fit is roomy in the forefoot compared to Hoka running shoes of the same size.
Erica's Shoe Thoughts
Over more than 15 years of running, I've come to prefer a heel-to-toe drop of around 4mm and decent cushion. I love wiggle room for my toes (I've converted to a toe-socks-or-no-socks policy for running) and seek out a wide toe box. Though I've spent some time in the minimalist camp, I ultimately found more cushion helpful for those long days on the trails. After sampling many shoe brands, I've landed on Hoka as of late. The combo of relatively light overall weight, ample cushion, and 4-5mm heel-to-toe drop has worked better for me than anything else I've tried so far, but I'm always on the hunt for a better shoe (and wider toe box!). The bulk of my miles are trail miles, followed by dirt road miles. I occasionally run on the roads, especially during winter when trails in my area are snow covered.