You'll often see runners out on the trails and roads with shorts and tall socks. This isn't a fashion statement [although this is fashion I can get behind]. It's actually all about function. The tall socks are compression socks, designed to increase blood flow to overused feet and legs. The fun colors and designs you may see…well, those are all about style points.
What Is Compression?
For starters, compression socks were around long before they became a "staple" in a runner's wardrobe. They are often used in the medical setting on both patients and staff. The patients are sedentary in bed and the staff are always on the go. Both can benefit from the advantages of compression socks.
Compression therapy in compression socks applies a light pressure to the feet, ankles and calves. This pressure promotes blood flow from the legs to the heart. It can also help reduce swelling and pain. This makes compression socks great for post-run recovery but doesn't quite explain why you'll see people actually running in compression socks.
Why Should I Use Compression?
There are the obvious benefits of compression — blood flow encourages faster recovery, less pain is always a good thing, and feet that don't swell fit into shoes better! Those are all great things…but can compression socks be useful in other ways? Yes!
The theory behind the choice to run in compression socks is less scientific. It is thought to reduce or stave off fatigue by increasing blood flow and oxygen saturation in your lower legs. As someone whoo regularly runs in compression socks, I honestly can't tell you if it does this when I'm on the go. It might, but it may also be the placebo effect. 
On a personal level I am more likely to wear compression socks for my own made-up reasons than the actual medical benefits. I'm stubborn like that. So, why do I choose to wear compression while I'm actually running? It's simple — in the colder weather they provide a bit of extra warmth and in the hotter months I can splash water on them to cool my legs [or even put ice cubes down them if the aid stations have enough!]. Also, style points!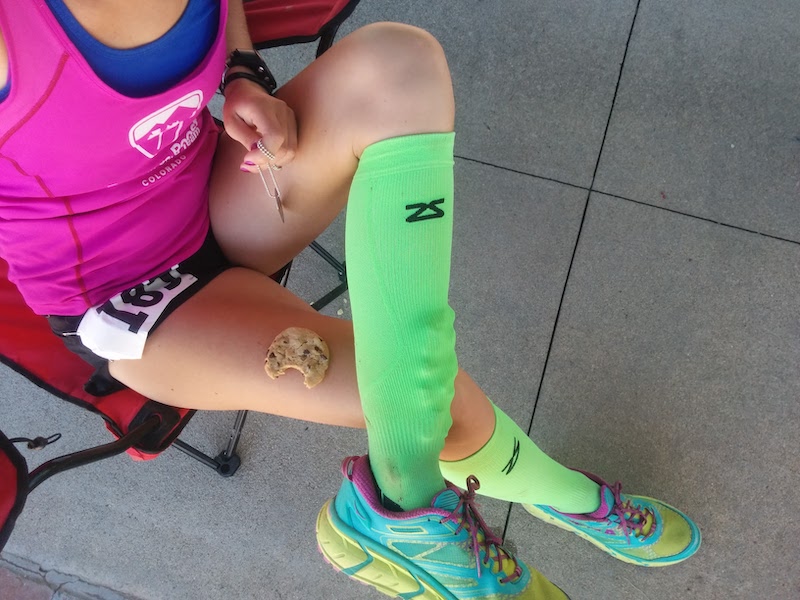 What Makes A Pair of Compression Socks Right For Me?
Each compression sock brand brings their own special tweaks and features to the table. There are different blends of materials and different methods to sewing the seams, among other things. Most compression socks use "graduated compression" meaning the compression is highest at the ankle, slowly reducing in strength and therefore helping to push your blood flow toward your heart. We'll get into those details in the individual reviews, so keep reading.
Ultimately, the right compression sock for you is going to be determined by how the compression sock fits your foot and leg. I know, I know, that's subjective and not that helpful. But that does mean you have lots of options! One of the biggest factors for me and my long legs is having socks that fit high enough up my leg to settle in at the top of my calf muscle, rather than wriggle around at the meaty part of my calf muscle. This directly impacts how well the sock stays up [regardless of how it is sized] and this is the reason I am including *actual* on-my-leg measurements for each pair of socks reviewed below.
**Side Note** All compression socks worth the money you spend on them will be at least a little bit challenging to get onto your feet and legs. This is the compression ready and waiting to hug your calves. If you're really struggling, treat them like control top pantyhose that thankfully don't go past your knees! Roll 'em down, roll 'em up, wriggle, shimmy and feel the power of compression!
How Do You Size Compression Socks?
This is another thing that varies by brand, but generally speaking you'll need to measure your calf at the widest part. This will help determine the size of the sock…and how well it stays up, so I would recommend sizing down when in doubt. ProCompression, Smartwool and Lily Trotters size their socks based upon calf size. Other brands [Swiftwick, Zensah] use your shoe size. This method still works, but if you barely make it into a larger size bracket I would recommend dropping down [and consider your "trail running shoe size" vs your "dress shoe size"].
Okay, so is your brain feeling compressed [ha!] with all of this information? Ready for the nitty gritty details on the socks themselves? Great, let's go!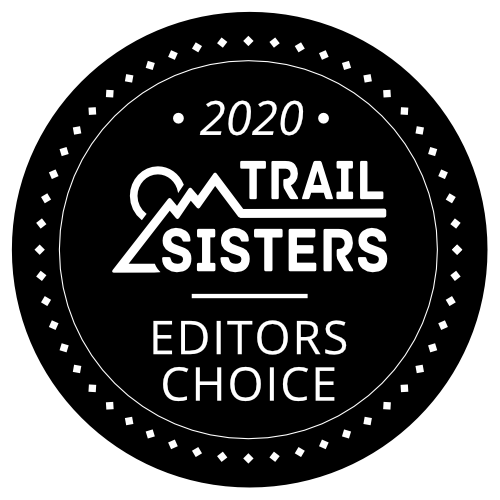 The Zensah Tech+ Compression socks feature a mesh design throughout the sock providing graduated compression along the muscle without reducing the breathability of the sock. There is "Ultra-Zone" ribbing along the arch and heel to provide extra stabilization and reduce any possible chafing. The material covering the toes and heels is also lightly padded.
What We Loved: These socks are incredibly durable and they stay in place when you start moving on the trails. Also, the color/design selection in the Tech+ Compression line is pretty amazing.
What We Would Change: You can sometimes feel the difference in the thickness of material for the heel/toe. This is seamless and mostly noticeable when you're not wearing shoes [ie: recovery mode] and has never been an issue during the many miles of running I've done in these socks, but worth noting if you have sensitive feet.
Fit + Function: The Zensah Tech+ Compression socks fit true to size and they stay in place when they are on your legs. They are a taller sock and they leave wiggle room for your toes.
Height On Body: 17.5" from floor to top of cuff.
Sizing Method: Shoe size — I wear a size 10.5 in running shoes and a size 9 in dress shoes. I opted for the large and they fit well. Would also likely fit in the medium without being too tight on the feet/toes.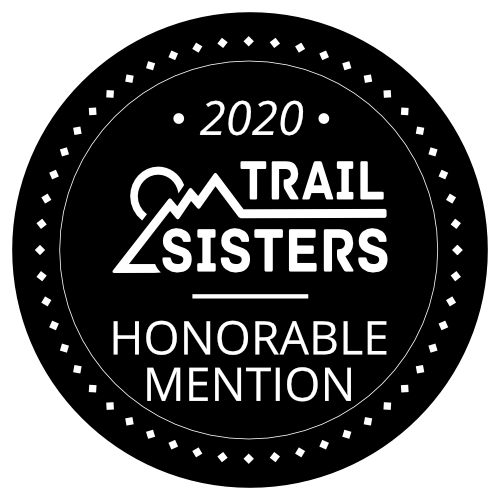 The Smartwool OTC compression socks are made with a blend of merino wool which makes them incredibly breathable and lightweight. They use graduated compression up the calf that provides 10-20mmHg of pressure. The seams are "Virtually Seamless" and there is added support across the arch of the foot.
What We Loved: These socks are oh so lightweight. You barely notice you're wearing tall socks thanks to the added breathability. The arch support is noticeable without making your feet feel overwhelmed by oppressive material.
What We Would Change: They are a shorter knee-high sock, falling right at the top of the calf muscle [for me, see measurements below]. 
Fit + Function: The Smartwool OTC compression socks fit true to size and have the potential of staying in place if you have a shorter calf. They did move for me, but I do have longer legs that require a bit more height on taller socks.
Height On Body: 16.5" from floor to top of cuff.
Sizing Method: Calf size and shoe size — the measurement ranges seem true to size, especially if you allow your shoe size to carry more weight. In other words, if your calf size falls into two size ranges select the size that also has your shoe size.
The ProCompression Marathon compression socks have been around [with improvements and color changes] for years with their tried and true blend of materials that not only compress but also wick away moisture. The material at the toes and heels is reinforced for durability.
What We Loved: These socks are tall and durable. You immediately feel the compression and they settle in nicely at the top of your calf muscle.
What We Would Change: Throughout the sock the compression feels the same, unlike some of the other socks reviewed here that have different pressures along your leg. 
Fit + Function: The ProCompression Marathon sock fits a true to size and they stay in place when you're running [or couch'ing]. 
Height On Body: 17" from floor to top of cuff.
Sizing Method: Calf size and shoe size — both sizings offer a fairly wide range so you have some room to choose.
The Lily Trotter Signature compression socks bring a little extra flair to the function of compression. They are designed with 15-20 mmHg of graduated compression and have reinforced toes. These socks are lightweight and breathable with a lot of seasonal color and design options.
What We Loved: The compression is definitely there to hold it all together for you! You'll feel the compression as you pull the socks on and it's still there when you remove them.
What We Would Change: These socks are a bit on the short side, falling below the top of my calf and therefore drooping a bit when I move in them.
Fit + Function: The Lily Trotter Signature socks do fit true to size, but it is worth noting that the size of the sock impacts the height of the sock. The size chart puts me with a size medium, but I have worn a size large in the past. The large was taller and fit above my calf even though it was a bit looser with the compression.
Height On Body: 14.5" from floor to top of cuff.
Sizing Method: Calf size — two sizing options based upon the circumference of your calf. If you fall between sizes go up for more height or down for more compression.
The Swiftwick ASPIRE Twelve compression socks are designed with firm compression on a thin profile. This means they're doing a lot of work for you while you're barely noticing they are there.
What We Loved: These socks manage to feel strong and breathable at the same time. The portion of the sock that covers the foot is quite comfortable, meaning the toes never feel claustrophobic or overwhelmed by compression.
What We Would Change: The height of these socks is a bit low for my longer legs. They did move a bit when I was on the go.
Fit + Function: The Swiftwick ASPIRE socks fit a bit smaller than the sizing chart implies. Overall they were comfortable throughout the foot and the compression felt strong.
Height On Body: 14.5" from floor to top of cuff.
Sizing Method: Shoe size — when in doubt, size down. This is true for all of the Swiftwick socks and for me this means I size socks for "dress shoes" rather than "trail running shoes"
**The ASPIRE line of compression socks offers various heights, but this is all about the tallest option available for the sake of consistency across this review. You can check out the others here: https://swiftwick.com/collections/womens-aspire-socks