Women interviewed for this series are dedicated runners and hikers who consider trail running and training for competitions to be a part of their lifestyle, whether they're elite athletes or back-of-the-packers. These women have a passion for competitive trail running or hiking, set and exceed personal goals, and live the mission of Trail Sisters by inspiring, educating, and/or empowering other athletes.
Name: Aneta Zeppettella
Sport: Ultrarunning
Age: 48
Occupation: Software Engineer and Race Director
Location: Centerville, Ohio
Trail Sisters leader in Dayton, OH, Aneta, was born and raised in Poland so she still "speaks English with an accent." She trains for and competes in ultrarunning races because, she says, "When I'm on the top of the mountain and things go wrong, that is my raw essence, and I want to see what that person really is capable of." Here are some of her stories about overcoming her loneliness, creating bonds with her trail sisters and trail misters, and finding a sense of belonging.
How did you begin participating in sports in general, and then ultrarunning?
I was never really athletic growing up. I grew up in Poland and Poland doesn't have the amount of support for teenagers in high school and college the way the US does. The sport participation is pretty much, at least when I was growing up, limited to the top performers. If you were showing amazing promise, could set records, or do something incredible, then it would get attention. Other than that, there weren't really many cross-country teams or things like that. So, I didn't really participate in high school or college sports, because I never really was that talented to draw anybody's attention. I did a little bit of high jump, but I wasn't that amazing, so I was kind of let go.
In my adult life, I started traveling a little bit in my 20s. Then I moved to the west and was running with my husband; he was a runner. We'd run here and there, nothing really big. We didn't even own watches and bought our shoes at Marshall's. We'd run around for an hour and come back home. Running started becoming a more important part of my lifestyle after I had my daughter and moved to Ohio. We lived in California before moving to Ohio, and it zapped all my energy when we moved. It was cold and rainy. We moved to Ohio in January and there was snow and ice on the sidewalks. The community where we lived wasn't very walkable and I just felt broken down. Then I had my daughter and focused on that. When she was a toddler I met a couple of other moms who were big into running and some of them also moved to Ohio from other places. They encouraged me and I started running with them.
First, I did a half marathon and then I did a marathon. I thought it would be my only one ever, so I went to Chicago because I wanted a big one. I did a bunch of road marathons but I started getting injured. I started having issues with my hamstring and my calf and I was just getting frustrated. A friend of mine told me, "Why don't you try trails?" So, I did my first trail race in 2014. It was amazing. I had gotten totally hooked and I've been running trails pretty much since 2014 and progressed from there.
If you had to choose just one, what would you say is your most vivid memory of your ultrarunning career?
Finishing Hurt 100. It was the hardest, hardest thing I've done in my athletic life. I'm a mid-pack runner, not super slow, but not very fast. The cutoff and the technicality of the course were challenging for me. Also, coming from Ohio, running something very warm in January was a challenge. It was hard, it was very hard, and I had to really push to get to the finish. The reason I finished this race wasn't because of me. It was because of my pacer who I actually met at the aid station during the race. He was absolutely incredible. It was one of the nicest things anybody ever did for me in my life. He never ever gave up on me.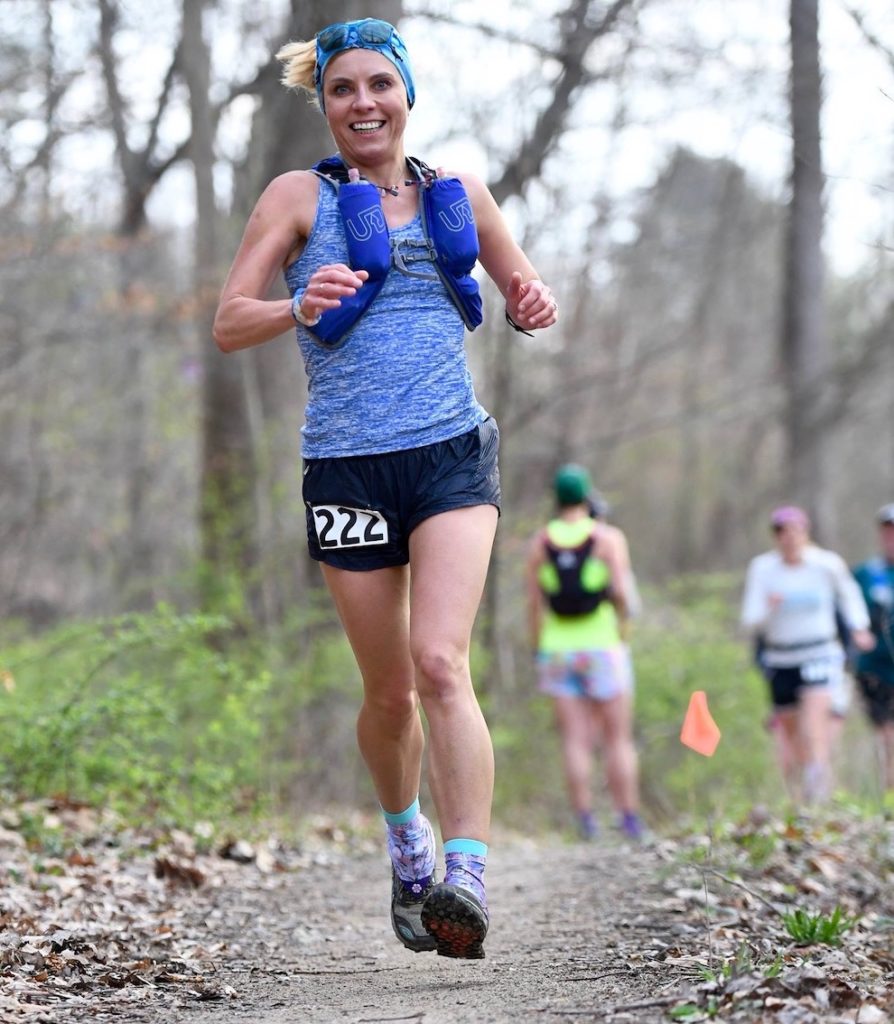 This man came to the aid station with the intent to pace a different person, but she dropped from the race. He was recovering from an injury and so his wife wasn't keen on him pacing. She thought that the woman who dropped might be a sign that he should not be pacing. He said he was standing in his kitchen, looked out the window, and said, "Maybe I should go. Maybe somebody will need my help." So, he told his wife that he's gonna drive anyway and see if there's another runner that needs help. Two minutes after he arrived at the aid station, I appeared. He asked, "Hey, do you need a pacer?" and I said, "Sure?"
When I was running with him, we never talked about life? We just talked about what I have to do. I was right on the cutoff. My legs hurt. My toenails actually, literally ripped out of a nail bed and I had blisters everywhere. I was a terrible mess. He was giving me directions and descriptions of the course. He said, "You have to go up those 12 switchbacks, and three of them will be runnable, so if you run those and then walk the others, you'll get there on time." He never gave up on me. I was expecting him to say, "Forget it. You've done enough, you got 90 miles. We're not gonna make it there on time, but you are awesome." But he never said that. He always said, "Okay, you can do this. Here's our new plan, and then we're gonna do that." He was really focused on getting to the finish.
I remember his wife called at some point and he said, "Oh, I will be home at six." And I felt like, this man doesn't even know me. I'm moving miserably slow. And despite that, he could be spending time with his wife and his family. Not being here with me. You know, it's not fun. So, I thought I better get myself together and try harder. I didn't want to disappoint him. I thought it was something selfless that somebody did for me, and I should at least really try with everything I had. My very best effort. He was a total stranger that I had met a couple of hours ago and he spent the whole Sunday running with me when I was dirty and stinky and covered in mud. And he just never gave up on me. It's my favorite ultra story of my life. Somebody's very selfless act really showed me what I'm really capable of. It was incredible. What I cherish about the race more than my achievement, is how somebody did something incredible for me in helping me achieve my goal.
Why do you continue to participate in running and ultrarunning?
It's kind of hard to describe. I would say, to see what I'm capable of. I really like running hundred-mile races, the long races – that's where I do better because I'm pretty stubborn and pretty relentless, but I don't really have the amazing leg speed and significant talent. I feel like I'm in a story and I don't know how the story will end. I'm kind of curious if I can get to the finish. I mean, I'm trying, but it's never certain. I just don't know what will happen. It's kind of like, I'm reading a book and I'm a character in it. It's a cool feeling, but hard to describe.
I like the challenge. And I like discovering how will I respond when something gets in my way. When it gets really cold, or when I fall, and how do I troubleshoot, and what do I learn? You're always learning, and there are always curveballs to dodge. I enjoy discovering what I'm made of and what's really hidden under all my layers. When I'm on the top of the mountain and things go wrong, that is my raw essence, and I want to see what that person really is capable of.
What are three words that you would use to describe your athletic body?
Strong, determined, relentless.
Do you have any sports goals, or where do you see the future of your athletic career going from here?
There are a lot of races that I'd still like to run. Iconic races like UTMB and Western States. I'd like to run Fat Dog 120. I would like to try to do a 200-mile race and see how I handle it. That's probably something that will be very difficult for me because I have issues with my feet being really damaged and blistered. Also, sleep deprivation is hard. Multiple days with minimum sleep and going for a long time, that's something that intrigues me.
I'd also like to train to run a fast course and see how quickly I can run. I usually do mountain races, but I'd like to see how well I'd do at some of those races that you actually can push the pace a little bit.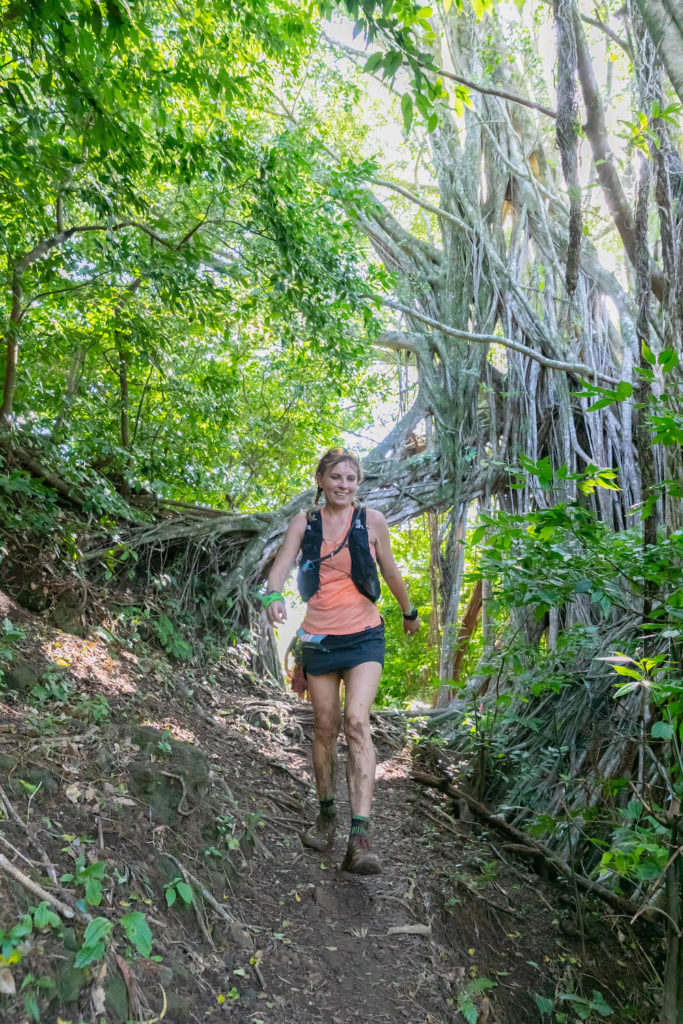 I would like to explore some of the long trails, maybe do some multi-day events. I would love to do the Appalachian Trail whenever I have time. Obviously not possible when you have family and can't be away for weeks at a time. That's something that eventually I think I'd like to do. I've run a section in Tennessee, the seven-mile section through the Smoky Mountains, a little bit near Asheville, North Carolina, and a little bit in Maryland a few years ago. It's something I would like to do with my daughter. She is interested, so maybe not the whole AT, but maybe take a week with her. She's a teenager and she's a swimmer. She's not a runner, but she likes to hike.
Final thoughts?
I feel like running helped me belong. I grew up in a different country and I was kind of lonely when I moved. Now I'm very happy here, I have a great marriage, a great family, and I love Ohio. It's a great community. But when I first moved here, I felt lonely. I felt like I stood out like a sore thumb. I had a hard time making friends, but eventually made friends after I had my daughter with other mothers. Once the kids got older, they go to middle school and then people go different ways, I started feeling lonely again. All of a sudden you're dropping your kids in somebody's house and your work relationships are not the same. Running gave me that sense of belonging, gave me my tribe, and some people that I built close bonds with. I actually have a hard time making friends. I'm pretty reserved. I'm very extroverted on social media, but if you meet me in person, I'm really not super open. I'm very introverted. Trail running helped me to meet some wonderful friends. We share stories, have a lot in common, and build incredible bonds. I feel like they are my sisters. And I know people talk about it a lot, but it really gave me that feeling like I belong.
Feature Photo: Augusto Decastro