I recently asked my audience on Instagram (@AnishHikes) what their number one question was with regard to hiking. One of the most popular responses was, "How do I even get started?" I've been a hiker for nearly two decades at this point, but today I'm taking it all the way back to the beginning with a focus on how to dip your toes into the water…or in this case, dirt.
The first step in starting something new is to decide that it is something you want to try. It might sound silly, but the reality is that it's easy to look at pretty pictures on social media and think that it's something you'd enjoy then buy all the shiny gear and think about hiking…while remaining on your couch. In the end, we do what we most want to do. So, be honest with yourself, are you enamored with the thought more than the doing? In addition to being beautiful, calming, and fun hiking can also be sweaty, sometimes difficult, and occasionally rainy business. You'll have to be ready to embrace a certain level of discomfort to truly enjoy hiking.
Once you've decided that this is something you really want to do, the next obvious thing is to make a plan to go. Get a guidebook specific to the area you're planning on hiking in and plan a short hike. Most parks or preserves produce at least small leaflet guides to their trails in print or PDF format (although some may only have trailhead maps, in which case, take a picture on your phone). National parks, national forests, and regions (like the central Cascades or Upper Peninsula) often have multiple guide resources available in print.
Look for guidebooks that include color pictures of the route, detailed descriptions with mile markers, inset maps, and coordinates as well as driving directions to the trailhead. Armed with that data, I also personally recommend taking your first hikes in places relatively close to home where you have cell reception. However, don't rely on your phone by making turns or choices you won't remember on the way back. Think of it as your emergency-only option. Keep it dry and make sure it has enough charge. Many hikers eventually purchase personal locator beacons for this emergency purpose as they travel farther from roads and cell service.
If at all possible, take someone with you. Ideally, this person is a hiker and/or has been on the trails you're taking. If you have to go by yourself, stick to something that is well-marked, well-traveled and short (1-3 miles). This can be anywhere there are trails, such as a city or state park. The best choices for a first hike are out and back trips on trails where you won't pass junctions. Before you go, make sure you have a map (topographical is ideal) of the area in addition to the guidebook and that you know the names of the trailhead you're parked at and the trail(s) you plan to hike on. Have everything written down!
Stop at every junction and refer to your map and guidebook, even if your hiking buddy knows the way. This helps you actually learn where you are and where you are going as well as gives you navigation practice. When hiking solo, make sure that you know exactly where you are before you move. If you have any doubt don't guess. Go back the way you came. Getting turned around on trails is easy to do and you don't want that to be your first hike! Over time you'll learn the trail(s) you hike on regularly through repetition. As you become more comfortable, you can go a little farther each time.
Be prepared that things could go wrong and it not be as "fun" as you anticipated. My first hike was a total suffer-fest. I had no idea what I needed or even the fact that I was hiking out of season and setting myself up for some serious complications from the weather. But I ended up loving it anyway and the experience helped me learn a lot and make better choices the next time I went out.
Hopefully your first hikes will be fun, beautiful and blister-free. However, know that blisters, encountering hordes of mosquitoes, wet feet, chafing, or something else all happen. Try to keep a positive mindset because this can be a good thing! One experience with peak mosquito season will ensure you never forget your bug net at that time of year again, and although blisters hurt and chafe is horrible–these can teach you about clothing, shoe, and sock selection that will make future hikes more comfortable. Just like reading about a new food doesn't tell you whether you'll like it, neither does spending hours reading and watching videos about other people's gear lists online. The only way to know what works for you is to find out through experimentation.
Remember, you aren't under obligation to do anything specific. So, you were planning to go all the way to the waterfall, but your new hiking footwear is giving you a blister and you're hobbling–and only halfway there? There's no prize for forcing yourself to continue if you don't want to. Come back with better-fitting shoes! Even a short period of time using a piece of gear that hurts can do damage that takes weeks (or months) to heal.
Speaking of gear, while you don't need much to get started, as you expand your hiking, you'll need to purchase certain items. Starting out, I borrowed gear from other people. Most of it was the wrong size, too heavy, or otherwise not ideal, but it was something to practice with and, again, it helped me narrow down my own preferences for when I finally invested in my own gear.
All hikers will need:
A backpack that holds what they typically carry
A vessel for water
Comfortable footwear and socks
The 10 Essentials (read more at https://www.mountaineers.org/blog/the-day-hikers-ten-essentials). The full list equips you for emergency overnights. Here are a few of the most important items for any length of hike, even short day-hikes:

A way to navigate (maps and compass + phone app, GPS, guidebook, etc.)
A small light or headlamp with spare batteries
Sun/element protection (items like sunglasses, sunscreen, rain jacket, umbrella, hat, UV protective clothing, etc.)
First aid kit (this can be simple and made from your medicine chest at home)
An emergency blanket
A light jacket, hat, and gloves (yes, even in summer, especially if you're heading to the mountains)
Beyond these items, you can expand your gear list over time to include many different things depending on your needs and where you're hiking. If your hike is long enough, make sure to bring snacks and some extra water as well as a water purification method such as a filter or chlorine tablets. Backcountry water can be contaminated with pathogens that could make you sick, so it's always safer to only drink water that has been properly treated. Leave some extra food and water in your car in case you underestimate what you needed on the hike. No one wants a long drive home while hangry.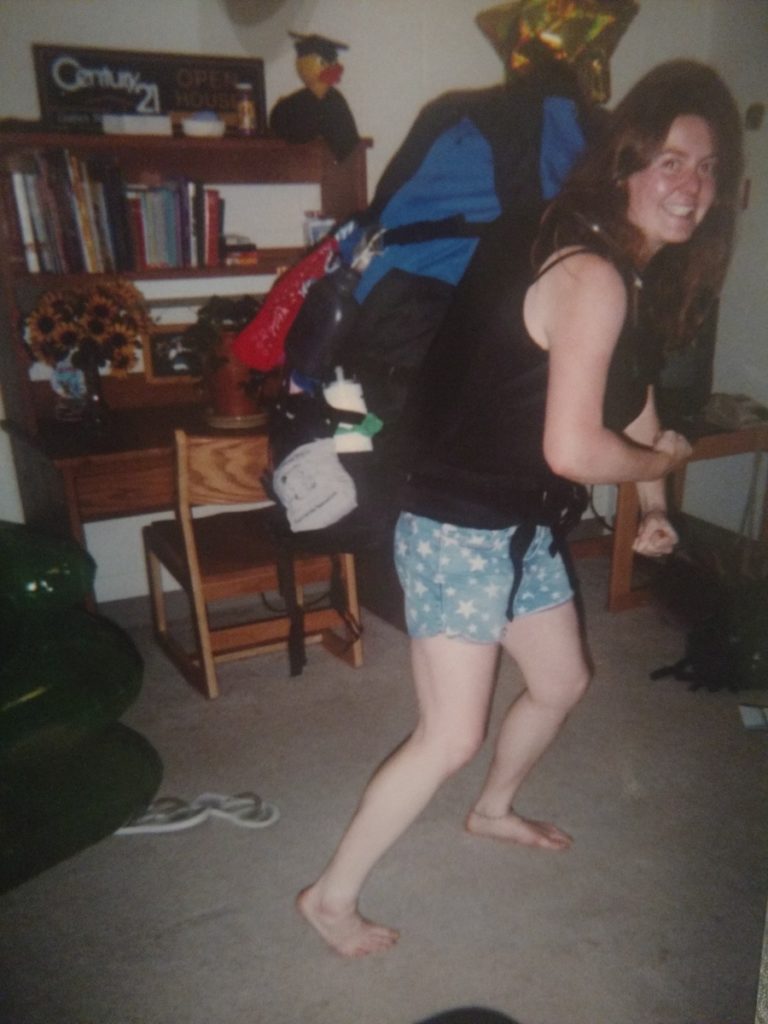 So now you have the basic items you need to hike. You've gone out and explored a few trails close to home and decided that you really enjoy this hobby. If you have friends to hike with, great! Get more hikes on the schedule and go with them often…provided they are willing to take your comfort and abilities into consideration. If a particular hike sounds like it's too big of an endeavor for you, be sure to be upfront about it. Make sure turning around is an option if you need to, or pass on that specific trip. If you go, don't be afraid to speak up for yourself if you need additional rest or to stop early. This is part of what makes the Trail Sisters no drop policy so great!
If you don't have friends that hike, look for local outdoor clubs that do beginner group hikes. You can look online or ask at the outdoor stores in your area. Most often these groups are the best way to learn the local trails, and also get comfortable with hiking through practice. Another option is to hire a guide if one operates in your area and is within your budget. Many guides are excited to teach skills rather than just lead someone down a trail.
Practicing the physical part of hiking is just one part though. There are plenty of skills and knowledge that you can expand upon to make your hiking safer, more enjoyable, and responsible. The first learning opportunity I recommend is to read about and apply the Leave No Trace Principals (often referred to as LNT). These are guidelines for stewarding the land we recreate on, through respect for the ecosystem and other outdoor users. You can read more about these principles here. Additional skills that you may want to acquired/hone are navigational and wilderness first aid, more on that below.
There's also a lot you can learn from other people who've done what you want to do by reading blogs and following social media. Just exercise discernment when taking in information from any source online. It's easy to be anyone you want to be on the internet. In addition, get some books aside from the guides. Pick up books from reputable outdoor publishers that function as skill-building resources. These can be a huge help since you can reference them often. If learning about flora and fauna in your stomping grounds is important, look for lightweight field guides designed to go hiking with you. Mountaineers Books, Wilderness Press, and Falcon (along with many others) produce a variety of guidebooks as well as instructional texts to help you gain skills and learn more about hiking routes in your area.
Another way to learn and give back at the same time is to get your hands dirty! Look for trail work opportunities in your area. You can find out about these opportunities online and through your local outdoor store or hiking club. Doing trail work is not only a great way to give back to the trail systems you use most, but it's an opportunity to network with other hikers and outdoor enthusiasts, find new to you trails, and get in some solid cross-training.
Lastly, if you feel like you need to really enhance your skillset take a course–either in person or online. These can cover skills such as navigation and first aid, but also techniques such as ultralight backpacking or no-cook food preparation. REI offers many of these types of courses, as do local groups such as the Mountaineers in Washington, SOLAR in Michigan, and the ALDHA-West Rucks (American West and online) for varying price points. I've also co-created several basics courses in the Adventure Ready Backpacker Academy with Katie Gerber.
The main thing is to stay safe, have fun, and enjoy the benefits of spending quality time on trails!