I squint in the refracted sunlight, January cold prickling the inside of my nose. I double-check for my car key in the pocket of my running tights before I set out—miles of moss and rock and duff and leaf litter and trail in the Appalachian Mountains await me. Gnarled root and mountain creek and mushroom flush. I'm excited to have this trail all to myself. Wet winter and the workaday schedule have pushed away the crowds from this place.
Those of us who live here year-round call it "Getting the forest back," and I'm sure there's an equivalent anywhere there's a tourist season. Locals joke about the driving skills of out-of-towners, possessively guard knowledge of off-map swimming holes, and plot adventures on for off days. Yes, many restaurants and stores shutter their windows during the off-season, but to embrace the solitude of the trail is well worth losing the convenience of sushi takeout.
Where I live—Transylvania County—holds the most visited state forest in North Carolina and one of the most visited national forests in the United States. Land once roamed by Cherokee, joined by white settlers, followed by wealthy industry men and loggers, then purchased by federal and state government and named Pisgah National Forest and Dupont State Forest. By the numbers, our county of less than 35,000 residents normally receives over 3 million visitors a year, mostly during the summer and fall seasons. We Transylvanians are used to sharing our space, and generally welcome others. But during the Year Who Must Not Be Named, the crowds tipped far past what the forest could hold. I found myself steering around cars left crooked in the middle of forest roads and watching bikers shred soggy paths beyond recognition. It was the visitor vibe of Rocky Mountain National Park but without the funding. Forest and park staff were overwhelmed.
I couldn't fault anyone for seeking the national forest during this stressful time. And I cannot claim a greater right to the trail than others simply because I am privileged to live here year-round. But the lack of shared stewardship was hard to take.
Quietly, physical trash began piling up in parking lots, trails, campsites, and waterways to an extent I had never seen before. There is a tiny beach along a creek I have taken my young child to since he was an infant. It's not much, but off the beaten trail. I had a traumatic pregnancy and lingering injuries, so as a new mother unable to cover much ground, I was grateful I could get the two of us to this space on my own.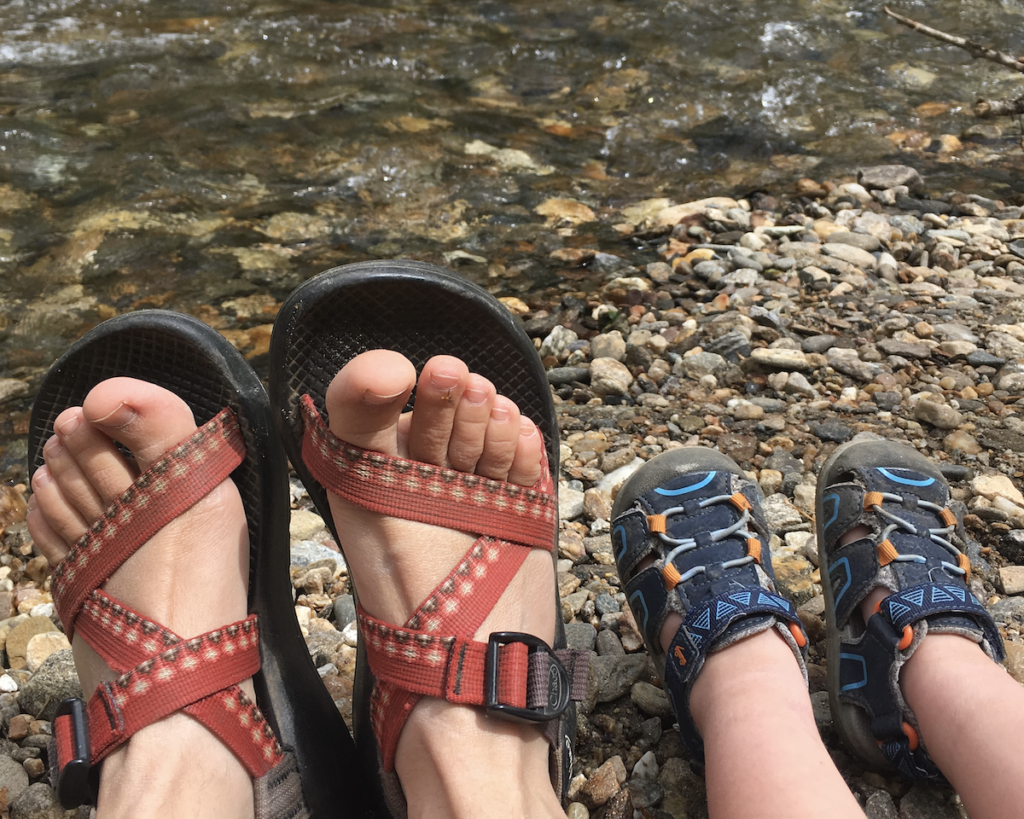 This summer was, of course, different. People were often squeezed in large parties. Sometimes we thought it empty, but the remnants of broken glass, cigarette butts, food wrappers, and piles of tortilla chips disagreed. I would try to bag it all up while my two-year-old watched the creek, sometimes even dismantling pop-up fire rings (next to the established fire ring) and developing blisters on my hands from the charred logs and stone. After my son cut his hands on broken glass that I hadn't been able to sift out of the sand, I knew we could not return. One day, determined to find a glass-free spot, my family epically crossed a few creeks and clambered up a bank to find, in the clearing, an entire discarded chicken dinner complete with styrofoam, salt packets, and plastic silverware. My dog rejoiced!
I know, I am whining here. But what I write about is more than just my own recreational needs— it is one of the most diverse ecosystems in the country, in the world.
As I continued to run down the trail, I spent time remembering the trashy drama of the last summer and fall. Running has always been one of the best ways to clear the mind of emotional detritus.
It felt like there were different "kinds" of people out there enjoying the trails. Yes, that sounds terrible to write, and the categories are arbitrary, as littering is a spectrum, but nonetheless, I developed three.
First, there are the Leave No Tracers— those who claim a wilderness ethic based on seven general principals to reduce human impact on ecosystems. We (because I associate with this category) follow the principles as best we can, strive to kindly speak up and educate others when the opportunity arises.
Next are the Orange Peelers. They toss their apple cores or orange peels into the forest. They leave a GU wrapper here and there. They say, "For the animals" or "It'll break down soon." There are thousands of Orange Peelers out there. Apple cores and any other decomposing matter will not break down fast enough for me to not see it, not to mention the devastating changes it brings to the behaviors of our local animals.
Finally, there are the Fire Ringers. Though they litter in places beyond fire rings, they especially shine in the Ring. They dump bean cans and Cliff Bar wrappers, toilet paper and Slim Jims, crushed beer cans and shattered glass bottles, leftover Ramen noodles and oatmeal that had too much salt. The Fire Ringers also inexplicably lose clothing during outdoor forays. A lone, wet, wool hiking sock, always black in color. A single glove. But most flamboyantly, underwear. Underwear by the creek, underwear by the parking lot—one time, even lacy purple thong underwear hanging from a branch beside the trail. This underwear situation has taken up my thoughts in particular. Underwear?
I imagine someone pooping their pants on a trail run after making poor choices for dinner the previous evening. Or perhaps diving into the creek fully clothed, choosing then to walk back to the car fully naked. Perhaps carrying the underwear, sopping wet, until the very last moment in which they, pulling out of the parking lot, stick their hand out the window, swing their thong around the index finger with lassoed gusto, and call out, "Bon Voyage!" before releasing it into the sunset.
One day I will solve this mystery.
I do a quick leap over a mountain brook, sidestep a large tree root, but manage to squish into a mud puddle. I'm a mile into my run, and I haven't seen any other humans yet. It is glorious. I've begun running without any music. After the initial warmup, my brain dredges up all the doom scrolling I've done recently. Stats, news headlines, memes, talking heads bouncing around in my head. Imaginary arguments with great aunts and second cousins on politics. My recent reading of Robin DiAngelo's White Fragility. Standing up the book club I was supposed to attend virtually for the third time on White Fragility.
Lately, my most common mental visitor while running has been the swirl of events connected to the Black Lives Matter movement. The ways the outdoor industry has tried to become more of an ally, and the level of authenticity behind that. Instagram feeds filled with little black squares and innumerable hashtags that one unfortunate morning (sorry). The nauseating rush of recognition, seeing a man waving a Confederate flag inside the U.S. Capitol.
In the gobbledygook of my mind, endorphins diffuse anxiety into clarity. I begin to think about something an acquaintance of mine, Lindsay Rutland, started this summer: Packout Pisgah.
During the onslaught of trash this summer, Lindsay began posting pictures of roadside campsite-turned-trash-heap with captions like, "Remember how you felt when we saw this? Or as it sat staring at us for weeks as a reminder?" Yes, we all would, because we all knew exactly which campsite she had photographed; we'd seen it on our trail runs and bike rides. A compassionate person might know these campsites were sometimes filled with stories of harder times we had not fallen on ourselves, but that didn't mean we wanted to watch the trash infest the nearby creek.
Where does Packout Pisgah fall in my categories, an initiative in hope that more will be inspired to pick up the trash of others? I thought back on my categories of people, how I placed myself in the LNT category and thought this was a category all should aspire to achieve. But I also recently solved part of the lacy purple thong underwear mystery, and that changed everything.
Six months prior, I had gone for a long trail run with my partner that ended at a beloved swimming hole. At the end of the day, my partner and I were driving into the sunset when he said, "Looks like a sports bra just went flying." Disbelief and indignation filled me— I would never forget my wet clothes, never let them touch the asphalt of the parking lot while I changed between two open car doors!
But he was right. We backed up, pulled to the side of the road, and I ran out and grabbed my sports bra, hiking tights, and also swim bottoms. BASICALLY UNDERWEAR.
I had placed them, dripping, on top of the car and drove off. I didn't drop the clothes into a fire ring. I broadcasted them. This really cast a new light on things.
Just a month later, post-run, a trail running friend pointed out a discarded, sweaty Buff at the feet of the driver's side door I was about to shut. I litter more than I think.
Maybe it's the sharpness in the air, but as I sidestep a slippery rock, I suddenly associate my littering with the way I commit racial harm to others as a privileged white woman. I have some awareness of my participation in the system of racism in order to be a part of white society— and how hard it is to break from that, how I can never completely break away until the system changes.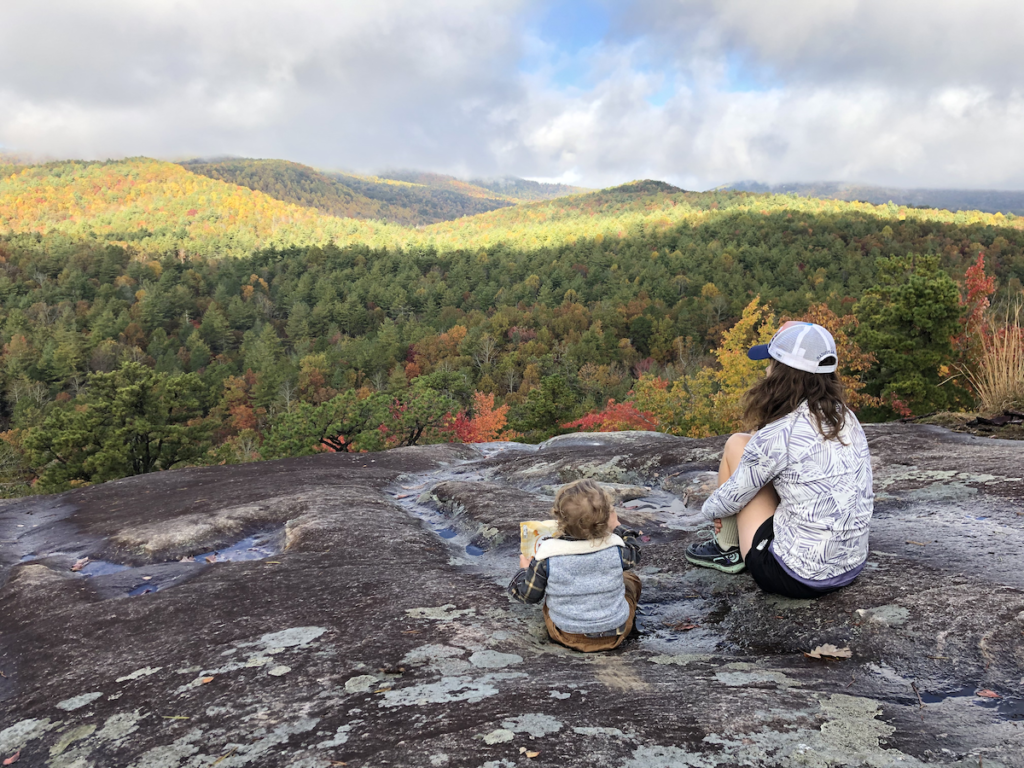 I draw parallels to my other categories, my legs pumping faster on my run with the flood of new ideas. The friend who is color blind, but will laugh at another's racist joke without quite realizing, the memory lingering like a bright orange peel. The Confederate flag wielder in the Capitol fanning supremacist flames in a ring of fire.
The parking lot is in sight. Endorphins and oxygen mingle, as does this emerging metaphor between litter and racism. It has its limits, though, for when I try to place people of color within the metaphor, it breaks down into reminders of how white supremacy has dominated certain forms of American environmentalism. I will take from it what I can and move on.
Sunlight reaches between the trees, angular fingers blinding my sight while doghobble sparkles under a heavy January frost. Beyond the glitter, I spot more trash. I feel overwhelmed, and I don't want to pick up other people's trash today. I reach down for a ziplock bag and a flattened Mike's Hard Lemonade beside my car. Their removal is barely noticeable.
I try to reframe my pessimistic view. Looking at the handful of other cars in the parking lot, I imagine everyone passing through this place picking up the same amount: two pieces of trash. I remind myself that I believe picking up other people's trash is a revolutionary acknowledgement of community and ecosystem. But there is an underlying reality that acknowledgement is not enough. If I only pick up trash and do nothing else for our public lands, and everyone else did the same, we still lose our forests. Pisgah National Forest has caught the attention of a mining company recently. Dupont State Forest would not even be accessible to me were it not for the tireless efforts of Friends of Dupont State Forest, who convinced the state of North Carolina to purchase those private lands. Conservation, restoration, advocacy—these are all necessary. Acknowledgment is not enough, just as acknowledging racism is, for white women like myself, not enough.
Lindsay's Packout Pisgah initiative has really taken off here, with loads of locals picking up trash and snapping photos. I would like to believe in one of the Instagram captions for @packoutpisgah: "The work of the people has begun."