Altra has been a big contender in the trail running world for years and they have built upon their solid foundation with a variety of trail running, road running, and most recently, hiking shoes. All of the Altra shoes are designed with two main features — a wide toe box and no drop between the heel and toe of the shoe. These were unique features when the Altras first launched but have become more mainstream as the benefits became obvious.
That said, if you are planning to transition away from a more traditional trail running shoe [6-12mm drop, narrower toe box] please give yourself time and mix your runs up with your traditional shoes and Altras. Your muscles and tendons will need time to readjust to the new fit of your Altras!
All Altra shoes use FootShape toe box which is specifically designed to allow your toes and forefoot to spread out comfortably into their natural state. This is the platform that all Altra shoes have always been built on. You will likely recognize the footprint on the bottom of any Altra shoe before you recognize the top — it is that important to their brand!
The other core technology used throughout the Altra line of both trail and road running shoes is the Balanced Cushioning. This is the technology that is used to keep your heel and toe level, creating the signature "zero drop" in the Altra shoes. The Balanced Cushioning does more than just align your heels and toes, it also provides cushion to allow your midfoot to be supported while maintaining this neutral balance. This ties in perfectly with the FootShape toe box to help promote the natural fit and feel while still providing support and protection.
MaxTrac traction is the foundation of nearly every Altra trail shoe as it provides a strong grip on all types of terrain. It is designed to provide traction, grip, and durability. When the MaxTrac is paired with the strategically placed TrailClaw lugs no terrain is out of the question!
The Altra Timp 3 just recently launched as the newest rendition of a popular, well cushioned trail shoe. This shoe is meant to stand up to pretty much anything the trails can throw at you with a combination of Quantic foam cushion, MaxTrac soles, and TrailClaw lug traction. The Timp 3 does an excellent job of covering that "medium cushion" that falls between the Olympus [more cushion] and the Lone Peak [less cushion].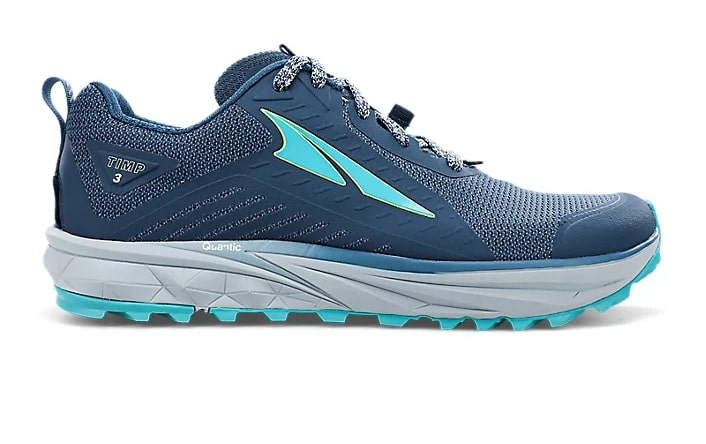 Heel-to-Toe Drop: 0mm
Stack Height: 29mm
Shoe Weight: 8.9 ounces
First Impressions: As soon as you slip the Timp 3 on you'll feel the contoured comfort of the inner support as well as the lightweight cushion. The overall fit is exactly what you'd expect to find in a pair of Altras – lots of wiggle room for your toes with secure support across the midfoot.
What We Loved: What's not to love about a pair of shoes that just feel "right" as soon as you pop them onto your feet? The overall fit was solid, the gaiter traps held up against snow, and the mesh upper kept your feet protected [albeit, not dry…these are not waterproof shoes!].
What We Would Change: This was my first time in a pair of Timps [although I do regularly run in Altras] so I did notice the lack of arch support in this model. If you have low or flat arches this shoe would likely fit your needs but if you have high arches you may want to venture over to the Superior. That said, the Timp 3 does have more arch support than the Lone Peak 5.
Fit & Feel: The Timp 3 fits true to size [contrary to what I have read about the Timp 2] and is an overall comfortable shoe. Aside from the lack of support for higher arched feet it is a solid trail shoe.
Final Thoughts: This shoe was designed for long, pounding trail runs and it meets that expectation. The shoe stays comfortable throughout long trail adventures and seems to hold up well against the variable terrain and conditions of the Rocky Mountains in the winter.
The Lone Peak 5 is another new launch from Altra, building off one of their extremely popular trail running shoes. This rendition adds the AltraEGO foam to the midsole to give you a quick, cushioned response with every footfall. If you're familiar with previous versions of this show you'll also notice that the Lone Peak 5 has a lower profile. The StoneGuard has also been updated to cover more of the forefoot while also being more pliable and responsive. The Lone Peak 5 also has the MaxTrac sole and TrailClaw lugs for added traction.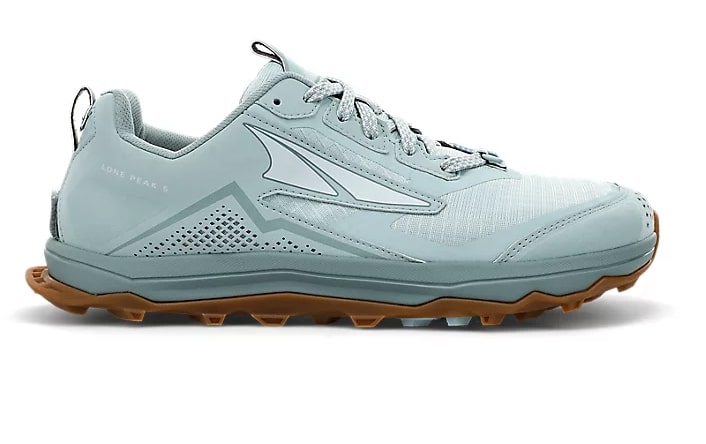 Heel-to-Toe Drop: 0mm
Stack Height: 25mm
Shoe Weight: 9.2 ounces
First Impressions: This shoe feels more low profile and compact than some of the other Altras [specifically the Olympus and Timp]. The arch support is minimal and your midfoot does have more room to move unless you really tie down the laces.
What We Loved: As a whole this shoe feels low profile, even with a 25mm stack height. It is not a "barefoot" shoe by any means but it does let you really feel the ground you're running on while still providing protection with the updated outer sole.
What We Would Change: This isn't a change so much as a reminder — the Lone Peak 5 has a looser fit and a very low arch support. This is not a change from previous versions of the Lone Peak but definitely something you'll want to keep in mind if you are looking at starting out in the Lone Peak 5. This is not something to change as this fit is definitely something many runners covet.
Fit & Feel: Even with my many comments on the looser fit…this shoe does fit true to size from heel to toe. Sizing down for a more snug fit likely won't get you the results you want. The new upper material is more malleable than it has been in previous versions which adds to the overall comfort of the shoe.
Final Thoughts: The shoe is definitely looser than the other Altras in this review. If you're headed out with thicker socks in the winter [when this shoe was launched/reviews] you'll be fine but you may want to try this shoe on before you commit. That said, I have worn other renditions of the Lone Peak and in my experience it has been an overall looser fit throughout so if you are familiar with the Lone Peak fit you may be set.
The Olympus 4 is the most cushioned trail shoe available in the Altra line and it does not disappoint. It is designed to provide added protection and relief for your feet while maintaining the "zero drop" feature that Altra is known for. The Balanced Cushioning and InnerFlex technologies work together to provide a responsive flex and bend while still providing the support your feet crave. Even with the added stack height you will still feel in control with the grip support from the Vibram MegaGrip sole and TrailClaw lugs.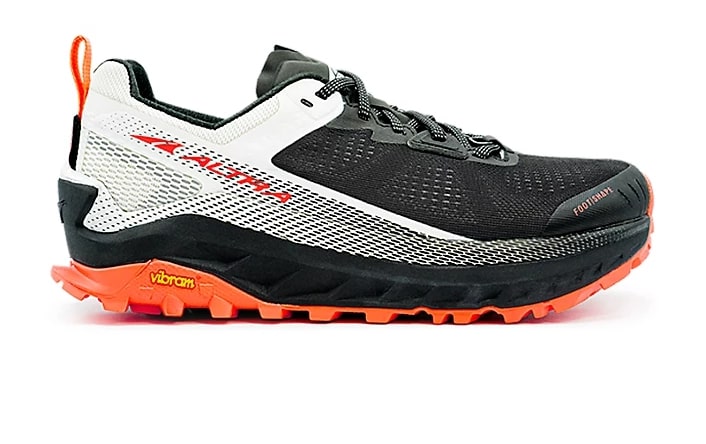 Heel-to-Toe Drop: 0mm
Stack Height: 33mm
Shoe Weight: 9.6 ounces
First Impressions: This shoe has cushion! It doesn't quite compete with the massive amounts of cushion you see in some other shoes but you do immediately feel the added squish and stack height. The Olympus 4 also offers up wiggle room for the toes and overall comfort.
What We Loved: As mentioned in the first impression — these shoes have squish and it comes from a functional cushion that also provides flexibility when you're on the move. If you're looking for a zero drop shoe with solid cushion this shoe will quickly become a go-to.
What We Would Change: The wiggle room gets problematic when you're on terrain that requires finesse with each footstep. While I did mention the looser fit in the midfoot it still feels more secure than other max cushion shoes I've run in — if you are looking for a cushion vs security compromise in a shoe you've likely found one of your better options here.
Fit & Feel: The Olympus 4 does fit true to size and similar to the Lone Peak 5, a size down likely won't mitigate the looser fit. However, even with the slightly looser fit, this is a comfortable shoe and the squish of the cushion provides comfort and protection.
Final Thoughts: Similar to the Lone Peak 5 this shoe does fit a bit loose in the midfoot. You notice it the most when you are on uneven terrain. The added stack height [space between the ground and your foot] leads to more wobble with each step and the less secure upper fit on the Olympus can result in your foot sliding off the shoe.
The Superior 4.5 is the lightest and likely the fastest shoe currently available in the Altra trail running lineup. It has a low profile and utilizes the Quantic foam in the midsole to provide cushion and long distance comfort. It also has the same InnerFlex design as the Olympus 4 which allows for added flexibility across the midsole. There is a removable StoneGuard that provides protection across the sole.
Stack Height: 21mm
Shoe Weight: 7 ounces
Heel-to-Toe Drop: 0mm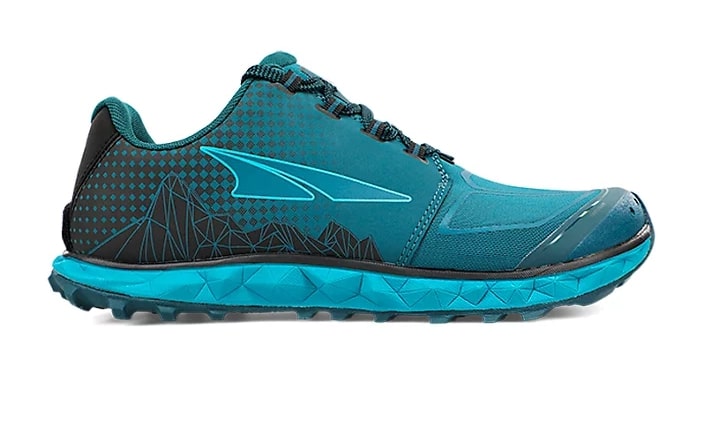 Stack Height: 21mm
Shoe Weight: 7 ounces
Heel-to-Toe Drop: 0mm
First Impressions: My first impression is biased as the Superior has been my go-to for quite some time now. I did not run in the Superior 4 but have worn out a few pairs of the Superior 3.5. As expected this shoe felt right at home on my foot — my toes had room to move, my midfoot felt secure without tight laces, and the low profile of the sole let me feel the trail.
What We Loved: The shoe is low profile which allows you to really feel the ground you're running on while still providing protection with a sturdy sole and a removable StoneGuard. The fit also feels secure from heel to toe [with room for the toes to wiggle].
What We Would Change: As I mentioned above I have worn this show for years so I am a bit biased with my adoration. However, I would like to see a bit more durability in this shoe. In the past I have found that the inner material wears away quickly as you cover more than 100-200 miles. I have not yet covered that distance or wear in the Superior 4.5 so this may be an unfounded want, but the inner material does look and feel similar to past models.
Fit & Feel: The Superior 4.5 fits true to size and is an overall comfortable shoe for someone who has a high arch and wiggle room in the toe box.
Final Thoughts: The Superior 4.5 will stay high on my list of go-to trail running shoes. They fit well, they hold up to the trail abuse and my feet like them. I know many people have had mixed experiences with the variations of the Superior but I think my feet fall into the lucky category of being pretty a-okay with all the renditions I have tried. I do have a narrow heel and I'm used to having extra movement in the heel of most shoes — the Superior 4.5 does have some of that movement but not more than I have become accustomed to.
The Lone Peak Hiker is exactly what it sounds like — the Lone Peak trail running shoe with some hike-specific features. The Hiker uses slightly different materials than the trail runner but the overall feel is similar with an added mid-height ankle support. The cushion and support is provided by AlterEGO while the grip comes from the Altra DuraTread technology that is designed to withstand long distances and variable trail conditions.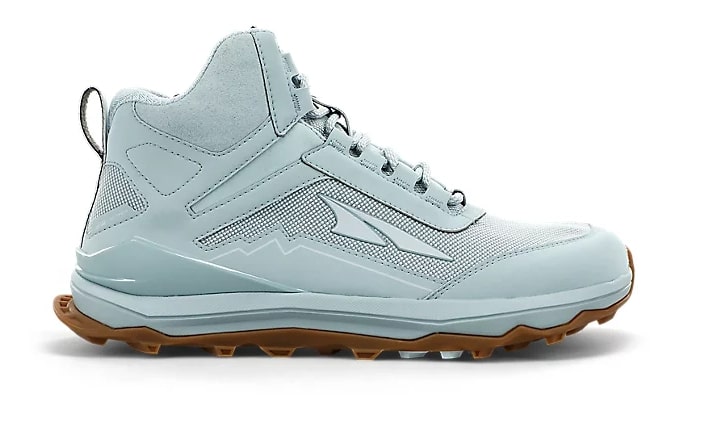 Heel-to-Toe Drop: 0mm
Stack Height: 25mm
Shoe Weight: 9.9 ounces
First Impressions: When I first slid the Lone Peak Hiker on it felt…well, just like the Lone Peak trail runner but with ankle support. I even put on one of each to compare. They feel quite similar when you're walking around the living room! The Lone Peak Hiker feels like a very lightweight and breathable [but NOT waterproof] option for hiking whether you're going out of the day or for a week.
What We Loved: These hiking shoes are very lightweight and they do really let your feet breathe when you're on the move. They haven't been out in hot temperatures yet [it is snowy until May around here!] but we do have surprise sunny days that result in sweaty hiking socks — not the case with the Lone Peak Hiker.
What We Would Change: It would be nice to see a little more protection across the sole of the foot. This hiking shoe does not have the StoneGuard feature found in many of the Altra trail running shoes. You may have less direct impact while hiking but if you are out on the trails for multiple days the StoneGuard becomes a much missed feature. It would also be nice to have hooks instead of eyelets for the top 1-2 shoelace loops. These hooks allow for more customized lacing, something long distance hikers often tinker with.
Fit & Feel: These shoes fit true to size and when compared directly with the Lone Peak trail runner the size is spot on. They are overall comfortable footwear that provides some added protection and versatility. The ankle support admittedly doesn't provide much added support when compared to hiking boots but for a lightweight hiker they get the job done well.
Final Thoughts: The first impression wasn't wrong but don't let that visible ankle support [mid-height] get your hopes too high. The material does hold snug against your ankle bones without rubbing but it does not provide much support to a pair of weeble wobble ankles. If you're used to hiking in a trail runners and just want a little bit more support the Lone Peak Hiker may do the trick. If you're used to the more supportive [and therefore heavier] hiking boots you'll be left wanting.