Women interviewed for this series are dedicated runners and hikers who consider trail running and training for competitions to be a part of their lifestyle, whether they're elite athletes or back-of-the-packers. These women have a passion for competitive trail running or hiking, set and exceed personal goals, and live the mission of Trail Sisters by inspiring, educating, and/or empowering other athletes.
Name: Nicole Yedlinsky
Sport: Ultrarunner, triathlete
Age: 45
Occupation: Family and Sports Medicine Physician
Location: Kansas
IG @nicoleyed
Twitter @nicoleyed
When I learned that Nicole has a passion for taking care of active, running women throughout their pregnancies and postpartum periods, I was excited to speak to her. At the time of Nicole's interview, my son was just over a year old. I had an active, healthy pregnancy, even running a marathon early in my second trimester, but struggled to return to running in the postpartum period. Nicole's own experiences running and being active during pregnancy are inspiring, and she uses her experiences to help guide her women patients. "I love talking about active women and empowering other women to just get out there and get their bodies moving," said Nicole. Here Nicole discusses her entry into running, how she worked her way up to competing in 100-milers, and her aspiration to stay active for as long as possible.  
How did you begin participation in sports?
Nicole: My family was always very athletic. We did a lot of stuff outside, we were always out at the beach, always swimming or waterskiing. We rode bikes as a family. My mom was involved with playing tennis, and I played tennis in high school. I also threw shotput and discus as part of track and field. When I went to college, I did more group fitness stuff. I would occasionally play tennis, but didn't play in any organized sports. I ended up going to medical school on an Army scholarship, so by the end of medical school, when I was coming on active duty to do my residency, I realized that being in the Army required me to pass a physical fitness test, which was two minutes of push-ups, two minutes of sit-ups, and then a two-mile timed run. I had never really been a runner. My brother, who's two years older than me, was already a distance runner. He started taking me out for runs on the trails in Fort Bragg, North Carolina, which is where I was doing my residency and where he happened to be stationed at the time as well. So, I started running, just to be able to pass my PT test, and also because my brother was encouraging me. During my intern year, my best friend and I decided that we were going to train for and run a marathon as a fundraiser. In the middle of our intern year of residency, we would get up at 4:30 in the morning to go run before we had to go into the hospital.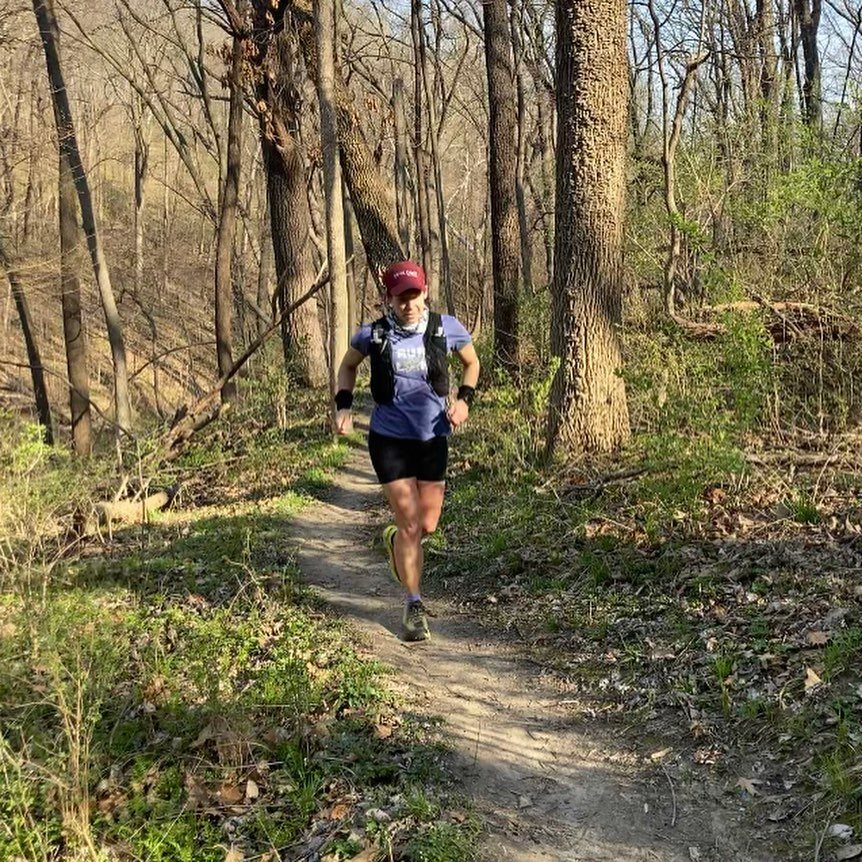 I ran that first marathon in 2002 completing the Kiawah Island Marathon. My friend and I always used to say "let's go do a triathlon," so we did a sprint distance triathlon. Through the years, I stuck mostly with road running and some triathlons. A lot changed, depending on where we were stationed, also having kids in the mix and things like that. Here in Kansas, I started training for longer distance triathlon and did the Ironman Kansas 70.3 and qualified to compete at the Ironman 70.3 world championship, which was in Las Vegas at the time. Then we moved to Washington and the trail running out there was just spectacular. It was just so beautiful which led me more into trail running. My brother had already been doing some ultramarathons. Some of the other folks that we were friendly with in Washington were also doing more trail running and longer distances. It became that mentality of, well, I've done a marathon, I can do a 50k, and then I've done a 50k, I can do a 50-miler. Then we moved to Virginia, and I did a sports medicine fellowship. While in Virginia it was like, now I'll do 100k! Then we moved back to Kansas. Now my kids are a little bit older, too, and I trained for my first 100-miler in 2019. I just did my second 100-miler last weekend.
How are you feeling after your 100-miler?
Nicole: Really good? This one was way more challenging. My first 100-miler was Rocky Raccoon, which is very flat. And then this one was just a hot desert with way more climbing and descending. Overall felt really good. Obviously, my quads were sore by the end and had some blister issues because of the sand that got into my shoes. But overall, I was really happy to finish. Happy to finish well, and happy to finish relatively unscathed.
If you had to try to narrow it down, what do you think is one of your most vivid, athletic moments?
Nicole: Probably finishing Rocky Raccoon, my first 100-miler. At the finish line I felt that sensation of, "Wow, I can't believe I just did that." Rocky, for me, was one of those perfect races where I had in my mind that if all the stars aligned and everything goes well, I could run a sub-24. And all the stars aligned, and everything went perfectly well. I ran a sub-24. That was just an incredible experience.
What do you think is most challenging about being an ultrarunner?
Nicole: I think the most challenging thing is the balance of all of the different facets of my life. So, I have a relationship with my spouse, I have a relationship with my three kids and making sure that their lives are happy and healthy. And then I have the demands from work. It sometimes gets really challenging being able to carve out that protected time to go for a run. That's something I have to do. And also trying not to feel guilty about taking time away from spending time with my family to be able to do those runs. There are times when there's just so much going on, and it just gets so stressful. I always have to step back and say to myself, you know what, you will feel better and be able to better accomplish all of these things if you go for a run. It's not worth it for you to get all this other stuff done, and then feel miserable in the process.
You work with clients who are either pregnant or postpartum runners. Has that been part of your experience as a runner?
Nicole: I am, at heart, a family medicine physician. I've been doing full-service family medicine, throughout my career, which is now almost 20 years, to include full-spectrum women's health, so taking care of women through all of their adolescence and then their childbearing years and taking care of them through pregnancy and delivery and postpartum and then taking care of the kids and, and sharing in that work-life balance. And with the parenting struggles as well.
In my own experience, my first pregnancy was a twin pregnancy. My older two kids are 14 now. But when I first found out I was pregnant with twins, I asked four different doctors to see what their take was on the safety of running during a twin pregnancy. Three of the doctors I talked to said, no, absolutely not, we wouldn't recommend running during a twin pregnancy. But one said, well, maybe, but probably don't, just to be safe. I stopped running when I was about 11 weeks along and then switched to the elliptical. When I was about 28 weeks pregnant with them, I had some preterm contractions, and was pulled from all exercise, all work, everything. That was really an interesting switch for me because I had been used to going to the gym and being on the elliptical and doing mostly bodyweight work. Trying to stay fit and healthy to all of a sudden be told that I wasn't going to be doing any of that. I ended up carrying them to term, had a very healthy delivery, and got back to work and exercise pretty quickly, which was fantastic. I absolutely recognize that not everybody has that experience. My second pregnancy was a singleton, and I had all these great aspirations for running up until the day before I delivered and it was going to be fantastic, but I didn't find that to be my experience at all. I ran until maybe 30 weeks pregnant and then at that point, I wasn't really feeling it, I didn't really want to do it anymore. I still went on to have a very healthy delivery.
Those experiences for me really inform my practice of being able to take care of women who are experiencing just the whole spectrum during their pregnancies of how much exercise, what is safe, what is good and healthy, versus what happens when you're not feeling it? Listening to our bodies and being aware of that, I think, for women, is super powerful, including in the postpartum period of taking care of ourselves and taking care of our bodies so that we can take care of the child that we just gave birth to. Those experiences for me have been helpful for taking care of my patient population.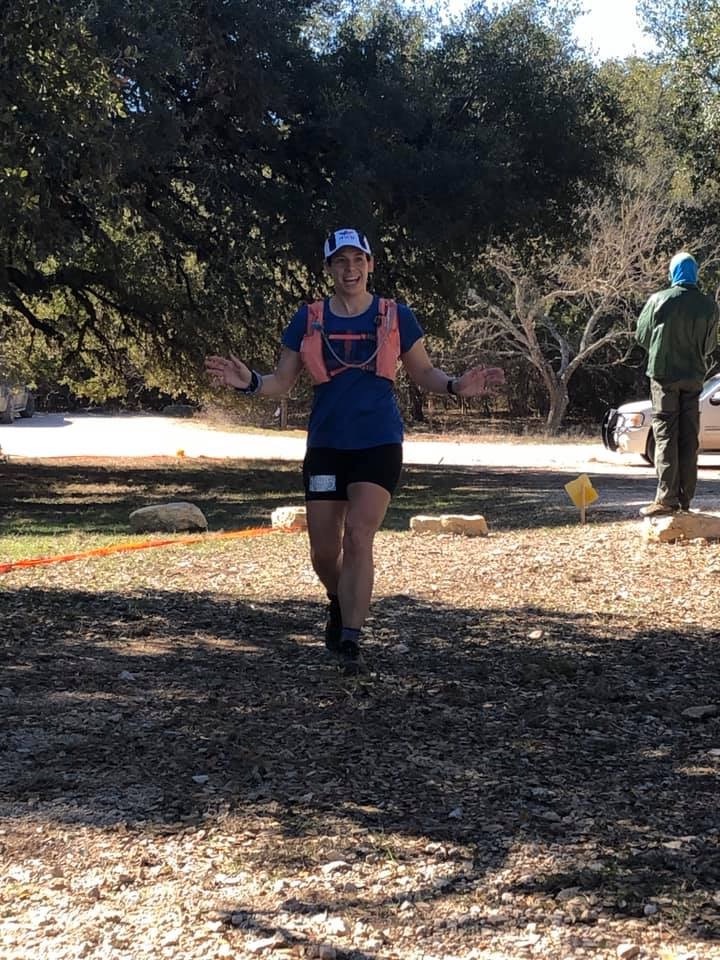 We hear all these stories, and there's always there's so much guilt, right? There's so much we read about these stories of women who, you know, ran a marathon and the next day went into labor and delivered. We think that's how it's supposed to be for everyone. Maybe that's what your experience might be. But maybe it's not, maybe you're just not going to feel up to it. And that's totally fine, too. We have all these expectations and sometimes when we don't live up to those expectations, there can be this feeling of, well, gosh, then I'm a failure, or you feel guilty of things that you think you should be doing, but you're not up for it. And that's okay, too.
You said that running is a very social sport for you. Can you tell me a little bit more about your running community? And what makes it fun?
Nicole: There's a really robust trail running community here in the Kansas City area. There are a few communities. One is called the Trail Nerds, which is a pretty big, wide mix of trail runners. Then there's another separate community called the KC Dirt Community, which, similar to Trail Sisters, is a female-led trail running group, though males are welcome to our events. That's a great community and a great experience for women to feel empowered to go out on the trails. That's always a great group to get together with. A lot of my long runs on the weekends are with individuals from those two trail-running groups. It's just fun just to get out there and talk and get away from it all. It's nice when you don't have the distractions of phones and all other stuff of life.
I think of Kansas as being very flat.
Nicole: You'd actually be surprised! We're right on the Missouri River. The western part of Kansas is very flat, but here – I'm not going to say we have mountains here, but we do have some pretty nice hills. And you get used to whatever the weather throws at you. You might start out on the trail with 30-degree temperatures, and by the time you finish it might be 70 degrees and feel like summertime.
How would you describe your athletic body in three words?
Nicole: Strong. Determined. Balanced.
Where do you see yourself in the future? What's the future of your sport look like?
Nicole: With the trail running community, there's a lot more emphasis placed on getting out there and just finishing the distance, and not as much focus on times. So, with trail running, I really hope to be doing it well into my later years. I mean, I'm 45. If I'm still trail running when I'm 75, I'll be super happy just getting out there. The beauty of trail running is there's a lot of hiking, so I feel like there's a lot of opportunity for longevity in the sport. Just the beauty of it all and getting out in nature and how much that gives back to your soul and your well-being.
Is there anything else about your athletic career or experiences that you would want to share?
Nicole: My lesson in life is to never say never. I was always the person who used to joke that I only run when chased, but it became something that I grew to love and found that it gave me the beauty of physical movement and feeling like my body was so strong and so capable. I never want anyone to feel like they can't do something, or that there's not something that gives them that same feeling or that same spark. It might not be trail running, it might be something else entirely. Especially with kids or adolescents or young adults, I just want them to keep trying until they find something that resonates with them and gives them that same feeling about themselves in their bodies.