The GPS watch has long been an identifier of fellow runners. Stuck at a party and looking for someone with whom to strike up a conversation? Just look for the other person with a saucer-sized GPS watch strapped to their wrist. There was a good chance, at least five to ten years ago, that the two of you had something in common.
In 2021, however, smart watches proliferate. As watches that can answer emails and order takeout have become common among the general public, wearable devices have generally shrunk in size and gradually started to look a little more inconspicuous on the wrist.
Three watches enter the market at this junction of smartwatch proliferation and increasingly slimmer and more stylish athletic GPS watches: the COROS APEX Pro, the Garmin Fenix 6S Pro Solar, and the Suunto 9 Baro.
Each of these three devices has a variety of similar features that have become standard on a multisport GPS-enabled wearable device. For example, each one tracks daily biometrics, records a variety of data during exercise activities, and pairs with a phone to display the phone's notifications on the watch screen. Rather than commenting on each of those standard features, in this review we highlight the features that we found most useful and distinctive for running and hiking. We also acknowledge that each of the three brands represented in this review offers a variety of wearable devices, and if their representative device in this review isn't what you're looking for, the brand may have a different device that works for you. We do think, however, that things like user interface and watch/app integration are likely to be similar across a brand.
We tested each watch over a period of several weeks. We used each watch for all-day wear, running (on a variety of surfaces and for a variety of distances), and hiking.
MSRP: $499.99

COROS entered the GPS watch market several years ago with high-profile athlete endorsements and the promise of long battery life, a big selling point for ultra runners. COROS calls the APEX Pro its "Premium MultiSport Watch" and advertises several new features for the model. According to COROS, the APEX Pro boasts 40 hours of full GPS battery life, a 14% increase over the original APEX. The APEX Pro also features Altitude Mode, which provides 24/7 blood oxygen monitoring and hourly acclimatization evaluations. The APEX Pro is also the first COROS device to feature touch screen technology (along with its standard digital dial navigation). Training mode allows users to create, download, and share workouts and entire training plans. With this feature, a coach or athlete could conceivably write an entire training program in the COROS app then load it to the APEX Pro, allowing the athlete to simply follow prompts from the watch to follow the training plan. And finally, a new Track Run Mode accurately measures track workouts, no matter which lane the runner is in. This watch has quite possibly the most activity modes of any watch we've seen, including mountain climb, speedsurfing, windsurfing, rowing, whitewater, and four distinct snowsports modes.
Fit and Feel: Of the three watches reviewed here, the APEX Pro falls in the middle of the size range at 47mm wide. It is the lightest of the three devices (by all of 2 grams) at 59 grams. The comfortable silicone band accommodates a variety of wrist sizes and is easy to clean. It has a display size identical to that of the Garmin Fenix 6S Pro Solar, 1.2 inches. Because COROS offers the same display size in a slightly larger diameter watch than Garmin, the COROS feel a bit clunkier in comparison.
Device Ease of Use: The combo of the proprietary digital dial and touchscreen technology makes navigating this device pretty easy. The watch screen automatically locks, so swiping through screens or using any buttons requires unlocking the screen with a seemingly simple spin of the digital dial. We found unlocking the screen a bit annoying, however, especially with gloves on or during a run when wanting to swipe to a different screen mid-workout. Of note, the lap button can be pressed without unlocking the screen. One benefit of the COROS digital dial navigation system is that the watch only has three buttons, and the user doesn't have to remember which of five or six buttons does what, like on some other watches.
App Integration: COROS has by far the simplest app integration of the three watches in this review; all that is required for maximum functionality of the device is the watch and the COROS app! We love that getting the most out of the watch doesn't require any additional apps, websites, or third-party services (though the app of course optionally pairs with third-party services, like Strava, TrainingPeaks, and many others), unlike the other watches in this review. Setting up the watch through the app is also simple; after downloading the app and creating an account, prompts walk the user through the entire process. Though it was easy to go from the watch packaged in the box to ready to use on a run, the setup process did not include any sort of "tour" or user guide that we came across. Figuring out how to use its many features required a mix of trial and error and watching some videos on the COROS YouTube channel.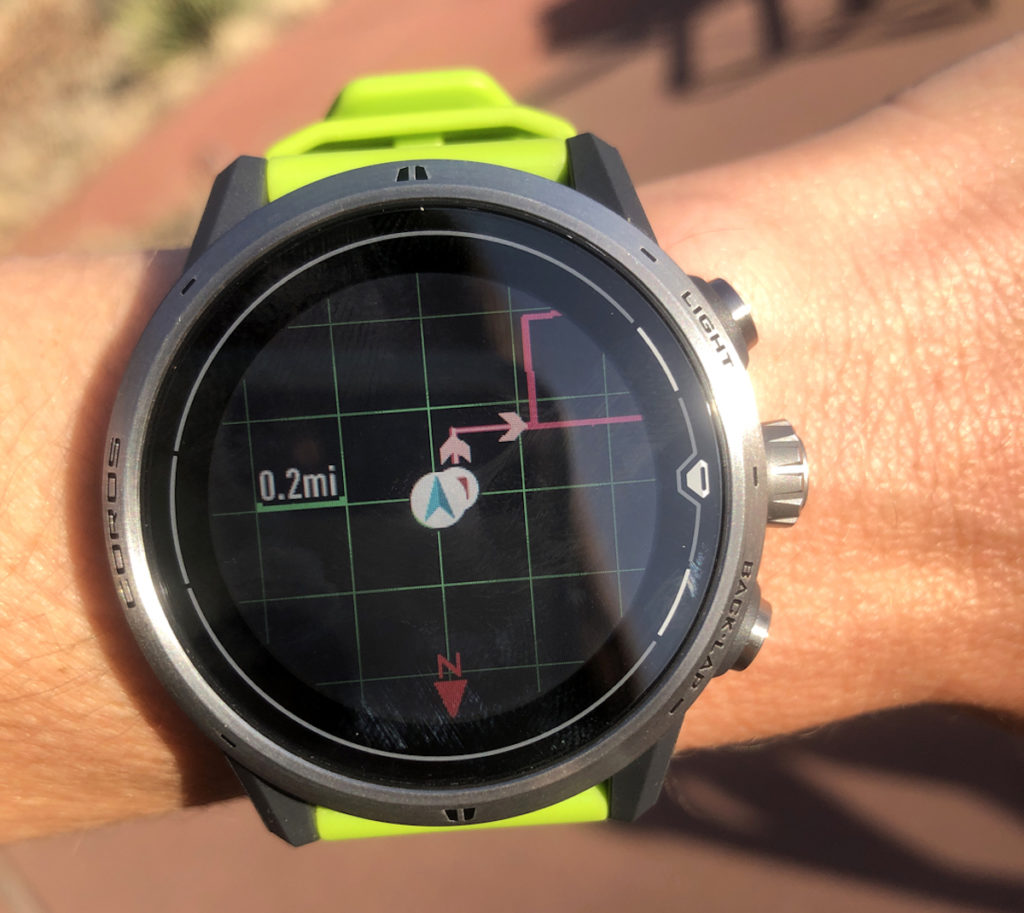 Workouts: Creating and using custom workouts in Training mode was our favorite capability of the APEX Pro. The app features a super easy-to-use workout-building interface. Users can create a workout with a specified warm-up distance (or time), a certain number of time- or distance-based intervals with a specified recovery time in between, and a cool-down distance or time. The user can then load this workout onto the watch and simply press start. While using this feature, we rarely had to look at the watch during a workout but simply knew to start the next phase when the watch gave a countdown and beep.
Battery: COROS seems to be building a brand on extra-long battery life, and the APEX Pro largely lived up to its promised specs. The watch arrived 98% charged, and we kept it always on for two weeks before it buzzed indicating low battery. During those two weeks, our tester logged 13 workouts and 22.5 total hours of workouts, all in full GPS mode. This battery performance was certainly impressive, if a bit less than advertised. The battery specs from COROS claim 30 days of regular use, 40 hours in full GPS mode, and 100 hours in UltraMax mode (a setting design to maximize battery life while still recording enough GPS data). Charging it all the way to 100% prior to use would likely improve performance.
What We Loved: We loved the simplicity of the COROS app, Training mode, and creating and using custom routes.
What We Would Change: We would love to see base maps added to the APEX Pro's navigation capabilities.
MSRP: $799.99

Garmin calls the Fenix 6S Pro Solar a "Premium Multisport GPS Watch," and this model certainly has the features to back up that claim. This Solar edition in Garmin's Fenix 6 series comes with solar charging capabilities (the line also features less expensive models without the solar charging capability), the only watch in this review with such technology. The watch pairs with music streaming services Spotify, Deezer, and Amazon to play music directly from the watch to bluetooth earbuds, no phone required. Garmin added its PacePro™ technology to this model, which builds a detailed pacing strategy for any route and target completion time; the technology factors in elevation, your fitness level, past workout data, and whether you aim for negative, positive, or even splits. The watch also features Garmin Pay contactless payment system, plus built-in topographic maps and maps of over 2000 ski resorts worldwide. Users can add additional apps from Garmin's Connect IQ Store. The Women of Adventure edition features a shorter, narrower silicone band that fit our tester much better than the other two bands in this review.
Fit and Feel: We love the size of this watch! It is only 2 grams heavier than the COROS APEX Pro, and its display is as wide as the APEX Pro's despite being housed in a watch that is 5mm narrower in diameter. This small watch diameter on the shortest and narrowest band in this review fit our small-wristed tester extremely well. This watch was the one we wanted to wear all day rather than wanting to remove it immediately after a workout. The band on this model might be too short for larger wrists, but this watch is available in a variety of band sizes.
Device Ease of Use: The Fenix 6S Pro Solar features five buttons instead of the COROS APEX Pro's and Suunto 9 Baro's three, so learning to navigate the device takes memorizing the multiple functions of all the buttons. But once our tester learned her way around the watch, she found it the easiest to navigate out of the watches reviewed here. One bummer: this is the only watch in this review without touchscreen technology, and the drawbacks of this omission are quickly apparent when attempting to zoom or scroll on a map using individual taps of buttons.
App Integration: Setup and use of Garmin's Connect app is straightforward, as is pairing and setting up the watch through the app. Unlike COROS, however, utilizing all the functions of a Garmin watch will likely require using additional Garmin apps and/or websites. For example, you can save a route and send it to your device in the Connect app, but to import a .gpx file to save as a route, you must use an additional app or website. We logged into the Garmin Connect website on desktop to import a .gpx file, which was easy once we figured it out but still requires a third resource other than the device and mobile app. To use all of the Fenix 6S Pro Solar's capabilities, expect to use, in addition to the Connect app, the Connect website, Connect IQ (Garmin's app store), and Garmin Express (to update maps and software).
Maps and Navigation: The Garmin map and navigation capabilities are our favorite of the three options reviewed here. You can create routes to send to the Fenix 6S Pro Solar by searching a massive database of user-uploaded routes or by importing a .gpx file (see section above). While doing an activity, choose to "Do Course" for turn-by-turn navigation, or simply view any route while doing an activity for reference. Or, while doing an activity, consult a map of your location to navigate on the fly. These maps are extremely helpful because they are actual topographic maps! Having this watch was like having the map capabilities of our favorite map app on our wrist to consult as needed while running. The one not-so-handy part of these fantastic wrist-based maps? Due to a lack of a touchscreen on this watch, zooming in or out of the maps or recentering the map requires using a clunky button system. Instead of pinching the screen to zoom out, for example, the user has to enter a menu and scroll to the zoom option, then tap the correct button until the map zooms out to the desired level of detail, then exit that menu.
Workouts: The Garmin Connect app has a great "Create a Workout" capability that functions much like the COROS app. We found creating workouts in Connect slightly less intuitive than in COROS, but overall it was pretty simple to build a custom workout that we could send to the watch, press start, and easily follow while running.
Battery: Garmin claims its Fenix 6S Pro Solar's battery will last 9 days with all-day wear or 10.5 days with regular solar charging, which Garmin defines as "all-day wear with 3 hours per day outside in 50,000 lux conditions." Clearly, the solar charging capabilities slightly, but not dramatically, boost battery performance. This matched our experience when our tester started a 3.5-hour activity in sunny weather with the battery at 24%, and the battery died 10 minutes before the end of the activity. Garmin claims a 25-hour battery life (28 hours with solar charging) when doing an activity in regular GPS mode and up to 50 hours (64 hours with solar charging) in Max Battery GPS Mode.
What We Loved: We loved the real topographic maps that are built into this watch, and we loved using them to navigate while running and hiking. We also love the size and weight of this watch—it's a super capable device in a comfortably sized (not big and clunky) package. The premium features, like apps available in the Connect IQ store, Garmin Pay, and music player capability make this watch a totally capable smartwatch that is also a super valuable training tool.
What We Would Change: We'd love touchscreen capability, especially for map navigation and especially at this high price point. We'd love to see the Connect app developed into a one-stop tool rather than having to rely on multiple Garmin products to get the most out of this watch.
MSRP: $499

Suunto calls its 9 Baro an "ultra-endurance GPS watch with exceptional battery life and barometer​." The watch delivers on its battery life promise with multiple battery modes that allow the user to manage battery consumption. Suunto says this watch is made "for long, arduous training and racing and extreme adventures." It features touchscreen technology and over 80 sport modes. Suunto makes long battery life possible by incorporating its FusedTrack™ technology, which uses a combination of motion sensor data and GPS to record GPS tracks and prolong battery life. The Suunto 9 Baro's built-in barometer is a useful tool for vertically-focused athletes; it provides more accurate altitude data than watches that measure altitude with GPS only and can alert the wearer to sudden changes in barometric pressure indicative of changing weather. Of note for those on a budget, Suunto also offers the 9 without barometer at a significantly more affordable price point.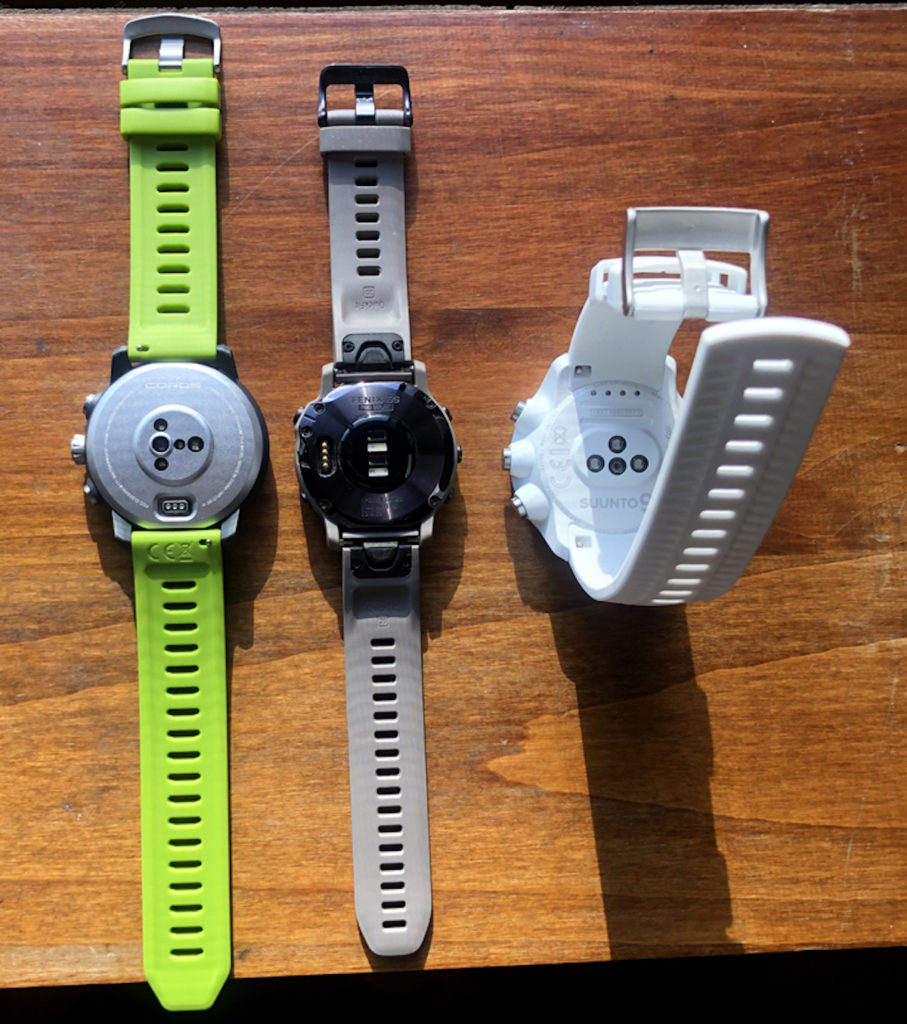 Fit and Feel: The 9 Baro's display is the largest of these three watches by a few millimeters. The watch itself is also the largest in this review at 50mm (compared to the 47mm APEX Pro and 42mm Fenix 6S Pro Solar). The 9 Baro is also the heaviest watch of the bunch by about 20 grams, so the slightly larger display also means a bigger and heavier watch. Also unlike the other two watches reviewed here, the watch and band don't hinge or lie flat but rather fit together at a fixed, non-hinging, pre-curved connection (see photos). This design probably works well on larger wrists, but on our tester's wrist, the combo of the large watch and pre-curved band meant this watch did not fit well. We had to really crank down on the band to tighten it enough for the watch to fit snugly against the wrist without moving around.
Device Ease of Use: The 9 Baro's navigation uses a combination of touchscreen and three buttons. This user interface felt the least intuitive of the three in this review, but after some practice it became easy to use. Unlike the other two watches, after exploring all the menus on the watch (and the app), we could not customize the data screens. Of note, users could formerly customize data screens in Suunto's Moves Count platform. After discontinuing Moves Count last fall, Suunto seems to be in the process of increasing its app's functionality, but some functions, like customizing data screens, are still either not intuitive or nonexistent (see workouts, below).
App Integration: Setting up the watch and pairing it with the app was a very user-friendly process. The Suunto app is simpler (with fewer features and capabilities) than its COROS and Garmin Connect counterparts and seems to prioritize social functions, with a section for following friends and an "inbox" that feels like a newsfeed. Unlike COROS (and much like Garmin), you'll need to use additional platforms to maximize the Suunto 9 Baro's functions. For example, the Suunto Link app allows the user to update software, and the komoot platform integrates with the Suunto app to allow turn-by-turn navigation on saved routes.
Maps and Navigation: We really liked the Suunto app's route-creating capability, and we love that the app can import .gpx files. The app allows the user to tap around on a map to create a route, and the track snaps to roads and trails while displaying GPS track heatmaps aggregated from Suunto users. There are several routing modes to choose from, like roads avoiding hills for cycling. When following a route, the watch displays only the user's location, the route in dark blue, and lighter blue arrows indicating where to go to stay on the route. This navigation capability is helpful when exploring new places, but, like the COROS APEX Pro, significantly less helpful than doing so with Garmin's actual maps. For turn-by-turn notifications, the third-party platform Komoot is necessary. While doing a workout, the user can see their GPS tracks as a dotted line on a blank black screen and can navigate back to their starting point using breadcrumb navigation. But again, the watch does not show any underlying maps, only tracks as a dashed line over a black screen.
Workouts: We found the basic workout-building capabilities of the Suunto 9 Baro the least impressive of the watches in this review. While relying on just the watch and the Suunto app, there does not appear to be a way to create custom workouts. There is an interval training mode on the watch that the user can use to set up a very basic interval workout (on the small watch screen, not in the app), but we could find no way to build anything other than a basic interval workout. And another bummer: according to the user guide, "If you are using intervals, you cannot activate navigation." While workout-building capabilities might exist with third-party apps (Strava or TrainingPeaks), we wish we could build custom workouts in the Suunto app.
Battery: Customizable battery life is where this watch shines. The watch offers three predefined battery modes: performance, endurance, and ultra. Each mode offers a different balance of functionality and battery use, and when selecting a mode, the watch displays the number of hours of battery life the watch has in that mode. The user can also set up a custom battery mode. The preset battery modes last 25, 50, and 120 hours respectively. Additionally, the watch gives the user smart notifications, prompting the user to switch to a different battery mode when battery life drops during an activity.
What We Loved: We love the long battery life in Suunto's 9 Baro. The battery life is competitive with the COROS APEX Pro, and the watch has a very different user interface that some may prefer to the COROS interface, so it's nice to have another option for those who prioritize battery life. The in-app route creation tool is our favorite of the three brands reviewed here for creating a .gpx file without using a third-party tool. We also like the large display on the 9 Baro.
What We Would Change: The awkward shape and size of the band make this watch not very comfortable for our small-wristed tester. Other than the route creation tool, we found the Suunto app fairly limited. For example, biometric data can only be viewed on the watch itself, not in the app. Suunto seems to rely on third-party apps to access the watch's full functionality, which is a bit cumbersome.
Bottom Line
In the age of wearable tech, there are abundant options for athletes who want one device that is both smartwatch and training tool, a device for texting on the go, ordering coffee, tracking heart rate variability and recording data for every workout. These three devices are three examples of options out there for those willing to spend the money for a highly capable GPS watch. After using each device for a few weeks, we think the Garmin Fenix 6S Pro Solar rose to the top in terms of functionality (contactless pay, live tracking with the Connect app, music player capabilities, the option to add on a wide variety of apps, and fantastic built-in maps) and comfort—the device has the most features while also being the smallest and most comfortable of the watches. But Garmin's premium device has a premium price tag, and the COROS APEX Pro and Suunto 9 Baro both offer tons of features beyond simple workout tracking, including battery life superior to the Garmin's, at several hundred dollars less.