As we age, the boundaries of what is comfortable become more and more deeply etched into our minds, and barriers that were once surmountable cracks become gaping gorges whose depth we can't perceive. But it's enough to keep us from doing new things.
Learning how to ride a bike as an adult was, and continues to be, fraught with moments of terror. But that hasn't stopped me from riding; it's taught me how to ride with fear, thereby overcoming it. Not with fighting or frustration, but acceptance and compassion.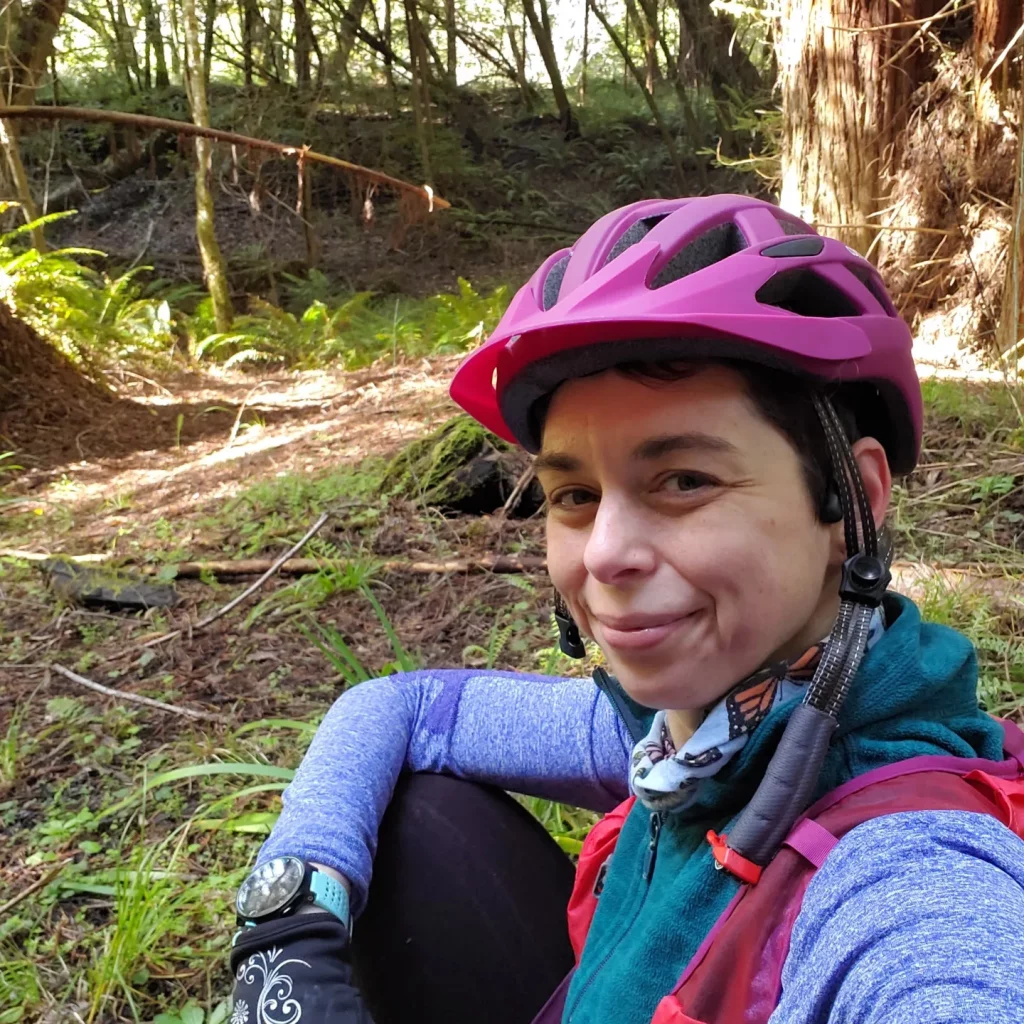 My first ride, I fought fear. As my pulse increased, my fingers, jaw, and every internal organ clenched. Except my heart, which was exploding out of my chest. I repeated over and over, "This is fine. This is fine," as cold sweat poured down my face. My body was not buying the line I was selling. But why should I be frustrated? Why should I be mad or think less of myself? My body was doing exactly what it is made to do: surviving. "Get the hell off this death machine!" it was saying. Thanks, stress response; you're my strongest muscle of all.
I survived my first ride, but growth is a never ending road. And if we want to improve in any skill, from socializing to summiting mountains, we have to keep walking into challenges. And we're going to be scared.
True fearlessness is a medical condition that occurs when there is severe damage to the part of our brain that controls our fear response. You may have heard of this spicy bit of mental real estate: the "amygdala." I think of it as our brain's hackles. When we get into a fearful state, it's completely normal to react with "freeze, flight, fight, or fawn." Yay, our brains work! Knowing there's a hormonal Cirque Du Soleil going on in your brain in a scary situation can help you pump the brakes a little bit and alleviate physical symptoms caused by this internal rukus.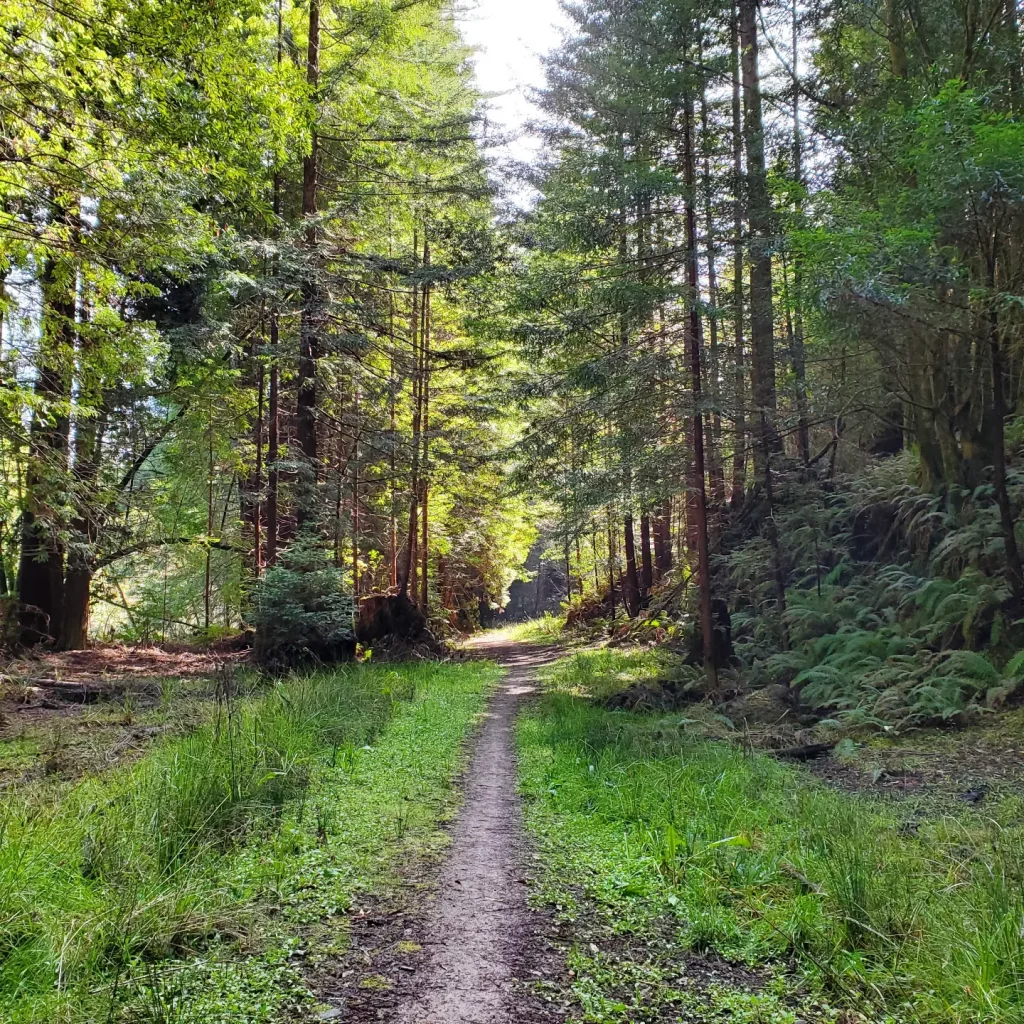 I have ample practice in managing fear–as a recreational stage performer, I've been intimate with nerves, anxiety, and stress since my teen years (and they were plenty long ago). I always embraced the adage, "If you're not nervous before a show, it's time to quit." I spent many nights centering myself off stage, breathing into my fingers and toes as I calmed looming light-headedness and the stress sweats. The most terrifying moments I ever had on stage happened when I starred in our local production of Mamma Mia and forgot some of the lyrics to "The Winner Takes It All." I knew the song inside and out, forwards and backwards. I had sung it during countless long runs in the woods. But I suddenly lost my flow. I started thinking about what I was doing, instead of doing it, and my brain misfired. It was honestly the most frightening moment of my life. How did I recover? I remembered that I knew the song, and if I just took a measure or two to listen to the music and not my mind, the words would come back to me. I had to center myself in the moment again and let my body take over. In front of my castmates and a live audience. Don't worry–everyone thought I was hamming it up and overcome by emotions as opposed to drawing a complete blank. Recovery successful!
Even though our brains control our bodies, we tend to think of recentering as getting out of our heads and into our bodies. But it's really about calming that spicy mental fear response and getting into a relaxed "regulated" state again. The state where we feel like we are in control, not the hormonal circus.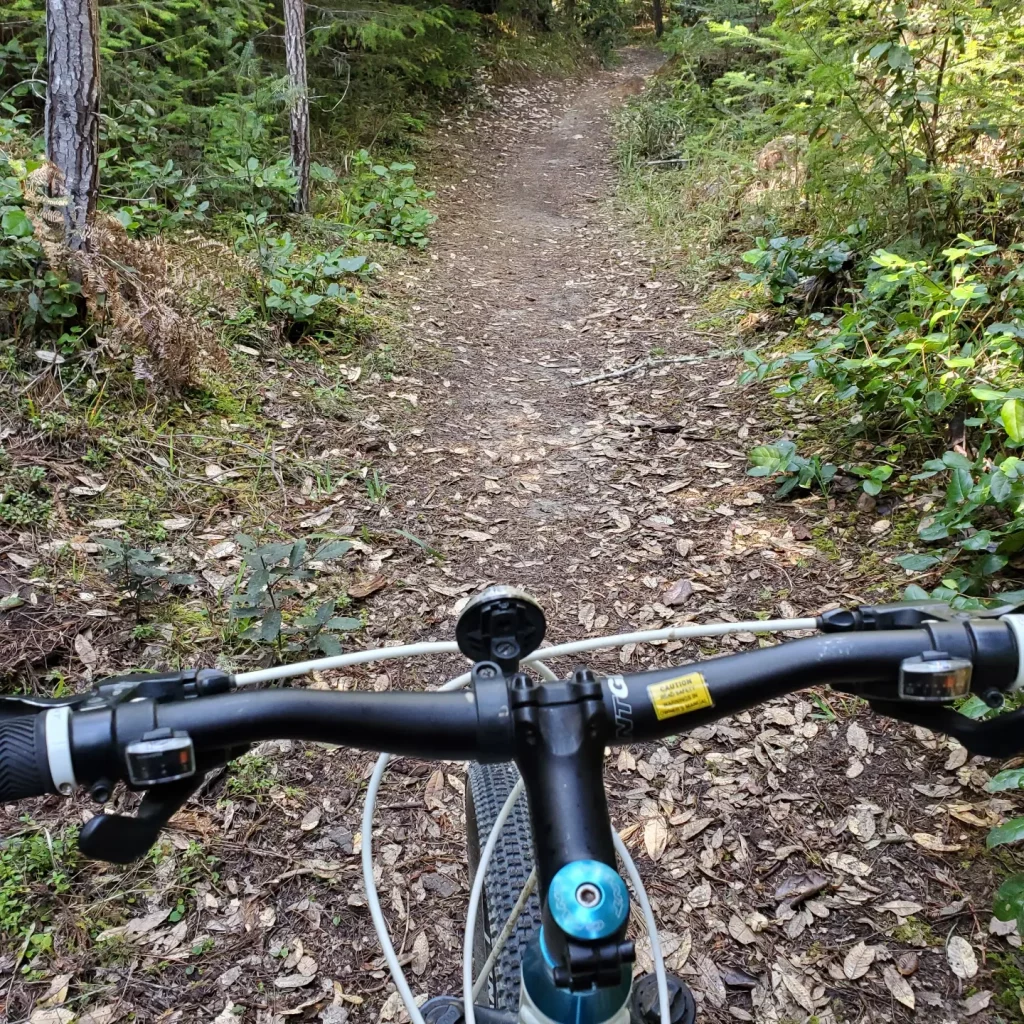 Something magical and empowering happens when we acknowledge fear, take a breath, and move ahead. "I hear you, fear. I hear you. It's going to be okay. We are going down this hill and you are going to feel super awesome at the bottom–I promise." Breathing deeply keeps oxygen flowing and decreases the stress response. I wiggle my jaw, feel my toes spread out and relaxed in my shoes, bounce a little bit over the bike saddle to loosen my legs. I remind myself that people ride this route all the time. And I breathe. I take my time and have no expectations other than that I will get to the goal, whether it's the bottom of a hill or the end of a bit of single track.
When we accept and acknowledge fear, when embrace it with compassion and love, there is no fight. Our brains are so magical, so mysterious; and the organism that is you, and the organism that is me, just wants to survive. What happens if we stop fighting our responses and start riding with them, running with them, hiking with them? Going to parties and mingling with them? We will continue to grow. We will look toward new challenges with confidence, not because we have no fear, but because we do not fear being afraid.