But mouse-friend, you are not alone
in proving foresight may be vain:
the best laid schemes of Mice and Men
go oft awry,
and leave us only grief and pain,
for promised joy!
– Robert Burns (1785)
Off to a Slow Start
"It's to the right, I think" I said to the runner in the white windbreaker in front of me, who had hesitated at the trail junction. "Go ahead, you seem to know where you're going" she said. I was about two miles into the Big Bear Squatch North Half Marathon and so far, succeeding in two of my race goals: staying on course and starting slow.
Little did White Windbreaker know, I went the wrong way at that intersection a few weeks ago while previewing the race course at Bear Mountain State Park, New York. I had continued north, following the blue blaze across the Palisades Parkway overpass instead of noticing the correct trail marker, a red 77 on a round white tag. This time, I kept my eyes peeled for the bright pink ribbon marking the course. As for the second goal, starting slow meant quelling the starting line jitters. As a back-of-the-pack runner, my plan was to walk the first mile or so, which I questioned when nearly everybody started running at the signal.
However, I soon caught up with some runners, who were slowed by mud puddles. At least three-quarters of an inch of rain had fallen the day before, over the night, and during the morning (but it had miraculously lessened to a drizzle once we had lined up). I skirted the edges of the puddles until I arrived at a monster one, deep as a wading pool and as wide as the trail. My first run directly through ankle-deep mud made me yelp, but after the first one, it was easier to run straight through rather than try to step around.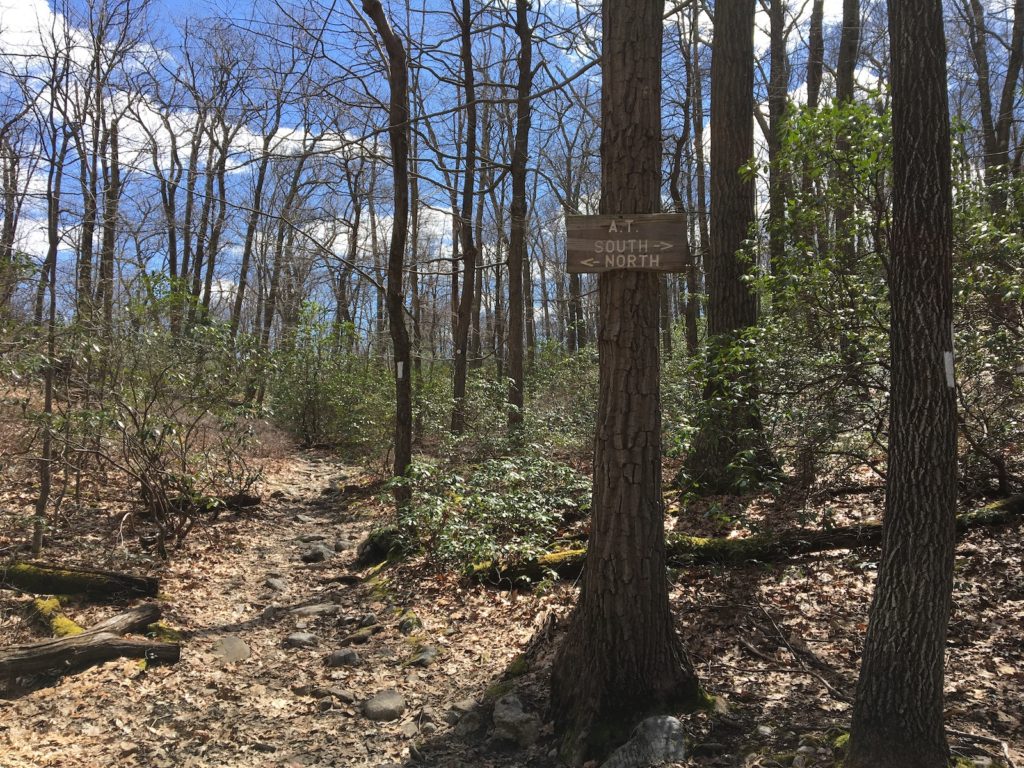 A Spoonful of Strategy Helps the Medicine Go Down
We promptly ascended then descended 200 feet on the 1777 Trail (named after the route taken by British troops to attack two American forts) before approaching the steepest climb of the course. Two women hiking with a fluffy, white husky made space for us to scramble down the trail. They cheered, "You're crushing it!" One of them also said to me, "I like your hat!" First, I thought, "I don't think you'd say crushing it if you had seen the faster runners," but then I changed my mind. She was right about my awesome hat after all, so thank you, soul sister, I accept your compliment!
The hikers boosted my morale at an opportune time, as I gazed up at the boulder-strewn incline rising 800 feet over 1.75 miles. After finishing my preview run with wrecked quads and sincere regrets about signing up for the race, I had gone home and researched how to run in steep terrain. I decided to try three strategies: power hiking, taking smaller steps, and getting out of the backseat.
Power hiking uphill entails leaning forward and using the force of your arms and your hands on your thighs to push off. Smaller steps can be applied to both uphill and downhill. Smaller steps conserve energy, which was the opposite of my assumption that taking fewer steps would be more efficient. Also, when I remembered to, I consciously touched down my heels with each step so that I wasn't balancing on my toes and overtaxing my calves.
When running downhill, keeping your feet under your center of gravity and taking smaller steps helps you recover from missteps and obstacles found on technical trails, such as tree roots and protruding rocks. "Get out of the backseat," a common reminder for skiers who are beginners or feeling nervous on steep terrain, might be helpful to recite on a trail run too. Leaning back away from the slope because of a fear of falling (understandable!) increases our chances of falling because our center of mass is behind us. However, hinging too far forward at the waist to feel closer to the ground also makes it difficult to recover quickly. The correct posture is standing tall through the hips with relaxed knees, which feels like a slight forward lean when facing down a hill due to the pull of momentum.
I power hiked up West Mountain (elevation: 1,300 feet), which was made more strenuous by mushy dirt and rain-slicked boulders. I felt a sense of camaraderie with the back-of-the-packers as we exchanged hellos and encouragement as we crept over the mountain's battlement together. At the summit, I was surprised to get a view of the Hudson despite the rainy weather. Then came the descent before another climb to the Timp, which offered another view of the river with a glimpse of Bear Mountain Bridge. Then, more downhill. The treacherous rocks kept me from using more of the confident downhill posture; instead, I did a lot of side-stepping on flat, smooth rocks and one inelegant scoot down my backside on a sheer rock face.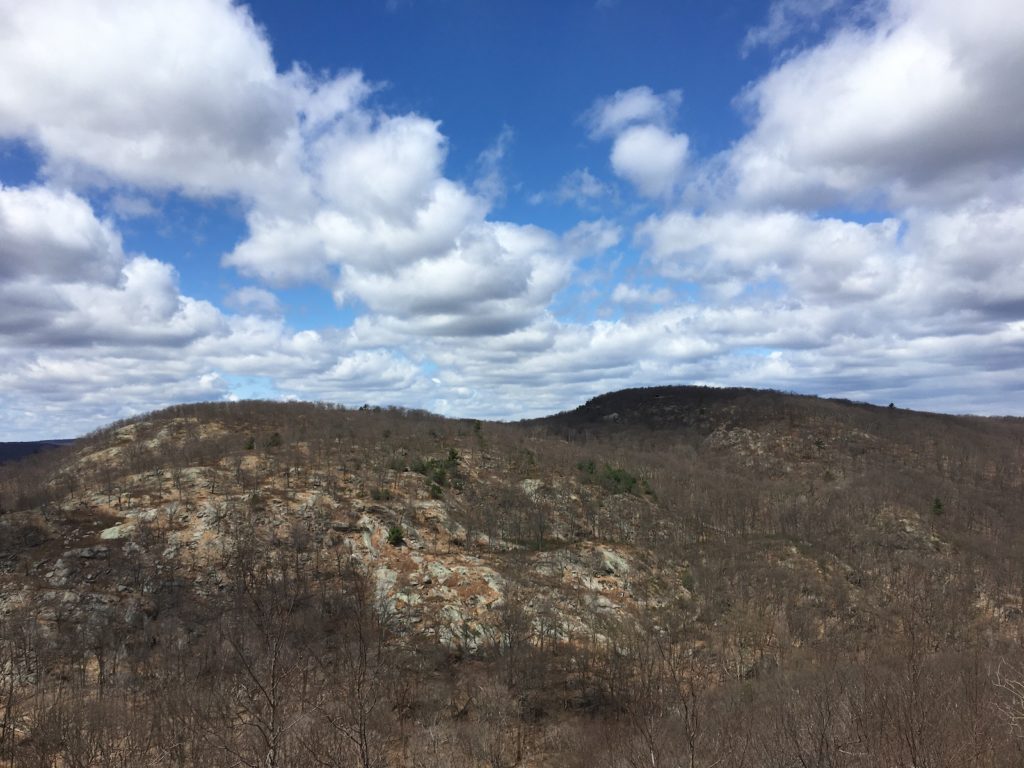 Just Keep Swimming
My smaller steps may have saved me from doing a full superman after catching my toe on a protruding rock. The miles were becoming a blur, but I have faint memories of a cushy carpet of pine needles and gentle, rolling hills. I momentarily caught up with a runner in a pink hydration vest at the Mile 9 aid station. I ruefully turned down volunteers' offers of quesadillas and bacon hot off the grill, since I did not want to test my stomach. What I really wanted was ibuprofen for my tormented hips, but I had optimistically (foolishly) left that in my car, so I refilled on hydration, grabbed a few pretzels, and went on my way.
I slowly ascended through the remnants of Doodletown, a small village which had been inhabited from the colonial period until 1965. After I hit mile 10, I was able to pick up my pace by a couple of minutes, boosted by the carbs from the pretzels and the knowledge that I was only a 5K away from the finish. I saw Pink Hydration Vest again at a 3-way intersection, where we decided to take the slight left turn rather than the sharp left turn. We shared a few paces before she pulled away and eventually out of sight.
According to my plan, the last 2 miles were supposed to be easy-peasy compared to the steep inclines and declines that I had already run, but someone forgot to tell that to my legs. My hips were burning and then I started feeling little zapping sensations in my knees. I pictured my body as a cartoon, a machine going haywire – first the hip joints gummed up, then the knees short-circuit… I hoped that nothing else would break down!
I changed my expectations from picking up speed to finishing the race. It turns out that at the last junction, Pink Vest and I had taken the wrong left, which meant that I was encountering oncoming marathoners going out for their second loop. "Hi, great job!" said the first one that I passed, looking cheery for someone who had already run 13 miles with 3,000 feet of elevation gain, and about to repeat it. More outbound marathoners said hello and cheered me on, which I was catching onto and returning in kind.
Friend, You Are Not Alone
The last 100 yards before the finish line bordered along the main road where cars were turning out of the park. The exiting trail runners honked their horns and cheered out of their windows, again taking me by surprise. More whoops and congratulations greeted me at the finish line.
Afterward, I mingled at the race tent and chatted with runners and volunteers. We talked about the challenging weather, other races, getting lost on trails, gear, injuries, treatments for injuries… you know, the usual! I met Kim, whose pink vest had guided me like a beacon for a few miles, and Becca, one of the volunteers, who jumped into action to help me with my car after my key fob's battery died.
Trying new uphill and downhill running techniques was interesting. More important, though, was learning to be flexible because of factors beyond my control. However, the biggest thing that I learned was how friendly and welcoming trail people were in my new home state. Like the mouse, I had pain, but unlike the mouse, I also found joy in a warm, supportive, hardy, and fun-loving band of New Jerseyan trail runners.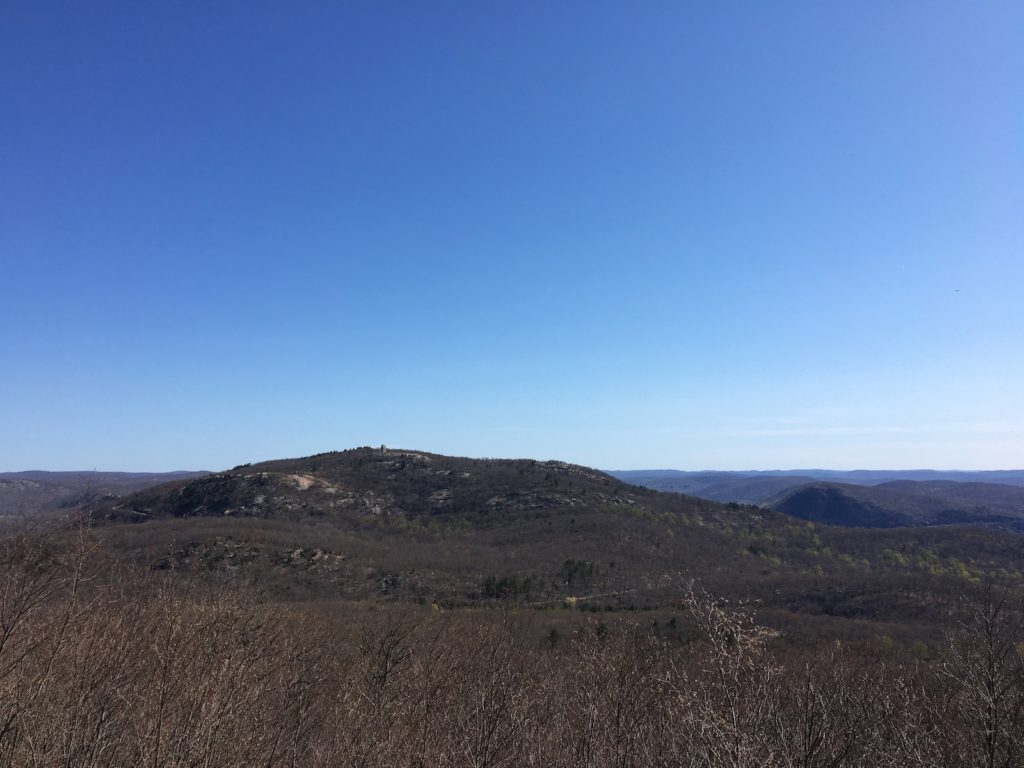 Learn More
For the history and trails of this area, read Harriman Trails: A Guide and a History by William Myles and Circuit Hikes in Harriman: 37 Loop Hikes and Trail Runs in Harriman and Bear Mountain State Parks by Don Weise and Daniel D. Chazin.
For information about parks, hikes, and volunteering in the Catskills, Hudson Valley, and New Jersey, visit New York-New Jersey Trail Conference.
For creative, inclusive, community-oriented, and women-majority trail races in New Jersey, check out the race calendar at Sassquad Trail Running.
References
Burns, Robert. "To A Mouse." 1785. Trans. Michael Burch. Robert Burns: Modern English Translations and Original Poems, Songs, Lyrics, Quotes, Epigrams, Bio, Scots Dialect, https://www.thehypertexts.com/Robert%20Burns%20Translations%20Modern%20English.htm. Accessed 1 June 2022.
---