Photo by Jenni Thorsen
"If you want to go fast, go alone. If you want to go far, go together." – African Proverb
I took two weeks to recover and to capture my reflection on the Kettle Moraine 100k race in early June. I originally registered for this race on January 1, 2020 and it was going to be my first 100-mile race. However, since early 2020 several things have occurred. First, the race was canceled due to Covid. Then, I decided to defer the 2021 race because the date was changed from the usual second weekend in June to the fall and I was unsure how events would go. Finally, I made a career change at the start of 2022 and need time to learn. Fortunately, I had the opportunity to run a great 100-mile race in October 2021, therefore, for the Kettle Moraine I decided to drop from the 100-mile to the 100k.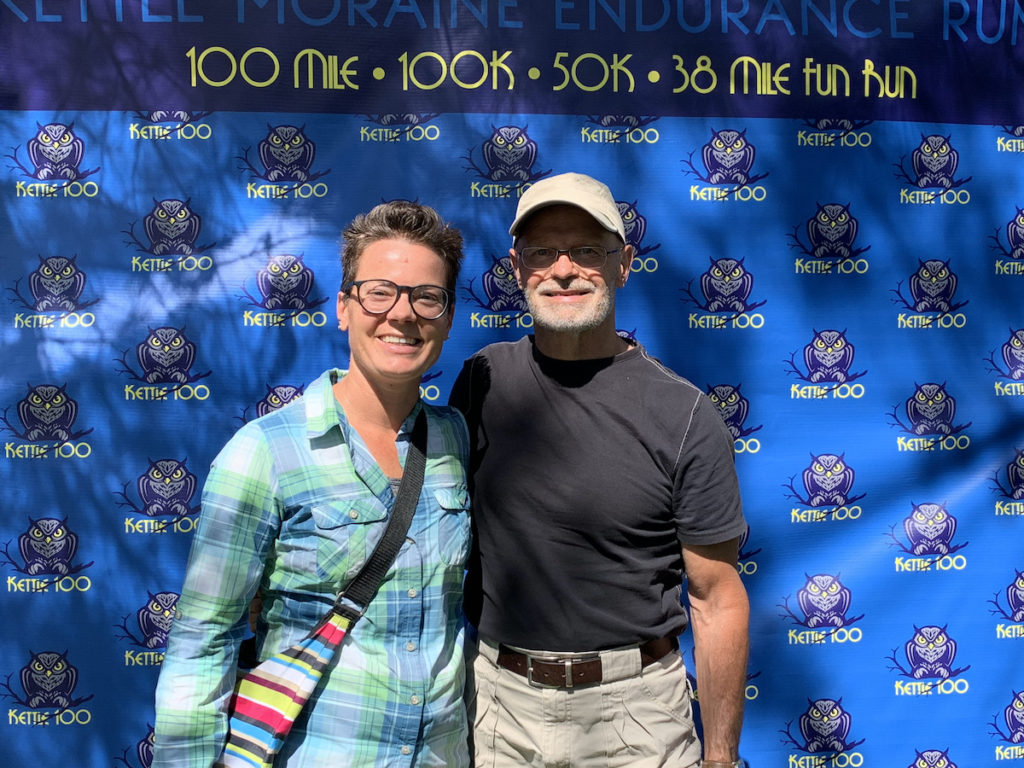 My training for the 100k race went really well. Instead of a four-week cycle of build and recovery, I used a three-week cycle. Two weeks of build, one week of recovery. This change allowed me to recover faster from the long runs as I did not have the third-week fatigue that was typical in previous training cycles. I found I really enjoyed the modified training process and will continue with this cycle for future races.
Similar to post-mortem analysis in medicine and business, I highly recommend that you not only review your training performance but also your race performance. We can learn a great deal from how a race went by being willing to reflect on both the positives and the negatives. I use a two-column Pluses and Deltas activity. It allows me to reflect on multiple aspects of the race including training, travel, race details, and my perceived performance. My Pluses and Deltas for the Kettle Moraine 100k race:
PLUSES
Finished the race as 8th female, 34th overall and 2nd in age group
Good running weather with cool temps, mostly cloudy skies
Beautiful and well-marked course
My gear worked well including shoes and socks – minimal blisters!
Fueled well during most of the race (pickles, watermelon, broth at the aid stations)
No encounters with snakes!
Well organized race with awesome aid stations and support
Adventure weekend in Wisconsin – yeah for camping in state parks
Awesome crew
DELTAS
Did not read course description well: short, steep hills were a surprise
Did not prepare for course specifics – sore quads from steep hills!
Went out too fast – I told myself to run conservative at the start but excitement of the first race in 6+ months got me
Dead headlamp batteries right before dark
Didn't fuel well the last third of the race
Aid station (AS) time management – took too long to change socks at one AS and puked at another
Crew snafu – locked keys in vehicle – thank goodness for drop bags!
"Don't cry because it's over, smile because it happened." – Dr. Seuss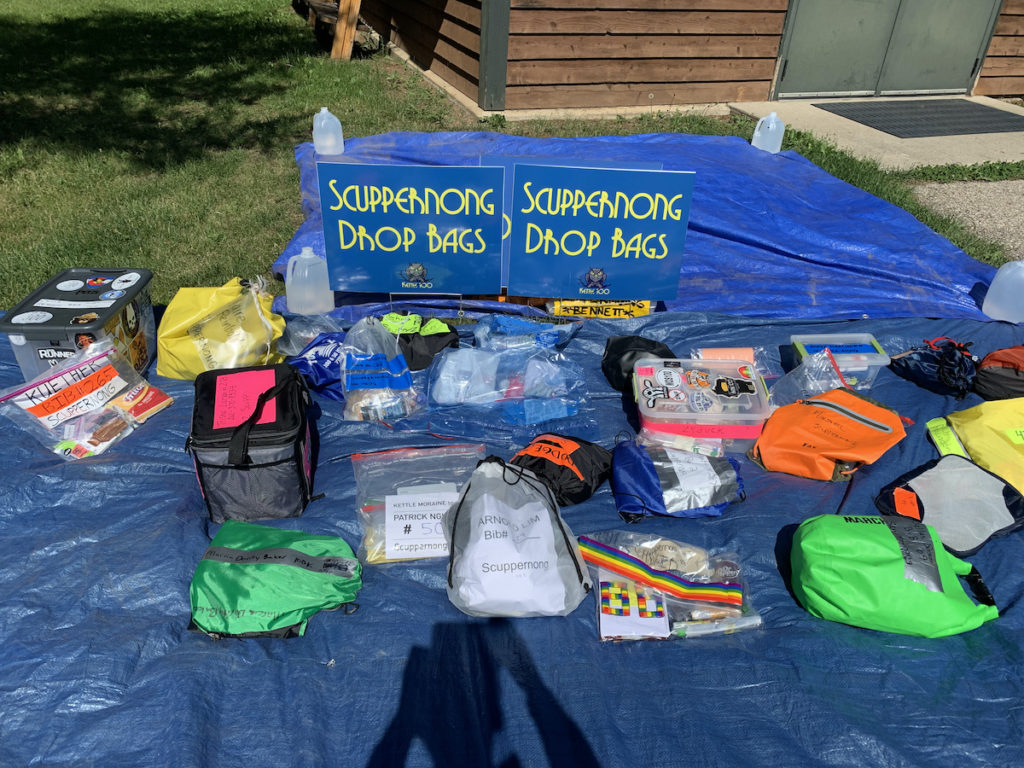 I am really glad I ran this race as it's been on my want-to-run list for a few years. As a runner, it was a great training and racing experience. As a coach, it was a valuable experience on how important the details are. Race management is something I can work on. This includes carefully reading the course description and reviewing course photos. I saw the elevation map but it didn't really click for me until I started running the course. I remind athletes of the importance of time management in aid stations but changing out wet Injinji socks takes a few minutes more than expected. Double checking gear before dark is now mandatory for me, not just the morning of the race! I am so thankful to the aid station volunteer who had extra triple A batteries in her bag. Without her due diligence, I would be wandering the course in the dark or waiting to run with another runner. While my fueling during a race is getting better, I still puked during this race. I fueled well during my long runs which gave me confidence for the 100k race. I will continue to dial in my fueling for better success in the future. My initial response is the humid weather caused my stomach to be off – and perhaps the aid station watermelon with a pickle juice chaser didn't mix as well as it tasted going in.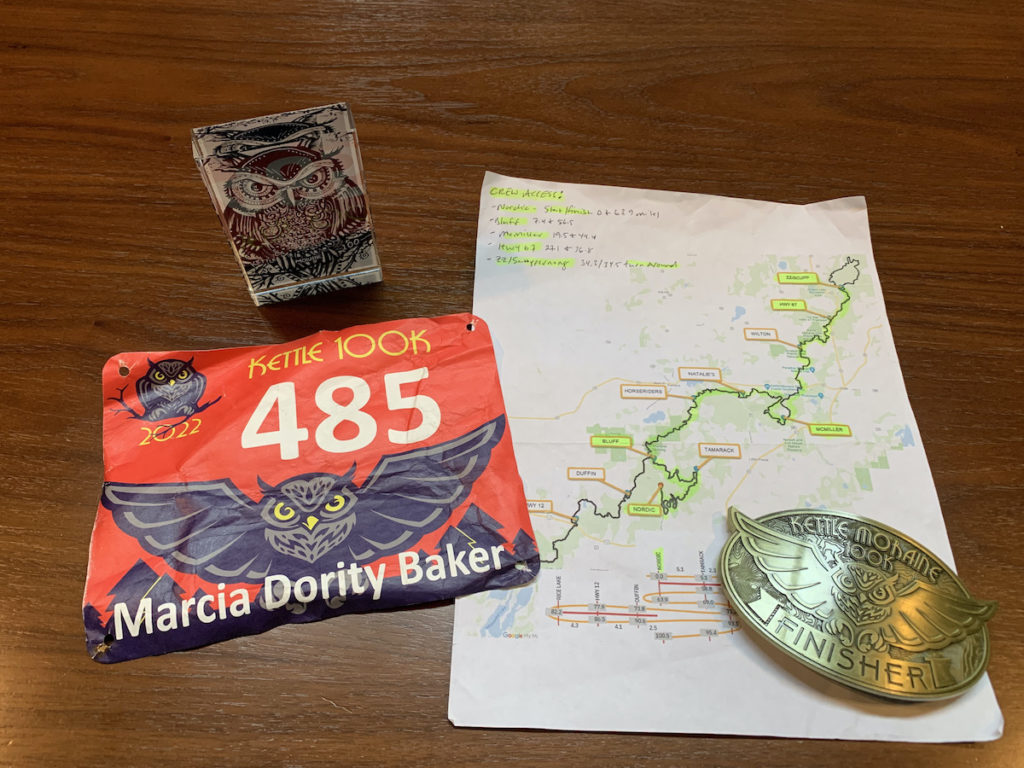 Overall, this was a great race with room for me to improve as a runner. I also got to spend five days on a camping adventure with my crew in Wisconsin. This is the fifth ultra-race my parents have crewed for me since 2016 and I wouldn't trade that time together for anything. While we had an interesting travel experience, we've done this enough to laugh about the goofy things that are part of the adventure. For instance, my dad grabbed the camper keys, not the truck keys at the start of the race when locking the vehicle. I love the challenge of training for and running trail races, but even better is getting to spend time with a supportive trail running community, and an adventure with my family.