Kelly Newlon and Stephanie Howe bring you unique and exciting recipes and along with a wealth of knowledge about nutrients and nourishment in their monthly Trail Sisters column, Nourish.
November often feels like the start of a two-month celebration of all thing's food. We celebrate with one another; we reminisce and catch up on all that may have been missed. Breaking bread while doing all the aforementioned, brings an undeniable comfort to the literal table and builds memories amid it all.
On a recent trip back home to Indiana, my husband leaned over during a family dinner and mentioned "do you think we'll have any vegetables with tonight's meal?". While I not so successfully hid my gasp of laughter, I responded with "er, I am not sure".
Every culture is different, as is every generation of said culture.
This month's Trail Sisters recipe is brought to you by the next generation. A surly group of kids who have grown up and are doing their darnedest to add more vegetables back to the dinner table.
With that said, we bring you the roasted vegetable tart. It's a great way to use up any random produce and herbs you may have in the refrigerator and add veggies in a fun unexpected way. Stephanie adds, as a bonus, the different veggies add a variety of nutrients, which can be tough to get during the fall and winter months.
Some of my favorites to highlight are butternut and delicata squash, beets, parsnips, leeks, and carrots. Not only are they delicious and gorgeous when roasted on a tart, they are full of loads of nutrients. Don't limit yourself with just these veggies- I've added the most random ingredients- orange slices, pomegranate, brussel sprouts, radishes (yes!) and any dark leafy greens. Paired with some olive oil, fresh herbs, and goat cheese this tart is a stunner.
The pie dough recipe makes enough for two crusts. You can happily keep one for the vegetable galette, and the other for a dessert pie of your choosing. Pie and tart doughs often feel like the unsung heroes of the table. Doughs are exceptional vehicles for adding last minute micronutrients, in the form of herbs, nuts, seeds, beet or turmeric powders, etc. We encourage you to go crazy here and start adding things that will not only elevate your food, but also provide a little bit extra as far as nutrition is concerned. And remember, you can make dough ahead of time and keep in the freezer for up to a month, if it is wrapped tightly. Let it be known that there is nothing wrong with a premade frozen pie crust, puff pastry or phyllo dough. There are so many fabulous brands out there these days. If using a premade dough provides someone the time to make a product they otherwise would not, that is a win for sure.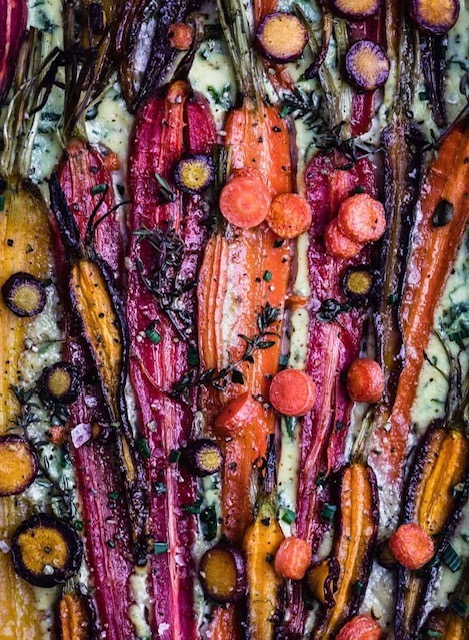 Feel free to forgo peeling any carrots or potatoes used. Eliminating this step makes prep easier, as well as maintaining vital nutrients held within the outer skin of the product. As always, be sure to thoroughly wash all produce used, before cutting.
Any butter or cheese in the recipe can easily be substituted equally with vegan options.
The AP flour can also be substituted with gluten free flour or as Stephanie suggests, any flour of choice. I like to half spelt or rye flour, for a more dense and slightly complex flavor. And remember, this is your tart! Go crazy and use any of your favorite vegetables. You can't really mess this up. The key to even baking is that they are all cut evenly, or at least the same thickness.
Roasted Vegetable Tart
Preheat oven to 350 F
Tart Dough
2 cups all-purpose flour
½ tsp kosher salt
1 cup cold butter, cut into ½ inch cubes (keep cold until ready to mix dough)
¼ cup cold liquid (water, nut milk, oat milk, etc.)
1 Tbsp vinegar (white or apple cider)
Onion Cheese Filling
2 Tbsp melted butter
1/2 cup thinly sliced red onion
3 garlic cloves chopped
2 tsp vinegar (red wine or apple cider)
3 ounces ricotta
3 Tbsp crumbled goat cheese
1 tsp chopped fresh thyme
1/4 tsp kosher salt
1/4 tsp ground black pepper
Vegetables
1 small to medium sized sweet potato sliced 1/4 inch thick (orange, purple or white sweet potatoes work equally well)
1/4 peeled butternut squash thin end, sliced 1/4 inch thick
1 small red beet peeled and sliced 1/4 inch thick
1 large carrot sliced 1/4 inch thick (*sliced lengthwise looks beautiful
2 Tbsp crumbled goat cheese
1 teaspoon kosher salt
To make the dough:
To make the pie crust dough, in a food processor, pulse the flour and the salt for 2 seconds. Add the butter and pulse a few times until the butter is the size of peas. Add the water and vinegar and pulse a few more times. The dough will look like a pile of wet crumbs, it does not need to come to a ball. Remove the dough from the food processor and dump on a large piece of Saran wrap. Pick up the corners and twist tightly to make the dough form a solid ball, then press the dough into a disk. If it's still crumbly, gently press with your palms, but do it quickly, you don't want to melt the butter. Refrigerate for 30 minutes. This can also be done by hand, taking care that you do not over handle the butter and flour together.
For filling:
Using a medium sized mixing bowl, combine all the ingredients for the filling and mix thoroughly into a paste. Set aside at room temperature.
For vegetables:
Thoroughly wash and dry all vegetables. Cut each into 1/4 inch slices. Set aside.
Assembly:
Don't forget! The dough recipe makes enough for TWO crust. Be sure to cut the dough in half and keep the other half in the freezer until you need it.
On a lightly floured surface, roll out the pie crust dough into a 14-inch circle.
Place on a parchment lined flat sheet tray BEFORE building the rest of the tart.
Spread the onion/cheese mixture on top of the dough, leaving a 2-inch border.
Arrange the vegetables slices in a circle over the onion/cheese mixture, alternating between different vegetables and colors. Sprinkle with any extra goats cheese you may have. Fold excess dough up and over the vegetables.
Brush the dough lightly with olive oil or egg wash and sprinkle with sea salt, smoked salt or something beautiful like a truffle salt.
Bake until the vegetables are tender, and the crust is golden brown, 45 to 50 minutes.
Remove from the oven and let cool for 15 minutes before slicing.
Some notes from Stephanie on the ingredients:
Garlic and onion are especially good for the immune system, which is good to have working well this time of year. Less cooking = more nutritional benefit for onions and garlic, so keep that in mind when preparing and always select fresh onions and garlic when possible.
In foods, colors mean micronutrients, ie the good stuff. Think of making your tart resemble a rainbow. How many different colors can you put in there? Not only does it look visually pleasing, it's also a great way to get many of the essential nutrients. Some great colorful options are rainbow carrots, beets, squash, bell peppers, eggplant, purple or orange sweet potatoes, orange or purple cauliflower, etc. Be creative and remember, you can't really go wrong with any fruit or vegetable here.
We LOVE cheese here. And butter. Dairy is a good source of unprocessed saturated fats. We need some unsaturated fat in our diets, and dairy is a great place to get this type of fat. Plus, dairy is the best way to get in calcium, which can be tough to get from foods (why many of us supplement or consume fortified foods).
Fresh herbs make everything taste better. For reals. It's amazing how much they add to dishes. Don't be afraid to try different herbs- mint, cilantro, thyme, dill, etc. They each compliment a sweet or savory dish differently, but work interchangeably.
For a twist on this tart, drizzle with honey or grate some citrus on top of the finished tart. Again, you can't go wrong, and a little flavor goes a long way.
We especially love that vegetables are the star in this tart and you can really use any type that you'd like. It's a great way to add vegetables back into dinner. We've got you covered!!