For the past fifteen years I have run on veggies. What inspired me to drop the meat and move towards a plant-based diet? As a runner, I found I had more energy and an increased metabolism. Through trial and error, I have learned unique ways to sneak in protein throughout the day by consuming nuts, yogurt, and grains like quinoa. Every runner is different when it comes to their diet. Whether you want to go full vegan, or just want to add more greens, there are a variety of ways to embrace a vegetarian lifestyle while maintaining fitness and strength. Eating vegetables doesn't have to feel like running a marathon. A simple pesto of spinach, kale, nuts, cheese, and herbs can be used to toss on pasta or as a sandwich spread. It can be exciting to try new recipes with greens at the center. Here is the scoop on how to get more of them on your plate.
Vegetarian meal prep can appear daunting, but there are a few easy tricks to make it manageable. When cooking vegetarian meals, I keep it simple by using a mix of bases, proteins, and vegetables. Bases include foods like rice, pasta, quinoa and eggs, while proteins can include beans, tofu, or tempeh. Combining these ingredients, it is possible to create a plethora of meals. For example, after roasting sweet potatoes, brussel sprouts, and carrots on the weekend I can toss them into a grain bowl with quinoa and beans mid-week for lunch. Alternatively add them to pasta with sauce and a dusting of parmesan cheese come dinner time. Another shortcut if time and your busy schedule allow is cutting and chopping vegetables in advance to reduce the workload on busy weeknights.
Transitioning from carnivore to plant eater can begin with baby steps by substituting a plant based alternative or protein one time a week. For example, a unique replacement for "pulled pork" is jackfruit. This tart fruit with a stringy texture can be an easy filling for tacos, sloppy joes, or sliders. Portabella mushrooms can be roasted and used in lieu of burgers. Tofu can be crumbled to resemble eggs for a "scramble" or sliced and added to stir fries. Tofu also makes a non-traditional enchilada filling. Not ready to go full veggie? With a similar taste and texture of meat, Beyond burgers can be used interchangeably. As a vegetarian I found the Beyond burgers to have too much of a "meaty" taste, while my carnivore eating husband found them to taste like the "real thing." Depending where you are on your vegetarian journey Beyond burgers could be a good bridge for swapping a plant-based alternative for meat.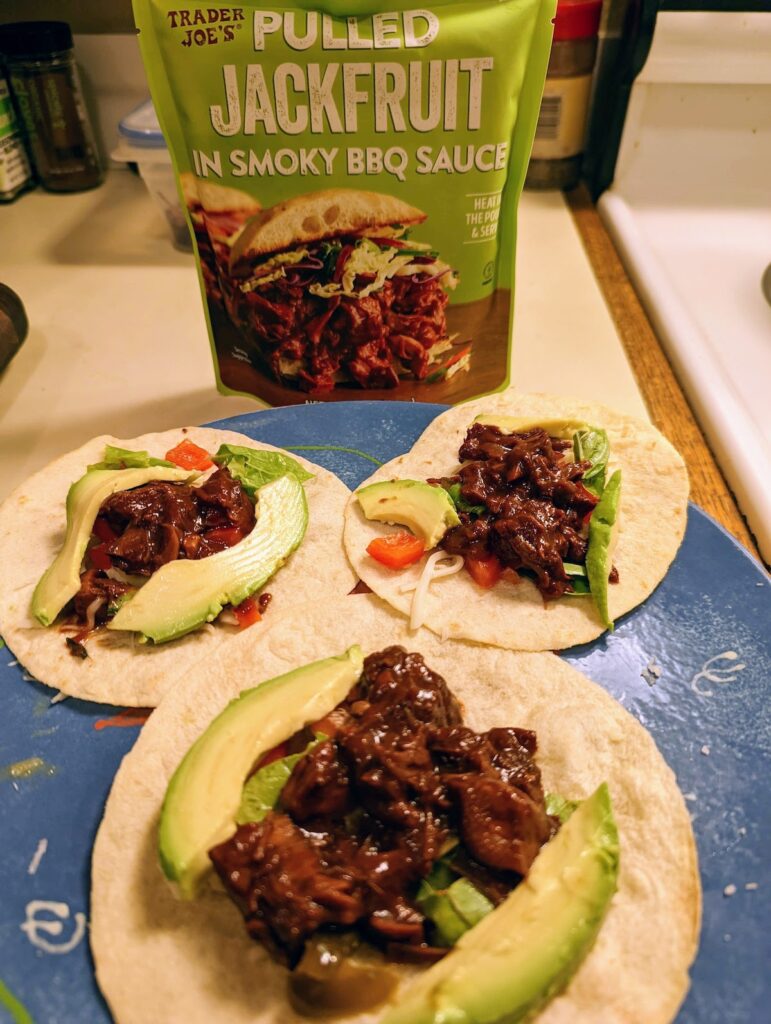 Proteins can also be subtly shifted into a weekly rotation. Quinoa can take the place of rice. Start the morning with Greek yogurt drizzled with honey and topped with granola and fresh fruit or eat it to power you through the day as a midday snack. Eggs can be an extremely versatile protein. They can be scrambled and mixed with spinach, cheese, and black beans for a hearty meal any time of day. They can also be made into a frittata or quiche. Some of my favorite quiche combinations are broccoli/cheddar cheese, broccoli/apple/feta, kale/sundried tomatoes/feta. The combinations are endless and can be mixed and matched to meet your tastes and what you have on hand. 
And what about adding all those veggies? Raw or roasted vegetables add color, texture, and good for you nutrients to any meal. Raw vegetables such as bell peppers, onions, can be tossed into salads. They are also great to sauté with other left-over vegetables to make a frittata mélange. Roasted sweet potatoes, cauliflower, and broccoli, and squash can be added to grain bowls or transformed into a curry or stir fry. Want an effortless trick to add spinach to pasta? After washing, place it in the colander. Once the pasta has drained it has cooked your spinach, and it can be added right into the meal. Experiment, have fun! There is no magic to what pairs together, it will depend on personal preference and availability of produce. Shopping at your local farmers market is the best way to buy what is in season. Alternatively, buying frozen vegetables makes it easy to toss them in a dish year-round. 
For something different, vegetables can be blended to be used as a sauce or spread. My favorite way to use leftover greens is to dump them into a food processor with olive oil, a dash of salt, cheese, and walnuts for a versatile pesto. An unusual (but tasty) pesto has beets at the center. After roasting beets in the oven puree, them using a food processor with walnuts, olive oil, salt, and pepper. Viola! You now have a dip for crackers, or a sandwich spread.
Embracing a vegetarian lifestyle takes patience and creativity. Like any new endeavor, start small and adjust to find what works for you. The return can be rewarding as your body feels stronger and energized whether getting through mile repeats or miles on the trail.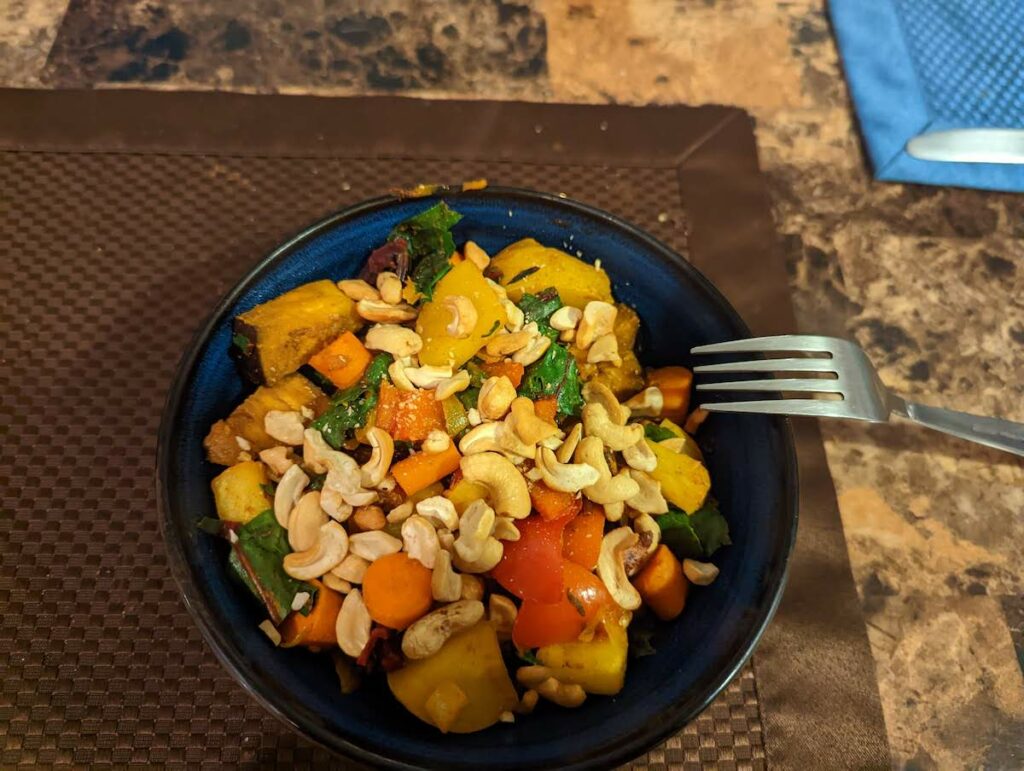 Mom's Vegetable Curry 
Ingredients
1 tablespoon olive oil 
1 clove garlic, minced
¼ cup onion, chopped
1 tablespoon curry powder
1 teaspoon turmeric
One-two carrots, chopped
One bell pepper, chopped
One or two potatoes, quartered
Quarter eggplant, chopped into bite sized pieces
½- 1 cup greens- kale, spinach, beet greens, chard
1 can chopped pineapple, drained (optional)
1 cup water
Cashews/peanuts (for garnish)
Directions
Heat oil in a large pan over medium high heat. 
Add garlic, onion, curry powder, and turmeric. Sauté until fragrant, about 1-2 minutes.
Add carrot, potatoes, and one cup water. Bring to water to a boil, then reduce to a simmer for 10 minutes. Add bell pepper and eggplant and continue to simmer for another 10 minutes.
Turn heat to low and add in greens. Cook until wilted, about 3 minutes.
Add drained pineapple and cook until heated through 
Serve over quiona. Top with nuts.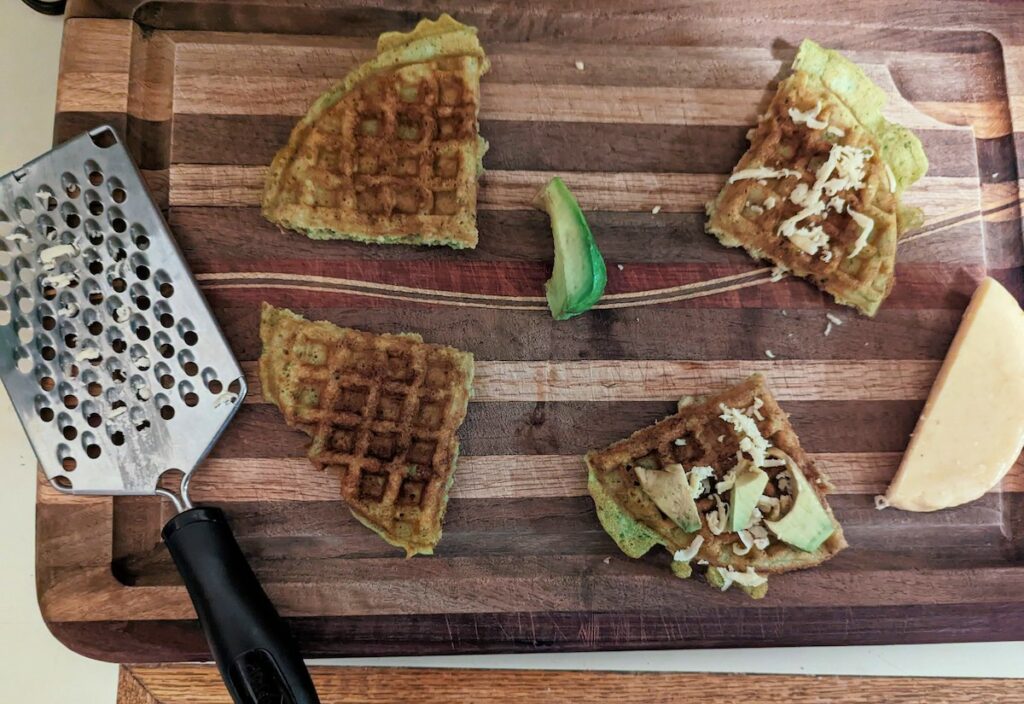 Green Waffles
Ingredients – makes 5-6 
1 cup oats
2/3 cup milk
1 1/3 cup boiling water
2 eggs (separated)
5 Tablespoons olive oil
1 ½ cups biscuit mix (I used the gluten free mix from Trader Joe's)
1-2 cups greens of your choice (spinach, kale, etc), washed and torn into small pieces
1/3 cup olive oil*
Instructions
Place oatmeal in large bowl.
Pour in milk and boiling water.
Let sit for 5 minutes
Separate two eggs (yolks will go in one bowl, whites in another separate one).
Add yolks and oil to oat mixture.
Stir in biscuit mix.
Beat egg whites until stiff (works best with electric mixer) Add to mixture.
Blend greens with enough olive oil that they make a smooth consistently. Add to mixture.
Pour approximately one cup of mixture onto waffle iron and cook until done.
Keep warm in the oven until ready to serve.
Serve topped with cream cheese, or pesto, wilted greens such as spinach.