Photo credit: Misty Herron
I've been running since November 2011. I stepped up to ultra running Summer 2020, as a way to grapple with the uncertainty and isolation of the pandemic. And then, between December 2021 and December 2022, I ran three big races: 50 miles at Stillwater Ultras (Dec 2021), a loop race, another 50 miles at The Longest Night (Dec 2022), an overnight loop race, and –– my proudest accomplishment –– No Business 100M in October 2022.
I'd always heard that finishing a big race is as much about psychology as it is about fitness.
There are limits to that philosophy. Prior to completing my first 50M, I DNF'ed one –– the Georgia Jewel in September 2021 –– because I wasn't fit in the way that the race called for. The punishing climbs of the northern Georgia Pinhoti took me down.
Yet this cliche gets at a fundamental truth about ultrarunning, and perhaps about many challenges that we take on in life –– whether we finish is often not, in the end, luck or fitness or skill but choice. Every time we have an opportunity to stop, to give up, to bow out –– we choose to keep going. And we make that choice again and again and again until we cross the finish line.
I encountered this mindset for the first time at Stillwater, in December 2021.
I'd signed up for the 12 hour loop, intending to go as far as I could before my body told me, "stop." Race morning dawned bright and warm, easily in the 50s despite the mid-December day. Before four hours had passed, I was feeling nauseous. I sat down at the aid station, struggling to keep down ginger ale. (Nausea is my perennial problem on ultras.) I worried about dropping out early, but I plugged away, getting up, running another loop, sitting down again, then running another loop.
At six hours, however, the weather changed. I was mid-loop when the skies, which had been threatening rain, opened and drenched us all in an icy winter downpour. I ducked into my car to pull out one of two changes of clothes, much earlier than I'd planned, and continued on.
The rain continued for the rest of the afternoon and into the night. My nausea vanished in the cold, but other problems arose –– ongoing cold and wet. At some point, I had to swap out my change of clothes. Dusk was falling, the rain was coming down steadily, and I sat in the backseat of my Toyota Corolla for half an hour, wrestling with clingy wet clothes, fogging up the windows with my breath, and deciding whether I really wanted to go back out into the damp. "A couple more laps," I thought. "Take it one lap at a time." And back out I went.
My hip started to lock up in the last hour of the race. I would stop at the aid station, then find I could not move my right leg without pain. I would leave the aid station walking, or hobbling, back out into the night. "One more loop." I promised myself. And so I did one more loop –– and then one more, and one more.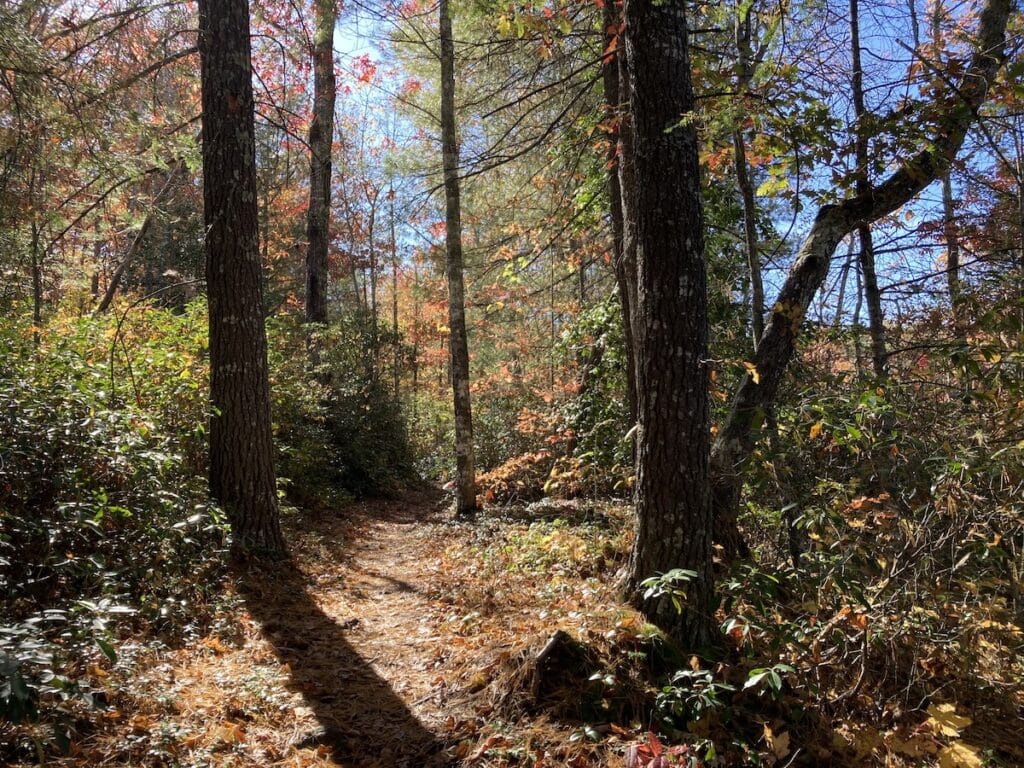 Only when the 12 hours ran out did I finally stop. I had to be helped to my car, my hip was so stiff. (The pain cleared up immediately the next day, thankfully.) Looking back on that accomplishment over the days and weeks that followed, I was immensely proud of the distance I had reached –– 50 miles, my first time at that distance. What I was also proud of was that I had not set out with the goal of any particular distance. I had simply chosen, again and again, to do one more loop.
This one-more-loop mentality became my guide and rock for ultras, even on non-loop races. I put it to work multiple times at No Business. At Laurel Hill, 45 miles in, I had to lay down beside the aid station campfire because my nausea was so bad it felt like there was a knife through my stomach. After an hour, my nausea cleared, and I got up and headed back out into the night. At Blue Heron, 62 miles in, I was running very late, and the night –– it was 2 am –– was freezing cold, and I did one more loop, following the course around the Blue Heron campground, watching the tiny flickers of spiders' eyes dance in my headlamp. Back at Blue Heron again, 69 miles in, I was so tired I couldn't see straight, napped in my crew person's car, and refused to keep going. But then my crew person –– bless them –– got me an anti-nausea med from the race physician; I recruited a friend who'd been volunteering at the aid station to pace me the next seven miles to Bald Knob, and I headed back out, crossing the tall trestle bridge into the dark. I came into Bald Knob with 15 minutes before the cutoff, saw other runners in front of me heading back out onto the course –– and chose to go after them. From there on the race was choosing, at every aid station, to do one more loop, moving forward aid station by aid station. Sometimes the volunteers pushed me forward. "Go get your buckle." All that day, as I picked my way through flowing streams and climbed rocky ridges, I chose to keep moving forward. I finished, a quarter hour shy of the race's end, in 32 hours, 44 minutes.
Increasingly, I find myself thinking about these choices as I'm tackling professional and personal challenges, such as my dissertation. I'm currently a 5th year PhD candidate in Rhetoric and Writing, studying how we grade college students' writing –– and why we shouldn't do it.
For a long time, I saw very little in common between my ultrarunning hobby and my academic work. I took up ultrarunning because it felt so different than research and writing. My job keeps me on my rear, in front of a computer, using my brain; running gets me up, in nature, using my body. Running has clear, obvious finish lines where academic projects do not. Running is solo, academic work is a team effort. Running is straightforward, making sense of highly complex ideas and data is not.
But lately, I've been struck by the way choice-making is key to finishing my dissertation, in the same way that it is key to finishing a race.
My dissertation is by far the largest project I have ever tackled, three times the length of my master's thesis. Many days, I sit down to write and find it difficult. The enormity, and importance, of the project can be intimidating.
But, especially after No Business, I have been trying to put my one-more-loop philosophy to work for my research. Rather than thinking of the project as a whole, I narrow my scope, and move forward one "loop" at a time. I write an outline one day. The next, I pull data to use in my chapter writeup. The day after that, I organize this data and add a little analysis. If I am extra overwhelmed, I open a chapter draft and revise, taking existing words and making them better.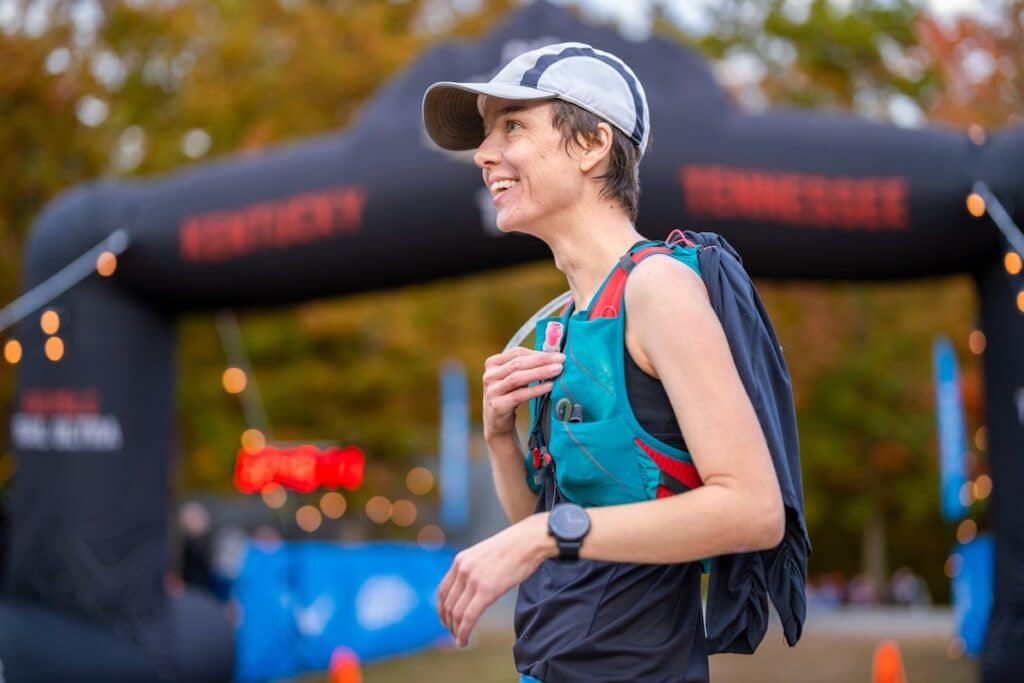 Alongside this work, I run. I get up every morning and head out the door, for three miles or five or ten. Usually I run solo, but sometimes I join local running groups. Running helps me find the mindset of tackling just one more loop until the project is finished. I ran 3000 miles last year (2022), and though I didn't always succeed in leaving my problems on the track or the trail, it kept me grounded.
I am still learning how to move forward in my intellectual work –– as in my running –– one loop at a time. There are many days when I miss a loop, when I need space from my dissertation, so I can return to it refreshed. But as I head into another year of working on this project, I want to approach it with this mindset. I want to face my dissertation and head out for one more loop –– again and again, until I defend it.
My research and writing matter to me, and as difficult as the dissertation is, I'm excited to put it out into the world. But my excitement doesn't change the fact that (like many PhD candidates) the actual writing of it is a big task, a true endurance sport. And so I turn back to the other endurance sport I love –– running races that last through the day, through the night, and on into the next day –– and lean on them to carry me through.