Time of Reflection, Transition, and Growth as a Female on the Trails
Reflection:
I call myself a "fitness enthusiast"….. And what exactly does that mean? Well, it means I enjoy all things fitness related and after years of trying everything out – 5ks, 10ks, half marathons, marathons, triathlons, weight lifting, Crossfit, hiking, skiing, etc., I am a jack of all trades, master of none as the saying goes. I've had my chance to feel them out, fall down mountains, learn what never to do again but I've always gotten back up and pressed on! At age 42, I have no regrets and I've learned alot and am still learning – but am just the wiser now.
You see, in my 20s, exercise was a "thing to do." You know – you get together with your friend or group of girlfriends and work out as little or long as you wanted. For me, it was about getting in better shape as I went from college party girl into now I have a job and need to do something with my life! I married a military man, we moved away, he motivated me to try new things and become a better version of myself. (Trust me, I needed some help!) I kicked the smoking habit and moved across the US to a very remote location where running was the only option as nothing else was nearby! One mile used to feel like one hundred… that's where my running life began! As I started my new nursing career along with running, I learned it was a very good way to "let it out" and decompress after work. I grew to enjoy my time alone and always felt better after the run. Short runs turned into long runs..
The year I turned 30 – I thought I was invincible. I graduated with my Master's Degree, ran a marathon, and found out I was pregnant with twins. Talk about a year. After years of being able to train and do what I needed to after work to unwind, I was now limited. So much, that I was forced to be on bedrest for months. I was unable to return to running for months after delivery and c- section and quite honestly, I was too exhausted. My clothes didn't fit me right, I was tired all the time, and had nursing mom parts that were beyond comfortable and running just was going to have to wait. My return and progress back to running was very slow. I knew I had to connect with other moms, humans, anyone besides my husband at this point. He was great – don't get me wrong, but I had to dig deep to want to do anything. I had zero motivation. It was in these tough times I learned how to push through when I didn't want to and to keep fighting. I had two babies at home that were born extremely premature at 29 weeks and in the Neonatal Intensive Care Units for months. If they were going to fight, they had to have a fighting mom too! I had to physically be able to care for them but also realized I needed to focus on taking care of myself mentally as I had felt pretty broken after my traumatic pregnancy and my newborn twins' prolonged hospital stay. I forced myself to talk to others even when I didn't want to and started back running. Running and sunshine literally brought me out of the house and helped me heal.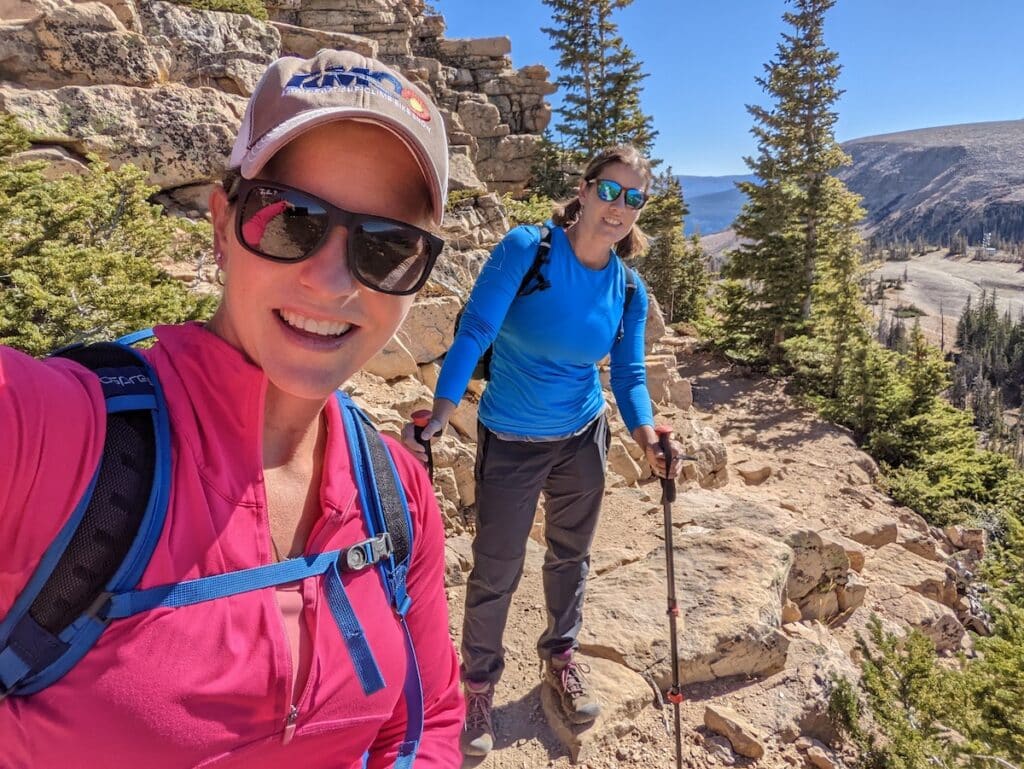 Transition:
I started to develop a plan setting some goals and racing it was. We started accumulating weights for a home gym and I started running on our treadmill when I couldn't get to the gym or cold weather. I diversified my training from 5ks, 10ks, into triathlon training. I really enjoyed the change and found others to bike or run with. It was always a good break for me to be with others. Also, giving myself a distraction, goals, and purpose, small changes made larger things possible.
In my late 30s, I started to feel those aches and pains setting in and recurring old injuries kept nagging at me. Life with a bit older children active in their own sports, homework, and activities forced me to realign my days after work and challenge the routines a bit more. That resiliency when younger seemed to disappear and cruising on little sleep became harder than I remembered. Was it the demands of work, family, activities that make it harder? Older age? Definitely a transitional period I have learned. Female hormones can start to fluctuate mid to late 30s and on into the 40s. I was feeling restless sleeping at night, my weight was climbing, I was cranky by day and anxious at other times. What was happening …. I had to do some research. I learned about some of the transitional symptoms with pre/peri menopause with those shifting hormones. And I wasn't alone – many of my friends were all saying the same thing! So, by reading on, I had to rethink my attitude towards health and fitness and make some changes. Here are a few things I've learned:
Growth:
Nutritional health: Let's face it – I was getting lazy. A cookie here, an extra slice of pizza there, a beer on a hot day. My pants were getting tight and I didn't like the tummy. I starting tracking food with an app on my phone to adjust my diet and also stopped eating until full. Leaving room to still feel hungry after a meal and increasing my veggies, protein, and water each day. I didn't feel as bloated and sluggish. I also became certified as a nutrition coach to understand food better and help others.
Fitness health: I was working out sure – but my routine was tired. I needed to "shock" the system to get it conditioned again. I started lifting weights, doing Crossfit again, and alternated with running/cardio days. Lifting weights can improve metabolism to burn more calories. PLUS muscle mass starts to decrease after age 30 – definitely need to try and maintain/increase it. I scheduled early morning workouts to ensure I had plenty of time and got the workout in before work and school started. Trail running and hiking has always been my favorite as I love the views, challenges of elevation, and pure solitude of nature.
Social health: It takes work to have friends, but also be a friend. I reached out to friends, started calling or texting them more regularly and scheduled monthly get togethers with neighbors and anyone else – even my realtor!
Mental health: I needed to think about what I wanted and not everyone else. Friday nights became my long bath night or long walk night. I journaled. I enjoyed my favorite tea and watched a good movie. I got up early to have some dedicated quiet reading time before the day started. I needed the "ME TIME" so I scheduled it. I knew exercise can reduce anxiety and stress levels so I made a priority. Especially if I was going to be getting more solid sleep, eating better, and taking care of myself.
By thinking about your priorities and organizing your life, you can stay committed to lifelong exercise. Fitness in your 40s can be harder, but you can also rise above previous decades of life by instilling new routines and understanding your body better and what has or has not worked for you.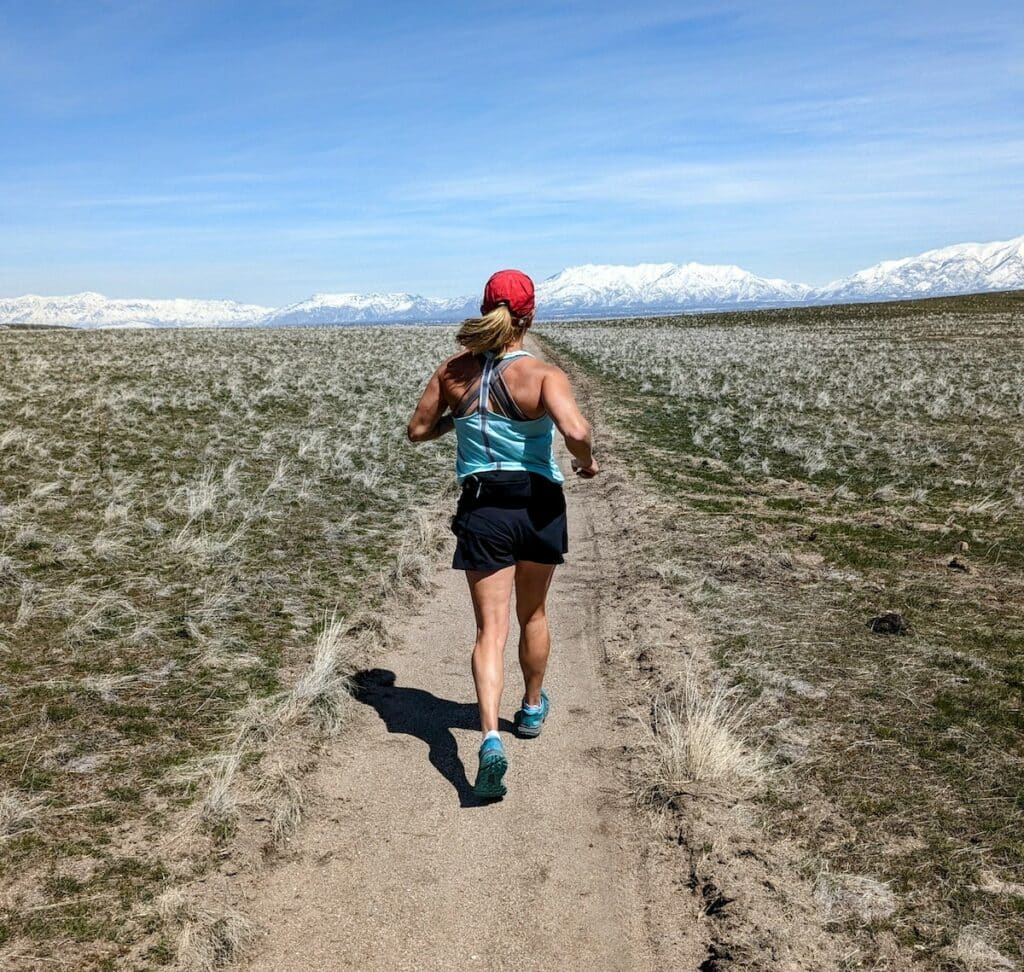 MY TIPS FOR THE FEARLESS FEMALES IN THEIR 40s!
IDENTIFY and STATE your goal(s) – tell everyone, write it down – make yourself accountable.
Identify how you will obtain your goal and how long it will take you.
Plan – The night before early morning wake ups, get everything ready. Water bottle in fridge, clothes out, shoes by the door, keys ready. Everything to tip toe out of the house for those early morning wake ups. Set the alarm and go with it.
Get the caffeine ready: A must for me is morning coffee. I drink it before the trail run, road race, or morning workout. I always drink a full glass of water with waking. If caffeine isn't your thing – drink your water or electrolytes, you pick!
Go to bed early if you can! Netflix and Hulu will be there later.
Meal prep – food is portioned out and ready. No excuses.
Make it a commitment- It is easier to talk yourself out of it if you aren't prepared and overtired. So commit and stick with it.
Drink your water! Yes, this helps control hunger.
Minimize the wine or alcohol as it disrupts your nightly sleep and leaves you sluggish.
Schedule get togethers – and I mean schedule – even if it is 2-4 weeks out.
Do an activity you enjoy with someone and connect.
Check with your medical professional to see if you are deficient in any vitamins or minerals and get your yearly physicals.
Make it a habit – think of exercise and health like your routine with brushing your teeth. You have to brush your teeth each day to care for them – why not the rest of your body with daily activity?
Lastly, KEEP SHOWING UP. If today wasn't a good day – restart tomorrow. You always get another chance!