Big goals require big plans.
When you're dreaming of pushing yourself further than you've ever gone before, you must do things you've never done before. This is scary and exciting and nerve wracking all at the same time. 
I added running a 200+ mile race to my list of goals in 2021 and have had my eyes on the distance ever since. In 2023, I'm working on making it a reality. When I committed to making plans to go 200+ miles, my friends Sandra Garrett and Jesse Kokotek recommended a journey run as a training run. Both are seasoned in the 200+ mile arena with unofficial and official races and training runs. Both have run across Tennessee (314 miles), Florida (116 miles) and North Carolina (378 miles). Sandra has run Cross Georgia (155 miles).
Before I ran a journey run, I thought it was a self-supported multi-day run/walk adventure from one point to another. I knew there would be no aid stations to get food and drinks, no fan fare to keep me motivated to keep going, and no shiny medal or award at the end. A journey run would be something incredibly different from the typical race experience I've been a part of and hosted. I went into the run with the mindset of learning as much as I could about multi-day running and accepting the suffering and pain my body would endure from pushing myself to new levels.
The Plan
Sandra has a history with US-17 in Georgia and North Carolina so naturally Jesse suggested the training run happen on the same highway and this happened in South Carolina. The start would be in Savannah, Georgia by taking the ferry to South Carolina. The course was to follow SC-17 for 217 to 223 miles (depending on course rerouting off of SC-17) all the way to the North Carolina border with the goal of completing 50 to 60 mile days. Sandra and I would be running mainly together throughout the journey. Jesse would keep an eye on us while documenting the run through film and photography, but we set boundaries that Jesse could not assist in any way unless there was a safety concern. If not safety related and necessary, Jesse was not allowed to help. Going into this we thought we had a solid plan and accounted for everything we could. Much like life, the plan didn't go as expected. While what happened was unexpected, there are still powerful lessons to be learned and value to be gained when things go wrong and you have to figure it out as you go with uncertainty being both managed and accepted.
Day One
I came into the run recovering from being sick, sleep deprived, and taking an antibiotic. I decided to continue with the run and hoped I was well enough to start and finish. I did a review of all that was in my running pack and found that if I took everything to the start of this run, I would be in trouble quickly from the weight. I discarded what I didn't absolutely need in order to only have weight on my back that was completely necessary. I didn't need as much as I thought I did. The start included crossing the river on the ferry and arriving at the Convention Center. It was anticlimactic as expected. The first six miles on SC-17 was on an unfinished dirt road used for the ongoing construction happening on the highway, then transitioned to a divided highway until mile 14 where Sandra and I grabbed food from Hardeesville, SC from a gas station and a Wendy's. After lunch, the highway turned into a two lane road without any divide and little space on the shoulder for running. This part was frustrating, jumping on and off the highway and into the grassy shoulder when tractor trailers were passing by. Jesse had driven ahead and let us know that the lack of shoulder with no sidewalks in sight would last at least another 7 miles. There were service roads and alternative paths that would add mileage to the route if we wanted to consider those, but we ultimately decided to stay the course. Jumping on and off the highway and into the shoulder was monotonous and annoying all at the same time. I wanted to stay the course on the shoulder of the road, safely, and get the miles in for the day. It was sunny, hot, and in the 80s which led to Sandra feeling nauseated and vomiting. Luckily with some troubleshooting, a short break and sodium pills, Sandra made a full recovery with the run continuing until another meal stop around mile 30 and the first hotel break at mile 43 around 10 PM. Lodging options were limited in the area so it was either stop and get some quality sleep at mile 43 or wait until mile 73. We thought it was better to get sleep earlier on and rest our legs for the days ahead. Day one was mainly all smiles, with exception of some vomiting by Sandra. The hotel was a nice break from the heat and since this wasn't a race, we stayed until breakfast and started back on day two around 8 AM.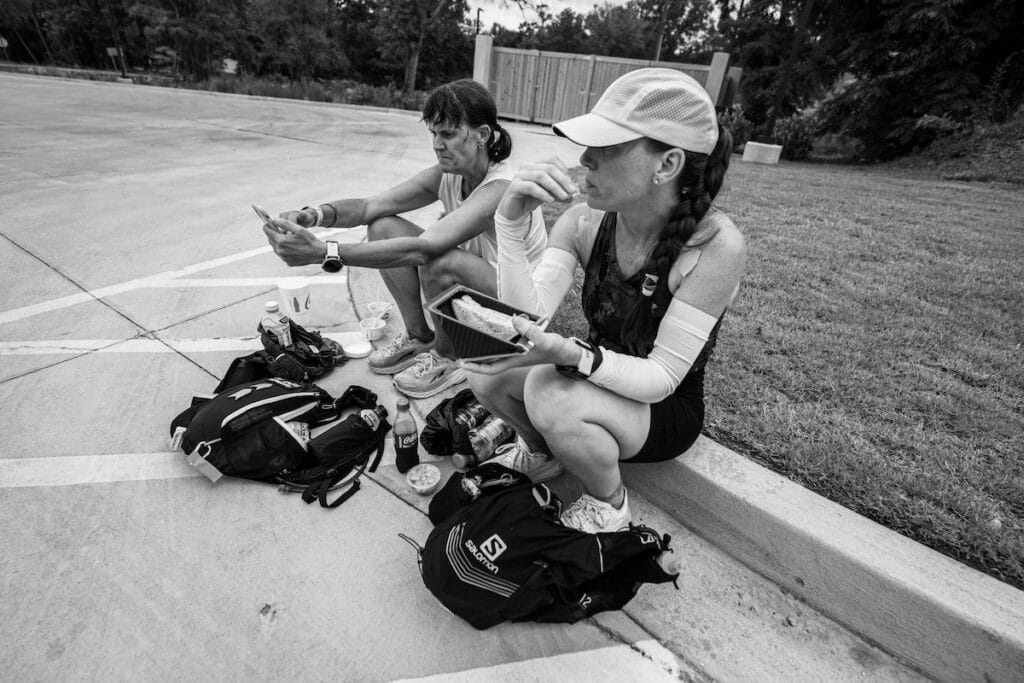 Day Two
This was a new day. It started off in the high 50s, cloudy, and comfortable. Sandra and I were both feeling good and ready to tackle the day. There was plenty of room on the side of the road in the morning to run comfortably. The goal was to make it to mile 103 in Charleston for the next hotel stop and hit 60 miles for the day. The morning went off without any issues and we easily made it to mile 64 (21 miles) to stop for lunch at a gas station. During the lunch stop, we looked at the weather and radar. Rain was moving in the next hour and staying for the next few days. Better to embrace the elements and prepare while we were stopped. Thankfully, the gas station doubled as a small supply and grocery store. I bought a yellow poncho and gloves in case my hands got cold from the rain. It turned out later that this was one of the smartest things for me to do. The rain started as predicted and didn't let up. It took a toll and slowed us down. Jesse bought and delivered yellow ponchos for both of us and added reflective tape so we could add to our visibility throughout the rain. We added time to the day at a gas station in between lunch and the next stop in Jacksonboro. Our stops at gas stations for resupply started taking longer than 20 to 30 minutes. It was likely just to get a break from spending time in the rain. Nature gave us a short break from the rain in Jacksonboro (mile 75) for another gas station dinner stop, but the break from the rain was short lived. Our luck with the road shifted too. After Jacksonboro, there was little shoulder so the jumping on and off the shoulder and into the grass continued and this was on top of the rain! We stopped again for resupply of food and drink in Ravenel (mile 85), as well as a quick stop in Family Dollar for leggings and a sweatshirt. It was now dark, rainy, and we were cold from being out in the elements all day. I never thought I would be so thankful for a pair of dollar store leggings, a sweatshirt to put under all my rain gear, and Bojangles for more energy and shelter. The evening was rainy and cold and we had about 20 miles to the next hotel stop. We tried our best to make it the distance for the day, but the traffic wasn't letting up, drivers weren't moving over, the rain continued to down pour, and the knee-high grassy shoulder was the safest option. By 10:30 PM, I had to make the judgment call that this was getting to be a safety issue. Our legs were tired and jumping on and off the road into the sloped grassy shoulder wasn't helping. My concern was about drivers not seeing us and our legs not being as nimble to get off the road as quickly as we needed to. At mile 93, I called Jesse to have him pick us up.  We would have him drop us off at the same spot during the daylight hours the next day. I hated making that call and I knew it was the safest decision at the same time.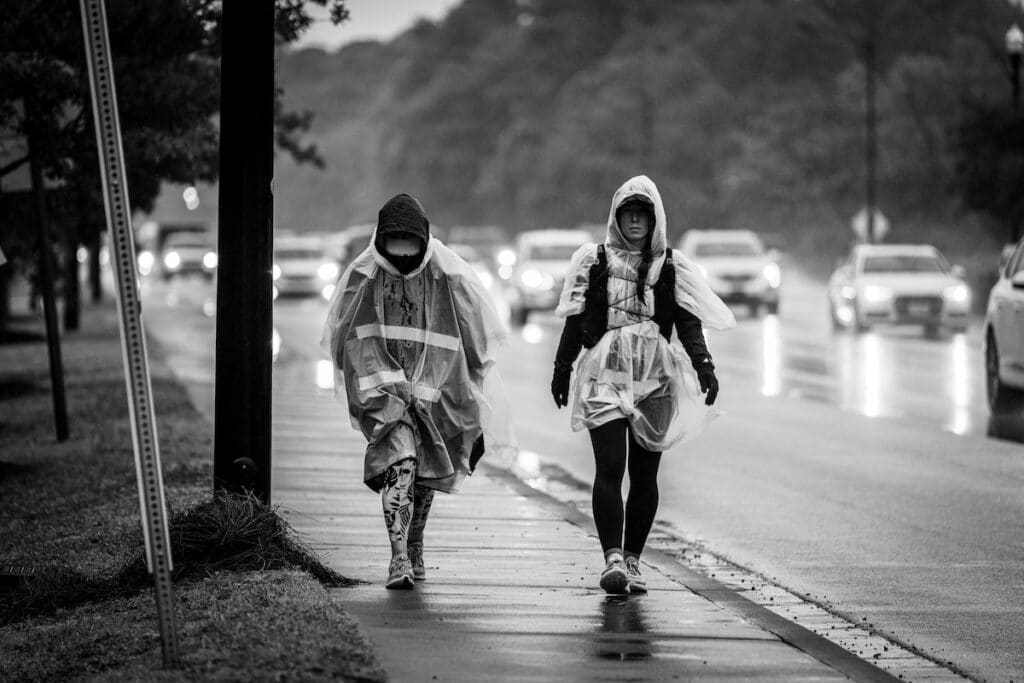 Day Three
Putting on damp clothes to go out and get them wet all over again was daunting. It just plain sucked. We got breakfast at the hotel, dropped off slightly before the pickup spot at mile 93, and began again in the rain and grassy shoulder. The lack of pavement on the side of the road continued until the sidewalk began in Charleston. The sidewalk was nice, but the wind picked up. We had a few close calls of losing our hats from the wind gusts up to 41 mph and a steady 20 mph headwind. The weather was not going to cooperate and the miles were getting slower with more walking than running. I'm a faster runner than a walker. Sandra is a rockstar at walking so she took the lead on this day and was ahead of me most of the time. She stopped to congratulate me on my longest run to date after hitting mile 101 and we kept walking until lunch. Lunch was an amazing Publix stop for warm soup and fresh bread that I took with me in my pack after I smashed it down to fit. As we passed through Charleston, we crossed the Arthur Ravenel Jr. Bridge which overlooks the Cooper River. I had always wanted to run the Cooper River Bridge Run, which is a race held annually in Charleston, so crossing this on a journey run made it extra special. The wind was even worse on the bridge. So bad that there were few other pedestrians on the bridge, but the bridge made for some good laughs with Sandra's yellow poncho making her look like a lemon and some beautiful pictures. After the bridge, I began to feel ill as if I was coming down with a fever. I decided I would wait it out to see if it was a low grade fever or just some slight difficulty with body temperature regulation. The alternating chills and heat were not fun and slowed me down even more. It let up for a bit and while at a McDonald's stop around mile 117 I told Sandra and Jesse that I may have a fever. My plan was to not take Tylenol or any other pain reliever and see if the symptoms returned. The rain continued again into the night. My throat became sore and my appetite was decreasing so I used the rain to my advantage to soften my bread from earlier, which was resourceful and quite a bit sad all at the same time. The fever returned and I felt miserable. The next stop at the post office (mile 132) was a doozy and a pivotal point. I had another tough decision to make. Mask my signs of illness with Tylenol and keep going until I either finish or couldn't go or decide to call the journey run over and take care of my body. See, I have an autoimmune disorder so any time I'm sick or have a virus, I pay the price doubly and especially when I don't listen to my body. I also didn't want to admit defeat to Sandra and Jesse or myself. I honestly thought of just running off to the woods to figure out on my own, but I also knew these thoughts were a little delirious from the run and the sickness. I decided to go three more miles to at least hit mile 135 on my watch, but before I headed out the door, we had an unexpected visit at the post office from the local Sheriff's department close to midnight. A local resident had called and reported "suspicious activity". Unbeknownst to them, it was just us getting shelter from the rain to figure out the plan moving forward. We shared our information with the deputies and they told us that while they didn't understand that we were free to continue on. I trudged through 3 more miles where Jesse met us with his van to end the run and find the next hotel on the road ahead. I felt defeated and I hated saying that I was quitting the run at mile 135. I hate quitting. It's literally the worst feeling and it still has value when it's in the sake of being the best decision for you at the time. I have a bigger event coming up and need to be ready for it.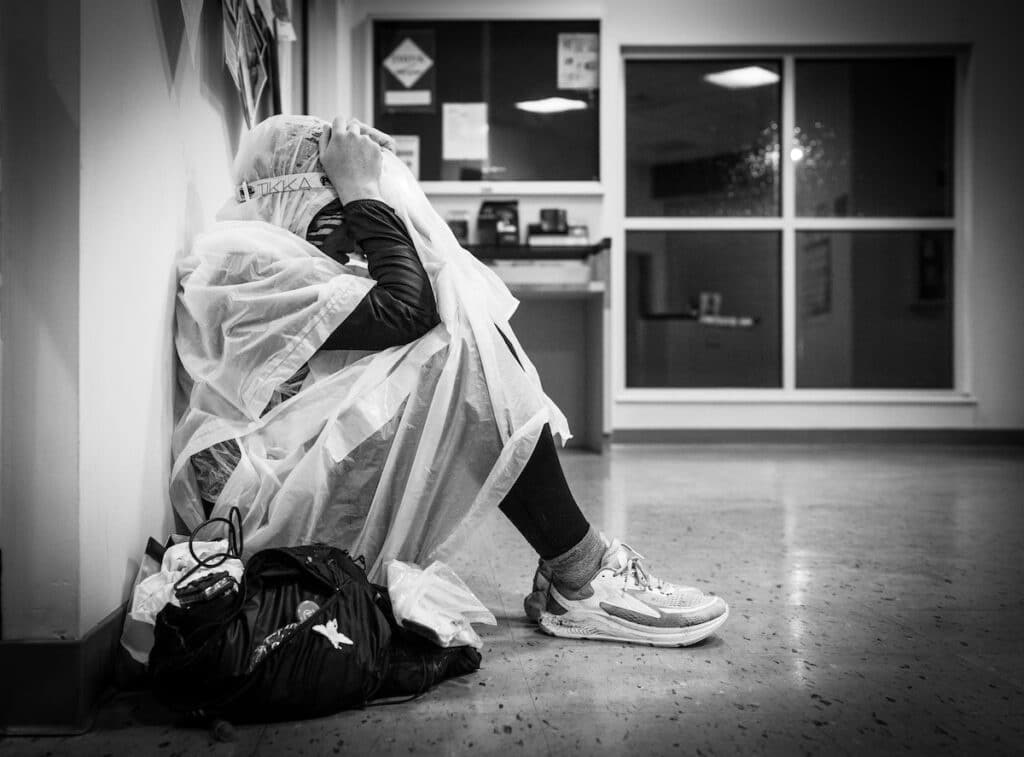 The Lessons
Even if you aren't sure, starting will get you out the door and towards your goal.
Planning ahead is essential. Know where your stops will be, where you can refuel, and have safety protocols in place.
Only pack what you absolutely need. The weight in your pack and on your back makes a difference after so many miles.
Journey runs offer a lot of great time on your feet and miles.
The weather and the course may dictate what your run and race may look like. Have a plan, and then be willing to adjust and be flexible based on the conditions.
Be prepared to grab extra items you may need along the way that you didn't need early in the run.
Be mindful and efficient at stops for refueling and supplies. That time could be better spent sleeping rather than in a gas station off a highway eating something that could be eaten while walking.
Mental toughness comes in many forms. Find your mantra or voice inside to support you along the way.
The journey run (and any training run) is the homework and the race or event is the exam.
Who are journey runs for?
Anyone in any socioeconomic class. There are no race fees. You can do a journey run as expensive or cheap as you'd like.
Minimalists who want to see how little they can carry and still make a long distance run.
Those who are mindful of their mental health and want a low pressure challenge to test their ability.
Those who are sober and want a challenge free of aid station alcohol.
People who want to expand their ruggedness and mental toughness. You're out there alone with little support. You will grow from it.
Anti-capitalist runners who love to run and don't want to participate in the capitalist ways of races
Real life people who have families and jobs and want to take a weekend to get out the door to get big miles.
Those who are shy and don't want or need any fan fare or spectators of races.
Those who seek discomfort in a world filled with satisfying every comfort. You will be uncomfortable on a journey run.
People who want to remember why they run ( for the sake of running, challenging yourself, connection through common suffering if not solo).
People who are tired of races getting canceled. You either finish or call it…it doesn't get canceled.
Those who want a brief look into living outside of societal norms and more of a houseless status.
Those who don't need a medal or accolades for a big effort.
There are so many ways to find value in a journey run outside of the physical endurance aspects. While this was my first journey run and it didn't go anything like I had planned, it won't be my last one. 10 out of 10 would recommend it and do it again!