The traveling salad
One of my favorite aspects of summer and fall is the endless vegetables and greens found at farmers markets, roadside stands, and local CSAs alike. It can be difficult to find fresh produce when traveling, but when I am home, I will 100% eat salad three times a day.

I simply feel more comfortable when I eat this way. Salad is also an exceptional vehicle for protein, fats, and carbohydrates. Think of a green salad with little gem lettuce, roasted potatoes, and grilled salmon. Add pea shoots, sunflower seeds, a vinaigrette and call it done. To me this is the perfect meal.

We live in a canyon above the city of Boulder, CO. I find myself driving down the hill a couple of times a week, usually around lunchtime. Shoveling a salad down my mouth while driving down the canyon 3K ft is not such a safe way to eat my lunch. Instead, I keep a steady supply of freshly made spring rolls in the fridge and have my salad on the go. I can either safely eat while in transport or pull over to a trail head and enjoy.

Spring rolls can be made a day ahead of time. Keep them on a clean flat surface, like a large dinner plate or sealed container. Always keep them covered and not touching each other, as they will stick together and tear. I often use sliced cucumbers in spring rolls, and then use a few slices to place between each spring roll. The cucumbers stay cold and damp in the fridge and prevent the rolls from sticking together. Think of them as a replacement for the green plastic "grass" dividers you usually see in packaged spring rolls.

Rice paper rolls are easily found at most grocery stores and are inexpensive. Usually, 24 to a package at around $2.00. They are gluten free, and most are non-GMO.

But what do you put inside? Just about anything you can think of. A fresh crunchy green like romaine or even radicchio works great. Add carrots, cucumber, peppers, cooked rice noodles, tofu, shrimp, chicken, and herbs. Fresh basil, cilantro and/or mint leaves add a perfect brightness to any spring roll. The world is your oyster as there are very few rules with spring rolls. The focus is fresh raw produce and protein.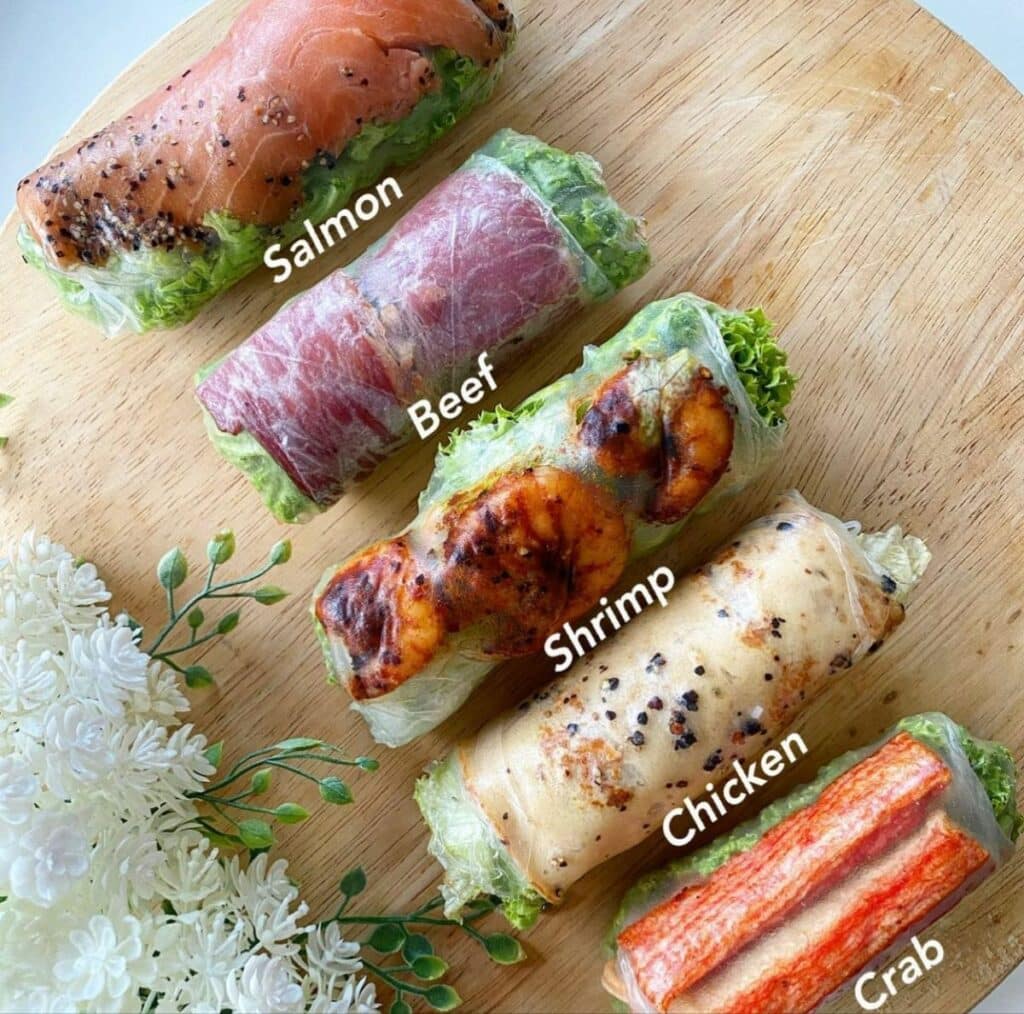 It is helpful to have everything ready before you soak your first rice paper in water.
Have all your vegetables, protein and herbs cut and organized in front of you. Have a clean flat plate ready for your finished product.

Be sure to wash your hands and build one at a time. The first one is often sort of like a "bad pancake" and the rice paper may rip. The most common error is to over soak the rice paper or to use too hot of water when soaking. Use cool to cold water. Fully submerge one paper and count to five. Flip the rice paper over and submerge for another five seconds. Lay the paper on a clean flat surface and build. Roll like a burrito and set aside on another plate. Repeat.

Spring rolls are great with peanut sauce, sweet chili sauce, hoisin, etc. We have included a peanut sauce recipe that can easily be made with any other nut if needed.

Let's hear Stephanie's nutrition advice when building these tiny salads on the go.

I love an excuse to throw a bunch of different vegetables together as part of a tasty meal. Most people know that vegetables have a lot of important nutrients in the them, but struggle to incorporate more than one or two in a given meal. The spring roll makes it much easier to add random vegetables without fear of how to cook, use, or eat them. You really can't go wrong with any combination. It's also important to add some protein and fat in these rolls, but a vegetable spring roll with nothing else will not leave you satisfied for long, and you know from our last column- you won't absorb many of the micronutrients without some fat. I love the peanut sauce in these spring rolls, but really you can add anything- hummus, tahini, almond butter (yes, yes you can), avocado, yogurt, pesto, etc.

One of the biggest perks that I see with spring rolls is the ease at which you can make a well-rounded, portable meal. Many quick, on the go meals, are not well balanced and often missing fresh ingredients. Don't get me wrong- I love a burrito or PB&J, but it's also good to mix this up when you often need portable meals. And it doesn't have to be expensive to make something fresh. Start with in-season produce, as it's generally cheaper and full of more nutrients because it's picked at its peak ripeness. Many grocery stores also have produce marked "reduced for quick sale", meaning it's very ripe and about to be overripe. These are great options if you are able to use them in the next 1-2 days. Lastly, you can get fresh vegetables from a mixed, pre-cut bag in the salad aisle. These are a step down in taste quality, but still have lots of good nutrients in them, and are far better than nothing at all. And in a pinch, I always have some frozen edamame or peas in my freezer. So "fresh" can mean delicious CSA or farmers market goodies, but it can also mean thrifty shopping at the grocery store and even stocking up on some frozen vegetables.
Again, the biggest benefit to a food like spring rolls is the ability to mix and match so many good vegetables in a well-balanced, portable meal. That's great for road trips, packing a lunch for school/work, air travel, a picnic, or if you're driving down Kelly's canyon road and want to eat and keep one hand on the wheel. Just remember to add in your protein and fat to make your spring rolls both delicious and nutritious.
Peanut Sauce
¼ cup peanut butter
¼ cup hoisin sauce
¼ cup plain or coconut yogurt
Mix ingredients together in a small bowl.
Add fresh basil, mint, and cilantro if you would like. Sriracha or chili paste are also great additions.