One of the most helpful things I learned to make when I started mountaineering was the beta packet. Since most of the peaks had no trails to the top and often involved scrambling and/or technical aspects it was crucial to know where I was going. In addition to printed maps and GPS tracks (if available), I also combed the internet for detailed trip reports, images from the route and any other information I could find. Altogether, these pieces of information formed a beta packet that I carried with me. It was integral to my successful ascents of numerous mountains.
I began to see how my other outdoor modalities could be improved by the creation of a beta packet. Instead of simply showing up at a trailhead with a map, I started looking into routes more thoroughly and bringing information with me. While often superfluous on my hiking trips, there were times it came in handy. I certainly recommend creating a beta packet for unfamiliar areas, wildernesses known for minimal trail markings/maintenance, and for those learning to backpack. Having a solid beta packet can greatly increase your safety and success in these scenarios.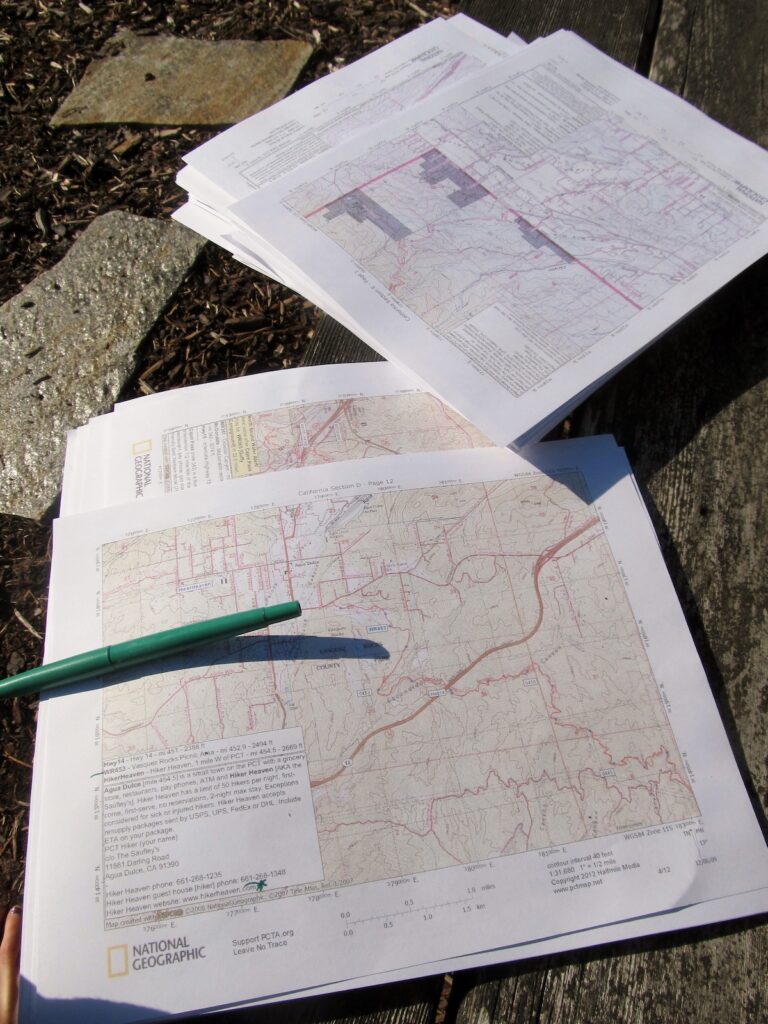 Below are my tips for creating a backpacking beta packet.
Carry Topo Maps: The first part of the packet is perhaps the most basic, but so often skipped over. Get topographical maps that cover the entire area you'll be hiking through. Also include coverage for side trails that can serve as exit points in case something goes wrong and you need to leave your planned route. This also helps in case you make a mistake at an unmarked turn. You can still figure out where you are. I recommend having the maps in digital and print format. Remember: maps are most accurately used in combination with a compass.
Download a GPS Track Log: In addition to a map that shows your trail, download a GPS track from someone who has hiked it, or from the land management agency, to use on your phone or watch. Having this reference data set can give you pinpoint accuracy and help you identify places where there may be a mismatch between what's on the ground and what's on the map. This happens more than you might think!
Read Trip Reports: This is usually pretty easy to do, unless you're hiking a trail that is very seldom done. Look through hiking forums or just do a basic search engine query for your trail. Trip reports will give you an idea of the current conditions such as snow, flooding, fallen trees, etc. Often trails have wildly different challenges depending on the time of year you hike them, so knowing current conditions will help you prepare properly. If you can't find a recent trip report, look for ones from a similar time frame in a few different years. Comparing several years can give you a sense of what to expect historically. If your trail is particularly difficult, copy and paste any of the good reports into your phone notes (or print and carry) for on trail reference.
Save Pictures: In addition to reading trip reports, make note of images that show important aspects of the trail. These can be confusing junctions, hard to find water sources, or anything else that might help you on the trail. Save screenshots or print them out to reference in the backcountry.
Annotate: I like to transfer information I've gleaned from my research to my maps. I mark things like fords, confusing junctions, possible bail out points, campsites, etc. If you're embarking on a multi-day backpacking trip, having fully annotated maps can help you plan your days by having the general information of what to expect in the coming miles ready at a glance.