One of my fondest memories of my schooling at the Culinary Institute of America is from the very first day on campus in Hyde Park, NY.
August of 1991.
After navigating the lengthy registration process, checking into our rooms, getting uniforms, knife kits, and books, it was finally time to meet my new classmates over lunch. Pristine bowls of pureed parsnip soup were served. I was equally starving and nervous. I was certain everyone else knew so much more than I. Did they all eat parsnip soup on a regular basis? I really hoped there was something less weird coming after the soup was cleared. I took my first bite… and have been obsessed with parsnips ever since.
The soup was nutty, a bit sweet and savory all at once. I wondered how such an odd little pale root vegetable could taste so gorgeous. It was velvety and rich in a way I was nowhere near expecting.
Like most root vegetables, parsnips are filled with a rich history rooted in peasant food.
They are more expensive to grow, harvest (the tops are cut by hand) and pack, which is why the parsnip is a bit more expensive than its orange twin, the carrot.
Young, small parsnips don't really need peeling – just scrub clean and prepare as you wish. Older parsnips should be peeled very thinly with a peeler or sharp knife, then cut evenly to ensure proper cooking. If the core is very fibrous, this should be cut away, but only takes place when the parsnip is quite old.
Parsnips can be prepared in most of the same ways as potatoes, carrots, and beets are utilized. Once purchased, store in the refrigerator as you would carrots.
Although I love perfectly pureed parsnip soup, my favorite way to prepare them is roasting with a little olive oil, salt, and pepper.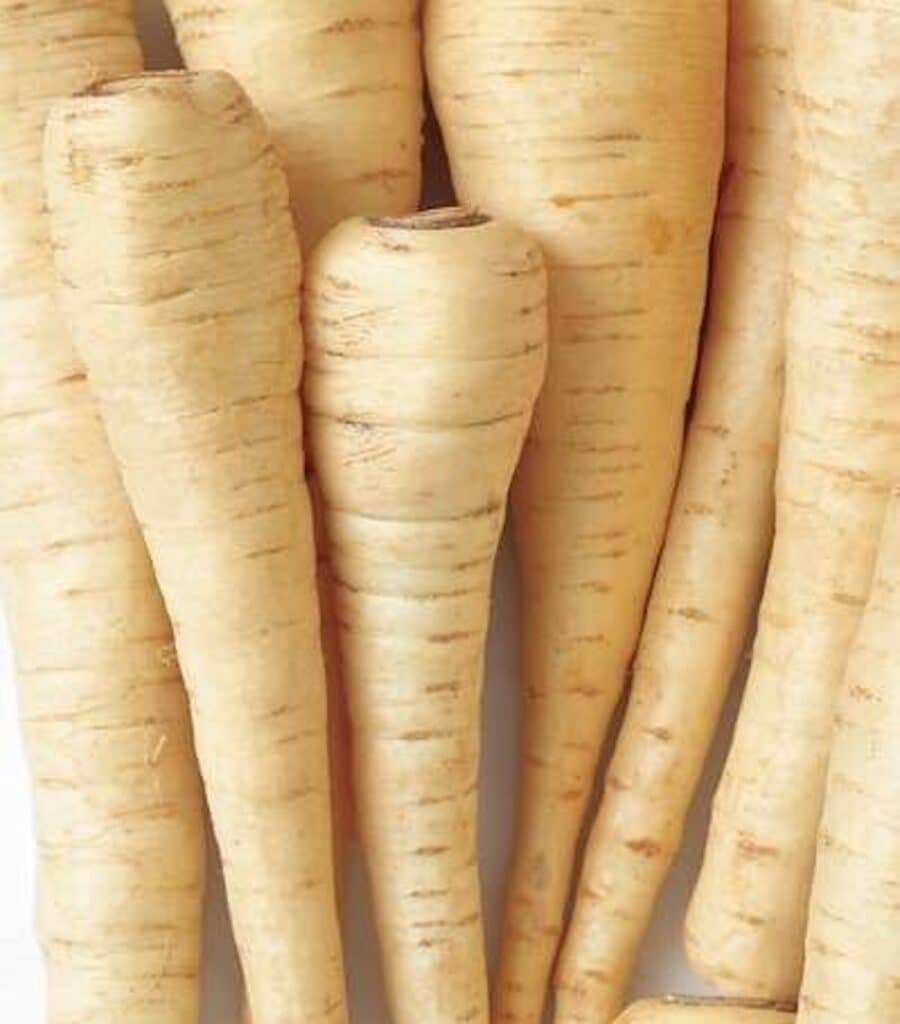 Let's hear what Stephanie has to say about the nutritional benefits of this root vegetable.
Root vegetables are queen come autumn. When days grow shorter and the temps start to drop, the bounty of underground vegetables begins to sweeten. Because they are grown in the earth, root vegetables generally contain a lot of minerals, such as iron, copper, calcium, magnesium, phosphorus, and manganese. Parsnips specifically are rich in fiber and have loads of vitamin C and calcium. Root vegetables also have a high-water content, making them a low energy dense food choice.
One of the best things about parsnips is they can be a vehicle for additional nutrients, such as protein. The parsnip puree below can be used as a base to add additional nutrients, such as dark leafy greens, beans/lentils, or additional root vegetables. To add some good protein to the soup below, add some white beans. Soak and cook 1 cup of white beans (or use a can) to blend in with the parsnips for even more nutritional value. The possibilities are endless.
I'm a big fan of eating what's in season to regularly mix up your intake. Fall is one of my favorite seasons, taste, and nutrition wise, because many of these foods contain nutrients we don't otherwise consume regularly. Like beta carotene, which is a precursor for Vitamin A, and found in yellow and orange vegetables like carrots, squash, and pumpkin. Also, who doesn't like the nutty, sweet taste of fall produce? The pumpkin craze is alive and well (just check out Trader Joes' pumpkin everything), but have you tried parsnip or butternut squash muffins? Anything that can be "pumpkin" can be substituted for another fall vegetable. Give it a try. We don't think you'll be mad about it.
Pureed Parsnip Soup
Preheat oven to 400
2 pounds parsnips
4 cups chicken or vegetable stock
2 large cloves garlic in their skin
¼ cup olive oil
1 tablespoon fresh lemon juice
1 teaspoon kosher salt
Pinch black pepper
Wash and trim parsnips.
Rough chop the parsnips keeping in mind they should be evenly sized to ensure even roasting.
Lay parsnips on a flat cooking sheet. Add garlic and drizzle with olive oil, salt, and pepper.
Roast at 400 degrees for 25-30 minutes. The parsnips should be golden brown and start to caramelize. The garlic will become soft, and smell pleasantly roasted.
Place the parsnips in a blender along with the broth.
Remove the softened garlic from the skin by squeezing and place into the blender, and puree everything until creamy smooth.
Start on medium low and increase speed as the soup begins to puree into a cohesive blend. If it is too thick, add a bit of hot tap water as needed about ¼ cup at a time.
Add the lemon juice and taste. Adjust seasoning with salt and pepper as needed.
Serve the soup warm with a drizzle of olive or truffle oil. Add a swirl of plain yogurt or crema if you would like. I love to add a handful of lump crab meat, tofu, chicken or even bacon drizzled with hot honey. Serve with a great big fall salad and crusty bread. Be mindful that the soup on its own, does not have much of a protein source. Adding a protein after the soup is prepared, is key.
This soup can be cooled and frozen for up to a month and is great for lunch the next day.