A good friend recently said something that, even though it made me mad, it sort of made sense. She suggested that when a part of your body is injured (in my case, a hamstring), it sends a signal. Like pain. If you ignore it, it will send another signal from another, possibly connected part of your body. If you continue to ignore the signals, it will send the equivalent of a practically naked man delivering a singing telegram; it will become impossible to ignore.
One winter morning, I spent far too long out in a storm with my brand new snowshoes. Picture lots of uphill in very deep snow. I realized over the next few days that I had irritated my hamstring. And the fact that I used the word, irritated and not another reasonable word like, injured should be a clue to you about me. I'm one of those people who never says, "I'm sick." I prefer to say, "I'm under the weather." I had already signed up for my first 50k so I quickly set about to take care of my irritated hamstring. I went to PT, I did the exercises on my own. I had body work and I did all the things that were prescribed to me. I mean, mostly, I do have three kids. I somehow got through the rest of the winter and through the spring. And I lined up for The Dirty 30 and literally, had the time of my life. I loved being out on that course. That was June 1st.
Four days later, ready to do that thing that runners call a "shake-out run," I set out for an easy five miles. It was after all, a warm up for my short track (mountain bike) race later that evening. And even as I write this, I can see the error in my ways. But honestly, a few months ago, I would've said the error was in terrain choice and distance. Three months later, I see that I should've saddled up to some Nextflix and called it good for at least a week. If not more. But no, I went out and about three miles in, fell so hard that I had to call my husband for an evac and a trip to urgent care. After some x-rays and NSAIDS, I watched a lot of Netflix.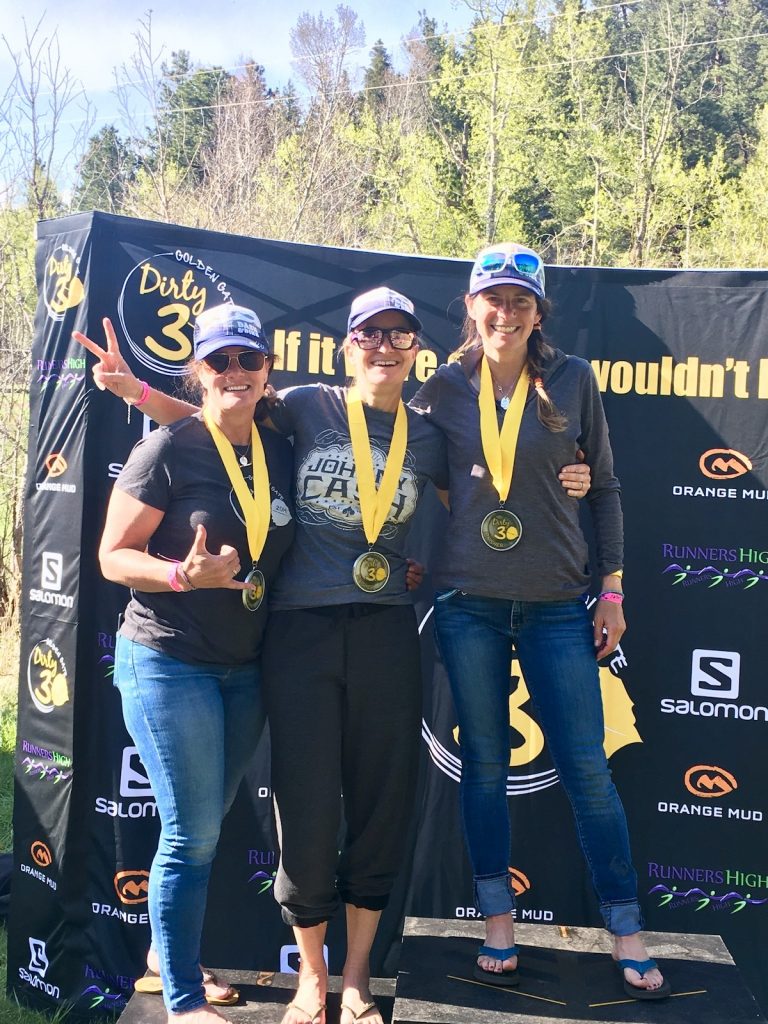 Fast forward about six weeks. I'm in the middle of South Dakota doing what I love to do; run on our family road trips. It's how I see places. How I rectify the effects of nightly smores and too much hammock time. It's how I stay nice. It's how my family puts up with me. It was only the second morning of our road trip and I went out for a run around a lake that would hold my family captive for hours. Less than a mile in, I thought to run downhill to "add on" a bit more. Damn that "add on" mentality. All of a sudden I felt a very painful abrupt thing (I'm not a doctor. I can't say what actually happened) and I knew instantly that my run was over. And after that first instant, I knew I needed to take a break. I knew that my friend was right. Eventually your body will send you a message that you can't ignore. The mostly, naked, singing telegram man was at the door. So, I decided to take a 30-day break from running.
Up to this point, I was aiming for 33-35 miles a week. You know (saying it with wit and sarcasm), just in case I wanted to do another ultra in 2019. It's funny now. But here's how it went. The first few days were like when you decide to give up salt, gluten, fat, coffee, scones or Thai food. It was miserable. It reminded me of college when I'd break up with a guy who was bad news and then I'd want to call him. I'd convince myself that he wasn't actually that bad. One more night? What could it hurt? My mind was a complete crap show. "What does it mean if I'm not running? What if I'm done running? What if I lose all my fitness? What if I gain weight? What if my legs lose that cool muscle definition? What if I've done something permanent to myself. What if I just suck?" You know, simple, light hearted thoughts like that.
And then it got easy and then it got freakishly easy. I don't want you to think it became easy because I got lazy or slothful. I was still racing bikes weekly and had started to jump rope, foam roll and even did the PT exercises to strengthen my hamstrings. It's just that it got easy to be the opposite of the runner's streaks I read about and see on Instagram. It got easy to be on a #notrunningstreak. And because I'm obsessive and addictive (notice I didn't call myself an addict?), I liked the fact that even though totally different, I was still using my self-discipline (just another word for obsessive). I was still being strong and focused and determined.
Well, all strange things must come to an end and so after 33 days, I went out for a run. I chose a trail in Fraser. I was careful to stop when it was time to stop rather than run around in circles to "round up" on the mileage. I went directly to the gym afterwards, using all the PT tools at my disposal. And then I went out for another run and it sort of sucked. And then another, and it didn't suck as much. And a few weeks later, it still sort of sucks. I have doubts about my self worth just like any other human-being but I learned a lot during my #notrunningstreak.
I learned that you can actually get stronger by taking a break. I remembered that I don't get paid to run. I realized that whether you want to take a break once in awhile or not, that your body needs it. Your mind needs it. And sometimes, your family needs it too. There will come a day for all of us (except maybe that old guy who's 99 and still running daily in the shorts that his wife bought him 25 years ago) when we won't be able to run. What then? Maybe it's a good idea to figure that stuff out now. Before it actually happens.
Listen, I love running a lot. But, I'm not a natural runner. I really have to work at it. No one ever uses the following words to describe me; gazelle, effortless, fast, glides, efficient or graceful. But that's okay because I love it and I love what not running taught me. Let's just hope I only need to learn that lesson once.