Winter is raging on as I add the finishing touches to this review. I'm not just saying that to set the mood for a conversation about snow-worthy gear either. From my desk I can see swirling snow and my phone keeps reminding me we're in the midst of a winter storm warning. Yea, so much for all the "summer is coming" vibes I've been sending out into the world.
There is no denying winter can pose a real challenge when it comes to hitting the trails, especially if you live in one of the many states that get covered in snow. While a lot of your spring and fall gear will help you get outside during the winter months it may be helpful to add some of the items below to your gear closet when the snow settles onto your trails.
This "Winter Kit Round-Up" is meant to provide you with some suggestions on gear to add to your already existing go-to trail pieces. If you are looking for seasonally versatile items — such as running tights or puffy jackets — check out our other gear reviews. For the items that are designed to take on snowy trails…keep reading.
Everything mentioned below was tested on the very snowy trails of the Colorado Rockies. Generally speaking the winters I experience about 9,000 feet up into the mountains are dry and cold, but sunny. However, due to some very warm days, we also had insanely icy conditions to test this gear on. Mother Nature seemed on board to ensure the feedback I'm providing applies to everyone hitting the icy trails of the east and midwest too!
---
Footwear

What you wear on your feet matters because no one likes running on frozen toes! If you're in a relatively dry area [dry snow vs. wet snow is definitely a thing!] you may not need to acquire trail running shoes specifically for the winter months. However, if you're in need of new shoes when winter rolls around I would highly recommend looking into a pair with water-resistant or waterproof qualities. In the colder months, your feet won't be sweating enough to really need breathability and you'll be glad the snow can't melt into your shoes. There are two of my favorite winter shoes, for a variety of reasons.
The Brooks Cascadia is a solid trail running shoe, year-round. The Cascadia 14 comes with and without GORE-TEX technology [denoted by the GTX or lack thereof]. With an 8mm drop, this shoe falls into the mid-range of heel-to-toe drop and offers adequate support for those of us running on higher arches. The Cascadia 14 GTX has an updated Pivot Post system that is designed to act as a suspension system for your feet — great on uneven ground.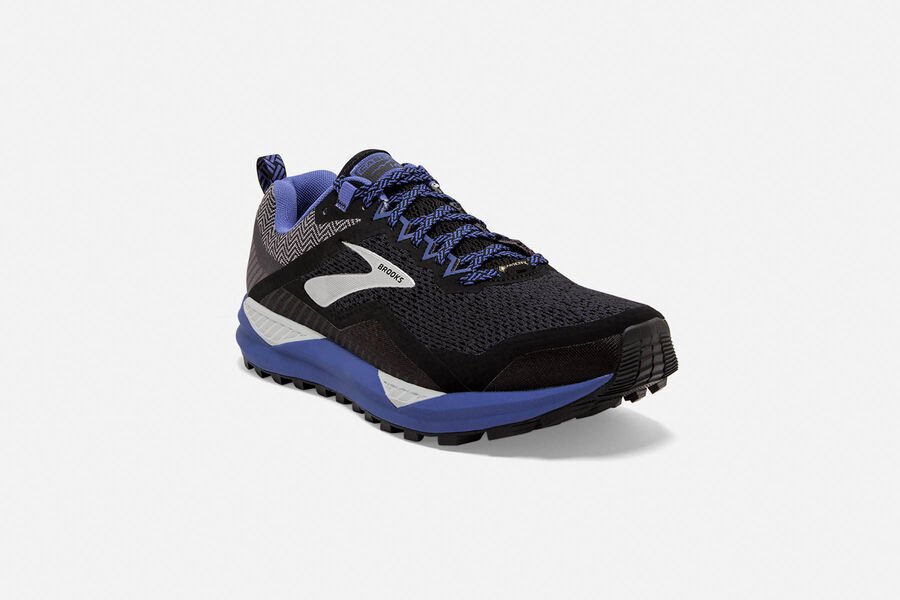 What We Loved: The Cascadia 14 GTX maintains the comfortable fit of the Cascadia while adding in a little extra durability on the upper and the waterproofing of GORE-TEX. This added durability helps the shoe stand up to strapping on traction and any possible contact between the spikes of traction and the shoe's material.
What We Would Change: The tread does appear to be a bit more rugged than the non-GTX version, but when going against the snow it doesn't offer better traction. You'll still slip and slide on packed snow or ice.
Fit, Feel + Function: Overall, the fit of the Cascadia 14 GTX is similar to that of previous non-GTX versions. The 10.5 fits true to size and the lacing system is secure [yay, flat laces!]. The GORE-TEX feature proves to be truly waterproof, especially when paired with gaiters to ensure you're not getting snow in from the top of the shoes.
On Running Cloudrock
The On Running Cloudrocks bring together the best parts of running shoes and hiking boots to provide a comfortable, versatile shoe that offers up just enough support and protection. They do this by using a footbed that feels like your favorite trail running shoe, then adding an upper that is flexible yet durable. The "high-top" cut of the Cloudrock provides additional support around your ankles which is especially helpful if you're on more technical trails with obstacles hidden in the snow. The shoe is well padded [but not quite insulated] with a sturdy outer/upper. These are essential features if you plan to wear these shoes with traction or snowshoes as they allow you to securely strap either to your feet. The Cloudrocks are also waterproof, yet somewhat breathable.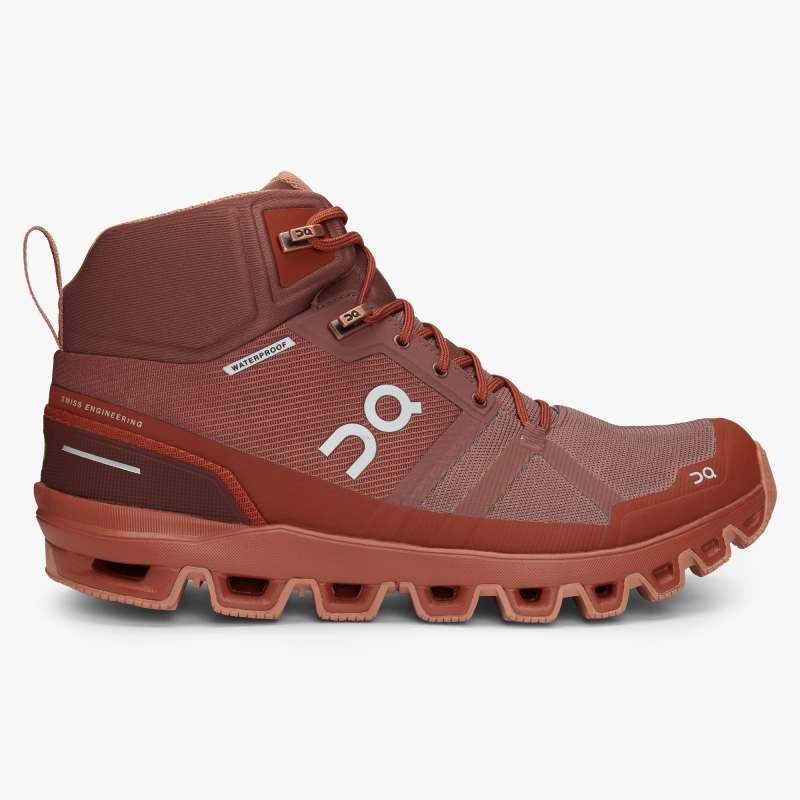 What We Loved: The high collar [ahem, "high top" if you think like me!] was surprisingly comfortable and functional, especially when wearing snowshoes. The Cloudrocks were a great fit for snowshoes and with the right socks [keep reading!] my feet stayed warm.
What We Would Change: There is a fair bit of room near your toes in the Cloudrocks. This is because they share a lot of features with trail running shoes — while this hasn't been a problem on my 1-3 mile snowshoe treks, it may be too much space for longer adventures. Also, a little insulation in these shoes could go a long way and make them an easy go-to for winter adventures that are just a bit too much for standard trail runners [sometimes for a tweaked version, as the Cloudrock does well on shorter adventures].
Fit, Feel + Function: The Cloudrocks are true to size with a "regular" width that is accurate [if you have worn other On Running shoes, such as the Cloudventure Peak, you may have noticed they are a bit narrow — the Cloudrock is slightly wider to stay true to the "regular" width]. They are quite comfortable, although you will definitely want to wear crew-height socks to avoid any shoe-to-skin rubbing around your ankles.
---
Traction Devices

Let's talk traction! When you're hitting the trails in the winter [or honestly, fall or spring if you're in the areas where weather can result in snow or ice nine months out of the year!] it is essential to have at least one type of traction available to you. There are three popular ways to get traction on snowy trails — screws in your shoes, removable spikes, and snowshoes. Technically crampons are also an option, but those are designed for more aggressive mountaineering adventures on terrain that will never fall into the "runnable" category, so we'll stick to the first three.
Putting screws into your shoes is always an option, but they are not easily removed and put one pair of your shoes into the "icy trails only" category. If you want to look into adding screws to your shoes you can get more info here: DIY Traction // Screws in Your Shoes. Those are my shoes, so I do have experience with screwed shoes…but I can honestly say I prefer the other two options: spikes or snowshoes. So let's get into the nitty-gritty traction details!
The Kahtoola MICROSpikes look a bit scary, but I promise they only bite the icy snow, not your ankles [a promise made by a clumsy runner!]. The upper harness is made of a durable TPE, a rubber-like material, that maintains its flexibility down to -30F. The spikes are made of heat-treated stainless steel and linked with welded stainless steel chains that are attached to the upper harness with reinforced eyelets. In short, all aspects of the MICROSpikes are designed to withstand long hours of abuse on the trails in a wide range of conditions. The MICROSpikes also pack down into a small pouch making them easy to stash away when you don't need them.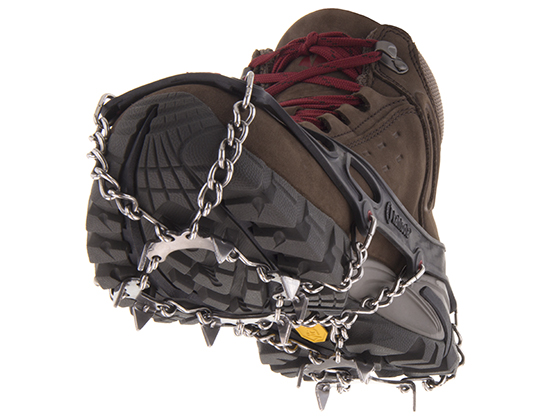 What We Loved: The MICROSpikes are easy to pull on or pop off and the stash bag allows you to tuck them in your pack without any concern of damage from the spikes. They are very good at their job — helping you maintain traction — and quickly rose to the top of my "must buy" list when I first wore a borrowed pair years ago.
What We Would Change: The upper harness hugs your shoe very tightly. If you're wearing a pair of trail running shoes with a wide toe box or softer upper you'll notice that the MICROSpikes scrunch the toe of your shoe, causing your toes to rub in areas they don't without the spikes.
Fit, Feel + Function: The spikes fit true to size ranges listed on the size chart. If you are hoping to use your MICROSpikes on trail shoes and hiking boots you may want to round up if you're between sizes to allow for room to stretch over the sturdier boots. I have worn MICROSpikes for years and am yet to have a pair [borrowed or owned] fail me — they dig into the snow and ice when needed while being easy to remove and stash when not needed.
The MSR Revo Ascent Women's snowshoe is lightweight, comfortable on various styles of footwear and great at maintaining traction on multiple trail surfaces. This is a composite frame snowshoe with steel teeth along each side and a steel crampon under each binding. The teeth along the bottom of the snowshoe are there to provide extra traction with each step. As you become more comfortable on snowshoes you'll quickly notice where to place your weight for the most traction — valuable information to have! The women's version of the Revo Ascent is a bit slimmer in size which allows you to walk a bit more than you waddle [we all channel our inner duck when snowshoeing, right!?]. This was immediately noticeable when I finished my adventures without snowshoe scuffs on my pants or gaiters — my snowshoes weren't hitting my legs when I hiked!
Lastly, the bindings on the Revo Ascents are great for both trail running shoes, hiking boots and snowboard boots [yup, used them for all three!]. You do need to adjust the top webbing to fit the width of your current choice of footwear, but once you've done that the rest comes easily. The biggest perk of this is that the Paragon bindings are malleable and comfortable enough to wear with sturdy trail running shoes [namely the Brooks Cascadia 14 GTX]. This is not a common feature of non-running snowshoes, so it is worth bragging about.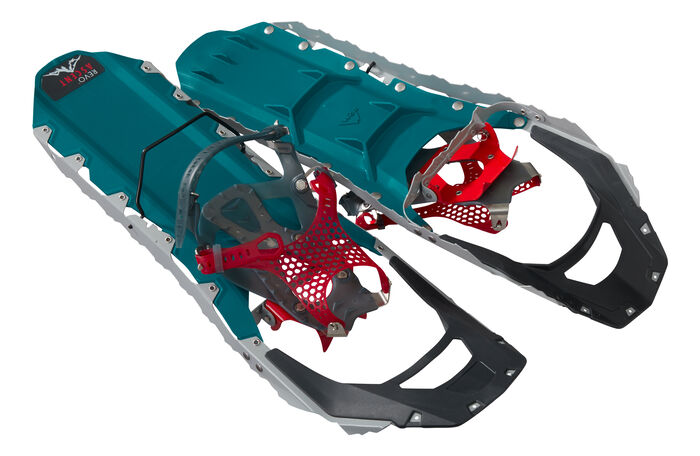 What We Loved: The Paragon binding is very easy to use [just fit it for your footwear of the day before you leave the house — it takes a bit of effort to completely readjust when it is cold] and fits comfortably on trail running shoes, hiking boots and snowboard boots.
What We Would Change: It would be awesome if there was a way to open up the webbed toe cover of the Paragon bindings — in part to fit your foot in, but mostly to help the snowshoe lay flat when not in use [ie: strapping to your pack when snowboarding!]. I also noticed that the back strap had a loop to hold the excess strap down, which is different from the hook many snowshoes have — not a big deal, but definitely noticeable when your hands are cold in the snow!
Fit, Feel + Function: The MSR Revo Ascent snowshoes are extremely comfortable to hike in and the Paragon bindings are versatile enough to make these great snowshoes for a variety of activities. In terms of floatation — they do their job. The narrower deck may have an effect on the floatation of the snowshoes, but I find this to be a fair trade. The Revo Ascents also have climbing bars [Ergo Televator, technically] that make uphill hiking easier on the legs, a must-have for anything but completely flat trails.
---
Winter Accessories

There are always a whole slew of accessories to include in your adventure kit, but what do you truly need? We have listed a few items below that will help you prepare for a variety of snowy trail-ventures.
Kahtoola offers a variety of gaiters to keep the snow [and mud and sand!] out of your shoes, but we are focusing on two — the LEVA Gaiter Tall GTX and the CONNECT Gaiter Mid.
The LEVA Gaiter can be worn with whatever footwear you've chosen for the adventure. They are 13.5 inches high with a durable TPE instep strap that is adjustable [and replaceable if needed]. The LEVA Gaiter closes securely over your shoe and lower leg with a zipper and bungee cord. You'll find the gaiter to be a bit wide, or baggy, against your leg, which allows for a full range of motion without tugging at the fit of the gaiter. There is also a hook at the front of the gaiter to attach to your shoestrings or the "gaiter tab" on the shoes you're wearing.
The CONNECT Gaiter is designed to connect directly to Kahtoola's traction devices. They are 8 inches tall and have six tabs along the lower cuff that attach to the upper harness of both the MICROSpikes and NANOSpikes. At first this felt cumbersome, but once you get them attached [harder to attach, but easier to line up, when the spikes are on your feet] you can leave them on your spikes. To remove both the gaiters and spikes you simply unzip the side zipper and pull them off — easy peasy! The CONNECT Gaiter can only be used with MICROSpikes or NANOSpikes, they don't have the ability to attach directly to footwear.

What We Loved: The zippers of both gaiters are easier to use than the velcro you find on many gaiters and allow you to slip in/out of the gaiters without much effort. The CONNECT Gaiter is a great addition to the MICROSpikes as you'll likely need protection against loose snow if you're using spikes. Being able to leave them attached between uses makes them easier to use and store.
What We Would Change: The LEVA Gaiter Tall hits mid-calf, which results in downward movement once you start moving — the elastic band can only hold onto the constant movement of the calf for so long. A slightly higher gaiter that holds secure above the bulk of the calf muscle would avoid this issue. It would also be ideal to have an elastic band along the bottom of the LEVA Gaiter, as snow easily packs up into the gaps of the bottom cuff. The CONNECT Gaiter Mid would feel more durable if the tabs attaching to the MICROSpikes were made of metal rather than plastic, I'm always hesitant to adjust the tabs as I'm afraid they'll snap off in the cold [although, they haven't yet!].
Fit, Feel + Function: Both gaiters fit true to size chart specifications [based upon shoe size] and they're comfortable once they are on your shoes. While they do look quite baggy this really does help with mobility when you're wearing them. As for function — they both have pros and cons [mentioned above] but they get the job done. My biggest concern is the lack of elastic at the bottom of each gaiter — if you're really trekking into loose snow it will pack up into the gaiter and sneak into your shoe that way.
The Camelbak PowderHound 12L pack is designed with winter in mind. If you are looking for a multi-purpose pack that will stay with you as your adventures become more and more epic this pack will do the trick. For casual day hikes into the snow, it offers space for basic layers, snacks, and an insulated hydration bladder [with an insulated tube and a zipper sleeve for the tube]. When you decide to take your adventures further into the backcountry and need more specialized gear the PowderHound is ready for you. It has designated places to stash your avalanche shovel and probe, keeping them secure and easily accessible. Other noteworthy features include the removable hip strap so you only bring it when you need it for stability, the snowshed material on the back, so the snow slides off rather than soaks in and the extra-large zipper tabs that let you keep your gloves on when digging into your pack.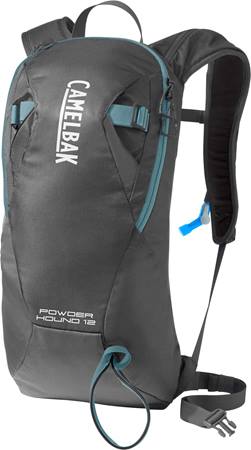 What We Loved: As a whole, this pack offers up a lot of features that will take you through a variety of cold weather adventures — the versatility of the pack alone is a huge plus for me. Knowing this pack will take you from day hikes to backcountry adventures allows you to keep chapstick and other "emergency gear" stashed in just one pack all season!
What We Would Change: The extra organization pouches and zipper pockets inside the main pocket are great when you're packing up to go, but they get in the way when you're trying to get gear out of the main compartment. It would be nice to have them a bit more hidden in the frame of the pack, rather than flapping about in the main compartment.
Fit, Feel + Function: The fit of this pack is "one size fits most" with a lot of strap adjustability — this is great for sizing purposes, but also lets you wear the pack over a variety of different layering systems. It is easy to adjust when you ditch a puffy on the trail and need to tighten it up a bit. The removable hip strap is also great — sometimes you just don't need that extra strap and it's nice to leave it at home. As for function, this pack's versatility does not compromise any of its functionability. You can easily stash gear, layers, and food in this pack with easy access to it.
The Biolite Headlamp 200 offers up a lot of the great features of the Biolite Headlamp 330 but in a more compact package. The new Headlamp 200 has an easily adjustable band that fits snuggly and comfortably against your head…or your hat. This is a rechargeable headlamp [via USB and lithium-ion battery] with 200 lumens, dimming capabilities, strobe light, and red light. It also has the option to "lockout" the headlamp to prevent it from turning on in your pack. The Headlamp 200 has a single button for all lighting adjustments, making it very easy to control with your gloves on.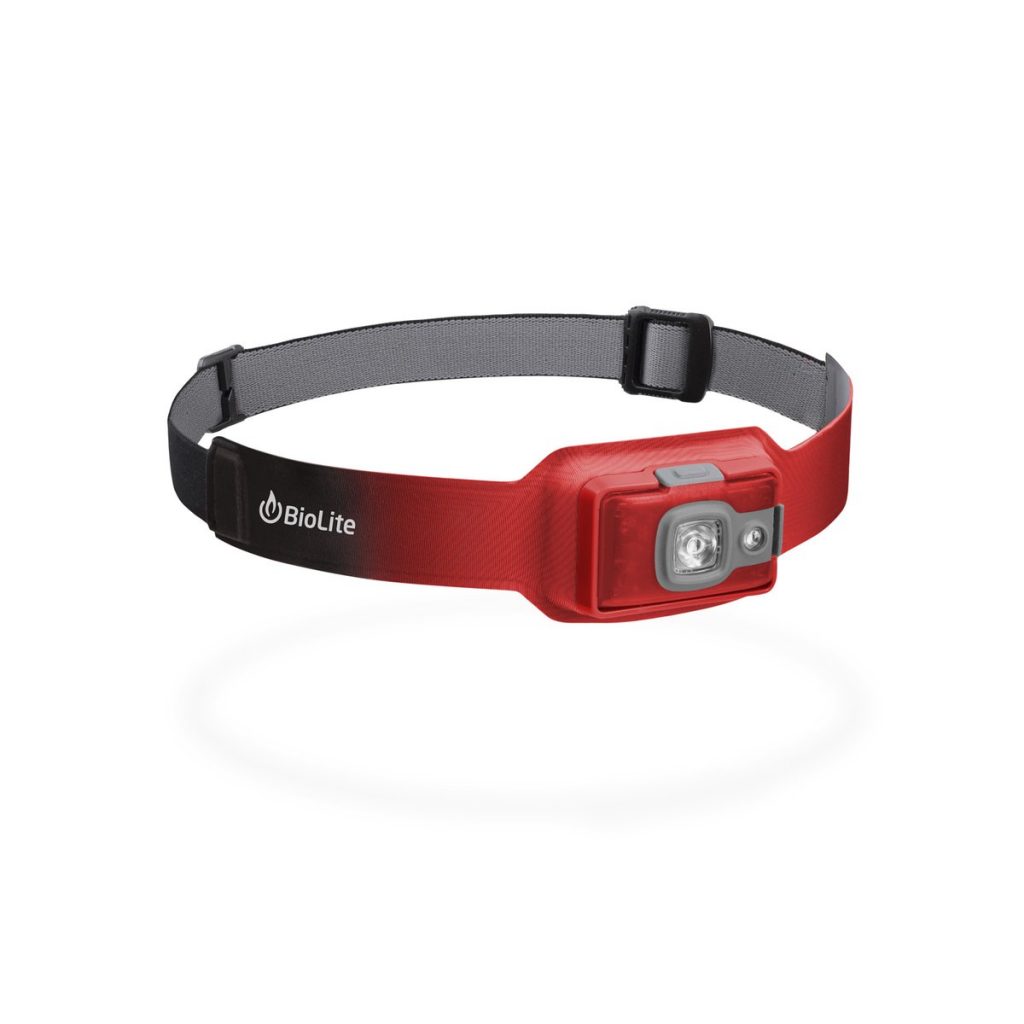 What We Loved: This is a lightweight, compact headlamp which is ideal for those early morning/late afternoons on the trails…when dawn takes too long and dusk arrives too early. It's the perfect size to keep it stashed in your pack until the moment you need it.
What We Would Change: In an effort to keep the band slim the adjustment tabs are quite small — which becomes frustrating if you're trying to adjust the headlamp with your gloves on. The band does slip a bit each time you stretch it out, so even if you think you have it adjusted for your head, you'll need to tweak it each time you put it on. Also, this headlamp only has 200 lumens, which is enough for the dawn/dusk adventures but you may want more if you head out onto darker trails.
Fit, Feel + Function: The Headlamp 200 is comfortable to wear with a beanie, a headband or nothing between your head and the band. It fits snuggly without giving you a headache and it stays in place when you're running or hiking in the snow. The button is easy to push and it is quite intuitive to cycle through the various lighting options.
Le Bent Le Lucy Trail Ultra ¾ Crew
The Le Bent Le Lucy sock was designed by Lucy Bartholomew, a professional trail runner who put hundreds of miles into the design and testing of these socks. In short, you know you're getting a pair of merino wool socks that work. The socks are designed with a complex variety of materials ranging from a snug cuff to instep support to mesh ventilation. Beyond the technical jargon used to describe the sock, I can confidently tell you it is a comfortable ¾ crew sock…as someone who once work *only* no-show socks. It wasn't until I started spending time on winter trails that I realized the true value of taller socks! The sock stays up on your lower calf and is light enough to prevent any restriction. It uses a blend of merino wool and bamboo to avoid any itch and keep odor at bay.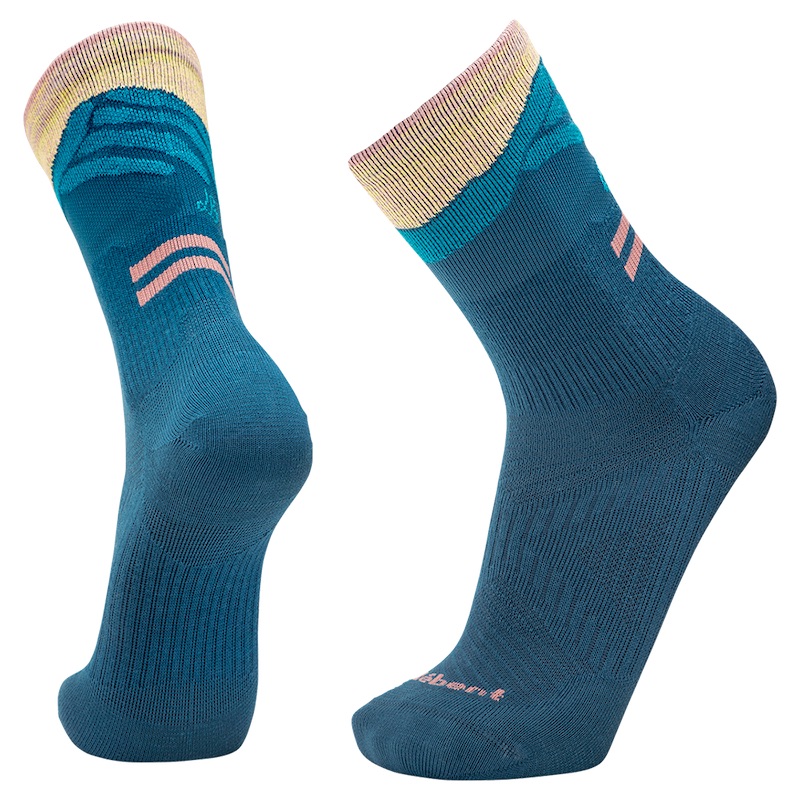 What We Loved: The socks do not slouch or require any adjusting when you're on the move. Also, the graphic design is pretty amazing.
What We Would Change: Honestly, I'm not sure there is anything I would change about these socks…well, maybe more color options so I can justify owning more.
Fit, Feel + Function: The socks fit true to size and do not slouch when in use [even in winter boots, they stay put when pulling the boots on/off]. The bamboo blended with merino wool keeps the socks soft while keeping your feet blister-free.
Smartwool Intraknit Base Layers
Smartwool brings a lot of new technology to the table with their Intraknit line of base layers. Intraknit is the technology behind a knitting machine that allows a single piece of material to be knit in a variety of ways [ie: thinner, thicker, different designs]. Smartwool has combined this technology with information gathered from heat-mapping the human body. When these two features are pulled together into a single base layer you get a top [or bottom!] that has lighter material for ventilation exactly where you'll be warmest, a thicker knit where you're likely to be chilly and reinforced material where you move the most [elbows and knees]. The Smartwool Intraknit base layers do everything they promise, which helps you stay comfortable for longer when you hit the snowy trails. Both the crew top and the tights work to keep you warm with a snug fit that doesn't restrict your full range of motion.

What We Loved: The mix of ventilation and added insulation are actually noticeable when you're wearing the base layers and this mix of knit-style also adds a bit of flair to the overall look of the pieces.
What We Would Change: The merino wool does get a bit scratchy, and if you have sensitive skin you'll definitely notice this. Also, the top is designed for narrow shoulders — if you have even slightly broad shoulders you may want to size up to avoid having material bunch at the top of your shoulders.
Fit, Feel + Function: Sized into a medium for both top and bottom. I would recommend sizing up for the top as it fits very snug [definitely "second skin"] and the shoulders are narrow. The bottom fits true to size and does not slouch on shorter [2-4 miles] runs/xc skis. Overall, the base layers fit comfortably, although you'll definitely notice the scratch of the merino wool if you have sensitive skin. The function is spot on, from the added durability at your joints to the blend of ventilation and insulation.