Saucony has been making trail running shoes for years and this past year they came out with some big updates on their go-to trail shoes. We are going to go into detail on the new technologies they are using as well as how the shoes fit according to my feet. If you'd like to know a bit more about how my feet prefer their running shoes, scroll to the bottom. This information may be important, especially for the very personal opinions I will share throughout this review. If you're looking for a breakdown of the nitty-gritty details on new outer soles and cushion, look no further…
There are three primary technologies being used across the Saucony Trail line of running shoes. The PWRTRAC outer sole, the FORMFIT insole and the PWRRUN cushioning.
PWRTRAC is a tacky outer sole being used on the sole of the trail running shoes. It provides a pliable sole that helps you snag traction on a wide range of terrain. Many of the new Saucony Trail shoes also have directional lugs to help provide more power as you move through tricky terrain.
The FORMFIT system is a three layer system that each of these shoes have integrated into their soles. The FORMFIT layers consist of a responsive bottom cushion, the middle layer of EVERRUN foam that adapts to the pressure points of your stride and the top layer [essentially the "insert" of the shoe] that conforms to your foot as you run. When you run on the FORMFIT system it will customize the fit of the shoe's sole to your feet.
The PWRRUN cushioning is described by Saucony as light, springy, flexible and powerful. It is designed to move with your foot while providing protection against the terrain…and a little extra umph when you push off.
As for the testing of each pair of shoes — they all got approximately 30+ miles of consistent wear over the course of the past month and a half. The miles were covered while hiking, running or walking the dog [a mix, across all models] and the review is written with all variations of movement taken into consideration. The shoes were worn on pavement, snow-packed and dirt trails, and small sections of gravel road [dry dirt trails are limited this time of year in Summit County]. My opinions regarding traction were made taking these conditions and my own experience on variable trail conditions.
The Saucony Peregrine 10 is an updated version of this already popular trail running shoe. It has a few tweaks from previous models, including improved gripping abilities, more durability, and a customizable sole. Yup, customizable sole! There are twelve designated locations in the sole of each shoe for either drilling holes for drainage or adding screws for winter traction. The upper material is a bit stretchy to allow your toes to wiggle about while you're on the move.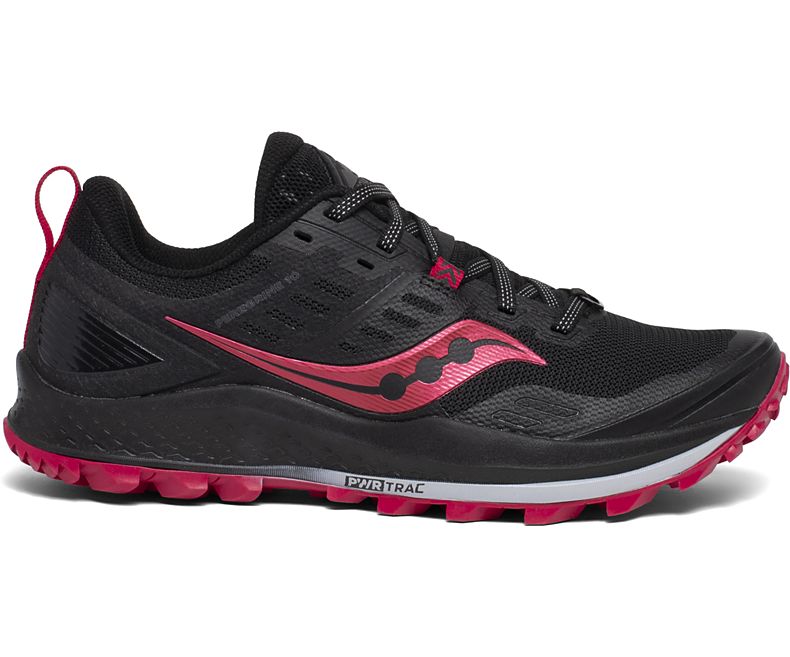 Heel-to-Toe Drop: 4 mm
Heel Stack Height: 21 mm
Type of Support: neutral
Shoe Weight: 9.1 oz per shoe
First Impressions: My immediate thought after pulling the Peregrine 10 on was "ooh, they're like a low profile Xodus"…which is mostly true in both the build and the overall feel. They provide cushion without the weight and grip without deep lugs. They're a bit of a happy medium between a minimal shoe and a stacked shoe.
What We Loved: For what the Peregrine is offering [cushion, protection, traction] it is a very compact and comfortable shoe. It is easy to see how it becomes a first choice for long, rugged trail runs.
What We Would Change: While the toe box *looks* very similar to the Xodus toe box it feels much smaller when the shoe is on. This is likely because the upper is a bit tighter. The upper is also more stretchy, so it does move with your feet. However, if you really like to have your toes wiggling without any restriction this may be a decision maker.
Fit & Feel: This shoe feels solid and strong, something I can depend upon. It is true to size within the Saucony line of trail running shoes.
Final Thoughts: Once I got out onto the trails and pavement with these shoes they were able to prove my first impression right. The Peregrine 10 is a solid shoe and it is obvious why Saucony has created a few different versions of this model [waterproof & added traction].
Additional Peregrine Variations: Peregrine 10 GTX [waterproof!], Peregrine ICE+ [winter traction!]
The Saucony Xodus 10 is built for technical terrain and challenging trails. The rugged PWRTRAC soles provide directional lugs that are designed to give you both grip and power as you take on variable terrain. You'll also want a little extra cushion when tackling aggressive terrain, which is where the PWRRUN+ cushioning comes into play. There are also twelve ports at the bottom of the sole for either drilling drainage holes or adding screws for winter traction, taking customization to the next level.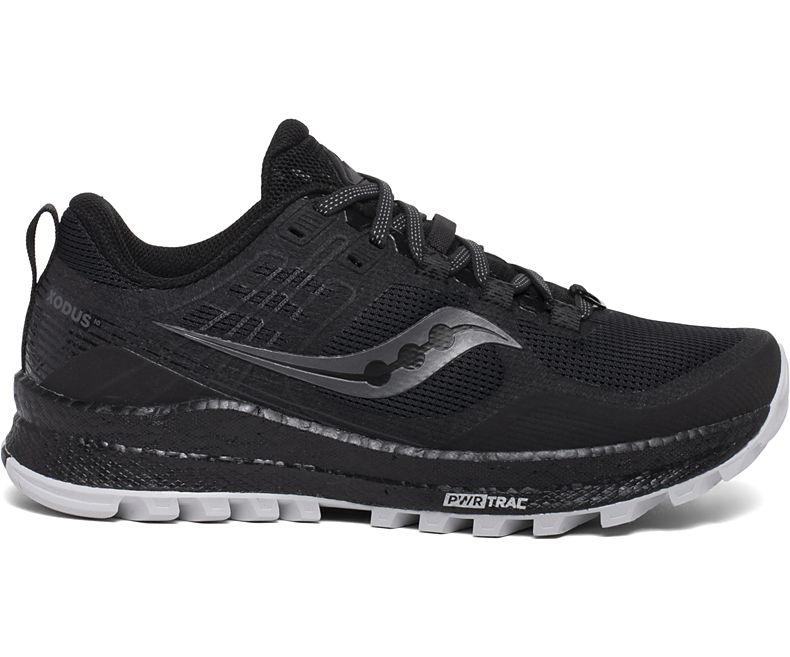 Heel-to-Toe Drop: 4mm
Heel Stack Height: 31.5mm
Type of Support: Neutral
Shoe Weight: 10.5 oz per shoe
First Impressions: I have run in the Saucony Xodus before, although it has been a few years. This is a completely redesigned shoe, but it still felt familiar when I slipped it on. The arch support hit my foot just right and my foot felt at home.
What We Loved: Overall, for a cushioned shoe, this is a solid option. It offers just enough arch support to keep my foot from falling inward and the general feel of the shoe is durable and supportive.
What We Would Change: This is a fairly heavy shoe, all things considered. It is a more beefed up trail shoe, but when compared to other shoes offering cushion the Xodus is a heavier option. We're talking ounces, but that does have an impact on the shoes performance and overall feel on your foot.
Fit & Feel: The shoes feel supportive and durable enough to take on technical terrain. I chose my shoe size based upon the previous pairs of Saucony and the Xodus 10 fits true to size within the Saucony family. The overall feel is supported and cushioned with a traditional fit of the toe box.
Final Thoughts: The Xodus 10 is a great cushion option in the Saucony Trail line of shoes. It offers up a durable upper with decent tread, adequate arch support, and a comfortable fit. In the past I have had issues with the inner heel of the Xodus wearing away to expose hard plastic. The Xodus 10 seems to have fixed this problem with a less obvious plastic support and more padding in the heel.
The Saucony Switchback ISO is a technologically advanced lightweight shoe in the line of Saucony Trail shoes. It uses the EVERRUN responsive insole throughout for a fit that will react to your foot strikes pressure points. The sole is a combination of PWRTRAC directional lugs and XT900 carbon platforms to provide extra power with each push-off. The upper material of the Switchback ISO is made with a dynamic woven material to provide some room while still being durable.
Heel-to-Toe Drop: 4mm
Heel Stack Height: 22.5mm
Type of Support: minimal
Shoe Weight: 8.8 oz per shoe
First Impressions: This is definitely a lightweight shoe with a minimal feel to it. It also offers a much wider toe box than expected from the more traditional fit of the Saucony line. Also, the BOA Technology really does offer a "dialed in" fit when lacing up the shoe. It actually felt a bit like slipping on a fancy sock…exactly what I personally love in shoes.
What We Loved: The ISOFIT of the upper and tongue of the shoe is ah-mazing. The "wrap down" tongue — which connects down to the insole on each side — helps the upper hug your foot and provides a more sock-like feel. Also, the BOA Technology! While I did provide some personal criticism of it, I think it definitely provides the even tension that many runners want in their shoes.
What We Would Change: The extra space in the toe box is almost too much and feels very unintentional. When you combine this extra space with the lack of variability in lacing due to the BOA Technology you're left with more wiggle room than you want in your feet — the heel tends to slip a bit and toes can move around every which way. A bit more work on the overall fit of the shoe would help solve this extra space…or maybe size down?
Fit & Feel: At first, this shoe felt great! The extra space was awesome and the BOA Technology made me feel fancy. However, as time went on I started to notice a bit too much movement in my foot and heel. I believe sizing down may help a bit with this, for me this would be dropping from 10.5 to 10 knowing that I always wear a 10.5 in Saucony.
Final Thoughts: The first impressions held up, but I'm almost ashamed to say I could do without the BOA Technology. It is a really innovative way to combine technologies and it really does provide the long term tension it touts. However, as someone who likes a looser fit to her shoes, it's almost too much. I actually found myself stopping to adjust it multiple times during a run because it didn't wiggle into a comfortable place on its own, like traditional shoestrings tend to do. Now, I understand this is the BOA Technology doing *exactly* what it is supposed to be doing but I want to be honest about my personal experience with it so anyone else in my weird shoe boat can take it into consideration.
Heidi's Shoe Thoughts
I like my shoes loose and comfy with wiggle room. More often than not I tie my trail shoes once [when I take them out of the box] and never again…as in my trail shoes are usually slid on/slid off loose. This makes for some fun in the shoe sucking mud of some trail races, but my feet are happy. I also really like wide toe boxes. If I can slip on a pair of shoes and immediately forget I'm wearing shoes I'm a happy runner. As for heel-to-toe drop, I regularly run in anything from 10mm to 0mm, a decision made mostly by which pair of shoes calls to me that day. I am not prone to any injuries in my feet [knock on wood!] but my Achilles tendon is often quite cranky due to tight calf muscles. This has not been linked to a certain style or fit of shoe, so I think it's just how my body functions.