You have probably seen Salomon in your Instagram feed lately…in part because they are a big sponsor of Courtney Dewaulter and her attempt at the Colorado Trail FKT last month. They are known for their tag line of 'Time to Play' and have definitely delivered in creating that motivation and experience for their community of athletes, fans, and loyal customers. Of course, they are also known for their premium footwear, apparel, and even ski equipment. Though we will be focusing on trail running shoes, Salomon is a true mountain brand ranging in a variety of products and sports.
In the past I've had some mixed experiences with Salomon products. The sizing and fit wasn't always consistent, however, over the past handful of years this has changed. Specifically, the trail focused footwear has consistently become more functional with a fit you can depend upon. I share this so you can read this Salomon shoe review knowing it's being written by someone with a wide range of experiences with Salomon over the years and is happy with the current products.
In this round up we review three trail running shoes — Wildcross, Sense Ride 3, Sense 4 W /Pro. These are all solid trail running shoes with each pair being designed for a different type of runner. The Wildcross was created for technical terrain. The Sense Ride 3 is a supportive all-terrain shoe. The Sense 4 W /Pro has the feel of a road shoe with the protection of a trail shoe. In short, there is an option for every runner.
We also review a waterproof hiking boot, the Vaya Mid GTX. This hiking boot combines some features of trail running shoes [Contagrip, Sensiflex and Ortholite] with the durability, support and added protection of a hiking boot.
Keep reading to learn more about some of Salomon's best features and the trail-worthy shoes we are reviewing…
---
Sensifit is the technology used on the upper material of the three trail running shoes reviewed below. It is designed to facilitate a snug fit from the midsole around to the laces of the shoe. You are able to use the Sensifit features to adjust the forefoot and midfoot support as needed.
You'll notice the Contagrip when you're taking on technical terrain that requires extra traction. This technology entails having deep, sharp lugs on the soles of the shoes. These lugs are usually multi-directional [ie: not repeat pattern] to provide even more grip on the go.
The Sense shoes reviewed below both have the Optivibe technology in the soles. Optivibe is a combination of foams — one to provide protection against the vibration of the impact and one to provide cushion against the terrain. This technology is used to help take these road-inspired shoes onto the trails.
---
**Sizing Note: I wear a size 10-10.5 in every other running shoe…but a 9.5 in Salomon shoes. I have not found other reviews that denote this big discrepancy in sizing. However, this is worth noting because when I first tried Salomon a few years ago my feet didn't feel in control. At this point I was trying Salomons in size 10-10.5 as that's what I wore all my running shoes in. I have since then sized down and it turns out that, likely due to the narrower toe box, I don't require as much space in the front of my Salomon shoes. 
The Salomon Wildcross is the newest addition to the brand's robust line of aggressive trail running shoes. The soles feature multi-directional lugs to enhance trail traction and control. The upper has DreamTex wings [the two maroon pieces of material that wrap up to the laces] that are designed to provide a more secure fit. A shoe hug, if you will. This, combined with the QuickLace system and dominant arch support provides a very secure yet comfortable fit. You'll also notice some extra sole that extends beyond the heel of the shoe — this is there to provide a little extra stability when you're taking on intense terrain.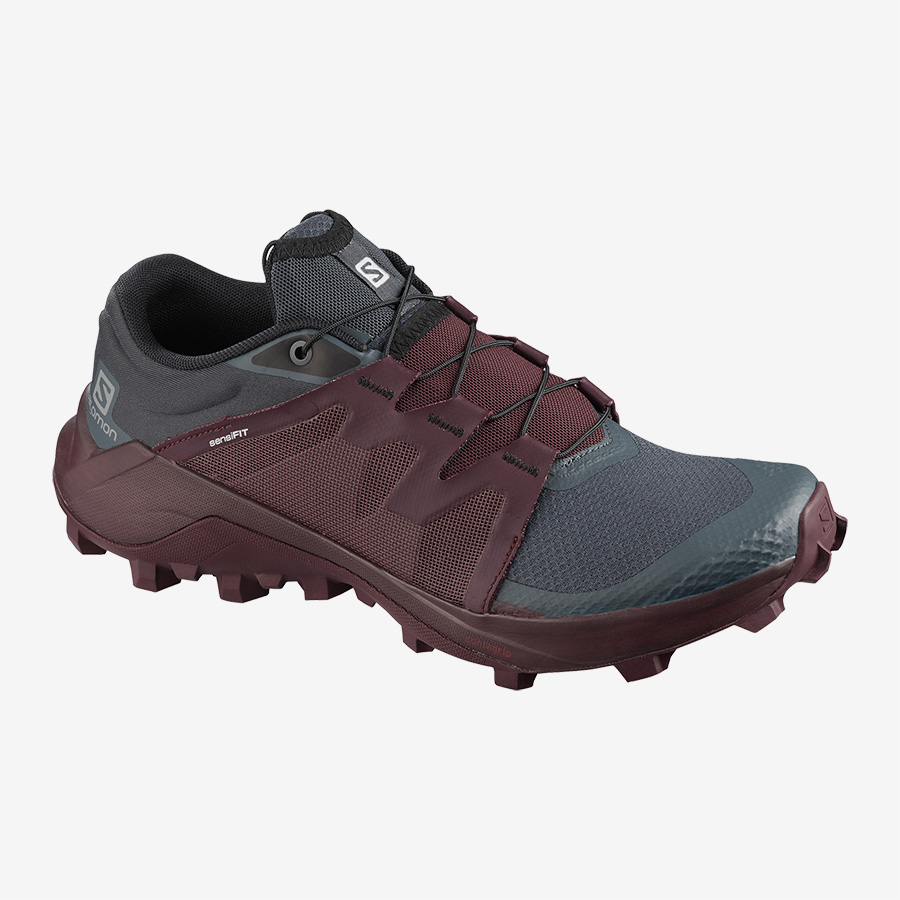 Heel-to-Toe Drop: 8 mm
Heel Stack Height: 29.5 mm
Ideal Terrain: Muddy, Technical
Shoe Weight: 290 grams
First Impressions: My immediate impression was…"Oh, I like this look." I can't explain why, but the shoes just look like they can tackle technical terrain. Once I put the Wildcross on, the positive first impression continued. The shoe fits comfortably and has pronounced arch support [a huge plus for my high arches]. Overall it feels very supportive from the soles to the upper.
What We Loved: The predominant arch support is a huge plus for anyone with high arches. It is properly placed within the shoe and when combined with the secure upper it has you feeling ready to take on any terrain. The flexibility of the entire shoe is also a big plus — you can easily tackle steep inclines on your tiptoes without crushing your feet.
What We Would Change: Honestly, I've never been a fan of the Quicklace system in the Salomon shoes but it seems to be extra annoying in the Wildcross. The laces actually come up through the little hide-away pouch so it is harder to stash the lace knob within the pouch. With such a secure upper, courtesy of the DreamTex wings, the added obstacle of the lacing system makes it harder to slip this shoe on/off as well.
Fit & Feel: Overall, a very comfortable shoe that my feet are happy to adventure in! They fit true to Salomon sizing [see note re: how I size Salomon shoes].
Final Thoughts: These shoes were designed around muddy trails and technical terrain. We are seriously lacking rain [+ subsequently mud] here in Colorado but we have oodles of technical terrain. The Wildcross performed well on the rocky, jagged trails…and I'm inclined to trust they will also be able to take on muddy trails, should the rain ever return to the Rocky Mountains!
The Salomon Sense Ride 3 is built from a road running foundation. The Optivibe technology helps make these shoes a great option for those days when your trail run includes some pavement or packed gravel. That said, these are still a solid rugged trail shoe. The Contagrip soles keep you upright and in control on a wide variety of terrain and trail conditions. The Sense Ride 3 shoes quickly became a go-to for my summer trail-ventures.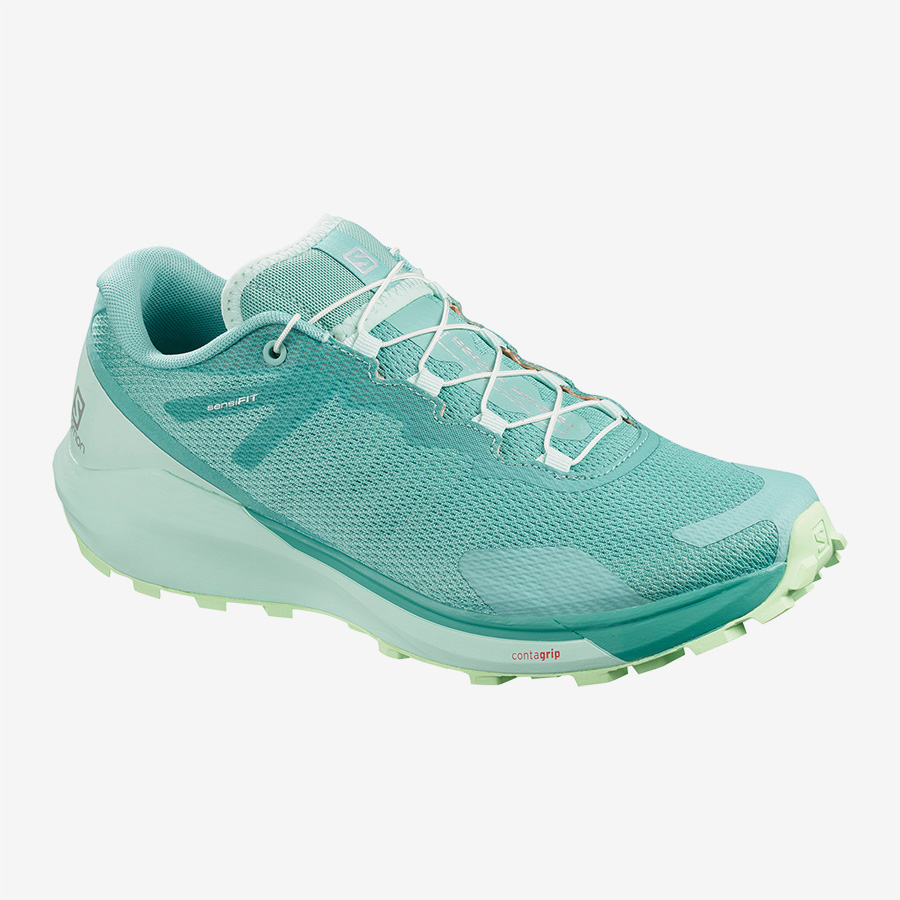 Heel-to-Toe Drop: 8 mm
Heel Stack Height: 27 mm
Ideal Terrain: All Terrain
Shoe Weight: 235 grams
First Impressions: There is more room in the toe box than I expected and the arch support is subtle but definitely present. I pulled the Quicklace system tight to prepare for my run and these shoes were extremely comfortable. My feet were on board for some trail-ventures!
What We Loved: These shoes broke in really well. I had high hopes for them from the get go and they only got better with time. They also took on the wear and tear of the trails well. Of all the Salomon shoes in this review the Sense Ride 3 have gotten the most wear and they're holding up very well.
What We Would Change: This isn't a change so much as a "con" that's worth mentioning. These shoes are promoted as all-terrain…and that is very true when it comes to the majority of terrain. However, if you're taking on aggressive, technical terrain or volatile terrain that involves mud, then they may not be your best choice. 
Fit & Feel: The Salomon Sense Ride 3 fit quite true to size, although the wider midsole and toe box may allow for sizing up. Beyond the fit the shoe is comfortable and supportive on most terrain.
Final Thoughts: These Sense Ride 3 shoes became a quick go-to within the Salomon line [until the Wildcross were launched — now they have competition]. They are both comfortable and supportive. Many of my from-the-door runs include 1-3 miles of pavement [before, during, after the trail bits] and these shoes proved themselves on the pavement, gravel and trails.
The Salomon Sense 4 W /Pro is another shoe that grabs inspiration from road running shoes. It uses the same mix of Optivibe and Contagrip as the Sense Ride 3, but with a completely different fit and feel. Both of these shoes in the Sense line are deemed "neutral" shoes when it comes to inner support; however, I could consider the Sense 4 W /Pro to be more neutral than the Sense Ride 3. This shoe is also water repellent [but not waterproof, so your feet will still breathe!] which makes it a great option for those early morning trail-ventures when you know you'll be combating dew-laden grass!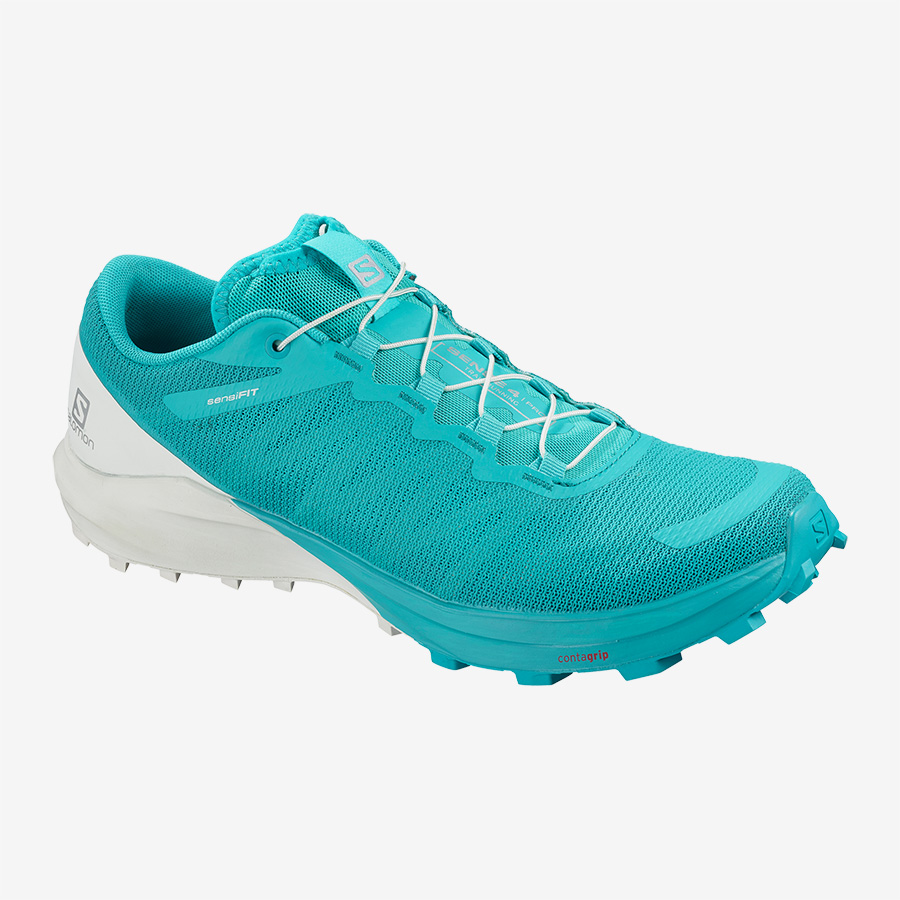 Heel-to-Toe Drop: 4 mm
Heel Stack Height: 21 mm
Ideal Terrain: All Terrain
Shoe Weight: 215 grams
First Impressions: When I first slipped on this shoe, I noticed the lower profile arch support and what felt like a stiffer inner sole. It wasn't an immediate "Oh, so comfortable" feel for me. This impression didn't rule out the shoe as an option for my trail-ventures, but it did give me pause.
What We Loved: This is a lightweight shoe that actually feels fast. You can immediately tell that the entire shoe allows for a lot of flexibility and movement. The water repellent technology was also greatly appreciated on the few days we had enough humidity to get dew in the Rocky Mountains!
What We Would Change: Compared to the other Salomon shoes reviewed I definitely felt an inward drop when using the Sense 4 W /Pro. They provide less arch support and overall midsole support for my high arches. This may make this shoe ideal for someone who has flatter feet.
Fit & Feel: The fit of the Salomon Sense 4 W /Pro is true to the Salomon sizing [see notes re: Salomon specific sizing]. The overall feel of this shoe is not my cup of tea, but keep in mind, I do have high arches that require extra midsole support.
Final Thoughts: My first impressions were not wrong, as this shoe was not the best option for my feet. It simply did not provide the arch support that my high arches need. I did not spend a ton of extra time in this shoe, but I imagine it would become more comfortable with time on the trails. This shoe is a bit lighter than the rest, providing more "feel" of the ground underfoot.
The Salomon Vaya Mid GTX brings trail running shoes and hiking shoes together. It includes Contagrip, Sensiflex [similar to Sensifit] and Ortholite technology you'll find in trail running shoes. right alongside some great hiking boot features. Hiking boot features come into play with the GORE-TEX material, the protective toe cap, and the higher ankle support. When you bring all of these technologies together, you get the Vaya Mid…a solid hiking boot for those of us who really love the flexibility of a trail running shoe!
Heel-to-Toe Drop: 9 mm
Heel Stack Height: 30 mm
Ideal Terrain: All Terrain
Shoe Weight: 330 grams
First Impressions: The immediate feel of the Vaya Mid was very similar to that of the Sense Ride 3. Obviously there is much more support with this hiking boot, but when focusing on just the soles of my feet and the support, it was very comparable to the Sense Ride 3 [a good thing in my book!].
What We Loved: This hiking boot pulls a lot of its features and technologies from the Salomon trail running shoes. This was a very good thing for me, speaking as someone who hesitates to hit the trails in anything but trail running shoes.
What We Would Change: The Contagrip tread doesn't quite hit the mark for my expectations. The Contagrip in this hiking boot is slightly different than that used in the trail running shoe reviewed and when you directly compare the hiking boots and trail running shoes you'll notice the difference. That said, you're not running in hiking boots so the quick on-the-move talon-like grip isn't always necessary. They did a great job along dry terrain but may have you focused on being more intentional with each step in wet conditions.
Fit & Feel: The Vaya Mid GTX hiking boots fit true to Salomon sizing [see my note re: Salomon sizing]. I also found the overall feel to be a good compromise between the flexibility of trail running shoes and the support of hiking boots.
Final Thoughts: I've never been a fan of mid-height hiking boots…apparently my ankles are just too claustrophobic to feel comfortable in a good, supportive hiking boot. However, with the Vaya Mid the added ankle support is flexible enough that my ankles were able to endure without much complaint. The flexibility and support make this a great choice for those looking for something a little sturdier than their running shoes, and still allows for much of the same freedom of movement.
Heidi's Shoe Thoughts
I like my shoes loose and comfy with wiggle room. More often than not I tie my trail shoes once [when I take them out of the box] and never again…as in my trail shoes are usually slid on/slid off loose. This makes for some fun in the shoe sucking mud of some trail races, but my feet are happy. I also really like wide toe boxes. If I can slip on a pair of shoes and immediately forget I'm wearing shoes I'm a happy runner. As for heel-to-toe drop, I regularly run in anything from 10mm to 0mm, a decision made mostly by which pair of shoes calls to me that day. I am not prone to any injuries in my feet [knock on wood!] but my Achilles tendon is often quite cranky due to tight calf muscles. This has not been linked to a certain style or fit of shoe, so I think it's just how my body functions.