On April 24, I ran the Leatherman's Loop (hopefully my first of many) which features river crossings, mud flats and a quarry climb. I was forewarned about the water hazards and mud, but I must have missed the quarry information in the email because that part was a total (and tiring) surprise. I did catch the part which explained the water crossings as you may find yourself standing in inches of water, only to take a step and suddenly find it's now four feet deep. Challenge accepted!
Due to this email, I opted not to wear my headphones or use my cell phone. Being 5'3 I didn't want to take the chance of slipping in the river and then having to either invest in a lot of rice or explain to my boss why my company phone decided to go swimming. I do usually run with music and was a bit unsure of how this would go not having my tunes, but it was great. I spent the entire race running and laughing with folks. I'm sure some people do this race as a test of speed (just look at some of the finish times), but for me and a lot of the runners around me, it was more about the journey and overcoming the obstacles together.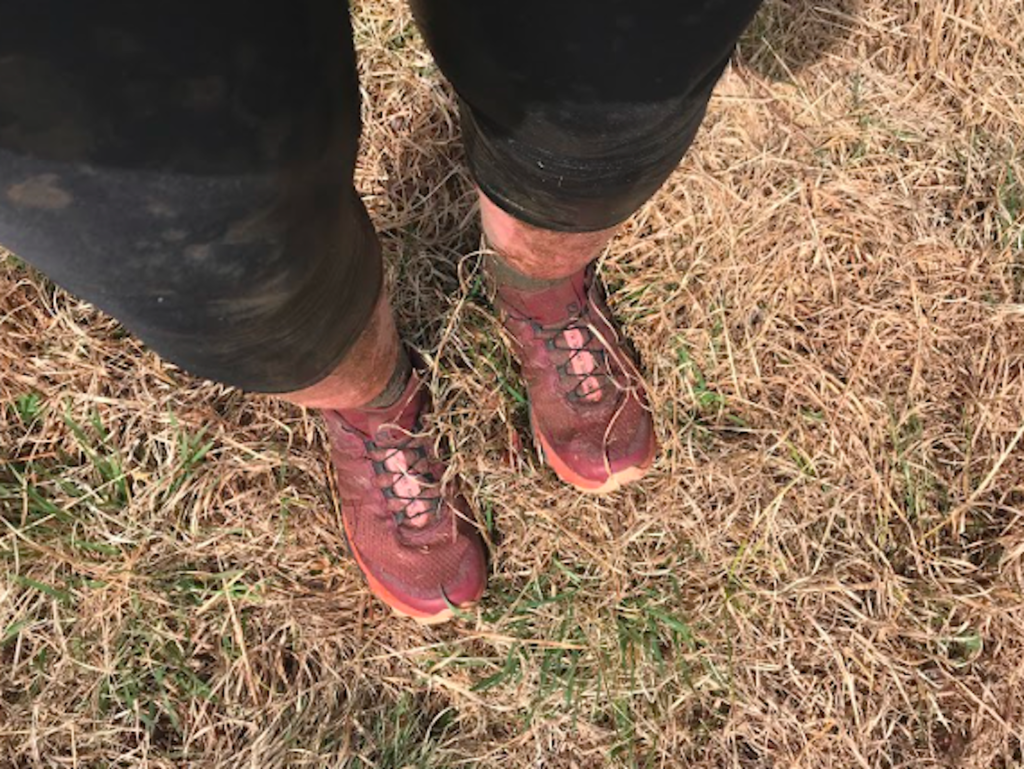 Not wearing the headphones allowed me the opportunity to hear my name being called. This shocked the hell out of me as most of my runner friends are road only. In fact, I think I only have one friend who lives in the same state as me and runs trail (sad face). It was Abby, who I had met while training for the New York City Marathon (she's a cheetah and me looking like a wounded gazelle), she was running the race with her sister. She asked me if the man wearing red chili shorts running the race was my chili shorts man (aka my inspiration). I was shocked, I had not seen him, but wanted to find him. I was not going to let my second chance go to waste.
Coming around a bend, there in front of me was a man wearing chili shorts! Could it be him? The shorts were the same, but instead of a white tank top he was wearing a long white sleeve shirt. How many chili shorts wearing trail runners could there be in the Westchester/New York City area? I had to know. As I caught up to him, I mentally prepared myself for embarrassment as I asked him, "Excuse me, weird question. Do you always wear chili shorts when you run?" Real smooth. Luckily it was him! We spent the next few minutes chatting as I told him how inspired I was by him and how I want to be like him. I think this was the first time I cried a bit on the trail. I got a bit emotional. He did tell me the secret is to never grow up. I told him; I think I can handle that. By the way, chili shorts man now has a name, and it's Nick.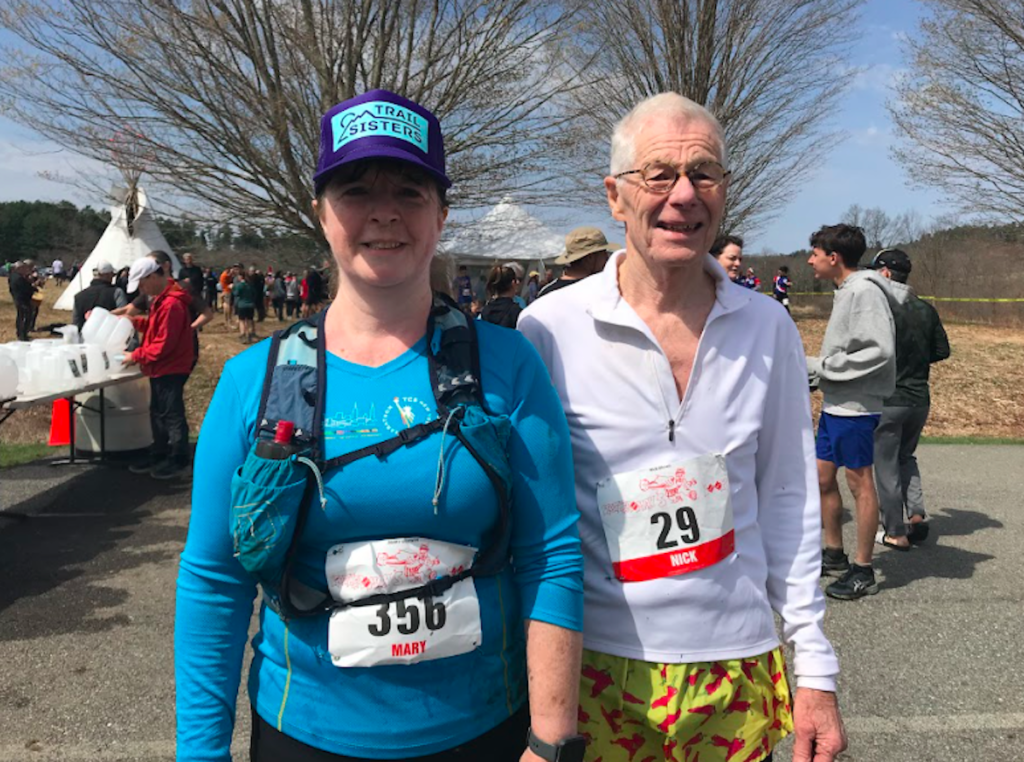 After the race, I found Nick again and asked if he wouldn't mind taking a picture with me. He happily obliged and one of his friends offered to play camera woman. As she was taking the picture, she asked me how we knew each other and the story of how he inspired me tumbled out. Nick then told a story of how he had been inspired by another runner who was a part of charity organization called Back on My Feet (backonmyfeet.org) which helps homeless people through running. This is one of the reasons I love trail running so much—it's not about pace and PR's—it's about community and paying it forward. Helping each other to be the best we can become. Of course, I donated, I felt it was the least I could do.
I also mentioned the story I wrote about him, and not only did he read it, but he sent me an email thanking me. A day or two after the race my friend Abby sent me a link to some race photos that were posted on Instagram and there is a beautiful shot of Nick and I running side-by-side while chatting! I love the image but am very curious as to why I have mud on my hands, shirt, pants, etc. and his white shirt is looking pristine. One of life's great mysteries, I quess? Granted I did slip a bit in the mud flats, so there is that, however, no sooner did I slip than a strangers hand shot out to help me. Community, I'm telling you!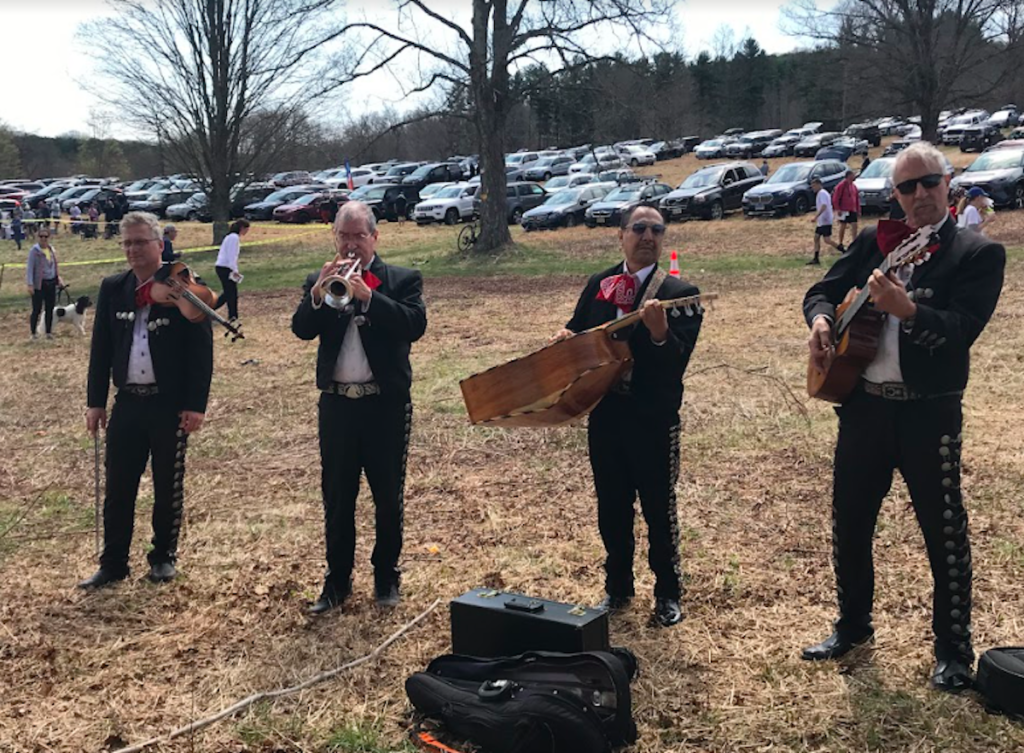 If you missed Mary's first article about the inspirational man in chili shorts, click here to catch up.