As a professional chef who spends her days feeding elite endurance athletes, I often find myself receiving valuable information without even looking for it. Roughly half the athletes we work with are vegan, most are gluten free and or dairy free, a handful have nut allergies, while very few have no restrictions at all. I go out of my way to continue educating myself via research and observing overall eating habits of those who fall into the above categories. In a nutshell, I watch people eat.
During a conversation with Adidas Terrex ultra runner Abby Hall, we stumbled on the topic of what our last meal of the day looks like and why. We quickly realized that although the last meal may be dinner, that eating for the day did not stop at dinner. Abby is vegan and has a great love of food in general. She is one of my favorite athletes to feed because of this. The girl loves food, cooking and is constantly observing how all this works with her body. Snacking after dinner serves two purposes for her. First is the obvious, who doesn't love to snack? She enjoys food and continues to nibble throughout the evening if she is hungry. The second is more strategic, she is aware that some days require a higher caloric intake. If a pint of vegan ice cream or chocolate chip cookies and some sort of nut milk can aid in this, they organically become the last fuel of the day.
When I personally train for a race or big effort, I often find myself hungry in the middle of the night. I eat purposefully throughout the day. I am certain that I am loaded with plenty of protein, carbs and fiber, until I find myself at 2AM standing at the kitchen counter feverishly shoveling almond butter in my mouth. On some occasions, I have woken to find a jar and spoon on the counter when I wake in the morning, only to ask myself "how did that get there?".
After a few weeks of this taking place on the reg, I decided to come to terms with the fact that I was clearly not fueling to the best of my ability.
I immediately circled back to my discussion with Abby about end of the day snacking and the possible benefits it can bring. Also, I know Abby always sleeps well. Is there a direct correlation here?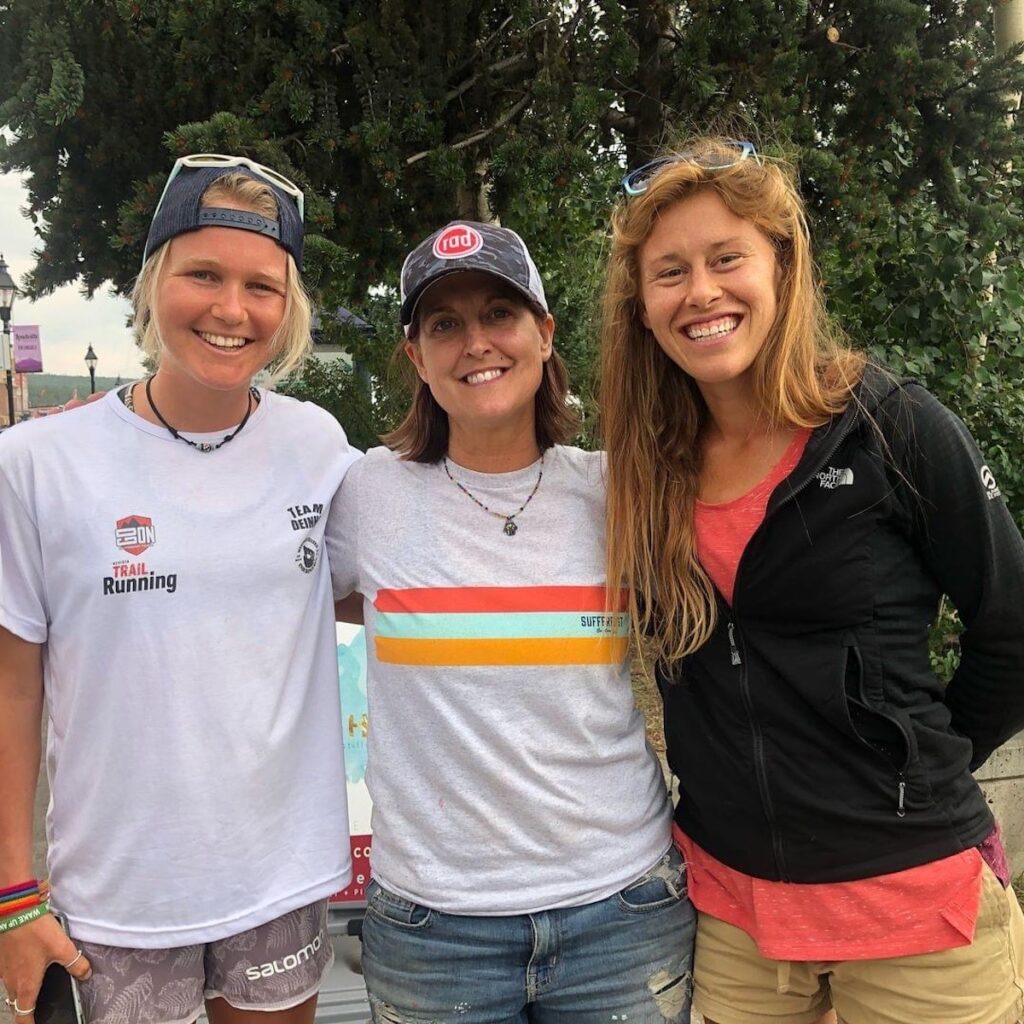 It was at this point that I took matters into my own hands and reached out to Stephanie Howe, PhD. Nutrition & Exercise Science and ultra runner extraordinaire.
This conversation led to creating "Last Call Bites". The nightly routine is now to grab an LCB and hit the hay. Since these little beauties made their nightly debut, the almond butter gets a full eight hours uninterrupted. The following recipe has a variation with dairy and one without. Abby is a vegan, but I am not. The bulk of my diet is plant base, but not 100%.
The ingredients for this recipe have been carefully chosen with the purpose of aiding in a restful night of sleep and recovery. A large takeaway here is the importance of reaching out to a nutrition professional. For me, this only means a Registered Dietician or someone who holds a Phd in Nutrition. Bonus if said professional happens to walk in the ultra endurance sports community.
Stephanie's Notes:
Best nutrients for sleep are protein (whey is best) and fat because they slow digestion and make the snack last longer. Something high in just carbohydrates (like a piece of fruit, seemingly healthy) will not stick with you very long. Resulting in hunger sooner.
Cashew or almond butter: Protein is important before bed to help you feel full (so you aren't hungry again immediately) and to aid in muscle recovery.
Dark chocolate: Great idea 1. It pairs well with nuts/nut butters (protein) and it has fat in it, so a better option in the evening. Plus, it feels indulgent, which is important too.
Dairy or plant-based milks: Dairy is best here, but as not everyone can tolerate lactose, I like coconut milk that is just coconut milk. It has some protein in it, and few additives. Plus it tastes creamy and thick, which is satisfying and soothing before bed.
Sugar: We hear a lot about using maple syrup or dates over table sugar, but to be honest, all sugar is broken down into the same exact thing before being absorbed into the body. In essence, sugar is sugar, and the quantity is more important than the type. Certain sweeteners lend better to different recipes, and sometimes you can use less quantity by using a sweeter option (brown sugar as opposed to coconut sugar). Athletes especially shouldn't be afraid of sugar, even plain old table sugar. Oftentimes it tastes better and is easier to use in baking. Don't fall prey to thinking that one type is better than another.
And from the chef's point of view, sugar is often similar to seasoning with salt. Adding just that tablespoon of sugar to the chocolate, brings out the chocolate flavor. It also adds a beautiful sheen.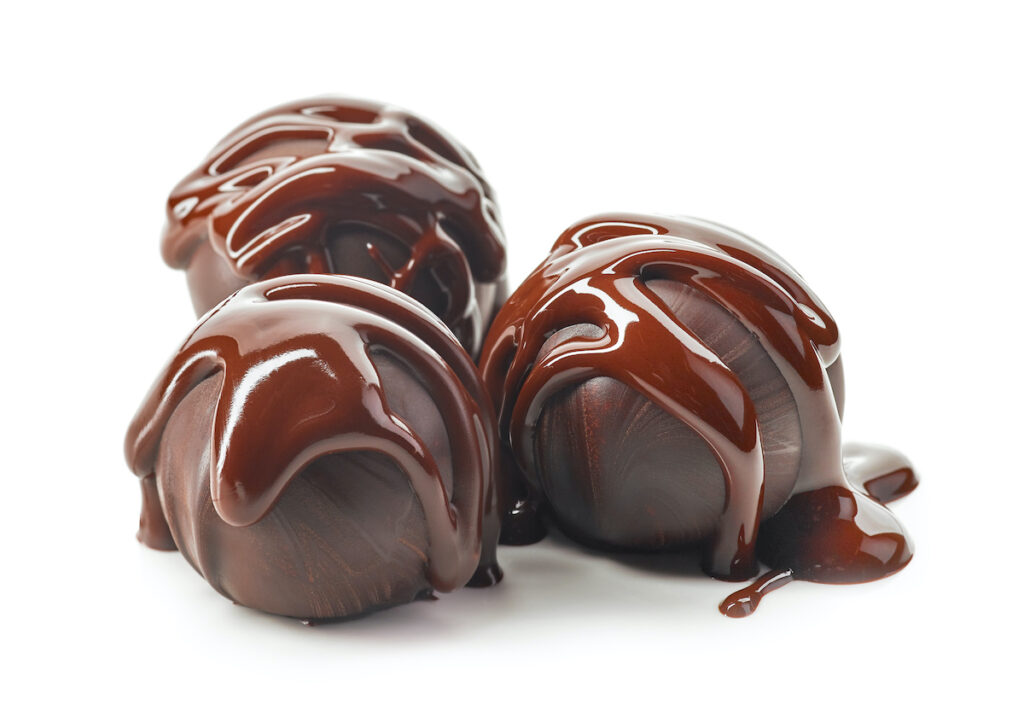 Last Call Bites
12 bites at ¾ ounce each
Ingredients:
1 1/2 cups rice crispy cereal
1 c almond or cashew butter
2 T maple syrup
1 T powdered sugar (Give it a tasted before scooping! Add another teaspoon if you like it sweeter)
1 1/2 c dark chocolate/ finely chopped (or chips)
½ c milk of choice *whole milk or coconut milk are ideal for this recipe
Place cereal, nut butter and maple syrup in a medium sized mixing bowl. Thoroughly, but gently mix until combined. I try not to over mix here as to break up the cereal too much. Having a nice crunch is key.
Scoop tablespoon sized bites of the mixture, roll into a ball and place on a lined sheet tray.
Place a sheet tray in the freezer for a minimum of one hour. I like to freeze them a bit longer, as they hold the ganache best when very cold.
While the sheet tray is in the freezer, place the chopped chocolate in a medium sized bowl.
Heat the cream to a boil and immediately pour over the chocolate and powdered sugar.
Stir vigorously with a whisk until all of the chocolate is melted.
Remove the sheet tray from the freezer.
Carefully dip each bite into the chocolate to fully cover. Place back on a lined sheet tray or cooling rack to set.
Store in an airtight container in the refrigerator for up to two weeks or in the freezer for up to a month.
If the rice crispy and nut butter mixture is a little dry, don't panic! Some nut butters are drier than others. This is totally normal, and it might cause your mixture to seem a little dry or crumbly. If this happens, just add a teaspoon or two of your choice of milk to the mixture, 1 teaspoon at a time until the mixture is moist enough to form into balls. Just be careful not to add too much liquid. We want to have crispy cereal rather than soggy.