Welcome to Part 2 of the Road to Trail series! In case you missed it, we talk about how to get started in trail running here. In this article, we'll talk about all the things you might need or want for your trail adventures.
Gear is fun! And, more importantly, gear doesn't have to be fancy! Many people feel intimidated by trail running because of the stuff you may need to have or bring, starting with shoes. So let's start with shoes.
Shoes
First, if you have a pair of running shoes, you can run on trails! A pair of supportive, closed-toed shoes is necessary for trail running unless you're comfortable and familiar with options like minimalist sandals. Road running shoes can be just fine! If you're running in road shoes, you'll want to be aware of foot placement (where you're stepping), and the fact that your soles might not be as sticky as you'd like them to be (this is important when running over rock or loose terrain, where slipping is a higher risk). But don't let the lack of "trail shoes" prevent you from living the trail dream!
If you're interested in or have the means to invest in a new pair of shoes, you'll see some differences in features from your typical road shoes. To start, let's talk about some trail shoe lingo that will be helpful:
Lugs: Not boobies! These are the teeth on the bottom of the shoe, meant to grip into different types of terrain.
Drop: This is the difference in height between the heel and the ball of the foot, measured in millimeters. An average shoe tends to have a drop between 4-8mm. Zero-drop shoes, like those made by Altra, are meant to imitate barefoot running, and take some time to transition into (though many people love it). Some shoes have a higher drop (12mm), like the Salomon Speedcross. No drop is necessarily better than another – it's whatever feels the grooviest to you.
Responsive: A vague term that folks use for a shoe with less cushion, where your feet have a better "feel" for the ground.
Cushion: Padding in the heel, midfoot, and forefoot areas of a shoe (which can be different). Ranges from concrete to marshmallow.
Rockplate: A thin, flat, hard piece inside the sole that lends rigidity to the shoe. Supposed to be better for gnarly trails (think rocks and roots) where your foot might want some extra support and protection.
There is no one perfect trail shoe. Your choice of shoe will be influenced by all sorts of variables, including the types of trails you'll run, your injury history, and the weather. For example, someone with a history of Achilles tendon issues running on muddy trails in the Pacific Northwest who needs an inflexible shoe with lots of support and good lugs might choose the Salomon Speedcross. A person who likes lots of cushion and runs on well-groomed trails might go for road/trail hybrid like the Hoka One One Challenger ATR.
The best way to choose a shoe is to try on a few pairs – the body knows what it likes. If a particular pair feels comfortable, that's probably a good bet! If you have a local running store nearby, see if they carry trail-specific shoes that you can try on. REI is another store that has a variety of trail shoes. If you're sticking to the interwebs, RunningWarehouse.com often has good discounts, as well as free returns even after you've tried the shoes.
Protect Yourself from the Elements
For clothing, usually whatever you'd wear for a road run or hike will suffice for a trail run. Check the weather and prepare for rain or cold appropriately. Leggings, shorts, or pants with pockets will let you bring snacks more easily, or you can stuff things in your bra. Remember that if you're running in the cold and stop at a vista or for a snack, you will cool down more quickly, so you might want to bring an extra light layer. A hat will help protect you from the sun and from getting rain in your eyes. Nothing to carry your things in? Lucky for you, pant pockets hold hats and gloves just fine, and that extra layer can be tied around your waist if you're getting too warm (and you'll get points for style).
Carry Stuff
If you're just getting started and are keeping mileage low, you may or may not need to bring water or snacks. A handheld bottle can be an easy way to bring water (even if it's just to be on the safe side); they are available at most running and outfitter stores, or online. Most handheld bottles will also have a pocket to keep a key and a snack. You can also make your own handheld bottle at home – here are two cool DIY handheld bottles.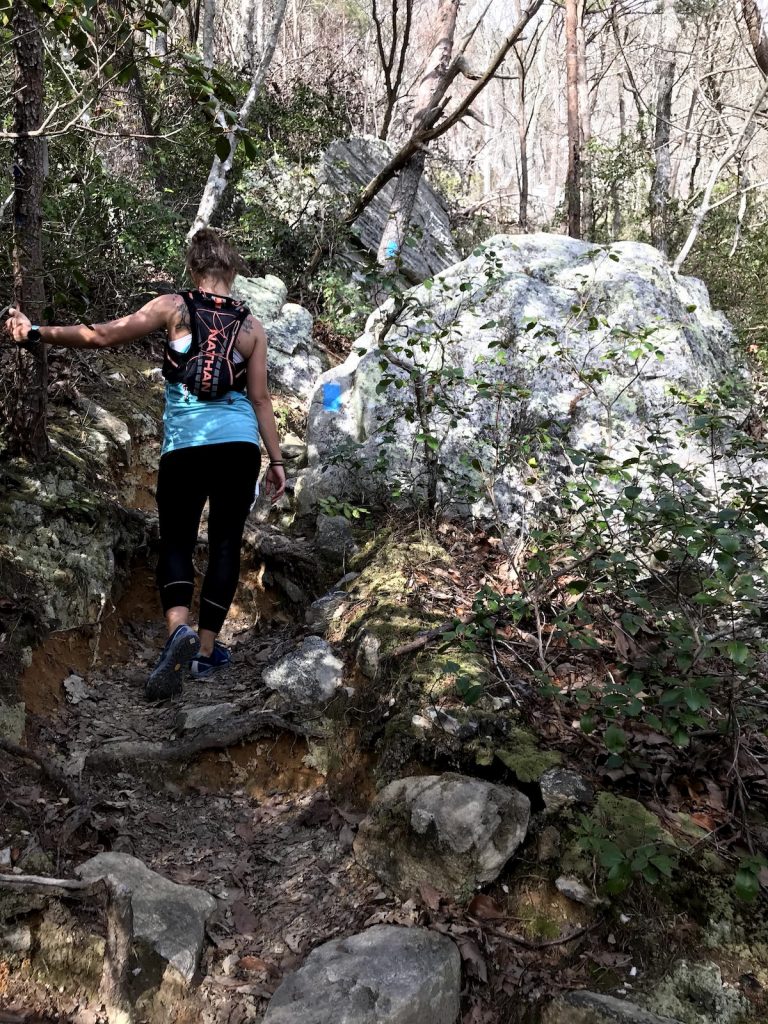 For longer adventure runs, you may start thinking about bringing more gear in a fancy pack or hydration vest. Hydration vests are typically a minimalist way of storing water, snacks, and layers on a long run. The Trail Sisters Women's Hydration Vest Review or Hydration Vest – Unisex articles have great recommendations based on the following criteria:
Fit and feel: some vests are super lightweight and feel like a T-shirt, and some are more substantial and feel more like a backpack (but in a cool way). This is totally dependent on the person!
Adjustability: this refers to the various straps and attachments that allow you to adjust the pack to your body as well as the contents within the pack.
Hydration options: vests tend to come either with two chest bottles that fit into pockets in the front, or a bladder/fluid reservoir that sits against the back and has a tube-straw that extends to the front for easy sipping.
Pockets: these are as important in vests as they are in dresses! Vests can vary hugely on the number of pockets, ranging from 2-4 (the minimalist's dream) to countless (for organization fiends).
Trekking pole storage: these are usually secret little loops that I cannot figure out for the life of me. Somehow people store poles in them.
Since packs can vary drastically, the best thing to do is try out a few before you pick your favorite. Fellow trail runners may be nice enough to let you try theirs for a run or two, or you can sometimes try them on in running stores or at REI. Be sure to fill the pockets to simulate a weighted vest. Trying on an empty vest won't be a true fit test, as you won't be running with an empty vest on the trails. People also like to share their opinions on Facebook, so asking a running group can be a great place to get advice on vests (and other gear) or to find someone who might be willing to share. Vests can be expensive, so cheaper options are usually available on eBay, at Running Warehouse, or through brand sites around holiday sales. Poshmark often has hydration vests as well. If you don't have access to a vest, you can also use a small backpack that has a hip strap, which will help cut down on backpack-bounce. No matter what you choose, make sure it fits properly to avoid chafing.
Stuff That Goes in Your Vest
So what do you put in your vest? Water and snacks, for sure! Nutrition will vary with length and difficulty of your run (though a good rule of thumb is 200-300 calories per hour after the first hour of running). Good options for snacks are gels or gummies (available at running stores or online), granola bars, crackers (you can literally stuff them into the pocket – they will get crushed but will still have calories and flavor!), cookies (Oreos!), or nuts.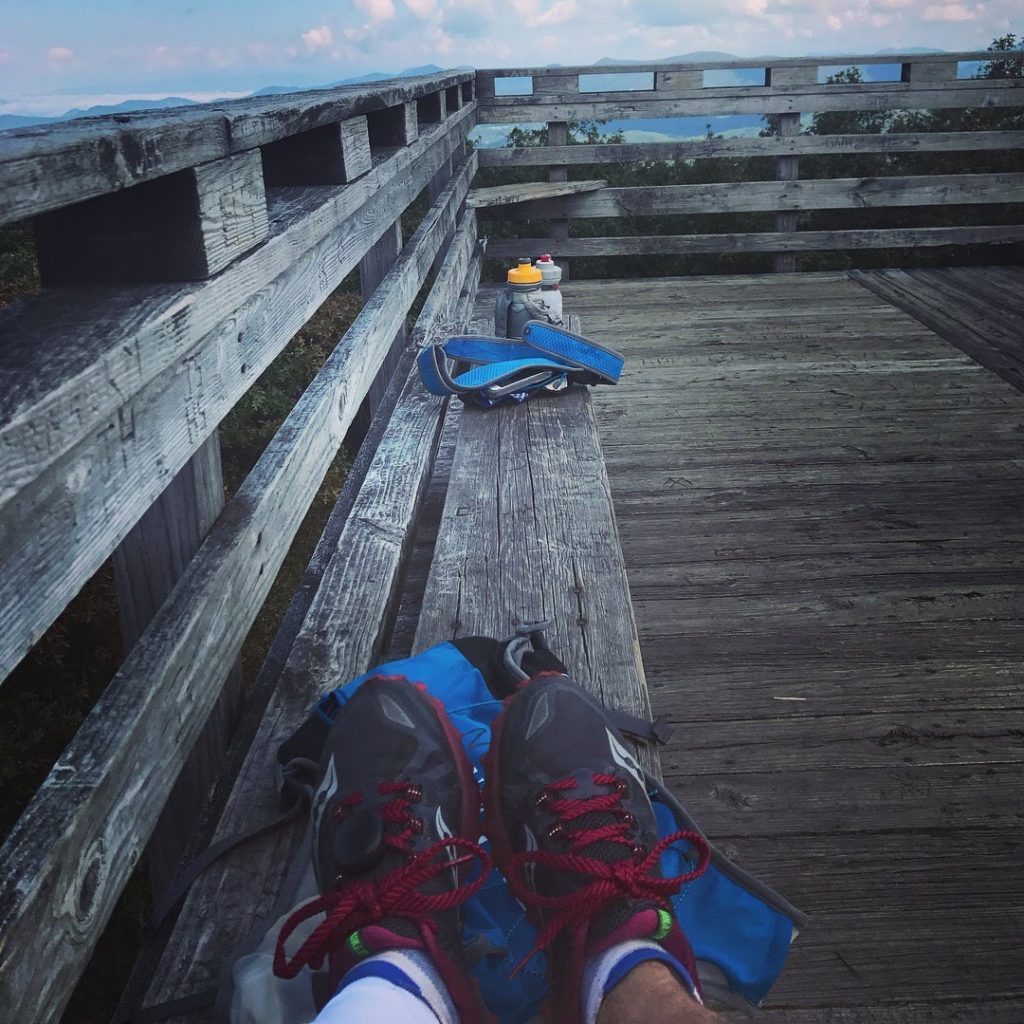 Other things you may think about bringing are extra lube (for chafing!)/sunscreen/bug spray, band-aids or a first aid kit for bigger adventures, a water filtration system (like LifeStraw, if you're heading to a place where you can't fill up from a water fountain), a BUFF (useful for sun protection, wiping sweat from your eyes, or a pee rag), your phone, an ID, and a credit/debit card or cash (just in case).
Jeez, this is a Lot of Stuff!
Yup, this is a lot of stuff. Do you need it all? Maybe not. You definitely need shoes. You should probably wear clothes. You should bring some food because food is life. But at the end of the day, all you need is what will keep you safe and comfortable on your run. Some of these things can be expensive, but there are often ways to get things on the cheaper side. Poshmark, eBay, REI used gear, and sales can all be helpful for expanding your wardrobe, as well as finding gear through Facebook and local groups. Have fun experimenting with the gear to find what works for you!